In a Nutshell
Scanguard's user-friendly antivirus software package offers full protection for your desktop and mobile devices. No matter which package you choose, Scanguard offers all the features you can expect from an antivirus provider, including: protection against viruses, trojans, malware, and adware; system clean-up tools; and a Chrome extension to keep you safe when browsing online. Add-ons like VPN and ID theft protection are sold separately.
pros
User-friendly interface
Chrome add-on detects online threats
24/7 customer support on all plans
cons
Expensive renewal rates
No third-party test results

Scanguard Visit Site
Highlights
Features: Full featured protection
Ease of Use: Above average
Reliability: Average
Value: Average
Money Back Guarantee: 30-day
Best For
Small households – protection for up to 6 computer/mobile devices
First-time buyers – software is easy to set up
Chrome users – includes free browser extension
Why Choose Scanguard
One of the advantages to choosing Scanguard is that it's very easy to set up and is extremely user-friendly. Download and installation is a breeze; the software works right out of the box. Once setup is complete, all the features become immediately accessible to you via a sleek, intuitive, central dashboard.
What Scanguard Offers
For PC, Mac, Android, and iOS devices
24/7 support
30-day money-back guarantee
Virus, Trojan, Adware, Spyware, and Malware protection
Remote firewall protection
Chrome browser extension
Web browser cleaner and manager
PC performance and optimization tools
Smartphone optimization tools
Scanguard Features
The following security and performance features are built into Scanguard's service:
Real-time Antivirus Protection. Scans, locates and eliminates viruses in real time.
Malware Guard. Prevents malicious software like Trojan Horses & Worms from damaging your device.
Ransomware Guard. Prevents hackers from gaining access to your computer and blocking personal files.
Spyware Guard. Defends against software designed to steal logins, credit card details, and other information about you.
Adware Guard. Prevents malicious software from presenting you with unwanted adverts that cannot be closed.
File Guard. Prevents malware from being hidden in seemingly harmless file downloads.
Advanced firewall. Prevents unauthorized access to your computer system and private data.
Safe site extension (for Pro and Ultimate users). For Chrome users only, this extension blocks potentially harmful websites before they can breach your system.
System Optimization Scan. Recommends actions to help your devices perform better.
Disc Cleaner. Identifies unnecessary files, helping free up valuable disc scape.
Battery Monitor. Stops unwanted processes and applications running in the background, increasing battery life.
Browser Manager. Cleans your browsers, increasing efficiency and preventing unwanted ads.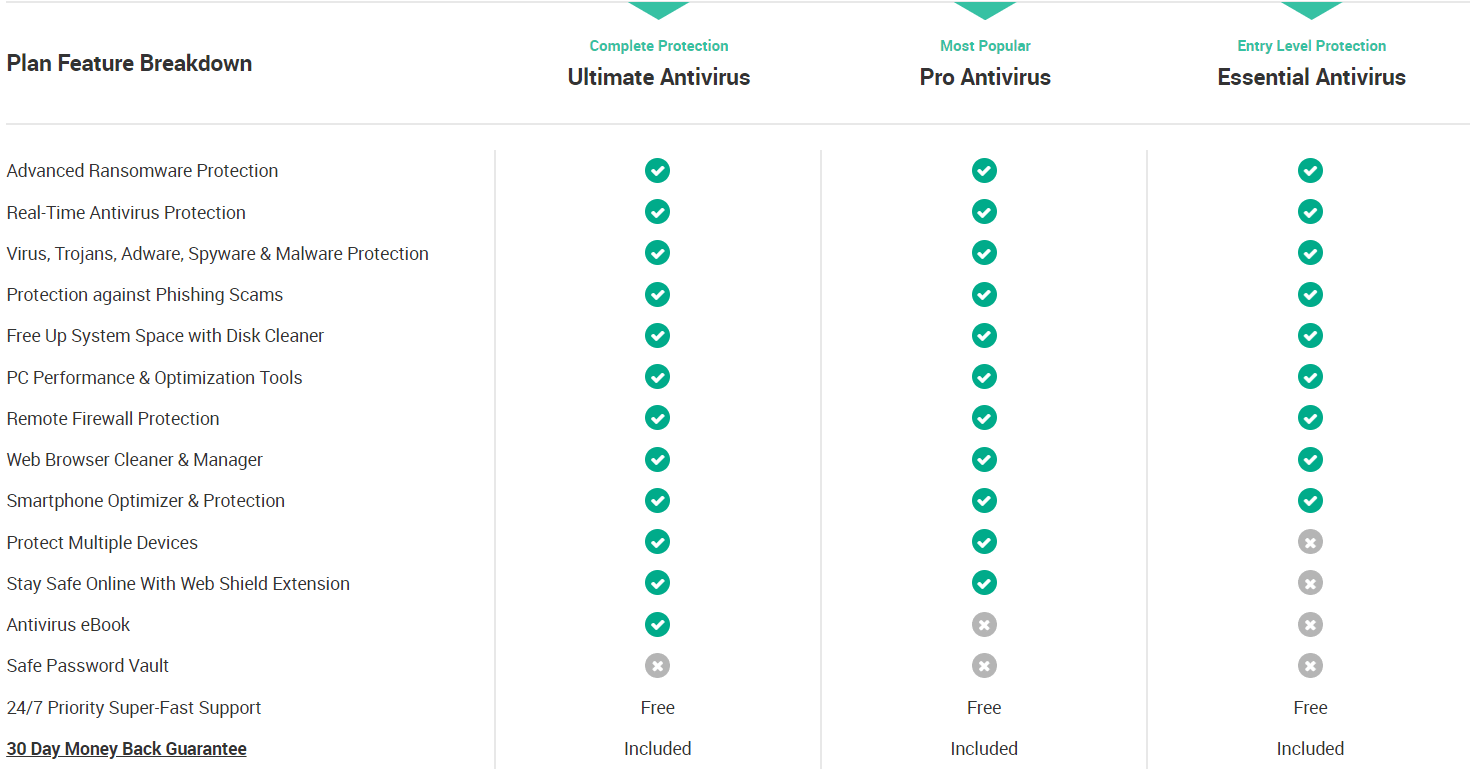 Ease of Use
As mentioned above, the relative ease of use is one of the main advantages of the Scanguard antivirus solution. Each time you log in you'll find everything you need on a single dashboard. Just click the category on the left-hand side of the dashboard to scan your device for viruses or malware, give your device a system boost, clean your disk, or take advantage of any of the add-ons you may have signed up for when you first subscribed to Scanguard.
Detection Rates and Reliability
Being one of the newer antivirus brands on the market, Scanguard has yet to be tested by credible third-party labs. However, TotalAV – which runs on the same technology from parent company Protected.net – is generally rated below average for protection, average for speed, and above average for usability.
Scanguard Pricing
Unless you have more than 3 devices that need protecting, the Essential package provides the best value for money. The Pro package includes everything in the Essential package plus the Web Shield Extension for Chrome. The Ultimate package includes everything in Pro plus an antivirus ebook.
After purchasing a subscription, you'll see offers for the following add-ons:
Ad Block Pro - $24 in year one / $48 to renew
VPN - $39 in year one / $78 to renew
Password Vault - $9 in year one / $18 to renew
Advanced Cloud Scanning - $19 in year one / $38 to renew
5 extra licenses - $29 in year one / $58 to renew
ID theft protection – for U.S. customers only
Value for Money
If you don't mind shopping around for a new antivirus provider in 12 months, then Scanguard offers good value for money right now. That's because its prices in year one are below the market average, but the renewal prices (year 2 onwards) are well above the market average.
The Essentials and Pro packages offer best value for money, although there's no added benefit to signing up for Pro unless you use Chrome and need protection for up to 5 devices. Don't be sucked into buying the Ultimate package – this premium plan doesn't offer any real value compared to the cheaper plans. Also, watch out for the attempts to upsell you features like VPN that you can easily purchase from dedicated providers for around the same price.
Help and Support
Each subscription plan comes with '24/7 priority super-fast support'. The truth is, this is just a live chat support function and you may not receive an immediate response. However, it's nice to know there's always a customer support rep a click away, even if you are made to wait in line. Furthermore, the Scanguard website has an extensive Knowledge Base with answers to frequently asked questions.
Bottom Line
Scanguard offers a full set of tools to protect and boost the performance of your desktop and mobile devices. If you're looking for an antivirus software that does a decent job, is easy to use, and won't break the bank, then Scanguard's year-one offer is worth consideration. However, the high renewal fees make this a bad option if you're looking for a provider you can stick with in the long term.
About Scanguard
Scanguard belongs to the Protected.net group of companies which also includes fellow anti-virus software provider TotalAV. Protected.net was founded in 2016 and is based in Denmead, Hampshire, United Kingdom. Its products include antivirus software, PC optimization, ad-blocking software, smartphone protection, and VPN.

Scanguard Visit Site