In a Nutshell
Qustodio is a cross platform parental control tool that supports Windows, Mac, Android, and Kindle. The product is designed for the needs of parents who need to keep their kids safe online. Parents can blacklist categories of websites (or specific categories of sites) and enforce time limits to keep children's computer time and internet use within reasonable limits.
pros
Cross platform: Windows, Mac, Android
Configure browsing time limits
Unique profiles for each child
cons
No Linux client
Expensive compared to other tools

Qustodio Visit Site
Highlights
Features: Internet filtering and time limit setting

Ease of Use: Easy admin dashboard for parents

Reliability: Very reliable with real time pornography detection

Value: Average

Money Back Guarantee: 30 days
Best For
Parents that want to protect their children while viewing in private mode

Parents that need to configure unique protection settings for multiple children

Concerned parents that want detailed reporting on their childrens' online activities

Users concerned for their childrens' safety—the Android SOS button alerts parents in the event of an emergency
Why Choose Qustodio
Qustodio offers a number of unique features that are difficult to find in the parental control software market. Of course, it offers all the standard internet filtering features including time limit setting and pornography setting. But Qustodio goes beyond the basics and offers parents trying to ensure that their children are using the internet appropriately with an additional set of extra features. It's a well-rounded tool that can be deployed on a wide variety of devices—in fact, Linux is the only desktop operating system that Qustodio doesn't run on.
What Qustodio Offers
Qustodio offers a number of different filtering functionalities intended for private households, schools, and business hours. The filtering tools rely upon both manually configured settings as well as Qustodio's proprietary filtering technology which can automatically detect unsuitable content for minors.
Features
Call and SMS Tracking (Android only)
In addition to content filtering, when the package is installed on Android parents can get full visibility into protected users' SMS and call logs. See full call details including numbers dialed, call durations, and most frequently dialled contacts. This can enable parents to get an early warning if their child is in frequent contact by phone or text with any unknown and potentially dangerous individual.
Invisible / Hidden App Mode
Parents can choose to make the program completely invisible on their children's devices. Unlike many other parental control tools that simply block uninstallation capabilities for users that don't have the admin password, Qustodio can be configured to be completely invisible—it won't even appear on lists of programs which users can poll through for uninstallation.
Parentral Control
Pornography Blocker
Qustodio is capable of filtering real time internet content for pornography—even when the user is viewing the content in private or incognito mode. This feature means that even recently launched websites which haven't formerly been identified and categorized as pornography will be added to the block list.
Application Specific Time Limits
Parents can configure specific time limits for individual applications—such as specific games—or else choose to block them altogether in order to prevent access entirely. Parents can choose to enforce either specific daily time limits or restrict the times at which the computer can be accessed. The latter functionality is useful for parents that want to set a cutoff time after which their kids cannot access a shared computer or log onto the internet.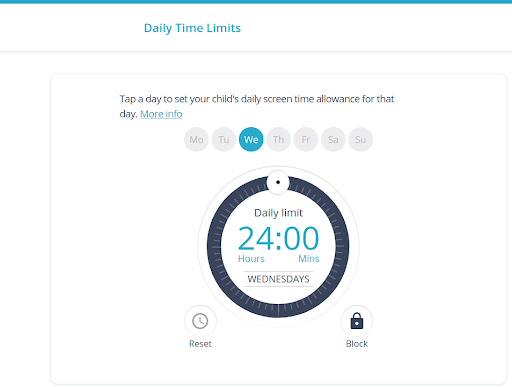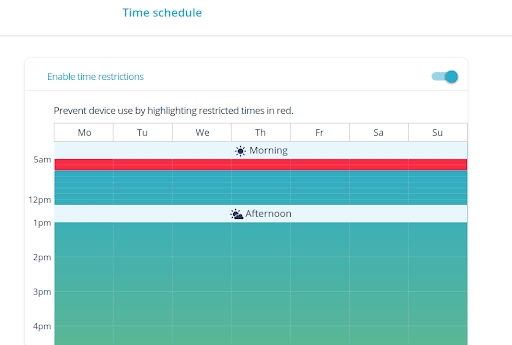 Activity Timeline
Users can access a full timeline of the user's web browsing activity and computer usage in order to monitor how much time the protected account is spending on the internet in general or on specific programs.
Category Blocking and Exception Configuration
Users are able to select entire categories of websites to block or set on "alert me" mode. If the category is set to "alert me" mode parents will receive a notification in the event that their child attempts to access any website within that category.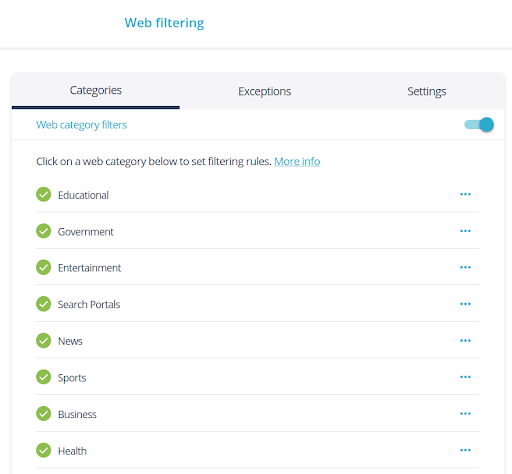 In order to prevent the system from blocking websites that parents know are safe, specific sites can also be added to the "exception list". This functions as a whitelist — allowing access to any listed URLs and overriding any other blocks configured on the system.
Finally, users can choose to block unknown websites (those that the system has not been able to automatically categorize).
Ease of Use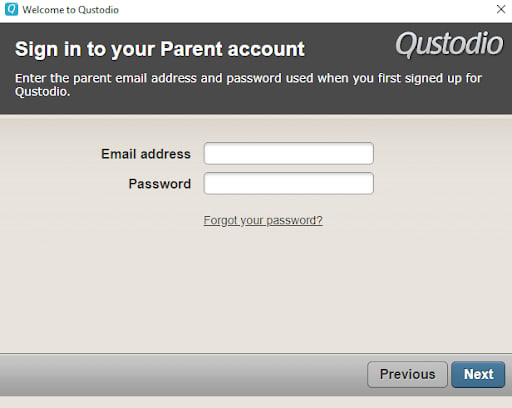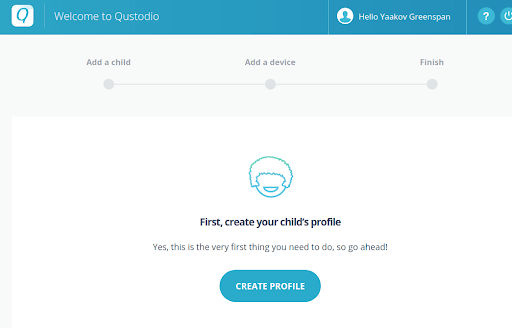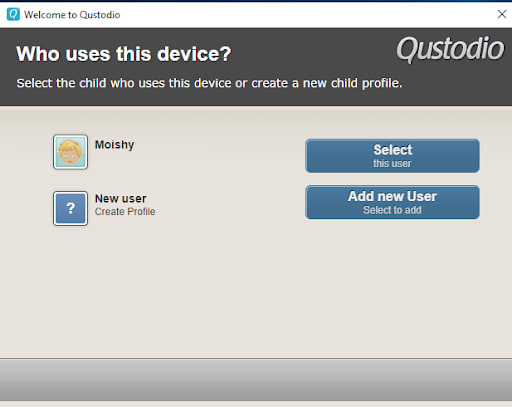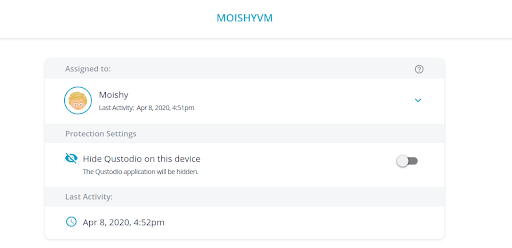 Qustodio is a very straightforward parental control tool to install. Parents simply need to sign up for a premium (parent) account through the web UI. After that, parents will be prompted to create individual accounts for each child that they wish to protect through the system. Then, after installing the app on each protected device, the system will prompt the administrative user (parent) to associate the program with the corresponding profile created through the online system.
If invisible mode was selected the child will not even know that the program is running on the system.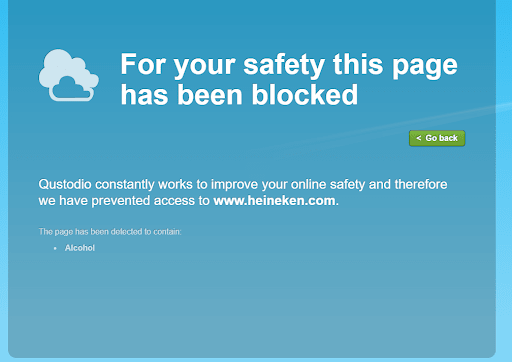 Detection Rates and Reliability
Qustodio has a very good track record for automatically detecting and categorizing websites that should not be accessible for minors. Categorization takes place via a combination of manual and automated means. In addition to drawing upon verified databases, Qustodio analyzes page content to categorize it in real time—allowing websites that have not yet been codified into major web databases to make it into the filtering system.
To test it out, we fed Qustodio with a list of about 50 URLs from blocked categories including alcohol, gambling, and weapons—all URLs were blocked as we expected.
Pricing
Access to Premium features?
All Premium plans include access to the full range of premium features including time limits by device, family locator, and priority support. The only difference is the number of children that can be protected.
Value for Money
Qustodio is a great value for money product. Although it's not the cheapest parental control tool on the market, parents need to remember that it does much more than simply protect against inappropriate websites.
Qustodio bundles a lot of advanced security and monitoring tools that are often only included in internet security products. For that reason, particularly at the higher paid tiers which protect more devices, Qustodio is a tool that is good value for money.
Help and Support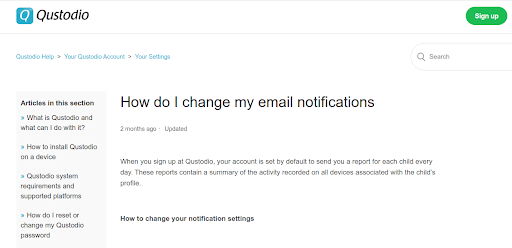 Qustodio users are backed up by an online Help Center which comes complete with a wide variety of informative articles for each content type. Free users can access self help tutorials outlining common issues such as account and billing, configuring the administrative control panel and the protection software on child accounts. The team also has a feedback capture form online which can be accessed even by trial accounts.
All Premium users can receive customer support through the company's ticket-based system.

Qustodio Visit Site
Bottom Line
Qustodio is a comprehensive parental control system that provides both parental control and security solutions for parents that want to make sure that their children are shielded from age-inappropriate content online. The system can be installed completely invisibly. Qustodio's standout feature is its real time protection software that can categorize and block inappropriate websites based upon a scan of their content.
About Qustodio
Qustodio is a leading provider of parental control solutions to families, businesses, and schools. The company has a headcount of between 50 and 100 employees and is based in Barcelona, Spain. The company was founded by a team of 3 experienced businessmen.