In a Nutshell
mSpy is a parental control app for iOS and Android devices. It enables parents to view (or, more accurately, spy on) their children's mobile activity, track their children's location, check messages or phone calls, restrict access to apps or websites, and even remotely block or wipe out a device if it falls into the wrong hands.
pros
Works on virtually all Apple and Android devices
Monitors dozens of popular apps
Operating since 2010
cons
No free tier, free trial or money-back guarantee
No tracking of TikTok or YouTube

mSpy Visit Site
Highlights
Features: Viewing activity, blocking access, tracking GPS location
Ease of Use: Easiest for users
Reliability: Above average
Value: Average
Money Back Guarantee: None
Best For
Viewing your children's mobile activity
Protecting your children's data from theft
Preventing your children from accessing inappropriate content
Why Choose mSpy
mSpy offers one of the most comprehensive parental control apps on the market. Depending on your child's device, it lets you track activity on up to 13 messaging apps as well as calls, SMS messages, photos, videos, emails, and calendar appointments.
Furthermore, mSpy gives you the ability to proactively protect your children from harmful activity by blocking websites, viewing browsing history, and blocking potentially harmful Wi-Fi networks. You can also view your child's GPS location at any time and block their phone if it falls into the wrong hands.
https://www.youtube.com/watch?v=SWEAY41EPQs&t=58s
What mSpy Offers
Monitor calls and text messages
Monitor messaging apps
Monitor photos and videos
See current GPS location
Monitor incoming and outgoing emails
Monitor contacts and calendar activities
Block websites and applications
Screen recording
Comprehensive reports of mobile activity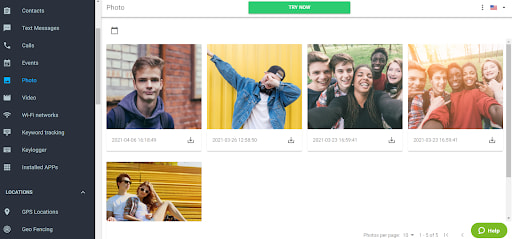 Features
Here's what you can do with mSpy Premium:
View all incoming/outgoing calls, including durations and timestamps
Review texts, iMessages, and multimedia files sent or received by your child
Capture messages sent and received on WhatsApp, Facebook Messenger, Instagram, Snapchat, Viber, Tinder, and other messaging apps
Track the current GPS location of your child's phone, and receive alerts each time your child enters or leaves a preset 'safe zone'
View a list of all apps installed on your child's device, and block any apps you don't want your child to access
Record your child's screen at any time to see what they're doing and who they're communicating with
Instantly see any photo or video your child takes with their device
View the list of your child's visited websites and block any you don't want them to access
Monitor all incoming and outgoing emails on your child's phone
Check every contact entered into your child's phone contact list and keep track of every event in their phone calendar.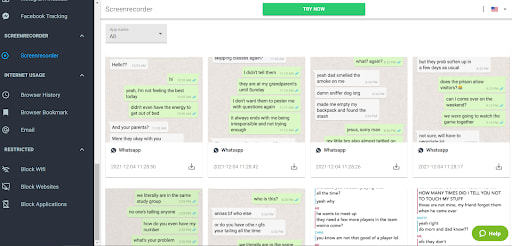 Ease of Use
mSpy is compatible with most iOS and Android versions manufactured from 2012 to today. Almost all the features are available on Android. However, many of the tracking features aren't available on iPhone without jailbreaking the device, which is a somewhat complicated procedure and which can only be done on iPhones running on iOS versions 7 and up (instructions can be found on the mSpy website).
Installation of mSpy takes about 10 minutes, and you will receive a step-by-step guide after purchase. You can also contact mSpy's tech support via live chat at any time, in case you need help with installation. If you're monitoring an iPhone, you'll need that phone's Apple ID and password in order to set up mSpy. You may also need physical access to the device for a few minutes to enable the iCloud backup and get the verification code. If you're monitoring an Android (e.g. Samsung, Huawei, Xiaomi, LG, Motorola), you will need to install mSpy directly on the phone.
The mSpy app itself is easy to use. To access a feature (e.g. Contacts, Wi-Fi Networks, WhatsApp), simply find it on the menu on the left-hand side of the dashboard. With one click, you'll instantly be able to see your child's recent activity.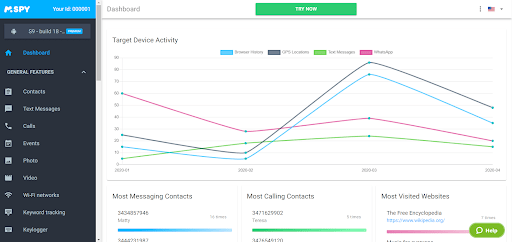 Detection Rates and Reliability
In terms of reliability, mSpy appears to be as good as any top parental control app. Once setup is complete, you'll have instant access to all your child's mobile activity – except, it must be said, on apps not covered by mSpy.
The other good piece of news is that mSpy uses Norton and McAfee security software to prevent third parties from hacking into your account. It stores personal data of all its users in an encrypted way, and saves that data to its own secure servers. In other words, using mSpy shouldn't compromise your or your children's data.
mSpy says it has three types of subscription packages (Basic, Premium and No-Jailbreak). In actual fact, the only one currently available on its website is the Premium package, which is available for 1, 6, or 12 months. Due to the excessive price for the other two plans, the only viable plan is the 12-month plan, which costs $140 in the first year and $200 per year upon renewal.
mSpy says it has a 10-day money back guarantee, but a close inspection of the fine print shows this not to be the case. According to its refund policy, mSpy can reject a refund for any reasons beyond its control, including "personal reasons (I've changed my mind, I've made a purchase by mistake, Software was not used, etc.)." This sort of language essentially gives mSpy the ability to reject any refund request, no matter how legitimate.
Value for Money
Value for money is a subjective thing because each user has a different idea of how much they are willing to pay for a service. When it comes to mSpy, it's fair to say this is an expensive solution but one packed with a lot of features. If you're looking for a full-feature parent control app and don't mind paying a premium for it, then mSpy could be a good option for you.
Help and Support
If you have any issues using or installing mSpy, then you have the following options: the self-service Help Center on the mSpy website, email/ticket support, or live chat assistance. mSpy also offers personalized customer assistance at a one-off charge of $12.99 and advanced assistance (e.g. special assistance in rooting/jailbreaking) at a one-off charge of $53.99.

mSpy Visit Site
Bottom Line
You get what you pay for, and with mSpy you get a premium parental control app that is relatively expensive but also provides a full range of features. If you want total control over your children's mobile activity and don't care how much it costs, then mSpy is one of the top options on the market.
About mSpy
mSpy was founded in Prague, Czech Republic in 2010. Its initial list of features comprised access to phone book, calendar and events, and call logs, SMS monitoring, and GPS tracking. It has since grown into one of the leading parental control app providers, serving 1.5 million users in more than a hundred countries around the world. The mSpy website is now available in 16 languages.