In a Nutshell
Intego is an antivirus for Mac and so much more. Finding quality Mac tools is difficult enough so why look for separate cleanup and parental control tools when there's a great all in one tool that can do it all? Intego puts them all together in one (excellent) package. There's a firewall and network protector to protect the computer from authorized access, a personal backup tool, and a full speed Mac cleaner.
pros
Parental control, antivirus, and cleanup
Native to MacOS
24/7 automatic scanning
cons
No direct support for Windows
Panda protection is an add-on

Intego Visit Site
Highlights
Features: Antivirus, parental control and cleanup tools
Ease of Use: Download and install Mac package in under 3 minutes
Reliability: Highly reliable
Value: Great value for multiple tools
Money-Back Guarantee: 30-day money-back guarantee
Best For
Mac users that need independently validated antivirus protection
Households with children that need protection from inappropriate content in a Mac-centric household
Those with Windows and Mac PCs
Users that want antivirus allied with speedup tools
Why Choose Intego
Intego is a great choice for any family that wants one tool that straddles a wide variety of product categories. Options in the Mac world can be more limited than Windows. Thankfully Intego has put together a really superlative solution in Mac Premium Bundle X9 which includes the vast majority of tools that most families would ever need—all for a very reasonable cost.
What Intego Offers
Antivirus protection:
Real time and definition based threat detection
Parental control
Time duration, predatory chat monitoring, category blocking
Tuneup tools
Get rid of system junk and improve performance
Features
Personal Backup 10.9
Backup and disaster recovery is one of the most important components of any computer. And Intego Personal Backup 10.9 allows users to create their own bootable incremental backup vaults—allowing users to access the system even in the event that they cannot boot in. The backup jobs that Intego creates also run in segments so that the process never takes that long—but all users' files are protected. The automatic backup tool ensures that all crucial system files are constantly being backed up to a secure vault. Additionally, the backup tool can be used as a synchronization engine for users that have 2 Mac computers and want to keep them in synchronization.
Antivirus Protection
If you heard that Macs don't get viruses then you heard wrong. Macs can be targeted by just about the full array of cybersecurity threats—although the market for protection is a little smaller than the Windows ecosystem. VirusBarrierX9 is the defense that Intego puts up against all these obstacles. It's a real time antivirus tool that constantly updates its protection and downloads latest updates in order to guarantee protection against even the newest threats. In addition to viruses, Intego also catches malware and Mac zero day ransomware. There's a customizable dashboard and users can choose from a variety of scanning levels ranging from a minimum system scan (quick, low resource usage) to a maximum scan that probes deep into system directories.
Firewall
Intego features an advanced firewall to provide complete protection for Mac devices even on the local trusted network. The firewall constantly monitors both inbound and outbound ports and inspects traffic to make sure that only legitimate internet connections are allowed to get through to the computer. Those that are not legitimate could be cybercrooks trying to hack their way in. The firewall also features a location aware feature which will automatically detect where the Mac is being used from and apply the most appropriate configuration depending on the security of the network.
Washing Machine X9
Intego also features a variety of cleanup tools designed to keep the Mac in good running order. While it may not seem obvious there is, in fact, a connection between keeping a system free of junk and staying safe from cybersecurity threats. Unneeded files can often contain snippets of personal information which—if a hacker were to get into the system—could pose a risk for identity theft. Intego prowls the system for redundant files and automatically removes them from the system. A faster, more secure Mac computer is the result.
Content Barrier X9
Intego features a variety of parental control tools designed to keep minors away from inappropriate online content. Users are able to build custom profiles for each child based on the unique content categories that they wish to protect them from. Additionally time limits can be set to enforce maximum durations on internet use. And an Anti Predator chat monitoring system plugs into various common chat protocols to detect and flag signs that children might be engaging with possible online predators.
Ease of Use
Intego Mac Premium Bundle X9 is a very easy tool to use. Users simply need to pay for the license and then download it from the Intego website. All features are accessible from an attractively designed dashboard that includes system reports on real time scans as well as links, in the bottom pane, to the safe browsing and scheduled scans tools.
Detection Rates and Reliability
Although the exact results vary from year to year, Intego has historically performed extremely well in independent benchmarking tests designed to show how well it identifies viruses. The company has previously won top prize in the Mac category in the Virus Barrier and Security Spread testing programs and managed to clamp down on all the samples that we sent its way. This is one tool which gets the job done—superlatively well.
Pricing
Value for Money
Clearly Intego has thrown a lot of different tools into Mac Premium Bundle X9. For the amount of functionalities that the company has made available, we think that it represents excellent value for money and a top buy in the Mac category.
Help and Support
Intego maintains an online support center which features both a well populated help desk and a ticket support tracking functionality.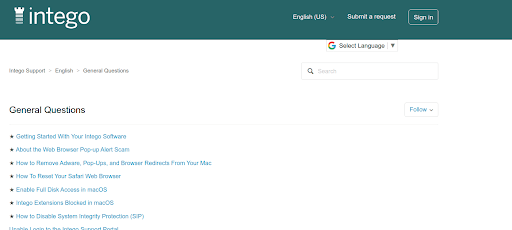 The support team are very well versed in Mac and have earned a reputation for being both responsive to users' requests and highly competent.

Intego Visit Site
Bottom Line
Intego is a highly capable MacOS antivirus tool that does a lot more than simply clamp down on the limited (but ominous) category of MacOS viruses. It's a full fledged system optimizer and all-in-one machine that also features a capable backup tool, a parental control system, and a system junk remover. For the price, it's highly recommended.
About Intego
Intego is one of the leaders in the Mac security space and was founded in 1997. The company specializes in Mac OSX and Mac OX products including firewalls, antiviruses, anti-spam, and backup tools.