In a Nutshell
With over 18 years of experience innovating online security, BullGuard antivirus offers accurate and reliable protection from malware, ransomware, phishing scams, and more. BullGuard offers novel features such as Game Booster placing this antivirus provider at the head of the pack.
pros
Great for gamers
Customizable interface
Good value
cons
Cluttered interface
Cheapest option has limited features

BullGuard Visit Site
Highlights
Features: Unique Game Booster

Ease of Use: Quick and easy installation

Reliability: Below-average reliability

Value: Decent value

Money-Back Guarantee: 15 or 30-day
Best For
Individuals

Families

Gamers
Why Choose BullGuard
BullGuard is a solid choice for many, especially gamers who would otherwise disable antivirus to ensure uninterrupted game flow. With consistently high test scores in malware protection and a range of affordable subscription options, BullGuard is a good choice.
Other benefits to purchasing BullGuard antivirus include parental controls to help keep your whole family safe online, decent customer support, secure web browsing, financial and identity protection, and more. These are compatible with nearly all operating systems and devices, although some platforms are only included at higher price points.
What BullGuard Offers
BullGuard offers 3 paid plans with innovative features to protect systems from online security threats:
BullGuard AntiVirus

Anti-ransomware

Real-time protection from malware, viruses, and other threats

Vulnerability Scanner

Game Booster

BullGuard Internet Security
All of the features of BullGuard Antivirus, plus:
Firewall

Spam Blocker

Parental Control

PC TuneUp

Includes 3 devices

BullGuard Premium Protection
All of the features of Antivirus and Internet Security, plus:
Identity Protection (limited countries)

Financial Protection

Password Manager

File storage
Features
BullGuard's anti-malware technology offers 3 layers of protection. A built-in continual code scanner quarantines and neutralizes malware immediately upon detection. It's updated constantly for new threats through innovative behavioral detection and supplemented by a vulnerability scanner with digital signature verification.
Phishing and Spam Blocker
Phishing scams target users to divulge personal information. BullGuard identifies and neutralizes suspicious URLs and prevents them from infiltrating your system. The list of malicious URLs is constantly updated to keep users safe from emerging threats.
Bullguard includes tools designed to protect against email-based and online phishing attacks. In addition to providing built-in browsing detection BullGuard's latest edition also includes a secure browser (the Secure Browser is available with BullGuard Internet Security and Bullguard Premium Protection). The browser guarantees built in protection against all phishing URLs and also automatically filters out other types of malicious content.
Outdated applications can leave security gaps and weaknesses in your network. BullGuard analyzes weak passwords, disabled updates, and other holes to repair vulnerabilities.
Gamers sometimes disable antivirus programs to avoid disruptive pop-ups or system lags while playing heavy games. BullGuard's Game Booster lets gamers customize protections to boost performance and improve frame rate without sacrificing antivirus and security.
BullGuard offers a host of additional features, including Parental Control, Financial Protection, and Identity Protection. These benefits ensure that your online security goes beyond intercepting malware threats and viruses.
Parental Control
BullGuard provides an integrated Parental Control tool for allowing parents to set up profiles to monitor and protect their children's online activity.
Users are able to either select a preconfigured profile which contains recommended parental blocking features for certain age groups (the tool supports profiles for those aged 3-7, 8-12, and 13-17). Alternatively, parents can customize the categories and websites that they want blocked by selecting categories and adding URLs to the blacklist/whitelist.
Additionally, parents can configure both internet access schedules and access schedules for the whole operating system. The internet access schedule controls access to the internet at the network level—so will work irrespective of what device the child is using. Further restrictions that can be instituted include controlling instant messaging programs and apps.
Finally the Parental Control module supports a logging functionality that can keep record of privacy data use attempts, time spent at the computer, and application usage.
Ease of Use
Installing BullGuard is easy and fast, with navigation guiding new users through the process. Create an account, agree to licensing conditions, and run a primary scan to get up and running in under 10 minutes. Remove any other antivirus software and security applications before installing BullGuard to avoid conflicts.
The interface BullGuard offers is straightforward and easy to navigate, albeit somewhat cluttered. The one-click scan option and easy-access quarantine zone are great features that make up for the dashboard's other flaws.
Detection Rates and Reliability
In independent testing, BullGuard successfully blocked 100% of known malware and 100% of zero-day threats in November 2019 but performed less efficiently in a subsequent test in December. This performance was enough to place BullGuard high up on AV-Test's Top Product awards for antivirus software, however, other products performed better.
Virus scanning is quick, easy, and customizable. It also boasts a light resource footprint so that systems can continue operating at full capacity even during active scans. One area where BullGuard performed less well than other companies was in identifying and blocking ransomware. Without a dedicated ransomware scanner, this is one area in which BullGuard could stand to improve.
Pricing
$29.99 before 20% off promotion
$59.99 before 50% off promotion
$99.99 before 60% off promotion
BullGuard is very reasonably priced after taking advantage of promotional discounts. With costs starting at just $23.99 and a host of included features, this is a solid option for an above-average antivirus solution with some special value-added benefits for gamers.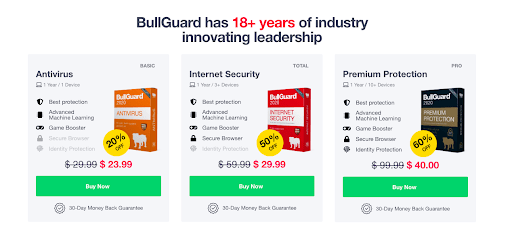 Help and Support
BullGuard offers customer support with a number of communication channels available: email, live chat support, and an online help center. Response times can vary by email despite the company's promise to reply within 24-hours, and there is frequently a queue for the live chat option.
There are resources available on the site, including a blog focusing on relevant topics, FAQs, a resource center, and community forums. For a 1-time fee, new users can also access remote installation and set-up, although this likely won't be needed with the seamless installation process. However, if extra assistance is needed, BullGuard can help.

BullGuard Visit Site
Bottom Line
BullGuard is not the most effective antivirus software on the market—with some mediocre independent test scores and a cluttered interface, there are better options. However, the unique Game Booster feature is very useful for gamers who would otherwise disable antivirus to maintain play continuity and is still a decent choice for the price.
About BullGuard
Morten Lund and Theis Søndergaard founded BullGuard in 2002. Currently headquartered in London, the antivirus software and security solution reached 3 million users in its first year of operations—53 million users currently trust BullGuard's security offerings.
BullGuard has distinguished itself as a solid choice for antivirus software, especially for gamers seeking features tailored to their needs.