In a Nutshell
Bark is a parental control app for iOS and Android devices, Amazon Fire tablets, and Chromebooks. If you want an app with real-world credentials look no further than Bark. It claims to have detected hundreds of thousands of severe self-harm situations and more than one million instances of severe bullying. If you are serious about protecting your childrens' welfare then Bark offers the most comprehensive parental controls solution on the market.
pros
Proven real world ability
Works on both Apple and Android
Monitors more than 30 apps
cons
Not for the desktop
No free tier

Bark Parental Controls Visit Site
Highlights
Features: Monitors texts, emails, and 30+ social media platforms and alerts parents to potential issues, block apps and websites, filter 19 categories of content, manage screen time, location tracking.
Ease of Use: Multi-platform functionality with streamlined set up. Simply install the Bark parent app to begin setup. Bark also offers a dedicated team of Family Online Safety Specialists to assist you with setting up should you need it.
Reliability: Comprehensive monitoring of more than 30 platforms.
Value: Great; After a 7-day free trial, parents can choose between Bark Premium ($14/month or $99/year) or Bark Jr ($5/month or $49/year); add an unlimited number of kids and devices under either subscription
Best For
Bark is the optimal choice of a parental control app for parents that want a tool that will do more than simply make nice marketing claims. Bark is a product that has been extensively tested and trusted by parents and schools to protect over 5.9 million kids—and it has an outstanding track record for alerting parents to potential acts of self-harm, online predation, and more. Bark does this by monitoring just about every application commonly used by kids and teens: from Instagram and YouTube to Gmail and Google Chrome. If your child is using an Android, Chromebook, or iOS device, Bark is for you.
Why Choose Bark
Not only does Bark monitor more social media platforms and apps than any other product on the market, it also offers the most comprehensive set of features outside of just content monitoring, including screen time management, app and website blocking, content filtering, and location sharing. Bark comes with a 1-week free trial—which is plenty of time to test out the product. Finally, unlike many parental control apps, the tool supports both Android and iOS devices.
What Bark Offers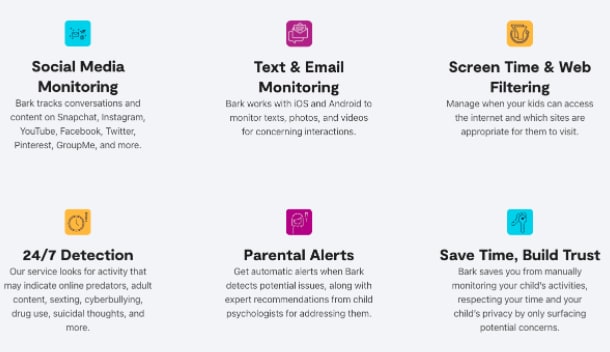 Bark offers:
You can rest a little easier knowing that Bark is helping to keep your child safe online and in real life, because, with it, you can:
Receive alerts if your child encounters porn, cyberbullying, drugs, online predators, and more
Get key insights into your child's online world so you can support them as they navigate technology
Be alerted about inappropriate emojis and slang terms your kid uses
Customize what apps each child can use at each time of the day
Set specific screen time rules rules for school, bedtime, and free time
Block specific websites and apps (like Pornhub.com or Discord)
Alert you if your child is exposed to sexual content
Block entire categories of websites and apps (like sexual content or gaming)
Enable Safe Search on YouTube, Google, Bing, and DuckDuckGo
Turn on Restricted Mode for all YouTube videos your child watches
Make sure your kid gets to school safely
Get an alert if your teen sneaks out of the house at night
Collaborate with a co-parent to help keep your kid safe
Device-level integration: For Android and IoS.
Features
Deep App Level Monitoring
Unlike many parental control apps that simply monitor for a limited number of keywords on a limited number of platforms, Bark monitors an extensive list of apps (30+). Bark can also detect and report all apps installed on your child's phone, tablet, or Chromebook and will alert parents to any "risky apps" that are being used.
AI and Machine Learning Assisted Monitoring
Bark brings the power of artificial intelligence (AI) to bear upon its attempts to help parents keep on top of their chilldrens' online activity. The real time AI engine parses the detected keystrokes and inbound communication in real time and can screen for warning cues that might indicate that the child is in danger. Specific scenarios that Bark is designed to detect include:
Bullying
Violence
Depression
Excessive use of profanity
Sexual content
Online predators
Risky website or app usages
Additionally, Bark uses statistical analysis to leverage feedback and reports from other users to improve the accuracy of its detection rates. Combined with the continuous learning ability of the AI algorithms that the tool uses, this means that in theory it should become continuously more accurate.
Ease of Use
Bark is a very simplistic software for parents to use. The tool has 3 main options: Monitor content, Manage screen time, and block or filter websites. In each child's settings, parents can determine what level of sensitivity they want their alerts set to, what times of day a child can access specific apps, and which sites to allow or block.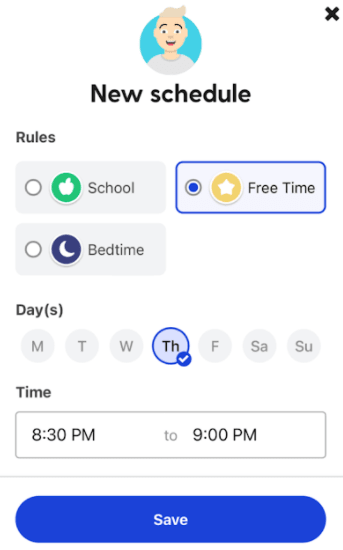 Detection Rates and Reliability
Bark's detection rates are continuously improving thanks to its detection systems, which improve the more they are used. Additionally in order to safeguard the integrity of collected data, Bark also leverages the same SSL encryption technology that banks do. This means that what your child browses online will not be accessible to third parties—such as in the event that the Bank platform itself were hacked.
Pricing
Bark comes with a 7-day free trial. After that users can sign up for either the Bark premium plan or the Bark Jr plan.
The Bark premium plan includes monitoring of text, Youtube, and 30 more apps as well as screen time management, website filtering, app blocking, and location sharing. On the Jr version of the tool users can use all features except monitoring.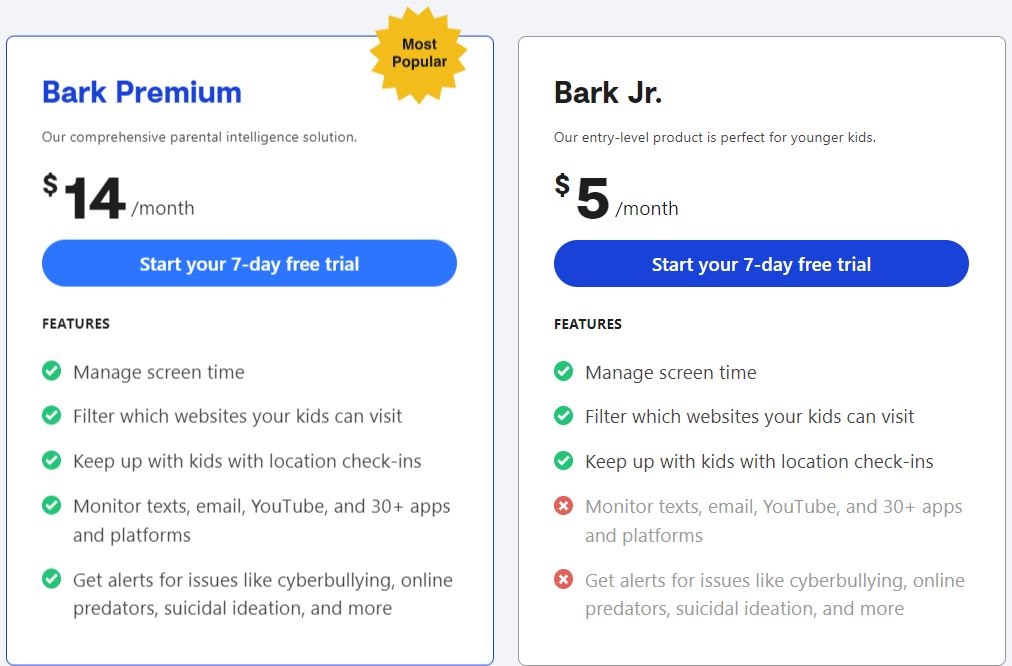 Value for Money
Bark is a tool that provides very good value for the money. It offers superlative content monitoring that understands the nuances in the way kids, tweens, and teens speak and stays up to date on these trends. Plus, parents get access to comprehensive features such as location tracking, screen time management, website and content filtering, and app blocking. Additionally, there is no limit to the number of children accounts that can be associated with one parent. So for any family, only one subscription is required.
Help and Support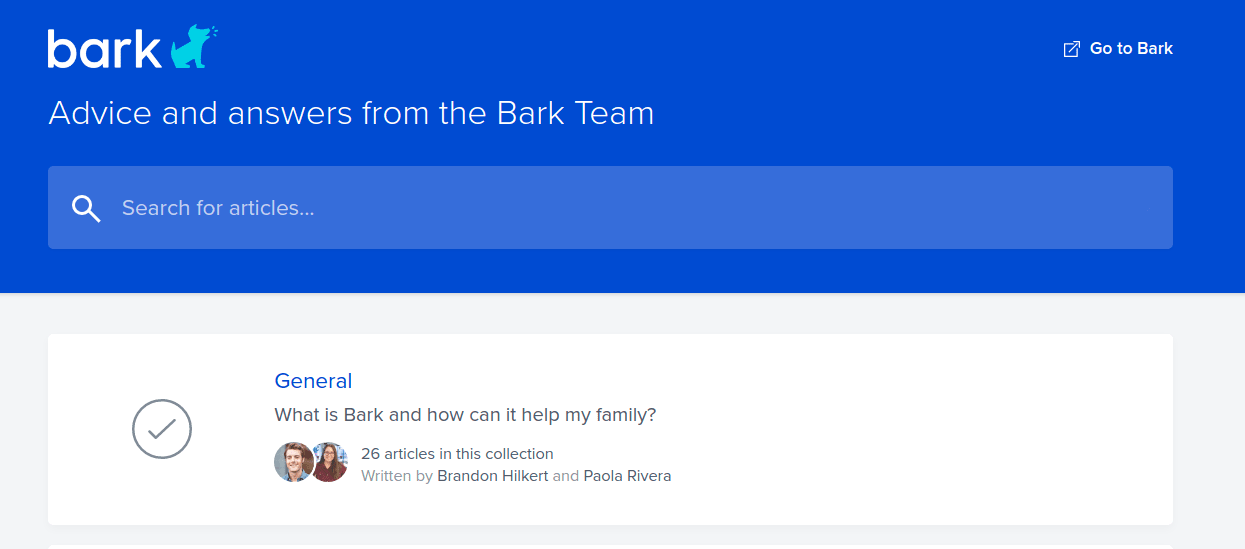 If users get stuck in any aspect of using Bark, they can check out the online help center which is filled with tutorials on how to optimally use the product. The troubleshooting and support tips are conveniently divided into sections dealing with everything from account management to general functionalities and notifications. If users want more individualized support, then they can reach out to the team via the live chat button, which also works as an email case-tracking system (the support team runs on Zendesk), or schedule a call.

Bark Parental Controls Visit Site
Bottom Line
Bark is a very capable parental control app that has one significant advantage over the competition: it drills deep into protected devices and can send parents the most information-rich alerts based on potentially dangerous situations, ranging from depression to thoughts of violence. One license is enough to cover the whole family and the tool can run on both Android and iOS device types.
About
Founded in 2015 by CEO and father Brian Bason, Bark employs a diverse team of technology and security experts. According to its LinkedIn profile the company has just short of 150 employees.