In a Nutshell
With over 30 years of experience in the online security sector, Avira antivirus carries a range of antivirus and computer security packages. With a free option, quick installation, and solid basic protection, Avira also gives users a choice of upgrades.
pros
Free and paid versions
Good value
Options for gamers
cons
Limited functionality of free version
Can be confusing to operate

Avira Visit Site
Highlights
Features: Wide range of add-on features

Ease of Use: Quick self-download installation

Reliability: Below-average reliability

Value: Free version and reasonable subscriptions

Money-Back Guarantee: 30-day on all products
Best For
Individuals

Families

Gamers
Why Choose Avira
Avira offers one of the strongest basic antivirus software platforms in the industry and has ranked consistently at the top of independent testing. The software is also compatible with most devices so that you are covered from threats regardless of the operating system.
Paid versions of Avira include document scanning, cloud protection, file repair, and other features that make this antivirus an attractive choice at low costs. Avira lets you customize scans and enjoy real-time protection from malware attacks.
What Avira Offers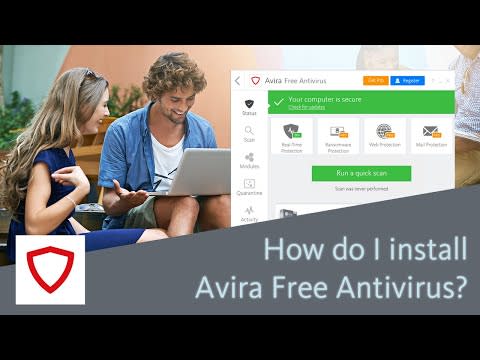 Avira Free Antivirus offers basic features, including:
Antivirus

Malicious phishing URL filter

PC optimization

Limited VPN
Avira Antivirus Pro includes all of the basic capabilities of the free version, but adds several features with this first level of subscription:
Real-time malware protection and file scanning

Financial protection for online transactions

Ad-blocker

Customer support

Privacy protection
Avira Internet Security is the second tier of paid subscription and offers all of the features of the previous 2 packages, as well as some added capabilities:
Password manager and generator

Online account protection

Automatic updates

System scanner
Avira Prime is inarguably the best antivirus and security package on offer from this company. This premium service delivers AI-driven protection to identify and neutralize malware and ransomware attacks. Other added features include:
VIP support

Computer cleaner

Safe web surfing

Access to premium mobile apps
Features
German-based Avira uses artificial intelligence and cloud-based threat detection to prevent and neutralize all forms of malware. A swarm intelligence feature is possible through a worldwide cloud that allows the system to anticipate, analyze, and neutralize threats in real-time. Avira's software includes numerous additional safety features, including "nightvision" AI learning and PUA Shield, which identifies unnecessary applications buried within legitimate software.
Avira uses artificial intelligence and cloud-based threat detection to prevent and neutralize malware in its many forms. The swarm intelligence feature is possible through a worldwide cloud that allows the system to anticipate, analyze, and neutralize threats in real-time. The German-based antivirus provider is a solid choice for protection against ransomware, as its AI learning features are designed to stay apace of developing ransomware and identify potential attacks in real-time.
Other premium features include Game Mode, which allows gamers to maintain game flow and avoid annoying pop-ups and lags, a Power Cleaner to free up extra space on your computer, and other optimization features to enhance functionality. It should be noted, however, that Avira does not offer a number of features common to other antivirus software providers, such as parental controls, spam filters, and a firewall. While Avira is a good antivirus option, it is limited.
Avira offers anti-phishing protection in both its free and premium products. Avira Free Antivirus works in tandem with a browser extension to automatically display a splash page whenever the user attempts to visit a known phishing URL. The database is continuously updated and based upon reports from users around the world. The same excellent phishing protection is included in all Avira premium products including both antivirus and internet security.
Ease of Use
Avira is easy to install; just download the application and let the installation wizard navigate the process. Once installed, Avira will run the first scan of your computer to identify any problems. Once the scan is completed, you'll have a general understanding of your computer's health.
Avira has been improved and delivers a sleek interface with a user-friendly experience. Operating the antivirus on any system or device is seamless, a benefit over some other providers.
Detection Rates and Reliability
In independent testing, Avira performs well overall, with high scores heading into 2019. However, in one recent test from AV-Test, results found Avira lagging with 99.4% zero-day malware detection. Nonetheless, other reviews found Avira effective 100% of the time.
With top-quality malware and ransomware detection at the Pro level, Avira consistently performs well, although some users have reported gaps in ransomware protection.
Pricing
Avira offers a solid, free version that is effective at deflecting malware threats and keeping your computer virus-free. This is, of course, excellent value. The paid versions of Avira antivirus deliver a long list of added features at a good price, but there are other products on the market with better features in the same range.
Help and Support
Avira antivirus offers instant customer support for paid clients. However, customers with the free version can benefit from a range of resources available on the site, including video tutorials and articles. Customer support can be reached via email, social media, or online chat, as well as the ability to set up a scheduled one-on-one support call for more complicated issues.
Avira also hosts a community forum platform where users can discuss specific topics. With all of these resources, users may find the answers they are looking for and not need to contact customer support.

Avira Visit Site
Bottom Line
Avira is a good, basic, free antivirus with several tiers of paid packages featuring more advanced protection. The software performs consistently well in independent malware and ransomware threat containment tests but is less effective at identifying phishing scams than other programs. Game Mode is a unique feature offered at the Prime level that may appeal to gamers.
For a paid antivirus, Avira is highly customizable and does include a wider range of features, but not as many as other antivirus software offerings currently on the market. Some gaps include a lack of parental control, firewall, and spam filter.
About Avira
Avira is an established antivirus provider founded in Germany over 30 years ago. With over 100 million customers globally, Avira detects over 30 million threats monthly. With a clear vision of providing free online security options, Avira develops market-leading products for free, while also delivering premium paid packages and bespoke applications. Having won numerous industry prizes, Avira is leading the antivirus market and combating emerging online threats.