In a Nutshell
NewSmile™ is a teeth-straightening solution that helps consumers get straighter teeth in six months or less, depending on the severity of their teeth. Offering a more convenient process, NewSmile™ is an at-home solution that lets you skip the dentist visits, waiting rooms, and time wasting appointments. With Fast Track or monthly payments, NewSmile™ is also more affordable than traditional braces.
pros
Up to 75% cheaper than other dental aligner options
At-home fitting plus free retainers & whitening treatment
FDA Approved and Health Canada-approved aligners
cons
Not available internationally
Somewhat new to the industry
No physical locations to visit

NewSmile Visit Site
NewSmile at a Glance
Starting price: $69 per month
Treatment duration: 4-6 months
At-home fitting: Yes
Accepts insurance: FSA, HSA
Money-back guarantee: Yes
Best For
A relatively new option that is quickly gaining positive attention, NewSmile™ is a good option for anyone over the age of 13 looking to improve their overall appearance, straighten their teeth, get professional teeth whitening, and monitor all their progress with an App.
It targets:
Wide spacing
Teeth crowding
Teeth gaps
Minor imperfections along with teeth line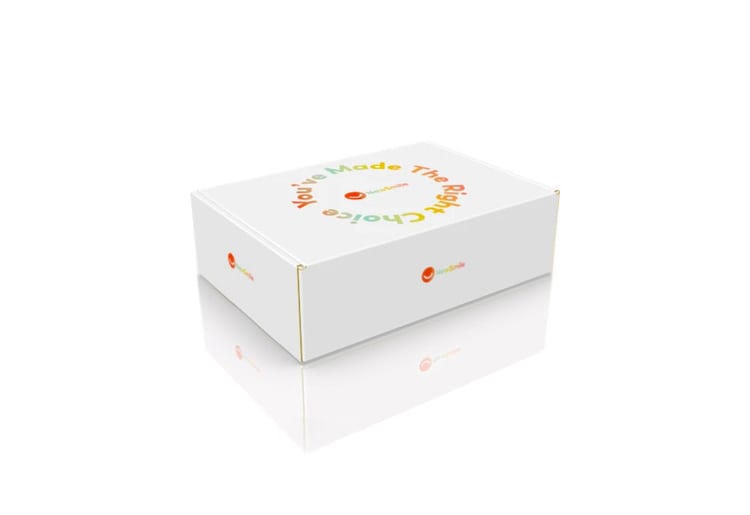 How Does it Work?
NewSmile™ touts a simpler (not to mention more affordable) process compared to traditional teeth straightening procedures. You create your impressions, get your 3D Treatment Preview, order your invisible aligners, and administer treatment all from the comfort of your own home. Big points in our book for the convenience factor. Here's a closer look at what is involved in the NewSmile™ ordering and treatment process:
Start the process by answering a few straightforward questions about your overall dental situation. If you are a good fit (which you probably are, assuming you don't have major dental or medical issues that stand in the way), you'll order your impression kit. This will be delivered to your door, so you can proceed to the next step.
Take your teeth impressions
When you're ready to take your impressions, you'll be walked through the process via video call with a NewSmile™ Impression Specialist. They'll show you how to use your impression kit so you can create an exact mold of your teeth. Again, NewSmile™ earns points for ease of use and the fact that they walk you through the process. When you're all done, you'll mail back your impressions with a pre-paid shipping label that was included with your kit.
See your 3D Treatment Preview plan
One of our favorite parts, NewSmile™ gives you a sneak peek into your future smile. You can see a panoramic view of what your straight teeth will look like, assuming you follow the treatment plan. What's even more impressive is that NewSmile™ lets you tweak things if you aren't happy with the projected smile on your treatment plan.
Wear your invisible aligners
Finally, NewSmile™ will send your invisible teeth aligners along with instructions on how to wear them, what to do, common tips, and what not to do while you're wearing them. You will also receive professional teeth whitening foam and a set of retainers for free. That's a big bonus.
Monitor your progress with the NewSmile Monitoring App
We like how involved NewSmile™ is in the process, not leaving you to figure things out on your own. Their App also helps you track your progress to finish on-time.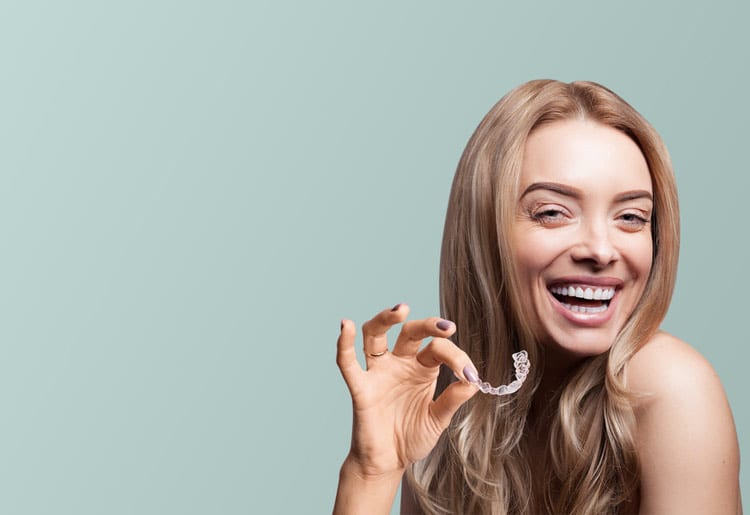 How Much Does NewSmile™ Cost?
Where NewSmile™ really shines is its value for money. For one thing, the overall price is good. Not only is it up to 75% less than traditional dentistry, but NewSmile™ is also more competitively priced compared to other invisible aligners. What's more, NewSmile™ sends you freebies like free retainers and professional whitening treatment. Those are big savings that are not offered by other online teeth straightening companies.
There are also nighttime only aligners that you wear only during evenings to straighten your teeth in a more discreet way. This treatment plan requires you to wear your invisible aligners at night (for 10 continuous hours at a time). Obviously, this option will take a little longer to finish treatment since you're not wearing your aligners during the day. Pricing for night aligners are $200 more, and you can message NewSmile™ for more details.
In terms of a money-back guarantee, NewSmile™ has one. If you pay for your impression kit but are found to not be a good candidate for the program by their doctors, NewSmile™ will refund your payment in full. NewSmile™ works with many FSA and HSA programs too. Add to that free return shipping, and it's a pretty impressive deal overall.
What You Get With NewSmile™
As mentioned, NewSmile™ has a very involved approach with the teeth straightening process (and after). You'll work with an Impression Specialist to create your impressions. They will have your treatment reviewed by a team of orthodontists and dentists regarding your treatment plan, and tailor treatment to fit your needs. It's worth noting that NewSmile™ teeth straightening aligners are both US FDA-approved and licensed by Health Canada, ensuring safe and medically compliant aligners (which you definitely want).
You'll also receive a set retainers to keep your teeth straight after your treatment is done. This has a value of $150, making NewSmile™ a high value service on their part. You'll also get professional teeth whitening foam for a whiter and brighter smile when you're finished. On top of that, download the NewSmile™ Monitoring App to help you complete your aligner plan on time.
NewSmile™ Guarantee
NewSmile™ has a results guarantee. If you wear all of your aligners as directed, you will eligible to receive additional aligners at no extra cost to you. There is also an initial money-back guarantee - if you are found to be unsuitable for NewSmile™ aligners by their doctors, you will get a full refund.
How Does Insurance Work With NewSmile™?
NewSmile™ works with FSA and HSA accounts. Check your individual accounts to see what discounts and coverage are available for you.
Customer Service
NewSmile™ has customer support available by phone, chat and email. There is also a good FAQ section with the most commonly asked questions and answers. Once you receive your aligners, download the NewSmile™ Monitoring App where you will get help to finish your treatment on-time, with additional customer support. NewSmile™ also has a great blog that provides a lot of information about clear aligners, keeping your teeth straight after aligners, and other useful information about oral hygiene.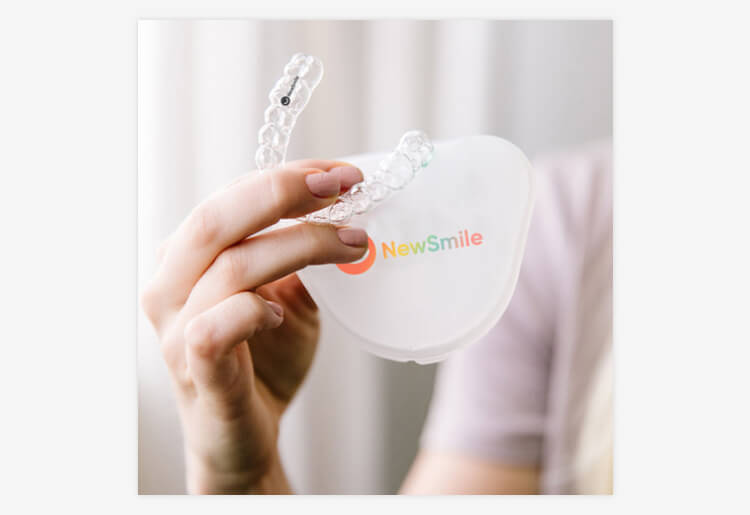 Testimonials
Wonderful company!
"So impressed with this company. Not only did they work with me on the price after I got scammed out of money from another company, but they were so helpful throughout the entire process of each step. The customer service has been great, everything arrived in a timely manner (I'm in the US, so that says a lot!) and I have enjoyed my journey with them so far. I am currently on my first set of trays and very pleased with the products and services I have received."
- Joy W
Fast, easy, and simple!
"Having a big smile and a good laugh is very important to me on the daily. That's why I've decided to start my invisible braces journey with NewSmile™."
- Abe C.
I'm really impressed
"I am really satisfied with my results. I am no longer self-conscious about my smile. Thank you."
- Brenda A.
Bottom Line
NewSmile™ might be the new kid on the block, but it's quickly gaining popularity for providing the most value out of all clear aligner companies. Affordable pricing combined with convenience, good follow-up, video-call support, free retainers, teeth whitening, and the NewSmile™ Monitoring App make NewSmile™ an obvious choice for most. Add to that the clear, comfortable, medical compliant fitted aligners, and a reasonable refund policy, there's every reason to try this new teeth straightening alternative.

NewSmile Visit Site