In a Nutshell
KPMG Spark is a small business focused online accounting system that contains a comprehensive set of functionalities designed to cater to the needs of small businesses. These include online accounting, payroll, and tax preparation.
pros
Developed for simple user experience
Real-time bookkeeping for small business
Can connect bank accounts
cons
Different features than QuickBooks
Some accounts require manual resyncing
KPMG Spark Visit Site
KPMG Spark at a Glance
Best for: Small to medium businesses that need an accounting software
Price range: Per account. From $195/month
Key features: Online account, payroll, and tax preparation
Apps: No
Integrations: No
KPMG Spark Ease of Setup and Use
Getting set up on KPMG Spark comprises signing up for an account and then adding the accounts that you wish to manage through KPMG. KPMG Spark's account management system can deliver a real time bookkeeping service that is specifically designed for small and medium businesses. Users are able to connect bank accounts and credit cards through the system and receive monthly profit and loss statements and balance sheets.
KPMG Spark Pricing and Plans
KPMG Spark is available on 3 paid plans with 1 custom plan for those with lots of bank accounts to connect to the system.
Bank accounts that can be connected
Additionally those with more than 10 bank accounts to connect to the system can sign up for the custom plan tier designed for this usage. While KPMG Spark has been specifically designed with the needs of small business owners in mind, it can also be used by larger organizations which need a system that can support more than 10 connected bank accounts.
KPMG Spark Features
KPMG Spark features the following functionalities:
Bank Account, Credit Card Integration
KPMG Spark can integrate with both bank accounts and credit cards in order to make it easy for users to keep track of incoming and outgoing payments and to easily log these into the account held within the system.
The system can connect with:
Payroll
ADP
WePay
Checking accounts
RetroacDev
Saving accounts
Credit cards
Lumatex
Payroll
KPMG Spark has a relationship with ADP, one of the largest payroll processing providers in the US. Thanks to the integration, Spark users can easily prepare payroll that remains compliant with local, state, and federal payroll taxes.
Real Time Accounting Dashboard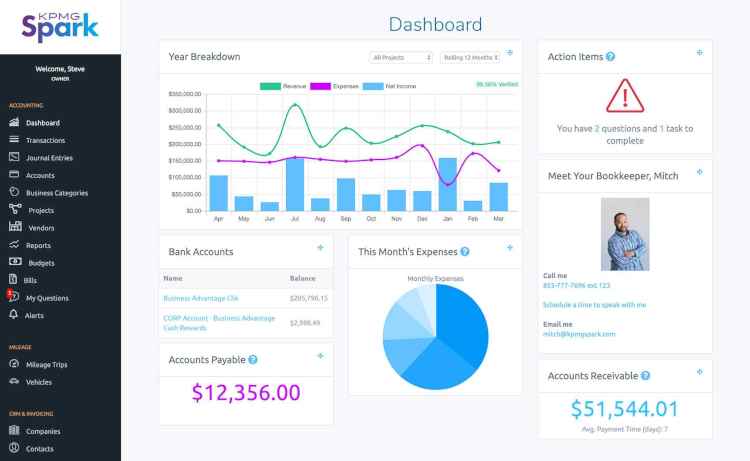 KPMG Spark features an accounting dashboard that is updated in real time as information is populated. This allows users to quickly see:
Whether there are any outstanding action items for completion
What the total of this month's expenses has been
Details about the bookkeeper assigned to this account
Total value of accounts receivables
A graph chart with a monthly breakdown of received funds
Billing and Invoicing
Spark contains an easy interface for taking care of invoicing and payments. Professional looking invoices can be assembled in minutes allowing customers to pay their invoices in less time. KPMG Spark also integrates with payment gateways and its low fee structure results in it taking a fee of just 2.9% of invoice value + 55c for each invoice that is paid online.
Bookkeeper Included!
Not only does KPMG Spark include the tools with which to keep proper books—the bookkeeper comes with the package too. Using KPMG Spark, signups get access to a dedicated bookkeeper who will be responsible for managing their accounts. The photo and contact details of this individual appear in the dashboard view. Because accounts are computed and updated in real time there is also no need for a manual monthly reconciliation. This is all taken care of by the system.
All Components Included
KPMG Spark contains all the components required to ensure that bookkeeping goes off seamlessly. CPA Firms thinking of offering their bookkeeping services through the KPMG Spark program can use all of the following built-in tools designed to make it easy to keep clients' books up to date and in good order:
Real time bookkeeping
Income statements
Balance sheets
General ledgers
Expenses reports
Payroll integration with third party providers
Invoicing tools
A billing management area
KPMG Spark Integrations
KPMG Spark is compatible with over 20,000 financial institutions and accounts. So regardless of what bank accounts users use, there is a high likelihood that it can be integrated into the KPMG Spark system. ADP is the payroll provider of choice for KPMG Spark.
KPMG Spark Mobile Apps
Although KPMG Spark doesn't have dedicated mobile tools for Android or iOS, the accounting software is entirely cloud-based and has a mobile friendly user interface. Thanks to the responsive design of the mobile application backend, it should be easy for users to log in to the system from their smartphones in order to log transactions and check on the latest reports.
KPMG Spark Visit Site
KPMG Spark Customer Support
Of course, in the fast moving world of medium-sized business accounting, things don't always go off without a hitch. Thankfully KPMG Spark has a robust support infrastructure which can be tapped by both CPA firm partners and end users who need additional help and instruction to get set up on the system. KPMG has a dedicated team working on its Spark product and they can be reached by email and by phone. For customers that require pre-sales and onboarding support, the team can also conduct remote demos to explain to prospective users exactly what results the system can be used to achieve.
Bottom Line
KPMG Spark is a cloud-based accounting system suitable for small to medium businesses. And there's one happy twist: the bookkeeper is included! Features include integrating with external payroll processing as well as bookkeeping and expense tracing. What's more, the system integrates with more than 20,000 financial institutions so the likelihood is that your bank can be integrated with KPMG Spark.