In a Nutshell
Sage Business Cloud Accounting will be able to satisfy the needs of most any entrepreneur or small business, with a bevy of features that make good use of automation and machine learning to simplify the whole account process. The app lacks aesthetic flair, but can't be beat in terms of extensibility, with a large marketplace of add-ons and integrations.
pros
Plenty of integrations
User-friendly, powerful interface
Excellent inventory management
cons
Some key features cost extra
Utilitarian layout, with a bit of a learning curve

Sage Visit Site
Sage Business Cloud Accounting at a Glance
Best for: Small businesses
Price range: $10 - $25/mo
Key features: Forecasting, invoicing, payments, receipts, inventory, shared access
Apps: Web, iOS, Android
Integrations: 100+ thru Sage Marketplace
Sage Business Cloud Accounting: Ease of Setup and Use
The set-up process with Sage is a reflection of the breadth and depth of its features. In other words, it can take some time. Much is simplified by connecting your financial institutions and importing data from external sources, if you've chosen to switch to Sage, but it's still a somewhat lengthy process.
On the plus side, there's a helpful Getting Started section of the Summary Tab to help guide you through the experience of adding customers, bank accounts, vendors, and charts of accounts.
The interface is utilitarian, but uncomplicated, especially given the impressive overall functionality. There's a lot to digest, but the menus are well-laid out. It can't be said it's a particularly attractive cloud app, especially compared to some competitors, but ultimately, this is unlikely to be a deciding factor for potential customers anyway. It's basic, but it works, and that's what's most important.
Sage Business Cloud Accounting Pricing and Plans
Sage comes in 2 flavors: a $10 Accounting Start plan, and the full $25 Accounting plan. There's also a free trial available, and at the time of writing, the Accounting plan was free for the first 6 months.
The Start plan includes invoice creation and tracking, and automatic bank reconciliation—so pretty bare-bones. "Ideal for sole proprietor and micro businesses," claims Sage, but we can think of many use cases in which entrepreneurs and small businesses would want more.
Fortunately, the $25/mo Accounting plan has it all: unlimited users, quotes and estimates, forecasting, purchases, and receipts. If you're lucky enough to land on an attractive newcomer's deal, an argument could easily be made for snatching it up. But if not, and in light of the impressive functionality and extensibility of the app, $25/mo is still quite fair.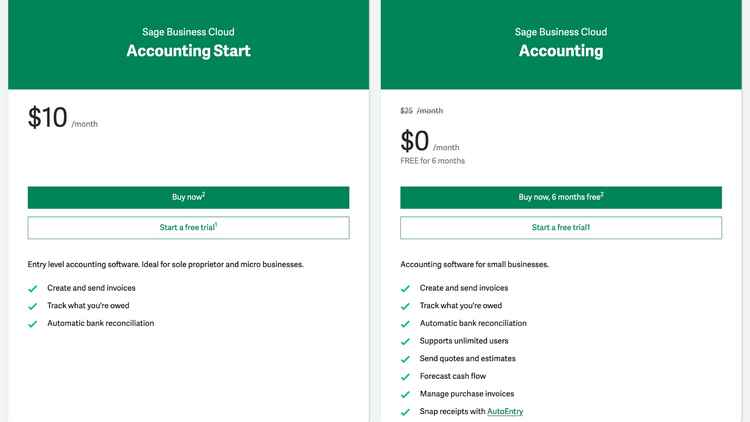 Sage Business Cloud Accounting Features
Sage Business Cloud Accounting offers a wide array of useful features that can help businesses manage their cash flow and send and track invoices. It's one of the most popular accounting applications in the world, with a focus on getting paid quickly and easily.
General Ledger and Expense Tracking
Sage has placed a lot of emphasis on automating some of the more tedious accounting tasks, which is something any small business or entrepreneur is likely to find attractive. Receipts can be scanned with the smartphone app, which automatically reads the receipt and creates the appropriate debit ticket.
Bank integration is also a handy (though common) feature, drawing information directly from your business accounts. The software also has machine-learning capabilities built-in, to better match transactions and learn from your selection.
Reporting is quite robust, with a wide range of reports, including Profit and Loss, Balance Sheets, Aged Debtors, Trial Balances, Category Activity, and more.
Inventory Management
Inventory management is one of Sage's strong points, and it's a feature not all accounting software has built-in. You can add, edit, and remove stock descriptions easily, view and update quantities, and incorporate a variety of pricing schemes, including discounts.
You can also categorize everything into multiple levels, and make use of filters, which makes the whole system much more manageable.
Finally, if you don't track stock, the system also supports services and non-stock items (like materials acquired for rare jobs or that aren't normally tracked).
Billing and Invoicing
Like most accounting software, Sage allows you to create and send invoices, track what's owed, and accept payments. The Summary tab provides a useful overview of what's owed, and the ability to add a built-in payment button to electronic invoices can help speed up payments significantly.
There are some templates to choose from, customizable with logo and accent color—it's uncomplicated, and that's a good thing. That doesn't mean it's not powerful, though. Sage allows you to set due dates, credit limits, and custom terms, invoice in a variety of currencies, apply discounts, print packaging slips, and generate quotes and estimates. All these features are available on tablet and mobile, as well.
Sage Business Cloud Accounting Integrations
This is another area where Sage really pulls ahead. With the Sage Marketplace, the sheer number of integrations is truly impressive. Of course, the software itself comes with built-in Stripe integration, which powers the Pay Now invoice button, but there's much, much more to explore.
You can add POS systems like Epos Now and Lightspeed, tools for data integration, and even extend core features like invoicing and expenses with a variety of add-ons. The Sage API is open and free to developers as well, so new integrations come along regularly.
Sage Business Cloud Accounting Mobile Apps
Unlike some competitors, Sage has put a lot into its mobile apps. Not only can you create and send invoices on the fly, but your business data is there too, and you can log and track your expenses. The mobile app also includes the handy receipt scanner. It's more than an after-thought, it's the whole Sage experience on mobile.

Sage Visit Site
Sage Business Cloud Accounting Customer Support
Sage is a globally-recognized accounting software provider, meaning they have the resources to provide round-the-clock customer support. You can email, phone, and live chat with customer support at any time, every day of the week. There's also a ticket system, for dealing with longer queries.
The app's popularity also makes for a lively customer forum where users discuss problems and find solutions. Finally, a comprehensive FAQ and guides section makes it easy to troubleshoot the most common problems on your own.
Bottom Line
Sage Business Cloud Accounting has a lot going for it. It lacks the aesthetic flair of some competitors, but the functionality is hard to beat. Combine that with the Sage Marketplace and you have some real power to simplify and automate many of the most tedious accounting tasks. We think the $10/mo Start Accounting plan lacks some critical features, but the $25/mo plan is hardly extortionate and will cover all your bases with plenty of room to grow.