In a Nutshell
If you're looking for an accounting platform that makes running a small business as easy as logging into an attractive dashboard, then Quicken could be a good solution. This software, available for both Windows and Mac, makes it easy for consumers to create and stick to a budget, tracking their expenditure across categories and monitoring the performance of their online portfolios.
pros
30-day money-back guarantee
Data is secured thanks to 256 bit cloud encryption
Versions suited for both home and business use
cons
Comparably expensive
Can run slowly on older hardware

Quicken Visit Site
Quicken at a Glance
Best for: Versatile accounting and budget management
Price range: From $31.19 per year
Key features: Budget tracking and bill management
Apps: Windows and Mac plus Android, iOS, and web UI
Integrations: Online banking platforms as well as GetApp and QuickBooks
Quicken Ease of Setup and Use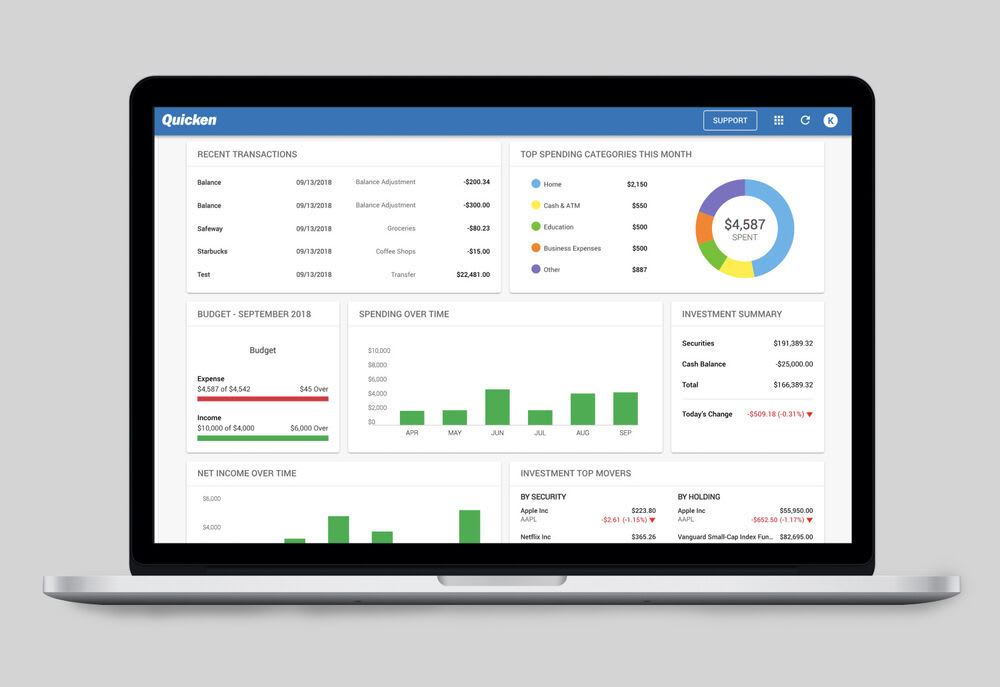 Whether users sign up for the Windows or Mac versions, getting the program set up is as easy as downloading an executable file and following through with the installation steps. While Quicken can sync data to the cloud, this process can be completed while users are offline and disconnected from the central database.
How easy is Quick to use? Take a look at the attractive dashboard and judge for yourself. The program features an easy color-coded information layout that makes plucking out information, such as spending by category, completely simple. Monitoring trends is also straightforward thanks to the bar chart based display for information over time. On both desktop platforms, Quick is definitely an intuitive and attractive tool to use.
Quicken Pricing and Plans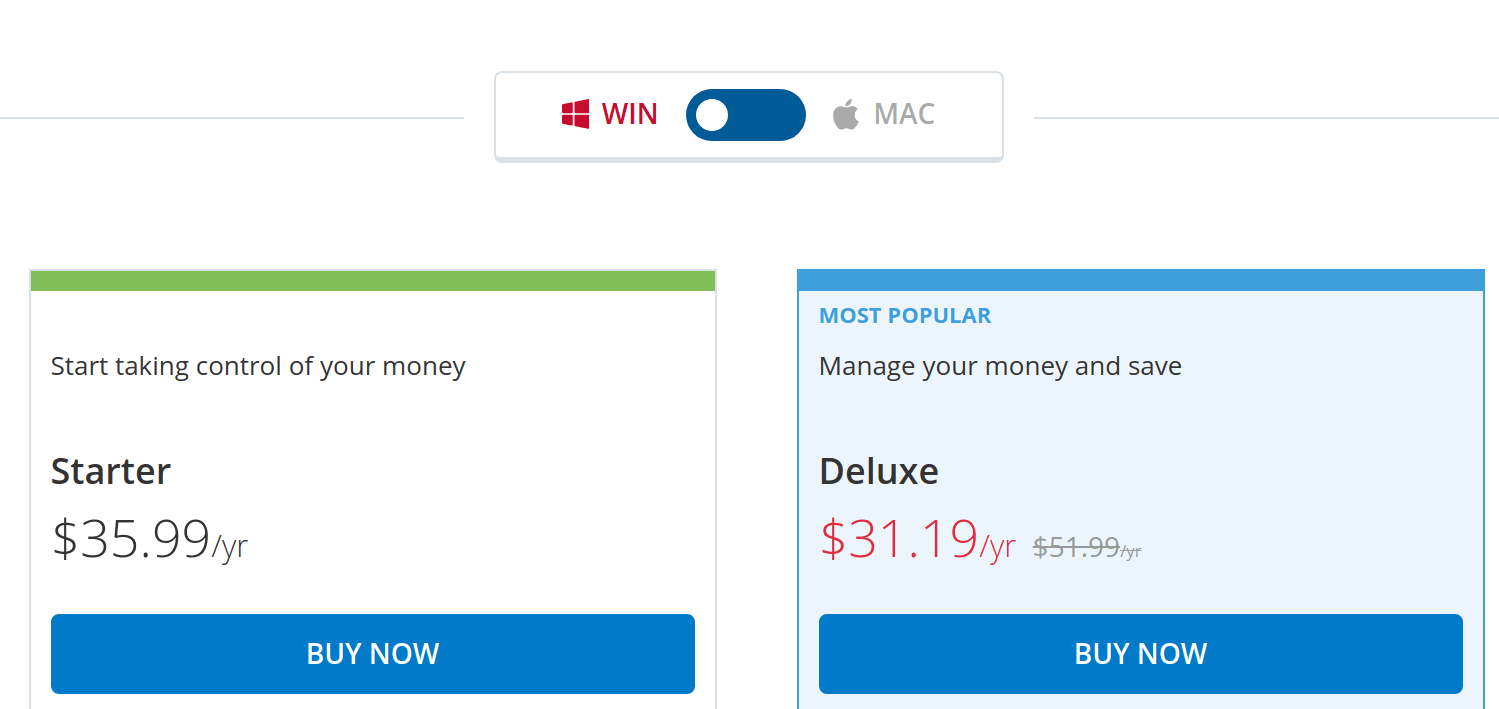 Whether users wish to sign up for the Windows or Mac editions, they can take advantage of the same pricing structure:
All accounts in one place
Budget management
Customized budget
Debt tracker
Saving goals
Free online bill payment
Priority access to customer support
Home and business (Windows only)
Everything in Premier plus:
Separate business and personal expenses
Custom invoice emailing
Given that these prices all reflect the cost of annual subscriptions, we think that this makes Quicken a pretty good deal. And of course it has to be pointed out: any budgeting / accounting tool can very quickly pay for itself (many times over!). Once you've gotten a better handle on what you're spending, it's much easier to stick to a budget. We think that Quicken represents fair value for money across its subscription tiers.
Quicken Features
Quicken is a great expense tracking tool that makes it really easy for users to get their personal finances and savings plans under control. It integrates with online banking solutions and accounting platforms in order to help users with:
Money management

Budgeting

Investment tracking

Planning for retirement
Consolidate Your Financial Accounts
If you're managing your money online, whether in a bank or another savings institution, and you're in the US, then it's a pretty safe bet that Quicken can connect to it and help you make sense of what you're doing with your money. The platform connects to an impressive 14,000 financial institutions and allows users to:
Track and analyze their total savings

Monitor credit card debt

Track the size of their investment portfolio
Net Value Calculator
With Quicken you can easily see the net value of your home or other assets being tracked through the platform by tracking both the value of the underlying asset and the value remaining to be paid in the mortgage that is being paid off.
Get Your Info Anywhere
Quicken can be accessed from three different user interfaces:
Through the web UI: This is logging in through the website. Anywhere that users have access to the internet and a supported web browser they can log in.

Through smartphone apps for Android and iOS.

Through desktop tools for Windows and MacOS.
Bill Tracker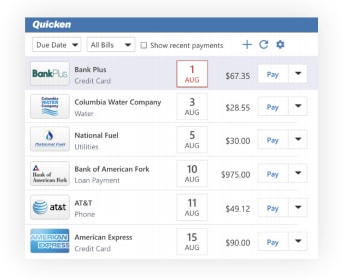 One of Quicken's main features is tracking and paying online bills. Users can connect utility bills and other standing orders that integrate with the platform. The Bill Dashboard presents a visual overview of what bills are due and when and users can even issue same-day payments to more than 11,500 billers.
Check Pay
For users that need to pay their bill by check, the Check Pay feature allows anybody in the US to print, check, and mail a bill to an issuing entity.
Manage Business Finances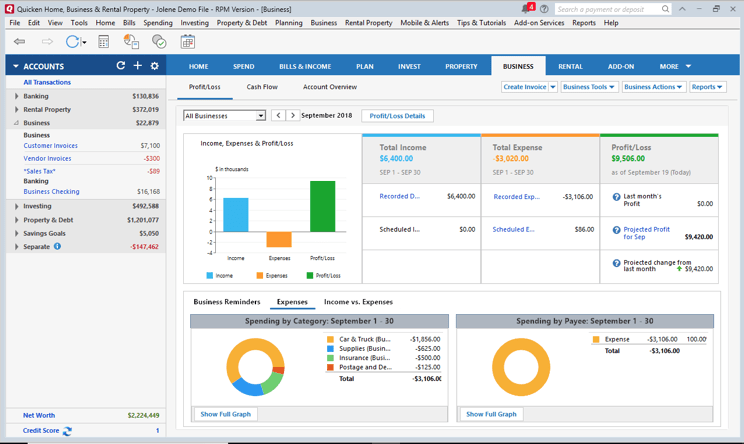 Quicken is also a capable solution for managing business finances and users that are signed up to the home and business tier can access its business features:
Tracking assets and liabilities in order to generate a balance sheet

Separate tracking of business and personal expenses even when these are mixed into the same account

Storage and management of contracts, receipts, and other business documents
Quicken Integrations
Quicken integrates with:
More than 14,000 financial institutions

More than 11,500 billing entities
Additionally the tool can connect with:
Zillow (home valuation tool)

Quickbooks (accounting tool, via data converter)

Other platforms
Quicken Mobile Apps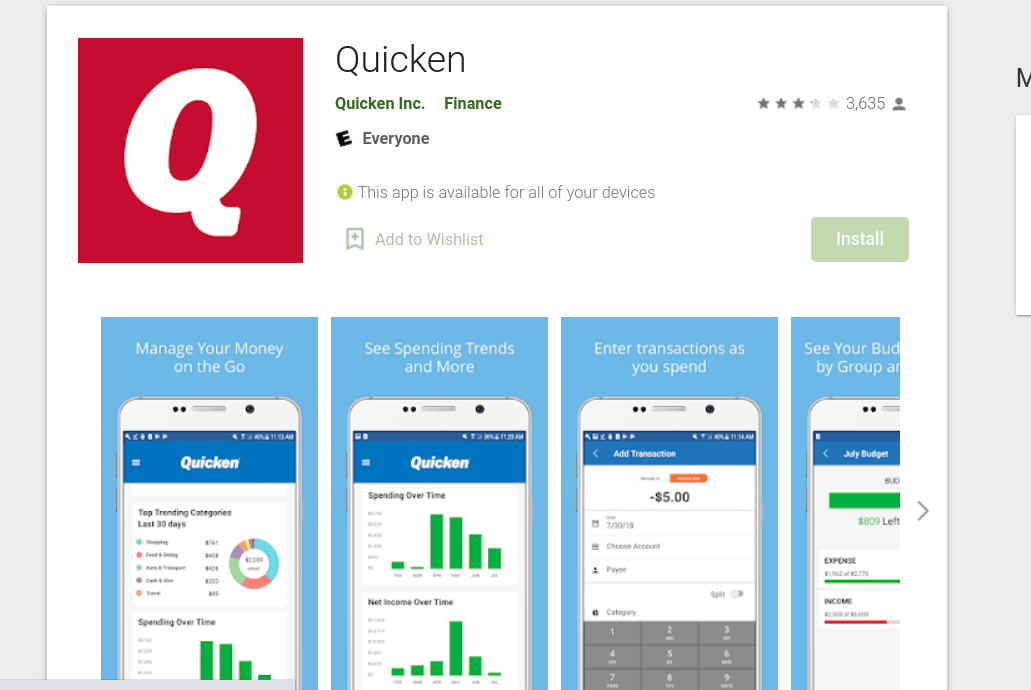 Quicken has mobile apps for both iOS (iOS 9 or higher supported) and Android. Windows Phone and Blackberry are not supported. The smartphone apps provide the full range of functions available through the other means of accessing the platform and can be downloaded through the official app stores. At the time of writing, Quicken's rating on Google Play came in at a three star average.

Quicken Visit Site
Quicken Customer Support
Quicken customer support is available between 05:00 and 17:00 PT (Pacific Time) Monday through Friday. There is an online wait time checker so users can get an idea for expected holding times before initiating calls. Additionally there is an online user community and self support documentation designed to assist users who need to resolve non-personalized issues.
Bottom Line
Quicken is a very capable platform with a yearly subscription model for those looking to get on top of their personal finances, expenses, and bills. Many users find that they can save money by using a tool like this and getting on top of their budget.