Connecting an iPhone to the internet can expose you to all sorts of security breaches, via phone call, data, and email scams, to name a few. If you want a secure connection, you'll need to look into installing an iPhone Virtual Private Network, or VPN. Whether it's at a public airport WiFi or ensuring your ISP isn't collecting data, or the absolute worst—connecting to a WiFi hotspot—you're vulnerable.
Here's an explanation of what an iOS VPN does, a list of the best iOS VPNs, as well as what to look for when selecting a VPN.
The Best VPN Apps for iPhone
1. NordVPN
Services in over 50 countries
This provider ensures a good user experience with its user-friendly interface. You can quickly see information displayed: closes server, availability, load percentage, etc. With over 2,870 servers in 59 locations, there's plenty of information for the app to display.
Security is extremely important to NordVPN, with its inclusion of 256-bit encryption, double data encryption (that means your data is encrypted through not 1, but 2 servers), and an automatic kill switch.
Though monthly billing is a bit pricey, the other plans are more affordable, with the rates dropping for longer plans. The 2-year plan is the least expensive.

NordVPN Buy Now
2. ExpressVPN
Over 2,000 servers to choose from
Expensive compared to competitors
Supports older iOS versions
Fast speeds allow you to access streaming services, and ExpressVPN offers wide support for the iPhone—both older and newer versions of iOS.
Security is important to this provider, and along with offering 256-bit encryption, an automatic kill switch and private, encrypted DNS on every server, it also ensures no collection or logging of data—at all.
As a result, it's a bit pricier, but if you're willing to pay for privacy, it's a good bet.

ExpressVPN Buy Now
3. PrivateVPN
Servers in over 50 countries
Strong OpenVPN encryption
Money-back guarantee for 30 days
With 24/7 support, extremely fast servers in order 50 countries, and the ability to be used on over 6 devices simultaneously, we're hard-pressed to find fault in this provider. This iPhone VPN is quite popular with consumers, but even if you're not happy, you can return it within 30 days with a money-back guarantee.

PrivateVPN Buy Now
4. SaferVPN
Speed is important to SaferVPN, which is one of the reasons it manages its own network. It also automatically detects the fastest server nearest you to deliver highest performance.
SaferVPN includes several paid plans after its 24-hour free trial; the 2-year plan is the most affordable.

SaferVPN Buy Now
5. Avast
Zero logs and bank-grade encryption
Not many features considering price
If the name Avast sounds familiar it's because the company has a well-established name in the antivirus world, and why shouldn't they. The company already understands how important computer and phone security is to its users, and it specializes in the secure side of VPN.
The company comes with a zero-logs policy as you would expect, and the product is simple to set up and use. The VPN is ideal for people looking to avoid online hackers and cyberthieves. The main downside is that relative to the features offered, the price is a bit high - but the peace-of-mind is worth it.

Avast Buy Now
How Does an iPhone VPN Work?
An iPhone VPN hides your IP address by connecting to a remote server hosted by the VPN company, thus encrypting the data to make it seem that the IP is in a different location. Once connected, you're free to connect to a variety of sites that would otherwise be blocked. Another key advantage of an iPhone VPN is that it keeps browsing activity out of view of hackers, the government, workplaces, schools, or ISPs trying to collect your data.
Types of Data Encryption Protocols
In more technical language, iPhone VPNs work by using several different types of encryption:
PPTP – Fast, but less secure than other encryptions.

L2TP/IPSec – One more step higher up in security than PPTP.

Internet Key Exchange version 2- Strong, but not as strong as OpenVPN. This is the most popular protocol for iOS VPN clients.

OpenVPN – Although open source, this protocol is extremely secure, and what providers use when they claim "military encryption."
What to Consider When Selecting an iPhone VPN
In addition to speed, it's important to understand how many connections the iPhone VPN allows and the speed you receive as a result. It's especially important if you plan to use the provider for streaming HD videos, for example. Another simple tip is to connect with the closest server, especially while completing any data-intensive tasks on your iPhone.
You can also test the speeds of iPhone VPNs on this internet speed test site.
If your VPN doesn't provide security against hackers, what's the point? Check that the provider includes strong encryption protocols.
Security goes hand in hand with terms of service, which should clearly illustrate which types of data ISPs are allowed to store. Some VPNs do sell data to third parties for profit. For maximum protection of your privacy, select providers with zero log policies or anonymous statistics only. If anonymity is very important, check carefully for a service that is based in a country that does not have a data retention policy, and that it doesn't collect data from your ISP.
Reliability and Accessibility
To make sure you're getting the most out of your iPhone VPN, be sure to select a provider with lots of server locations. The more options to access websites from different geo-locations, the less likely you'll be blocked from visiting any website and the more chances you have to find a speedy connection with less traffic.
How to Configure a VPN on Your iPhone
Once you've chosen your preferred VPN, it's time to set it up on your iPhone. This is quite simple.
For the purposes of this guide, we'll use screenshots from NordVPN's iOS app, but the installation procedure applies to most other VPNs, too.
Step 1: Go to the App Store and download the app
You don't usually need to log on to the VPN's website in order to get the best VPN for your iPhone. Instead, you can log on to the App Store, search for your VPN provider by name, and download the app directly on your iPhone.



Step 2: Create your account
Once you've downloaded and installed the app, you'll need to register for an account. Some VPN providers - ExpressVPN, for instance - have a free trial. This means you can start using the VPN immediately without signing up. If this is the case, skip to Step 3. Free trials usually last for a set number of days (typically 7, 14 or 30 days) or expire after you've used up a set amount of data. Once your trial expires, you'll need to come back to this step to create an account and select a subscription.
You can usually create an account straight in the app by typing your email address and creating a password.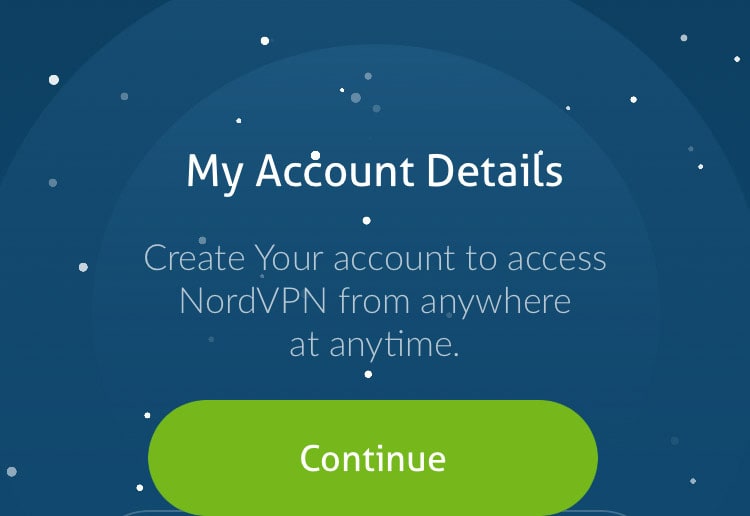 Step 3: Choose a server and connect
Once your account is active, simply connect to a server and you're done.
Your choice of server will depend on your needs. If you simply want your data to be protected, any server will do. However, it's best to go for one that's close to your location, as this will ensure your connection performs optimally.
Of course, if you want to use your VPN to bypass geographical restrictions, you'll need to choose a VPN server in the area where you want to appear to be located.
You can pick a server in your VPN app, either from a list: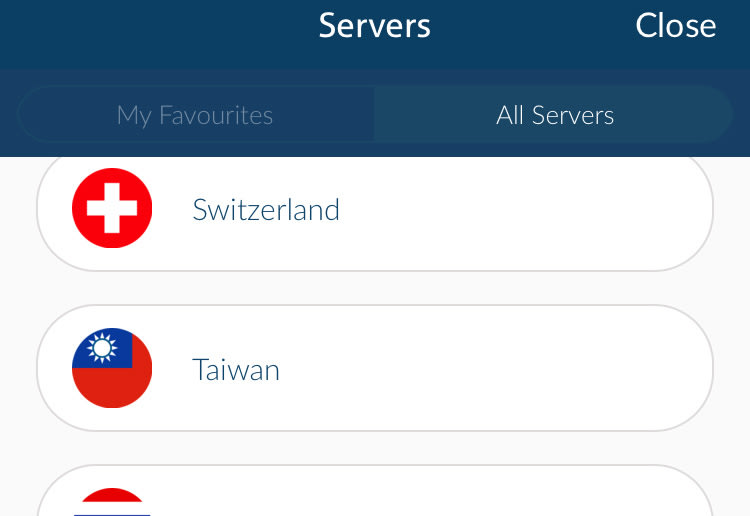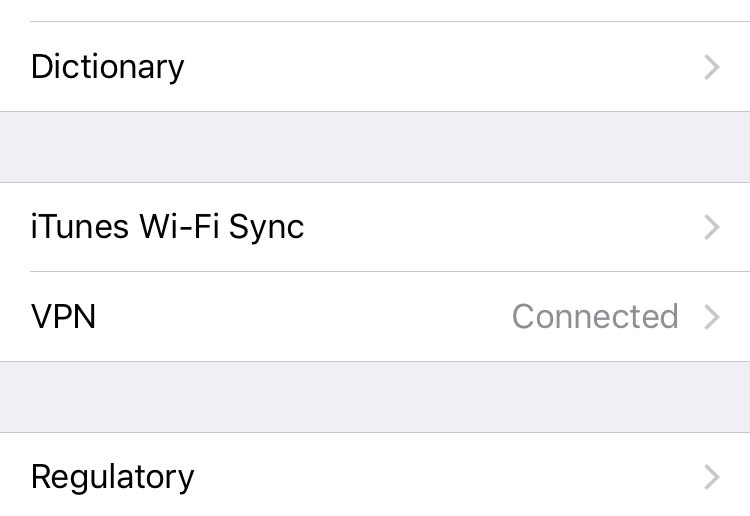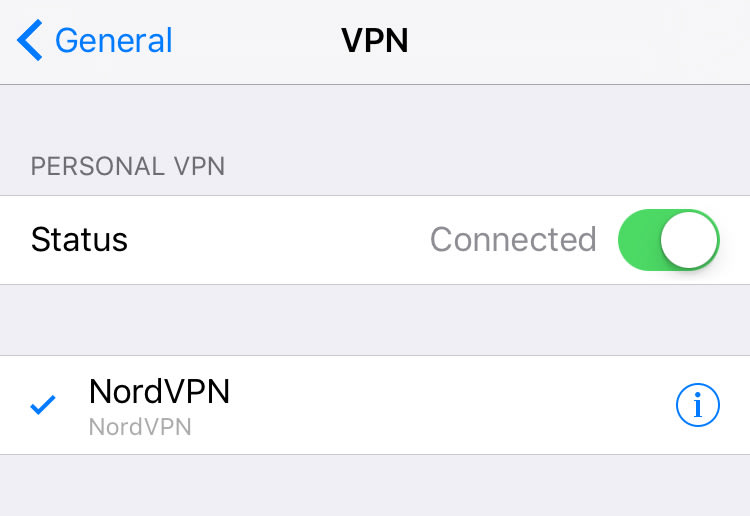 5. At the very bottom, there's an option called "Connect on Demand" press the slider and wait for it to become green.
6. That's it. Your VPN will connect automatically every time you unlock your iPhone.
Free vs. Paid iPhone VPNs
Similar to browser-based VPNs, free iPhone VPNs as opposed to paid VPNs, have a tendency to be slow and include lots of ads. The real risk of free iPhone VPNs, however, is your security. Most of the free iPhone VPNs on the market have loads of poor customer reviews.
Also, keep in mind that you get what you pay for, which is why even reliable free iPhone VPNs restrict downloads to between 500Mb and 2Gb per month, which isn't nearly enough for any serious movie and TV watchers who want to use it for streaming.
Most paid iPhone VPNs are affordable, with a range in price from anywhere between $7 and $12 a month, less if committing to a longer plan. If you want a reliable iPhone VPN with top-notch security, consider a paid plan.
It's Time to Protect Your iPhone
An iPhone VPN is a great solution for anyone who is concerned about their data collected by both ISPs and hackers alike. There are a few main points to consider when selecting a VPN to go with your iOS. Among them include security, speed and performance, and reliability and accessibility, as well as how to measure how each provider is living up to these different expectations.
There are many iPhone VPNs on the market today, and we've selected the few we believe to be the top-of-the-league. No matter which VPN provider you end up selecting, however, we hope we've provided a good idea of what to look for while choosing.