In a Nutshell
X VPN promises to work across a wide variety of devices including the Amazon Fire TV. It also boasts an impressive server pool with more than 8,000 connection points in more than 25 countries. However, we weren't wowed by the speeds through most of its servers. On the positive side, it does unblock Netflix and it supports 3 simultaneous connections.
pros
Limited free version
Cross platform with Amazon Fire TV app
9 different connection protocols
cons
Lackluster speeds through some servers
Paid tiers not the cheapest VPN options
Only 3 simultaneous connections

X VPN Compare All
X VPN at a Glance
Best for: Users that want wide cross platform compatibility
Price: $11.99 month to month
Location: More than 8,000 servers in more than 25 countries
Netflix: Yes - fully unblocks Netflix US
Torrenting: P2P torrenting and video streaming both allowed
Logging: Minimal logging for user support purposes
Number of Devices: 3
Operating Systems: iOS, Android, Router, Amazon Fire TV, MacOS, Chrome, Windows, Linux
Browser Extensions: Google Chrome
Privacy
For users that want a wide choice of connection protocol X VPN is a good choice, although the company could be more transparent. The company leaves the details about what exactly is running under the hood shrouded in mystery. The Windows client, for instance, describes the connection options only as "Protocol A", "Protocol B" and so forth—only rating each protocol according to its speed, security, and accessibility. Therefore, without engaging in packet inspection, it's impossible to see what exactly is running.
Regarding logging, the company has put together an FAQ response to "do you guys keep any logs?" According to that post, X VPN "does not and will not log any users' traffic data, which includes browsing history and DNS queries." However, the company does say that it retains "some data to provide necessary user support and troubleshooting." Therefore, although this admission means that the service cannot be classed as zero logs, it is transparent about its policy and the data it collects.
Features
X VPN contains the following set of functionalities:
Kill Switch
X VPN features a kill switch that will disable the internet interfaces when the VPN connection drops. This feature is a common requirement for those that want to use the VPN all the time. X VPN's kill switch may trigger both when the connection is detected to be weaker than expected and when it has totally dropped off.
Unlimited Bandwidth
The service doesn't levy any bandwidth limitations as to how much data users can consume while connected to its servers.
Speed
I tested out X VPN's server network for speed. While doing so, it became apparent that some of its servers are hosted in AWS. The company says that it also owns some of its infrastructure. But clearly some of it is provided through a public cloud. My baseline connection, as usual, was in the region of 90 Mbps. The best speed I achieved was through the US server. The Windows client had a nice automatic fastest server selection functionality. The speeds I achieved, in general, were middling. Connecting through Germany, for instance, I only managed about 14 Mbps. That dropped to 10 Mbps while connecting through India.
It seems as if the more popular endpoints have been provisioned for better speed. But, at least at the time of writing, it seems like some endpoints are lagging in the speed department.
Automatic fastest server (Germany)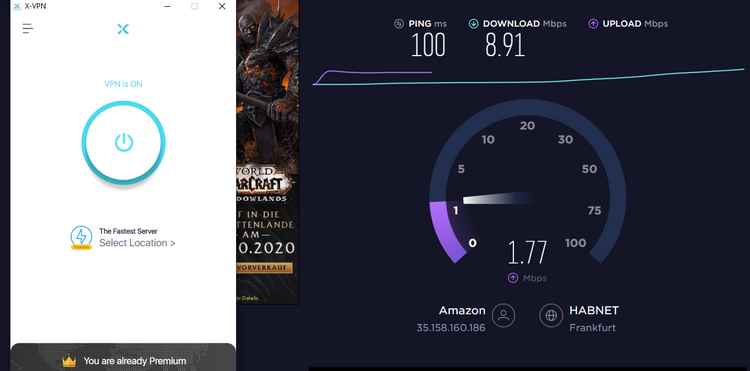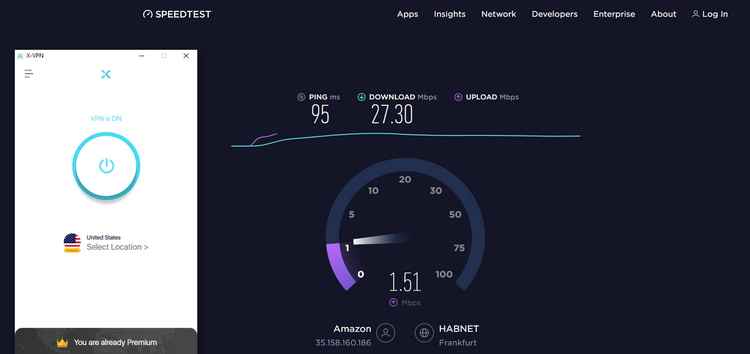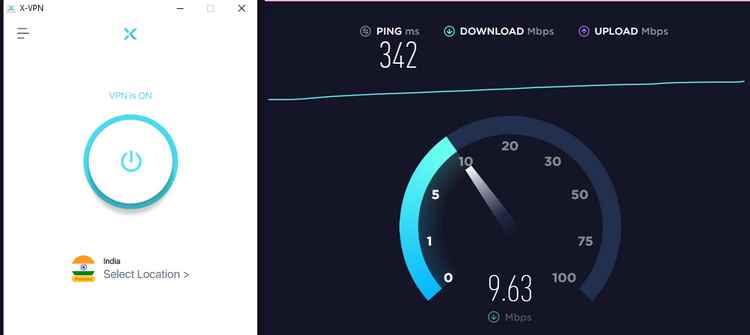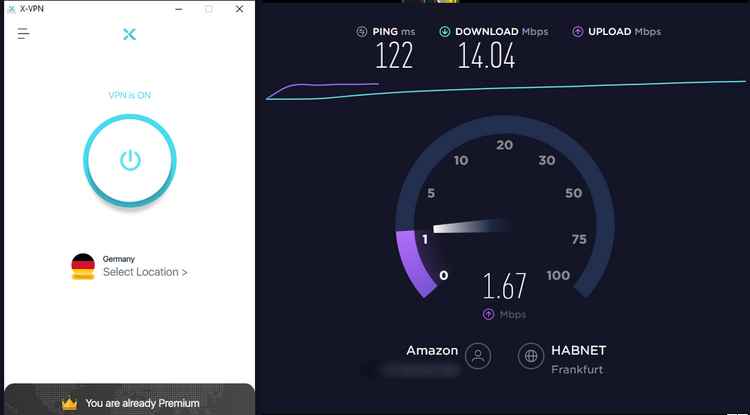 Pricing and Deals
Users have 2 pricing options in order to get subscribed to X VPN. The month-to-month plan comes in at $11.99. While the yearly plan works out to just $5.99 per month. The company does offer refunds if the product doesn't live up to user expectations.
Torrents
When it comes to torrenting, X VPN is open ended. I couldn't find any explicit prohibition of peer-to-peer connecting activity. That being said, clearly some of the endpoints would have greatly slowed down the speed of peer-to-peer file exchanges. Additionally, the company doesn't advertise any torrent-optimized VPN servers. There are better choices for VPN torrenting servers. However, on the plus side the activity is not prohibited.
Netflix
X VPN can be used in order to connect to US Netflix, however users need to take a few steps in order to pick out the right server. When I tried to connect the first time, through the 'United States' option I received an error message. The company has provisioned special video servers in the US, UK, Japan, and Brazil. In order to access these, users need to click into the 'streaming' section of the server options. After that, Netflix's US video offering should become available.
Client Setup
Getting the program up and running on Windows is as simple as downloading the right installation file and then following through some steps. If you're' trying to get the client installed on a router or on Amazon Fire then some additional steps might be required. Things are a little bit more complicated on Linux. After selecting the download for my workstation's architecture, I gave the file executable permissions. It's a command line interface rather than a GUI and requires a couple of operators in order to get a connection set up.
Apps
Android and iOS users have no reason to fear missing out on the X VPN goodness. The product is available for both platforms and can be downloaded, as usual, through the app stores. At the time of writing the product enjoyed a 4-star rating on Google Play with more than 150,000 user ratings. Like the desktop version, the Android tool allows users to choose from different connection protocols.
How Does X VPN Compare?
Users that want different wide cross platform compatibility
Those that want control over connection protocol
Serious privacy enthusiasts
Customer Support
Stuck users' first port of call should be the X VPN help center. Here they can open up a live chat session, or send an email, to X VPN's support representatives. There's also a detailed selection of tutorials designed to help users get up and running and troubleshoot common issues.
Ease of Use
X VPN ranks as a very easy and consumer friendly VPN to use. More technical users will likely be annoyed by the fact that the VPN protocols are not disclosed. But selecting an automatically chosen fast server and a specific endpoint are both simple.

X VPN Compare All
FAQs
Does this VPN have a Linux tool?
There's a command line interface
Can I get X VPN running on my Synology NAS?
No, Synology is not one of the supported platforms.
How many servers does the company maintain?
The company says that it maintains over 8,000 servers. Some are provisioned on public cloud providers and others are owned, according to the company.
Bottom Line
X VPN doesn't yet run on Synology, but it has wide cross platform support with clients for Amazon Fire, routers, and major operating systems. Although some of the speeds were a bit on the slow side, this company does offer a wide server network. Torrenting and peer-to-peer activity are also allowed on the network.