In a Nutshell
Windscribe is a VPN that follows an unusual pricing model: users can pay just $1 per connection location per month or else sign up in the conventional way for a flat monthly plan. The VPN features clients for Windows, Linux, and MacOS.
pros
User can pay for only 1 VPN server
Linux, Mac, Windows clients
Config generator for servers
cons
Relatively small server network
Lacking some specialty servers

Windscribe Compare All
Windscribe VPN at a Glance
Best for: Users that want an easy-to-use cross-platform VPN with flexible billing
Price (or price range): From just $1/month for one endpoint
Location: Over 3,000 servers in more than 50 countries
Netflix: Unblocks Netflix US
Torrenting: Torrenting allowed through all servers
Logging: No identifying logs. Full policy set out in blog posts.
Number of Devices: No limit on simultaneous device connections
Operating Systems: Windows, Linux, MacOS
Browser Extensions: Chrome
Privacy
Windscribe has set out its logging policy in both a post on its website ("No Identifying Logs") and on a Medium post. The company is transparent about the fact that it does collect some user data: namely how much data users have used in the previous 30 day period and the last usage period. It says that it collects this information to prevent abuse—which seems legitimate given that the company doesn't enforce a simultaneous connection limit. Its human-readable privacy policy provides further detail about the company's logging policy.
Features
Windscribe has some interesting features. These include:
R.O.B.E.R.T
Windscribe offers a server-side domain and IP blocking tool. Users can program a list of domains that they want to block, or whitelist, and the filtering will occur whichever server on the VPN network they connect to. This is a useful functionality for parents that want to install parental control filtering at the router level and which also want to enforce VPN usage for every connected device on the network.
Like most parental control systems, R.O.B.E.R.T features both a simple whitelist/blacklist functionality as well as category-based filtering.
Finally, like OpenDNS's filtering system, R.O.B.E.R.T includes some security features with its filtering too. The tool blocks botnet-operated command and control (C&C) servers, which are often used to mastermind malware injection attacks in addition to phishing sites. By blocking unwanted advertisements and tracking scripts R.O.B.E.R.T also helps users to browse the internet more quickly. Windscribe is one of the few VPN providers to have integrated a content filtering tool into its offering and for parents that have a dual VPN/filtering need R.O.B.E.R.T is a great way to kill 2 birds with 1 stone.
Configuration Generators
Pro account users are able to generate connection configuration files for the following protocols:
OpenVPN

IKEv2

WireGuard

SOCKS5
Connection configuration files can be used by users to use the VPN with a router. Alternatively, they can be used in operating systems that have the capability of connecting through the VPN tunnel but which do not have support clients—such as unsupported Linux distributions.
Static IPs
Windscribe supports static IPs in 13 locations. Both data center IPs (standard IPs for VPN servers) and residential IPs (those that look as if they have been assigned to home internet connections) are available.
Speed
I tested speeds across the Windscribe network using the Ubuntu CLI. My baseline connection speed was approximately 90 Mbps.
The connection to Paris, France yielded a speed of about 22 Mbps. London came in at 24 Mbps. And the New York server scored the fastest speed at 35 Mbps.
Although the Linux CLI assigns nice nicknames to the endpoints to facilitate speed connections, and the speeds were good enough for basic multimedia streaming, they were definitely not the fastest that I have seen through a VPN.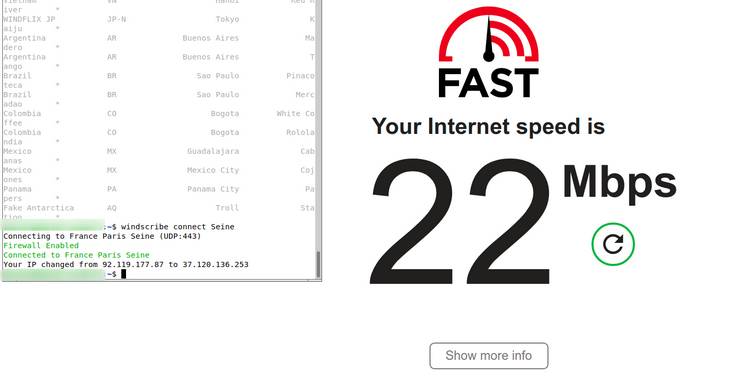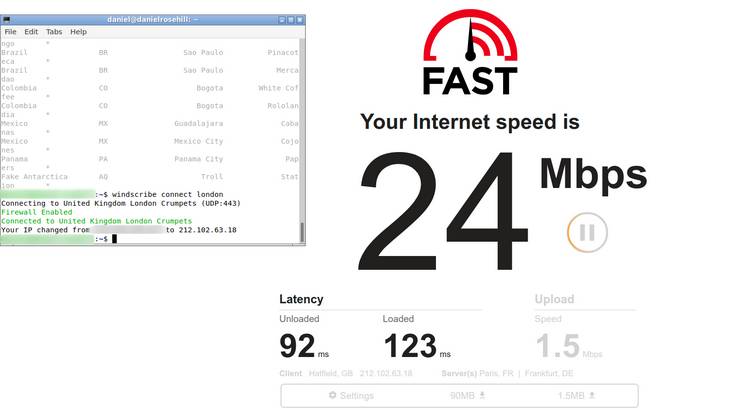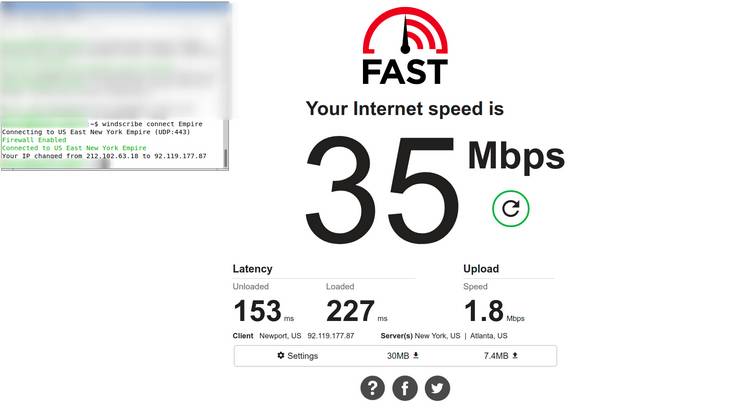 Pricing and Deals
Windscribe is one of the few VPN companies to offer pricing as low as $1 per month. That's all users have to pay to maintain connection rights to a VPN location of their choosing. If having to select one location sounds too constricting, then users can opt for the monthly or yearly plans which provide access to all servers in the network. Finally, Windscribe offers a 'free' plan. The catch is that it doesn't provide access to all the servers in the company's network. Furthermore, bandwidth is capped out at 10GB per month.
$1 per connection location per month
Torrents
I couldn't find any clause forbidding use of peer-to-peer torrent networks in Windscribe's terms of service. Indeed, the company has a support area resource explaining how to use the VPN while torrenting (users should change their firewall mode to 'always on'). If users want to use Windscribe in order to protect their IP while using a torrent network then Windscribe is a good choice.
Netflix
Windscribe can be used to connect to Netflix. By selecting the company's New York server, which has the codename 'Empire' in the Linux client, I was able to establish a connection that worked to unlock Netflix's US content library.
Client Setup
Downloading the client and setting it up is as easy as choosing the right operating system from the website and downloading the correct installer.

For Ubuntu Linux, Windscribe offers a command line interface (CLI) rather than a graphical program. However, by inputting a couple of commands it was possible to authenticate the user account and connect to the desired server. Setting up the Windows and MacOS clients is just as easy. Users connect to the desired server by using the Windscribe client which is barebones but attractively designed. The account status and external IP address is displayed at all times so that users can immediately see when they are connected to the VPN.
Apps
For mobile users, Windscribe makes apps for both Android and iOS. The smartphone apps provide the full functionality of the desktop tools and allow users to connect to VPN servers through their smartphones.
How Does Windscribe Compare?
$1 per connection location per month
5,105 servers in 59 countries
Users that want a VPN with a flexible pricing structure
Users that want a VPN with a fast connection network
Users that want access to specialized servers
Customer Support
Windscribe users in a lurch can reach out to the company's customer support resources by live chat or ticket. Users that prefer social media can even post on the company's official subreddit, /r/Windscribe, to get help. In addition to the Reddit community there is a knowledge base, FAQs, and setup guides—so users certainly have plenty of resources to get up and running, successfully, with the solution.
Ease of Use
Like most VPNs, getting set up and running using Windscribe is a cinch. After the installation process is complete users simply need to point and click on the server they wish to connect to. Rather than a kill switch, which Windscribe combatively describe as "snake oil," the app has a firewall functionality built into its Windows and Mac applications which automatically disables any network traffic that is found to be travelling outside the VPN tunnel, including DNS queries, IPv6 leaks, and WebRTC leaks. This makes it simple for users to make sure that all of their internet traffic is being protected so long as they maintain a connection to one of the company's VPN endpoints.
FAQs
Is there a free plan?
Yes, but not all servers are available for connection and there is a bandwidth cap.
Can you install Windscribe VPN on a router?
Yes, you can if you have the right (custom) firmware. Windscribe has documentation for installing the VPN on Tomato, DD-WRT, and Asus.
Is there a Linux client?
There is a command line interface (CLI) rather than a GUI, although the syntax is relatively easy to use.
Bottom Line
Windscribe is a likeable VPN although its set of features is relatively basic. The main drawback I encountered was the fairly unimpressive speeds on its network. On the positive side of things, the company is one of the only premium VPNs that can be subscribed to for as little as $1 a month. So for those on a budget that are happy to make do with only one connection endpoint, this could be a great choice.