In a Nutshell
VPN Area sports a worldwide VPN network spanning more than 64 countries. Speeds are reasonable and there are some handy extra features for privacy enthusiasts to enjoy including double VPN locations and IKEv2 servers.
pros
Specialty servers
Worldwide network in 64 countries
Unlimited bandwidth
cons
No free plan
No Linux GUI
Some slow servers

VPN Area Compare All
VPN Area at a Glance
Best for: Those that need a stable connection network at a reasonable price
Price: $9.90 per month
Location: 100+ server locations in 65 countries
Netflix: Unblocks Netflix US through certain servers
Torrenting: Full torrent support
Logging: No logics policy
Number of Devices: 6 accounts. Account sharing fully allowed!
Operating Systems: Windows, Mac, Linux (CLI). Also: Android, iOS
Browser Extensions: No
Privacy
In order to figure out what VPN Area's take on logging was, we went straight to the horse's mouth by checking out the company's privacy policy. Under the "No Logs" subheading the company states: "we do not monitor, record, or store logs for any single customer's VPN activity. We do not monitor, record, or store any login dates, timestamps, incoming and outgoing IP addresses, bandwidth statistics, or any other identifiable data of any VPN user."
That sounds like a pretty ironclast no log policy to me. Geographically, VPN Area is based out of Bulgaria which is, of course, an EU member state. So although the company could theoretically be subject to future European legislative efforts, right now its robust privacy guarantee is just about as good as any no logs commitment we have seen on the market.
Features
VPN Area features a number of tools and utilities beyond just enabling connections to VPN servers. For instance users can:
Auto Startup
Many users want their VPNs to connect at all times, as soon as the computer boots up. By toggling this menu item on, users can program an always on connection. Additionally, users can configure the VPN to connect automatically to the last server used. If users find a particularly strong endpoint that they want to use for all internet activity, then these are the options to configure.
Kill Switches
Users that wish to use their VPNs in an "always on" connection mode are also fond of using kill switches. This setting configured the VPN to automatically shut down whenever a connection to a server is lost. The VPN contains both a "soft" kill switch, which works at the Windows Firewall level, as well as a "nuclear option" kill switch that will pull down the network interface and make any connections unavailable.
DNS Leak Prevention
Privacy advocates are used to the fact that even when their internet traffic is being securely encrypted in a VPN tunnel their website lookups (DNS requests) might escape it. In order to prevent that, VPN Area features a DNS leak prevention and detection option. This will automatically prevent the possibility that DNS requests escape the VPN connection tunnel.
Custom VPN Servers
If users want to use custom DNS servers while their VPN is connected then they can configure that directly from within the client. Some VPN users might want their outbound connections to be routed via OpenDNS, for instance, while keeping their regular lookups with their ISP's servers.
Speed
I tested out various VPN endpoints to assess the speed of the connection. Overall it has to be said that my connection speeds were on the slow side. For instance my connection through the USA ground down all the way to 3.7 Mbps on my first connection attempt. Through New Zealand I received a fairly dismal connection speed of 5.8 Mbps while in Ireland that number rose to 12 Mbps. While the speeds were adequate for regular internet browsing, the servers I tested were not the fastest I have seen for torrenting and other activity that demands a fast connection.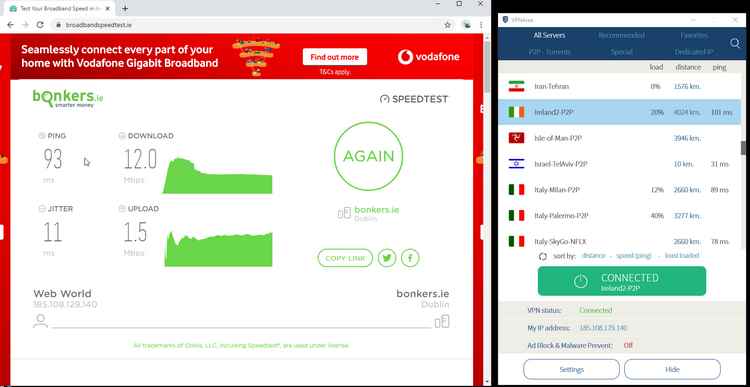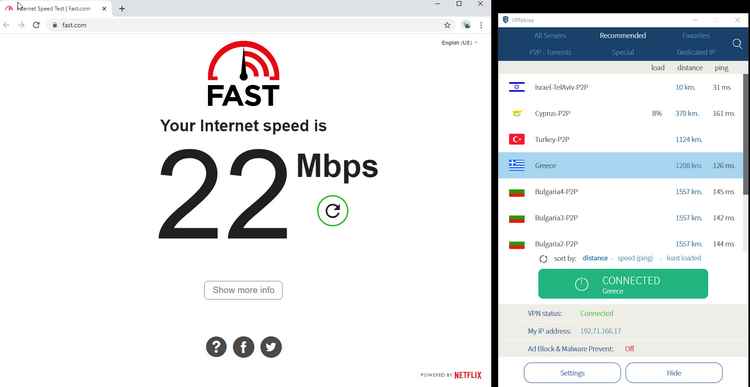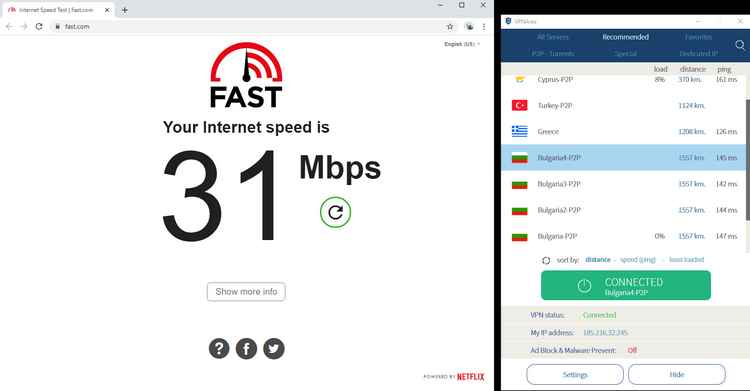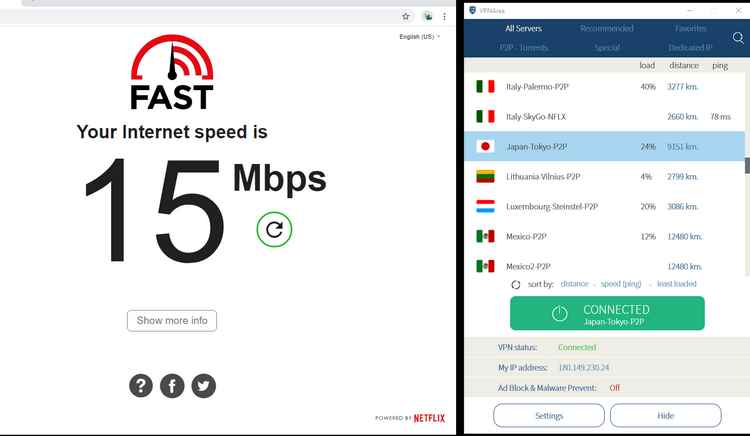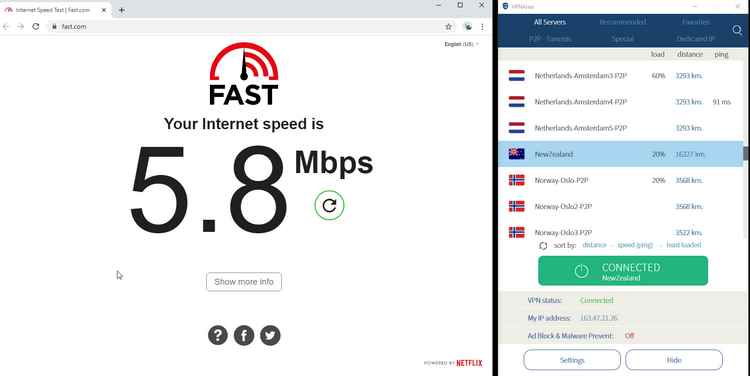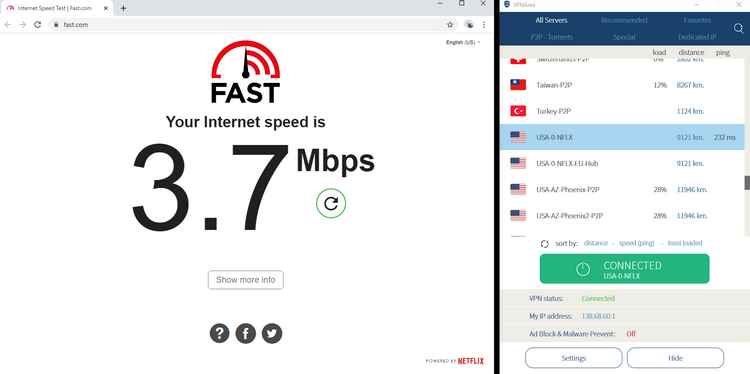 Pricing and Deals
VPN Area is available at 3 monthly rates. If users are confident enough to sign up for 3 years then the price drops to just $2.99 per month. Those who are a little more cautious might prefer to sign up for the monthly renewal option. This comes in at $9.90 per month.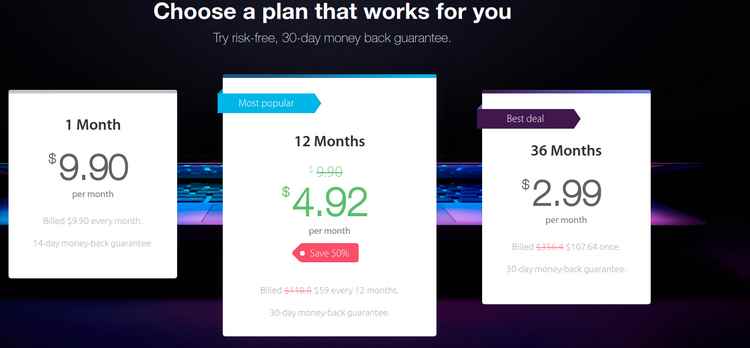 Torrents
VPN Area is a torrent friendly VPN provider. I could not find any restrictions on torrenting activity and the company's Bulgarian location gives it a heads up in this respect. Unfortunately some of the speeds I encountered during the evaluation would not have been ideal for torrenting activity.
Netflix
VPN Area works to unblock Netflix! After connecting to one of the US servers marked for streaming I was able to establish a stable internet connection and begin streaming the US version of Netflix's content library. Right now, VPN Area is a good choice for those users interested in using a VPN because it offers the ability to spoof an IP address in the US.
Client Setup
Getting things up and running on Windows was straightforward. After signing up for one month's premium service, I was directed to a download area in the backend of the website. Here, I downloaded the Windows 10 installation file and followed the setup instructions. For Linux the situation was slightly more complicated. Ultimately, only a command line tool is offered for Linux.
Apps
VPN Area is available for both Android and iOS. These can be installed through iTunes and Google Play. Currently, VPN Area enjoys a 3.8 star average on Google Play.
How Does VPN Area Compare?
6 simultaneous connections
100+ server locations in 65 locations worldwide
Servers in 111 cities in 59 countries
Those that require a variety of servers
Users that need solid connection speeds
Serious privacy enthusiasts
Customer Support
Users who are stuck with an issue should firstly check out the online knowledge base area in order to ascertain whether the issue has already been documented in the support resources. If personalized support is needed then users can avail of both a live chat and an email ticket based system. I found the report team highly responsive when I reached out to them.
Ease of Use
There's nothing particularly complicated about getting this VPN up and running. After choosing my endpoint I was able to establish a connection through the various endpoints I needed quickly and easily.

VPN Area Compare All
FAQs
Does this VPN work for Linux?
There is a command line interface (CLI) but not a GUI.
Where is VPN Area based?
The company is headquartered in Bulgaria.
Can I share my VPN login?
Yes, VPN Area is one of the very few VPN companies that explicitly allows users to share credentials. The tool supports up to 6 simultaneous connections.
Bottom Line
VPN Area is a mature tool from Bulgaria. Despite the relatively small size of its server network the company offers a very robust zero logs guarantee. Unlike most providers, the company is completely okay with account sharing so long as the simultaneous connection limit of 6 devices per account is not crossed.