In a Nutshell
Internet Shield VPN is a long term VPN package from Vipre designed to be used for 1-to-3 year subscriptions. It's a zero logging provider owned by Cleverbridge with built in data encryption and a fast global server network. What else might you need to know to use them? Check out our review to find out.
pros
Long term signup periods
No logs VPN
10 simultaneous connections
cons
No monthly plan
No free trial

Vipre Visit Site
Vipre VPN at a Glance
Best for: Users that want a long term VPN solution
Price (or price range): From $42
Location: 80 servers in 50 countries
Netflix: Unblocks US Netflix
Torrenting: No restrictions
Logging: Zero logs VPN
Number of Devices: Up to 10 devices
Operating Systems: Windows, Mac, iOS, Android
Browser Extensions: No
Privacy
Vipre VPN is owned by Cleverbridge, a software company based in Cologne, Germany. Germany isn't famous for being a privacy-protecting stronghold and is also a member state of the European Union. Users might be concerned that their information could be turned over to law enforcement authorities or shared with other European law enforcement bodies through mechanisms such as EUROPOL.
But does Internet Shield log? While we couldn't find a blog post detailing the logging practices in plain language, Internet Shield's latest set of release notes stated that:
"Internet Shield VPN by VIPRE will never track, store, or spy on your browsing data while your device is connected to our VPN. Your browsing activity remains secure and private on our VPN."
The information could be a little more complete and doesn't specify whether connection metrics are stored. We'd call this a zero logs VPN—with some reservations.
Features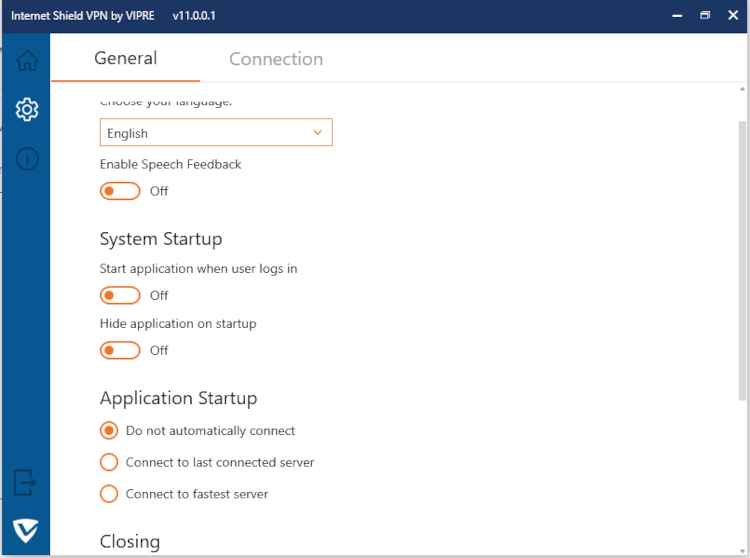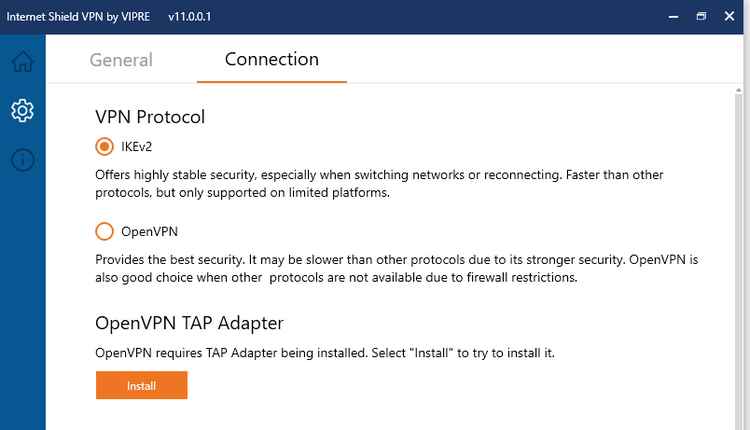 Vipre VPN's features include:
Run On System Startup
The app can be configured to automatically start whenever the computer boots. This is a great feature for those that want to run the VPN in 'always live' mode. There will always be a connection irrespective of what programs the user is running.
Auto Server Connect
Internet Shield VPN can connect to:
The last connected server
Whichever server connection is fastest
There is also a:
Connection Protocol Selector
Users can choose between 1KEv2 and OpenVPN. OpenVPN will provide the best security but is typically slower than 1KEv2 which offers high stability.
Kill Switch and Auto Reconnect
The kill switch will automatically terminate the VPN connection in the event that a server connection is lost. Autoreconnect will automatically attempt to connect to the last server in the event that the VPN connection is broken. By toggling these settings, users can guarantee that all their traffic will be protected by VPN encryption.
Speed
Server Load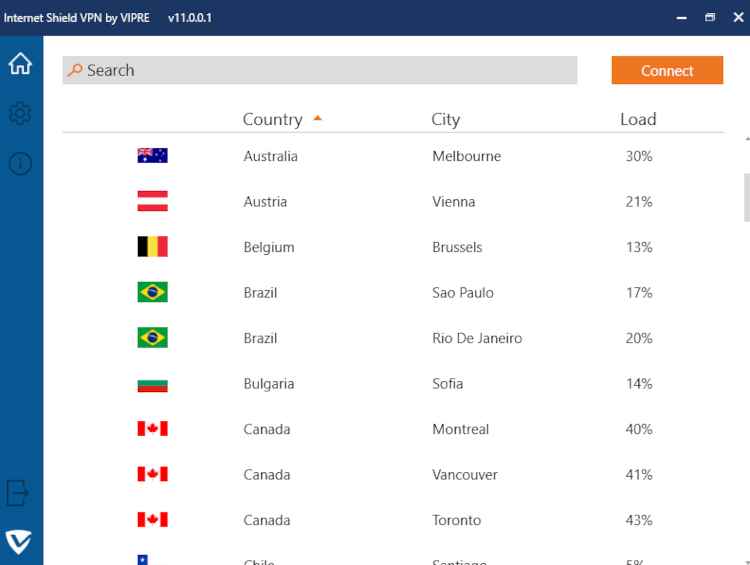 With Vipre users needn't guess how busy servers are in order to find one which is suitably up to speed for their needs. Instead they can scroll through a list which will show all the current server locations with their real time occupancy. For a more stable connection, users can connect to the server with the lightest load.
How does Vipre VPN fare in terms of speed? We tested from a stable internet connection with a download speed of approximately 67 Mbps.These were the results we achieved.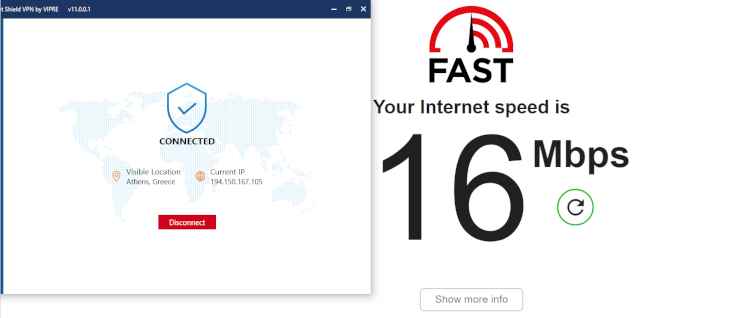 Best detected connection speed (Athens, Greece)
Overall, there was a surprising amount of variation in the connection speeds that we achieved. For instance, while the connection from Melbourne, Australia was a very lackluster 15 Mbps, we achieved a much more substantial 30 Mbps speed while connecting through Dublin, Ireland. While the variability among endpoints was a little too high for our liking, there were some good speeds.
Pricing and Deals
Vipre VPN is available at the following prices:
Vipre VPN is unusual in that it doesn't offer monthly subscriptions or a free trial—so users really have to commit to the long haul in order to try out the service. Nevertheless, those opting for the 3-year subscription can lock in good cost savings.
Torrents
We tried searching through Vipre's user documentation and couldn't find a mention of torrents. In the absence of information, it's very difficult to know whether these are supported or not.
Netflix
Netflix and Chill-ing isn't quite the same if you're accessing content from an international location. The good news is that Vipre VPN can connect to Netflix US when you change over to a US-based server. After porting in, we were able to unlock the US content catalogue.
Client Setup
Getting set up with Vipre VPN is straightforward. Firstly, users have to go online and buy a license. They will then receive an email from the company containing an activation code. Afterwards, users can create an account. They'll need the activation code for this. After setting up an account, and downloading the client, users are good to go.
Apps
Internet Shield has a fantastic Windows client that can be downloaded through the Vipre website. There are also apps for Android and iOS. These can be installed through the respective official app stores and allow users to connect to the same servers.
Remember that Vipre offers a very generous 10 device simultaneous connection limit. So for users that wish to get online from both their computer and their smartphone, there should be no problems.
How Does Internet Shield VPN Compare?
How does Vipre VPN compare against the other VPN clients on the market? Take a look.
80 servers in 50 countries
Users that need to connect a lot of devices
Users that want lots of server types
Customer Support
Vipre maintains a number of support channels through which users can get access to VPN experts. There is a business line that operates from Monday to Friday between 9am and 9pm Eastern time, as well as a support email address and an online help center.
Ease of Use
Getting set up with Vipre VPN is straightforward. After installing the program, users only need to select the connection geography that best matches their needs. There's even an option to automatically select the fastest detected choice.

Vipre Visit Site
FAQs
Does Vipre VPN have a Linux client?
No, there's no Linux client.
How many devices can be connected at once?
Up to 10
Do Windows users need to install browser extensions?
No, just the client is enough to get connected
Bottom Line
The connection speeds were a little jumpy and the Windows client didn't contain lots of advanced features, but overall this was a solid VPN with a generous 10 device connection limit. For those with a lot of smartphones and desktops to hook up to a VPN, this could be a good choice.