In a Nutshell
Turbo VPN is a free VPN used by more than 300 million users worldwide, according to the company's website. After installing the Windows client, I received a list of 7 servers with the option to connect to the "optimal location" based on connection speed.
pros
Free VPN offering
Quick connection to servers
cons
Average speeds
No Linux client
Turbo VPN Compare All
TurboVPN at a Glance
Best for: Users that want a quick free VPN solution
Price (or price range): Free on desktop but the smartphone app has a premium option
Location: 7 countries in basic plan. Premium unlocks 18 more.
Netflix: Yes, works to unblock Netflix US
Torrenting: No
Logging: Says it is a no logs provider
Number of Devices: Up to 5
Operating Systems: Windows, Android, iOS
Browser Extensions: No
Privacy
TurboVPN addresses its logging policy in its privacy policy and effectively positions itself as a zero logs provider. It states: "We do not keep logs of your activity, including your browsing history, data content or DNS queries. Apart from that, we will never store your connection logs, such as your IP address, outgoing VPN IP address, connection timestamp, or session duration. "
Features
TurboVPN, on the desktop, is a simplistic VPN client. The Windows utility that I tested the service with did not feature a kill switch or much in the way of options. Rather, there was simply a menu of server locations on the left hand side of the page from which I was able to choose the desired connection server. For a basic user looking for a very simplistic free VPN tool for Windows this might be enough. But power users, or those that want an always-on VPN connection, might struggle with the basic nature of the tool.
Split Tunnelling
Strangely, the Android app offered 1 feature which the desktop version didn't: split tunnelling. Split tunnelling allows you to choose which traffic is routed through the VPN tunnel and which connects directly to the internet. All I had to do to select which traffic went where was to toggle through a list of my apps which populated automatically.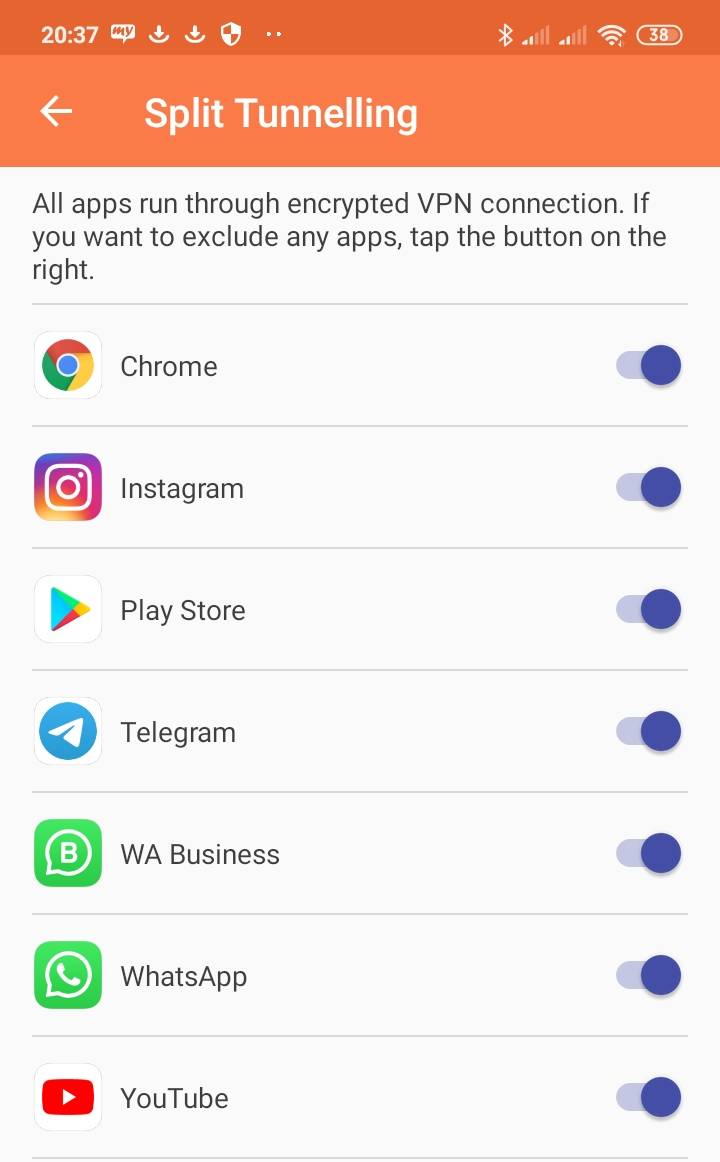 Speed
Starting from a 90 Mbps baseline, I tried out the VPN server's connection options in the UK, the US, Canada, and India. I achieved speeds as follows.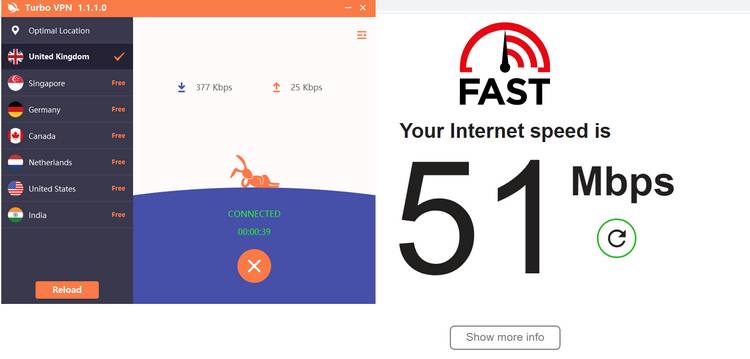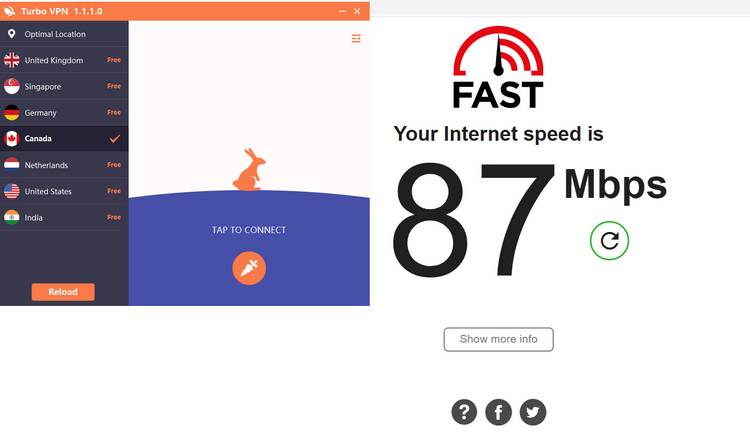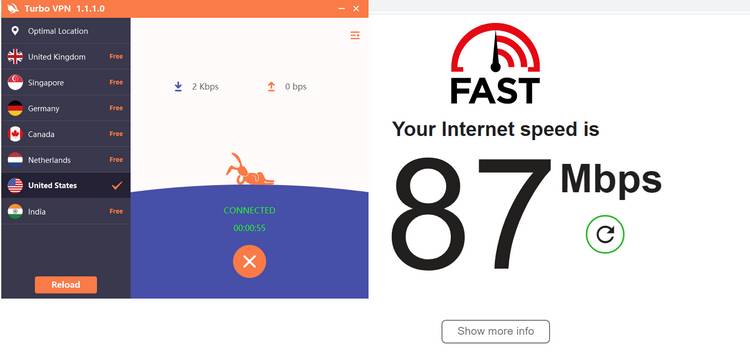 I was quite surprised at how fast the VPN was connecting through India, Canada, and the US. These speeds represented a meager 3 Mbps slowdown on my baseline connection speed. Needless to say, the connection was more than fast enough for high definition multimedia video streaming.
Pricing and Deals
The desktop application is free to use. The Android application was available on a 7-day free trial. After that the VPN cost the following:
Clearly, users are rewarded for signing up for the one year contracts. While the free trial provided quick connectivity and an easy functionality, I was inundated with interstitial advertising that became quite annoying.
Torrents
I didn't find any mention of torrenting in the website or in the Windows app. However, when I clicked into the FAQ section using my Android "Can't use P2P or BitTorrent?" was the last question posed. The answer "please don't use Bittorrent with VPN or it will get account blocked" left no doubts about TurboVPN's policy. As torrenting appears to be forbidden, the VPN is not a good choice for subscribers interested in using it for downloading content over peer to peer (P2P) networks.
Netflix
I had no problem connecting to Netflix using Turbo VPN's Windows client. After logging in to an account, I was able to receive the US Netflix catalog and stream content at full resolution. Turbo VPN, despite having a small server network, seems to work just fine with Netflix US at the moment. On Android, Turbo gives a list of "Netflix servers" which are all premium only.
Client Setup
The Windows client can be downloaded by visiting the Turbo VPN website and downloading the installation file. For Android, I was able to download the application by paying a visit to the Google Play Store and installing the app as I would with any other Android app. For iOS, it is similarly available through iTunes.
Apps
TurboVPN has apps for both Android and iOS and I tested out the Android version during my trial. Unusually the Android app appears to have more features than its Windows counterpart. As mentioned, split tunnelling, which works well, was entirely missing in the Windows desktop version. On Android, I was also able to toggle my connection mode between OpenVPN and IPSec and there was a kill switch to use. Therefore, smartphone users can actually avail of more features than those on Windows at the moment.
How Does TurboVPN Compare?
Up to 25 connection points
3,000+ servers. 160 server locations
5,106 servers. 59 countries
Users that want a free Windows VPN
P2P or Bittorrent (Yes/No)
Customer Support
Using the support button on the application opened up an email with a log embedded in the text. The email support appears to be the only option. I was not able to find an online knowledge base or other resources designed to help users resolve their own difficulties.
Ease of Use
Setting up the application was a straightforward process on Android and Windows. Both applications are quite minimal and connecting to a server is as simple as selecting the desired endpoint from the country list.
FAQs
How many servers are offered?
I was not able to find a list of servers but there were 8 countries available for connection in the Windows client. The Android app provides 18 more on the Premium plan.
Is this a free tool?
There are both free and premium versions for Android and iOS
Bottom Line
TurboVPN is very limited on Windows with no kill switch and a minimal server list—although the speeds were reasonably fast. The situation on Android was somewhat less dire and the feature offering between the 2 clients was not consistent. For a paid offering, on Android, there are options which represent better value for money.