In a Nutshell
SurfEasy VPN is a Canadian VPN with a 5 simultaneous connection limit. It's fully Torrent compatible and supports Windows, iOS, Mac, and Android. The speeds we achieved through their network were good and overall it's a tool that we would be happy to recommend.
pros
Both Windows and Mac versions
Strong 256 bit encryption
cons
Based in Canada (not a privacy sanctuary)
No client for Linux

Surfeasy Compare All
SurfEasy at a Glance
Best for: People looking for a VPN with add-on privacy protection features
Price: $5.99 per month or $29.88 per year
Location: Servers in 44 countries
Netflix: Netflix success!
Torrenting: Torrenting is allowed
Logging: No logging policy
Number of Devices: 5
Operating Systems: Windows, iOS, MacOS, Android
Browser Extensions: No
Privacy
Surfeasy markets itself as a no log VPN provider claiming "We don't retain any logs related to your online, browsing or downloading activity, so even we don't know what you're up to".
However the link in the footer for 'privacy' redirected to NortonLifeLock's privacy document—as did the legal terms. A clearer plain language resource on SurfEasy's own online real estate would give me more confidence in using the service if logging were a major concern.
Features
SurfEasy Optimization
Whether you're looking for the best server for downloading torrents or just streaming regular content, SurfEasy has an automatic tool that will save you the trouble of testing various connection servers one by one. Users simply need to keep the appropriate option ticked and the connection to any server they choose will be optimized for that activity.
Launch at Startup
Many VPN users prefer to configure their connection to boot when their computer does. An 'always on' VPN means that outgoing internet traffic is always encrypted—theoretically preventing cybercrooks from snooping on network traffic. An easy launch on startup selection box makes it easy for users to configure their VPN connections to run in this way.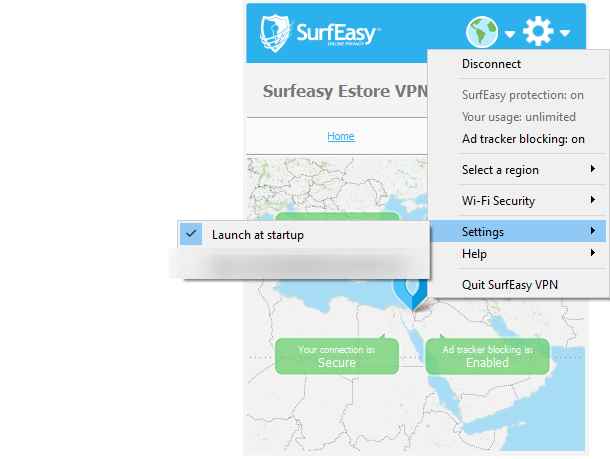 Speed
How fast is SurfEasy VPN? To answer that question I tried out a few different connection points. My office internet connection has a baseline of 90 Mbps.
The best speed I achieved was conveniently through the US server which also worked to unblock Netflix. Unfortunately, the speeds I experienced on some of the other servers were less impressive. Connecting through Singapore, for example, slowed by internet connection down to 7.5Mbps. And my connection speed in the UK, on the download, was only 12 Mbps.
While the connection process in all cases was quick, it's equally fair to say that this isn't the fastest VPN I have come across.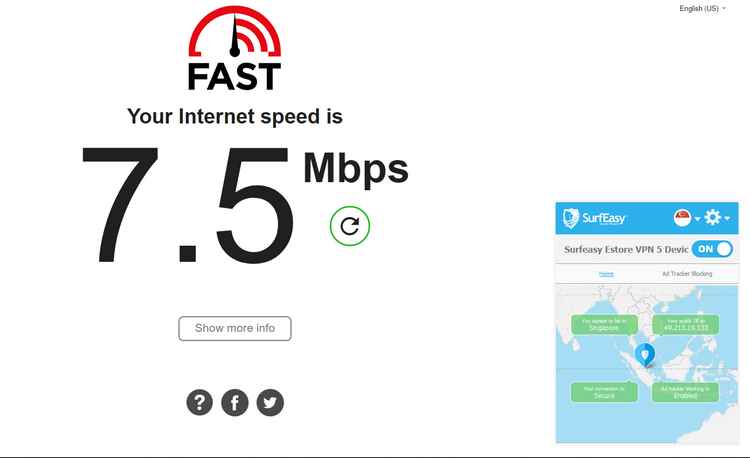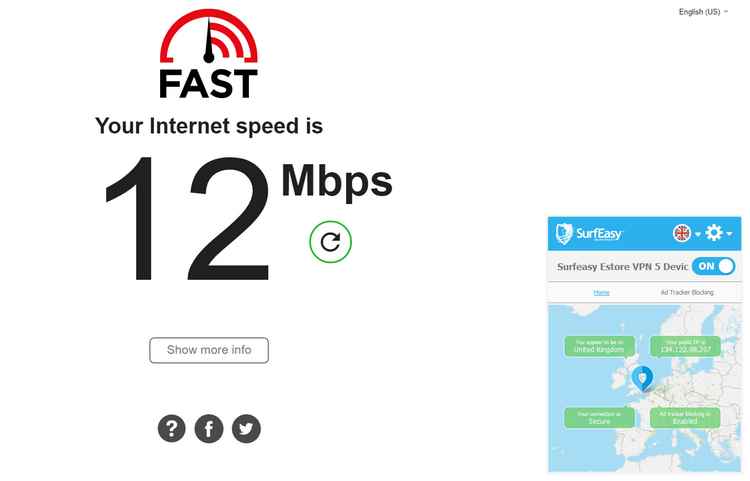 Pricing and Deals
SurfEasy is available as either a monthly subscription or as a yearly plan. Both allow access for up to 5 devices on the network. The monthly subscription costs $5.99/month and the yearly plan costs $29.88 per year. Both have identical feature sets including unlimited bandwidth, ad tracker blocking, and full support for torrenting.
Torrents
Surfeasy offers full compatibility with torrents and the team has put together help resources for users that need to use the VPN for this purpose. Additionally the Windows client has an option for selecting a server that is most suitable for torrenting rather than browsing the internet.
Netflix
If you're based in Denmark but want to stream Chef's Table BBQ on Netflix you may have a problem. Alternatively, you could use Surfeasy and geolocate to a US-based server. The good news for Netflix lovers is that Surfeasy has escaped the reaches of Netflix's VPN-blocking efforts—at least for the time being. I was able to get a good quality stream running at a very reasonable connection speed of 33 Mbps.
Client Setup
Setting up the Windows client is quick and easy. First, I downloaded the executable installation file from SurfEasy's website. After that I followed the installation steps and agreed to the license agreement. A few minutes later I was ready to connect to my first server.
Apps
SurfEasy makes 2 applications for Android and iOS. The applications have the same set of features as the desktop clients. These can be downloaded through the Google Play store and the Apple iTunes store. The Android version features live customer support and ad tracker blocking.
How Does Surfeasy VPN Compare?
1,000 servers in 28 countries
Those looking for a simple VPN with Windows compatibility
Serious privacy enthusiasts
Those that want a variety of server types
P2P or Bittorrent (Yes/No)
Customer Support
Canadians are famously friendly which will come as good news for those that run into trouble while trying to get SurfEasy VPN as their team is based in Canada. The company operates a toll free number (US and Canada) as well as a freephone line in the UK. Finally support is offered over live chat and by email. There is also a well developed online knowledge base available for customers to use. Overall, Surfeasy VPN has not economized in the support department so any user that runs into difficulties should be well covered.
Ease of Use
I tried out the Windows app for this review which was very straightforward to use. After installing the program I simply needed to choose a connection server and a few seconds later I had an encrypted VPN connection at my disposal.

Surfeasy Compare All
FAQs
How Can I Use BitTorrent with Surfeasy?
No special steps are required, but users should (ideally) make sure that the 'Torrent Optimized' checkbox is selected before connecting.
Can I install SurfEasy on my router?
No, SurfEasy does not have a router compatible client yet.
Is there a Linux client?
No, not currently.
Bottom Line
SurfEasy is a simple VPN tool with a few clients for different operating systems. It certainly does not come jam packed with features and the connection speeds through some of the servers were on the slow side. Nevertheless, it's an easy to use and reliable tool that would be a well appreciated addition to any Windows user looking for a simple and straightforward client.