In a Nutshell
Perimeter 81 is a VPN solution for businesses from the team behind SaferVPN. Its software-based VPN products let companies set their employees up with secure remote access across an unlimited number of locations and devices. Each authorized employee receives a link to download a single-click VPN client app to their devices. The service is scalable, making it a good choice for growing businesses.
pros
Secure remote access without the need for hardware
Single-click apps for Windows, Mac, iOS, Android, and Chrome
cons
VPN for business is far more expensive than VPN for individuals
Contact details required to view demo
Perimeter 81 Visit Site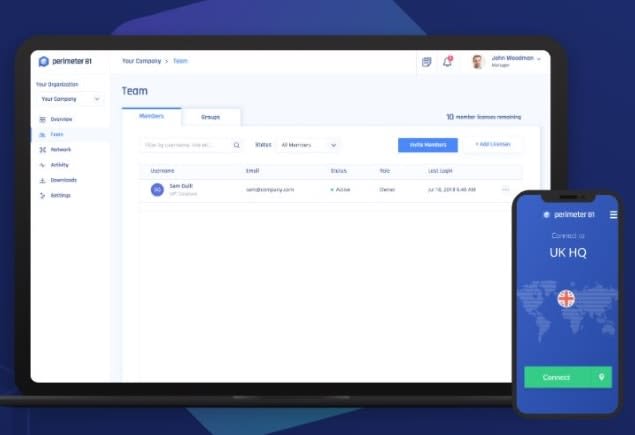 Perimeter81 At A Glance
Best For: Businesses that want to deploy a modern alternative to traditional corporate VPN systems
Price: From $8.00/month per user
Location: Over 700 servers in more than 36 locations worldwide
Netflix: Perimeter81 is not intended for private users, but some servers can access Netflix
Torrenting: Company's terms state torrenting is not permitted
Logging: One connection per account paid for
Number of Devices: Client applications are available for Mac, Windows, Android, and iOS. Users can also configure connections from Linux computers or even set up a connection file on their network router.
Browser Extensions: Chrome
Privacy
The company does collect internal connection logs, which are intended to be used by system administrators at the client. This log is also available via an Activity API which provides a complete breakdown of all administrative and infrastructure changes on the account.
The company presumably has access to these itself but in general is not believed to engage in deliberate logging of user connection activity.
As you'd expect of a product developed by cybersecurity software geeks, Perimeter 81 is all about security. Its corporate VPN solutions are designed so business can grant secure, remote access to all authorized employees—and keep everyone else out.
The Enterprise package is one of the most secure VPNs for business on the market, backed by a Software-Defined Perimeter (SPD). "What is an SPD?" we hear you ask. In Perimeter 81's own words, "SDP allows organizations to restrict network access and provide customized, manageable and secure access to networked systems. Connectivity is based on the need-to-know-model, meaning each device and identity must be verified before being granted access to the network." SDPs offer an even greater level of protection compared to traditional perimeter-based approach, and have been proved to stop all forms of network attacks, including distributed denial-of-service (DDOS), Man-in-the-Middle, Server Query, and Advanced Persistent Threat.
Features
The Business package comes equipped with these features:
Shared servers in 35 locations
Automatically protects employees' devices when they log onto unsecured public WiFi
Unlimited data usage
Login via single sign-on providers such as SAML, LDAP, Active Directory, Touch ID, 2-Factor Authentication, and more
Cloud management platform, with remote access for all employees as defined by user permissions
Option of deploying private servers in a remote location, on your premises, or in the cloud, allowing you to restrict access to specific resources to dedicated IPs
Activity reports and analytics, allowing you to monitor logins, app connections, and connections to unsecured WiFi
The Enterprise package offers all the features included in the Business package, as well as the following:
Advanced configuration, enabling you to manage aspects of your network (eg. Firewall, subnets) and your application (e.g. VPN protocols, automatic WiFi security).
VPN server management and monitoring, so you can: manage server locations, monitor the number of users, and monitor latency.
Activity API, with instant alerts on login activity and other critical issues.
The Speed Test
Perimeter81's network is generally reported to be fast, as the company is focused on provisioning and maintaining top-quality servers for the needs of its corporate users.
The company shares a lot of server resources with SaferVPN, its sister company and tool for the consumer market.
We've seen impressive results from SaferVPN's network, including minimal connection overheads of less than 15% from European locations.
Pricing and Deals
The Business plan costs $8/month per team member when paid annually plus a $40 additional fee for using a dedicated gateway. The monthly cost of the Business package rises to $10/month per team member. The Enterprise package, which includes the Activity API, 24/7 priority support, and custom configuration is quoted on an individual basis.
All plans include a 30-day money-back guarantee.
Torrents
Perimeter81 is designed to help remote workers securely connect to their companies' networks without many of the traditional inconveniences of self-managed corporate VPNs.
Torrenting, and other P2P traffic sharing protocols, are not really intended use-cases. Unsurprisingly, Perimeter81's terms of service actually lists torrenting (download/upload) as a grounds for denial of service.
Netflix
Likewise, Netflix viewing is not an intended use-case for Perimeter81. That being said, we have seen reported that many of the US-based servers do, in fact, work to unblock Netflix. Given that Perimeter81 shares much infrastructure with SaferVPN, a non-business customer service, this is unsurprising.
Client Setup
Unlike other corporate VPN services, Perimeter 81 doesn't require any hardware or manual configuration. It runs on software, is scalable, and integrates seamlessly with the cloud.
When you sign up with Perimeter 81, you get a full management platform where you can build, manage and secure your network. You can give network access to as many team members as you like, assign them to specific groups, and add and remove user permissions with a single click.
Every team member receives a link to download Perimeter 81's single-click VPN client to their devices. Depending on your company's security settings, you can have users log into their client using various third-party identity tools (such as Google), 2-step authentication, Duo Security, or SMS authentication.
Apps
Perimeter81 provides apps for iOS and Android. These allow users to connect through the Perimeter81 network from their handheld devices. The Android app features:
Two-factor authentication support.
Single Sign On (SSO) integration.
The ability to use the dedicated global IP address.
The Android and iOS apps can be downloaded from the Android Play Store and iTunes. Additionally, the company maintains a .pkg format installation file for directly installing to iOS.
How Does Perimeter81 Compare?
$8.00/month per connecting device on yearly Business plan
$8.32/month when subscribed to for a year
Just $2.99/month on the 3-year plan, the company's most popular option
Perimeter81 is not intended to be used simultaneously from different devices
Up to 3 simultaneous connections
Up to 4 simultaneous connections
Approximately 700 worldwide
Those looking for a modern upgrade on legacy corporate VPNs
Those that want speed above all else
Those that want a massive server network
Customer Support
As you'd expect of an enterprise VPN service, Perimeter offers all its clients dedicated 24/7 support for technical and billing inquiries. New customers can request a demo by filling out a short online form on Perimeter 81's website and entering their name, email address, phone number, and some basic details about their company.
Ease of Use
From the perspective of remote workers, Perimeter81 is much easier to use than a traditional corporate VPN model. Users simply have to put their organization's connection credentials into the connection client.
From the system administrator's perspective, being able to deploy a company-wide VPN network using Perimeter81 is also much easier than having to configure the same system from scratch. The tool makes it easy to create and assign connection policies, segregate users into groups, and create and enforce connection policies.
FAQs
What is Perimeter81?
Primarily a service for creating a private VPN network for a distributed team of workers.
How does Perimeter81 differ from a consumer VPN?
The focus is on allowing administrators to create a network which can support granular security and access policy enforcement. Certain behaviors, such as torrenting, contravene the terms of service.
Can Ubuntu users use the network?
Yes. Although there is no GUI.
Bottom Line
Perimeter 81 represents the next phase in VPN solutions, enabling businesses to maintain complete privacy and security over all their online activities—even when their employees are spread around the world. The service runs entirely on cloud-based software, is easy to learn and configure, and completely scalable.
About Perimeter 81
Perimeter 81 belongs to Safer Social Ltd, the same company that operates SaferVPN. Israeli cybersecurity experts Amit Bareket and Sagi Gidali launched SaferVPN in 2013, and its success got them thinking about what they could do for businesses. In 2017 they raised $1 million from investors and trialed their corporate VPN service with tech companies in Silicon Valley and Israel. Perimeter 81 officially launched in 2018, and is now available to businesses around the world.