In a Nutshell
Ivacy VPN is a cross platform VPN with clients for Linux, Windows, and Mac. It boasts a relatively large server network of 1,000 servers and comes backed by a 30-day money-back guarantee.
pros
Cross-platform VPN
2,000 servers
Torrenting and Netflix are OK!
cons
Linux client isn't a GUI
5 simultaneous connection limit

Ivacy VPN Compare All
Ivacy VPN at a Glance
Best for: Users that want a stable VPN that works on a few operating systems
Price (or price range): $2.25 per month (on 2-year subscription)
Location: More than 2,000 servers in over 100 locations
Netflix: Yes. It works! And Ivacy advertises the feature!
Torrenting: Yes! Torrenting is fully supported
Logging: No user activities are logged
Number of Devices: 5
Operating Systems: Windows, MacOS, Linux, Android, iOS
Browser Extensions: Google Chrome, Microsoft Firefox, Microsoft Edge
Privacy
In a support query entitled "do you keep logs of my data?" Ivacy set out its policy regarding logging user data. According to that support resource, Ivacy "has sworn to keep you secure and anonymous and keeping logs is like breaching our own privacy policy. Therefore, no user activities are logged." If that oath doesn't convince you, then the company's privacy policy might. It explains very clearly that the company does not monitor or log any user browser activities, connection logs, original IP addresses, or connection times. Therefore, it is safe to say that this Singapore-based company is a zero logs provider.
Features
Ivacy has quite an array of features to help users make the most of using their VPN.
Kill Switch and Leak Protection
Some users need their VPN to have an always-connected functionality. Ivacy VPN can be configured to launch immediately upon system start and to disconnect straight away in the event that connectivity with an endpoint is lost. The tool also includes IP/DNS leak protection and the ability to disconnect the VPN as soon as the app is closed.
Split Tunnelling
Some users prefer to only use a VPN connection with certain apps and not the whole system. This is known as split tunnelling and Ivacy VPN makes it easy for users to configure. In the split tunnelling page, within the settings menu of the Windows client, users can activate the feature and then select which apps to use split tunnelling with. If the desired app is not automatically populated they can add it manually by clicking on the 'add another app' button.
Multiport
The multiport functionality scans open ports on the network in order to bypass port blocking and provide users with the optimized port for connection. This can be a useful feature for users operating the VPN in a network with restrictive firewall policies in place.
Protocols
Users can choose between TCP, UDP, L2TP and IKEV when connecting through the VPN's servers.
Automatic Connection
If users are simply using the VPN to prevent their ISP from being able to see their browsing history then they can use the Smart Connect feature to automatically connect to the fastest VPN server in the network. Alternatively they can browse the VPN's network by city and country.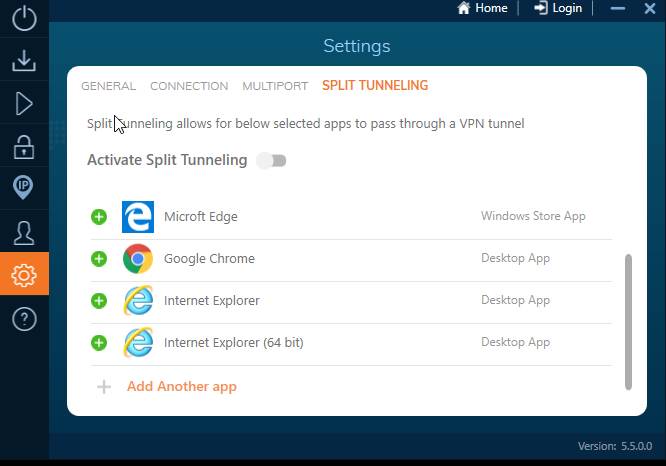 Speed
I tested out the speed of the VPN by assessing the latency, download, and upload speeds through several key endpoints.
From a baseline of 90 Mbps I achieved the best connection speed through Kenya (32.76 Mbps) followed by the UK at 31.37 Mbps. My connection through the US server I tried was 20.26 Mbps, which would be more than adequate for streaming Netflix. The only disappointing server was the one in Turkey, through which I was only able to manage a download speed of just over 1 Mbps.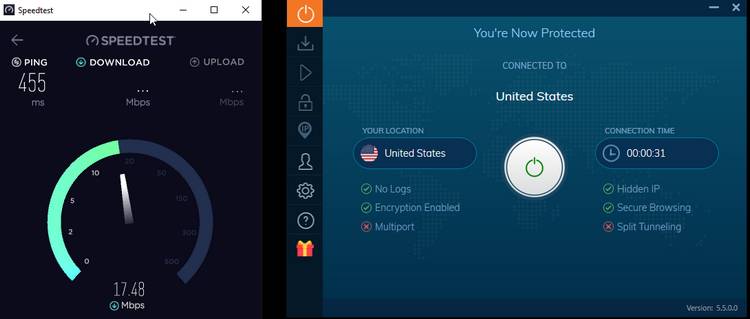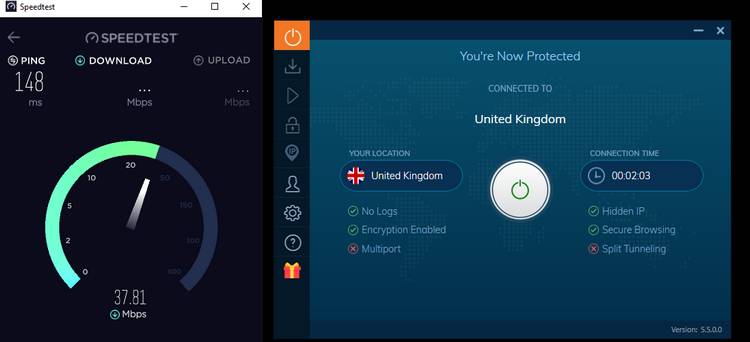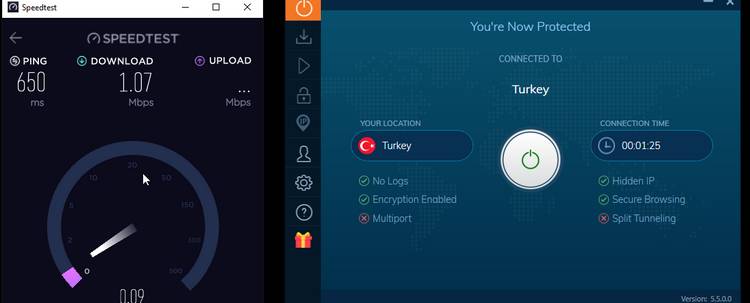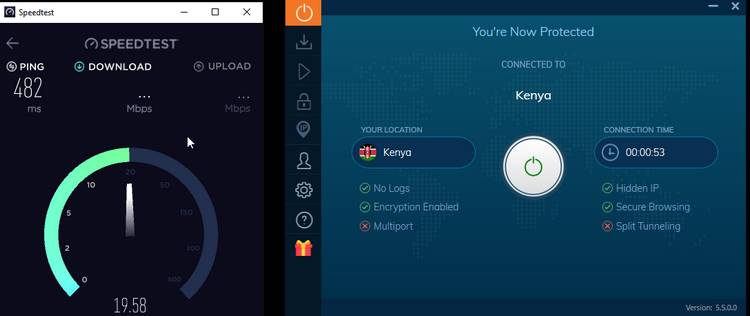 Pricing and Deals
Those that are on the fence about signing up can subscribe for 7 days for just $0.99. This is effectively a paid trial option. The cheapest rate is $2.25 per month which is available for subscribers to the 2-year plan.
Torrents
Ivacy VPN actively promotes torrenting through its website and the company confirms that it can be used with any torrent program including uTorrent, BitTorrent and Deluge. For users that want to use the VPN to hide their real IP address while engaged in peer-to-peer filesharing, Ivacy VPN is a good choice.
Netflix
I was able to load up Netflix's US content library while connected to the American server. The streaming quality was more than good enough thanks to the strong connection I received. The company has a landing page advertising its ability to unblock Netflix US. Therefore, the company appears to be onboard with users using the service to spoof their geolocation in order to access Netflix's US content library.
Client Setup
To download the Windows client I simply needed to click the download link on the company's website. I then needed to purchase a license. After receiving the confirmation email I inputted these into the client and was then able to connect to the VPN servers.
Apps
Ivacy VPN has smartphone applications for both Android and iOS. These can be downloaded through Google Play and iTunes. The smartphone apps include similar functionality to the Windows version. Split tunnelling and multiple port selections are available on the Android version. Users can also select a server recommendation based on their intended purpose: whether streaming, browsing, or downloading.
How Does Ivacy VPN Compare?
$1.11 per month over 3 years
Users that want a VPN for torrenting and Netflix
Users that want a stable VPN
Those looking for a basic functional tool
Customer Support
Ivacy's customer support team can be contacted through the company's support center which also contains self help resources for users that prefer to assist themselves.
There is comprehensive quick start documentation for every supported platform—including Linux which needs to be configured manually through the network manager. Video tutorials round out the offering. For users that need customized support, there is a live chat button. If that doesn't resolve users' queries they are able to open up a ticket. Their self support offering is comprehensive and thorough.
Ease of Use
The Windows client was exceptionally easy to use. Installation was straightforward: I simply downloaded the installer file from the website and then followed the steps. To get connected to the fastest possible server users just have to click on the connection button. Otherwise, a desired connection location can be selected by populating the 'country' and 'city' dropdowns and selecting the desired geography. For instance, within the US I was able to choose between servers in several cities located across the country.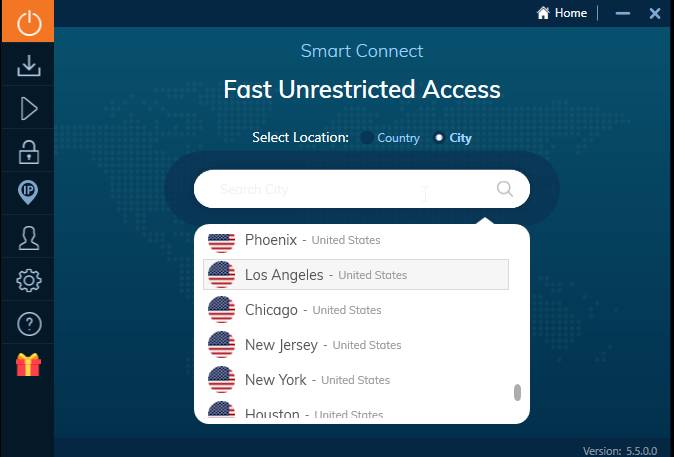 FAQs
Does Ivacy support MacOS
Yes, Ivacy now support MacOS as well as iOS
Can Ivacy be configured on a router?
Yes. The support section contains documentation to help users install the VPN on routers with the appropriate firmware including OpenWRT, DD-WRT, and Tomato.
Bottom Line
Ivacy VPN is a competent VPN with a reasonably good Windows client. The split tunnelling is a nice feature which is also available on the Android client. There are good self help resources and the tool can also be installed on routers with compatible firmware.