In a Nutshell
HolaVPN markets itself as a cross platform VPN with smartphone apps, browser extensions, and smart TV plugins.
pros
There is a free option
Can connect to various media sources
Good speeds through some nodes
cons
There isn't a Linux client

Hola VPN Compare All
HolaVPN at a Glance
Best for: Users that want a versatile way to spoof their location
Price (or price range): From $2.99 per month
Location: User node based proxy network
Netflix: Yes
Torrenting: No
Logging: Yes
Number of Devices: 10
Operating Systems: Windows and Mac installers, Android
Browser Extensions: Google Chrome, Mozilla Firefox, Opera, Microsoft Edge
Privacy
Hola's logging practices are disclosed in its privacy policy. A quick inspection of that puts it squarely out of the category of providers that can be considered zero logs—or even low logs. In the first bullet point, titled "Log Data", Hola VPN explains what data it logs.
These are
Browser type

Web pages visited

Time spent on web pages

Access times and date
As part of its service, Hola VPN also discloses that it collects personal information to process account registrations.
These include:
Connection IP addresses

Users' name and email addresses

Payment and billing information
HolaVPN is masterminded by Luminati, an Israeli company based in Netanya. After coming under a barrage of online criticism, the company has become a lot more transparent about the fact that users that sign up for the free plan effectively serve as proxy nodes for both the network itself and Luminati, which it sells to business customers.
Although the company states that it has instituted measures to detect malicious activity, the chance that users will unwittingly find their connection bandwidth used to facilitate botnet attacks remains existent.
Features
Hola VPN's features include:
Quick Connection Grid
For users that want to use Hola's network to connect to a popular service like Netflix (or Amazon) the main screen on the Chrome browser extension is a quick connection grid. With one click of the mouse users can get connected to a popular website or streaming service through the server of their choosing. Services available for one-click connect include BBC Player, CBS, 1TV, Netflix, and Hulu.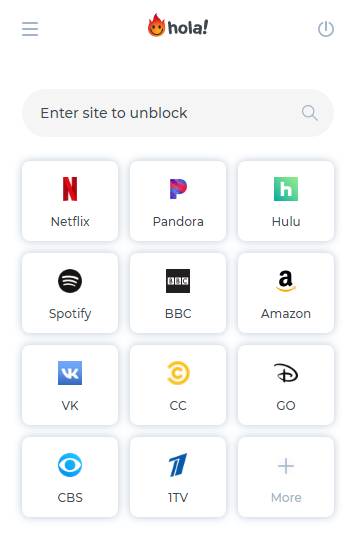 Unblock Sites
In addition to being able to use Hola in conjunction with streaming websites users are able to put custom sites of their own to the unblock list. Users can simply add a URL to the settings page and when they visit it they will be presented with the usual choice of connection servers.
Speed
How does HolaVPN do in terms of speed? Firstly, the network is in reality a peer network of proxy nodes rather than a true VPN. As proxy servers do not need to travel through an encrypted tunnel, I expected that the performance would be good and that the speeds that I obtained might be reasonably close to my connection benchmark of 90 Mbps.
I used YouTube.com as my test URL and tried out a few different endpoints. Here are the results I got.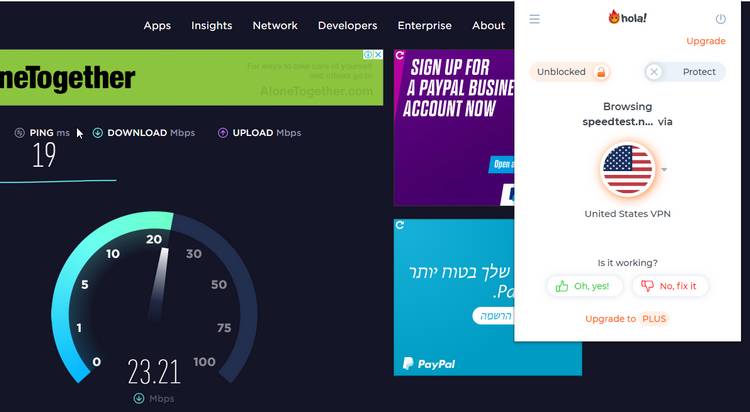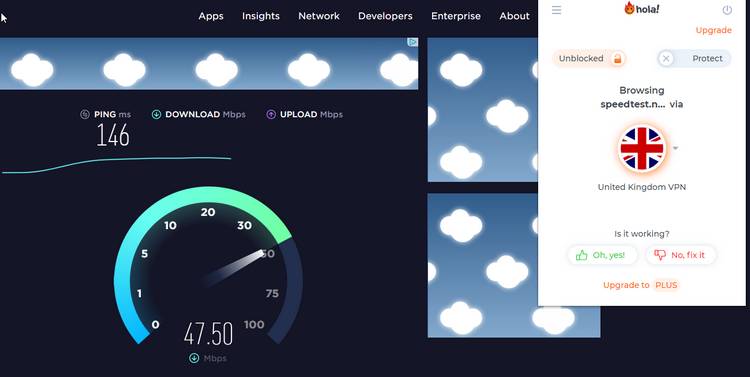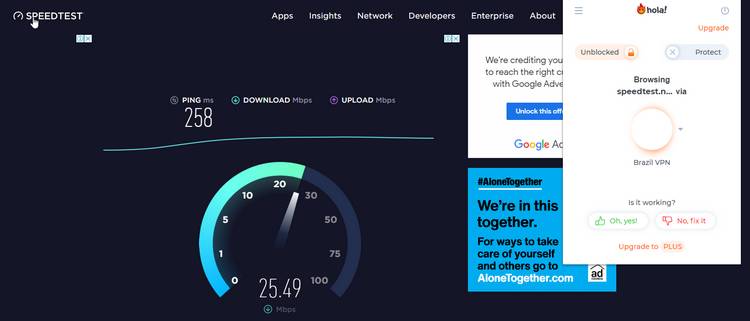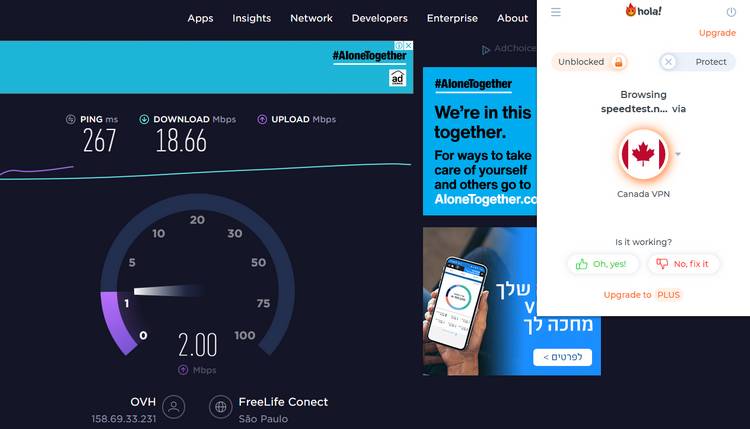 Pricing and Deals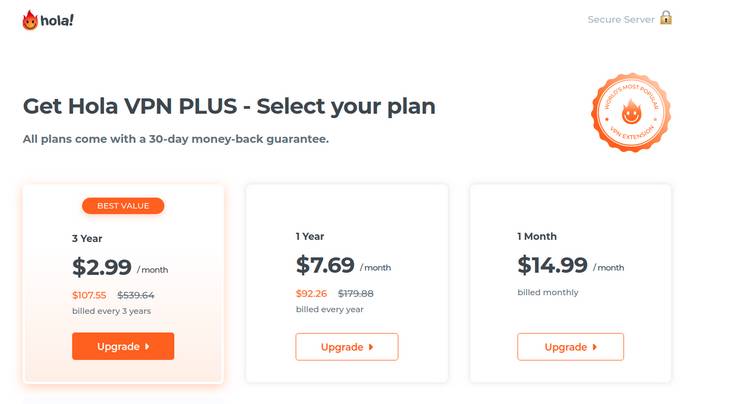 Hola Plus is Hola's premium VPN plan. It is available for just $2.99 per month when users sign up for 3 years. On the month-to-month contract the VPN costs $14.99/month.
Torrents
Although many review websites state that Hola VPN does not allow torrenting I was not able to find a mention of torrents or peer-to-peer traffic restrictions in either the terms of service or the privacy policy. In fact, searching for torrent on the Hola website, via Google, took me to several landing pages promoting Hola VPN's ability to unblock certain torrent websites. The Chrome extension may be able to work with several browser-based clients. If you're interested in using the service to download torrent traffic then it would probably be worth reaching out to customer support to verify whether this infringes the company's terms of service.
Netflix
Fortunately the picture with Netflix is a bit more rosy. One of Hola's main uses is as a way of connecting to Netflix through different countries and thereby accessing different Netflix offerings. After proxying through a US endpoint I was able to receive the US version of Netflix.
Client Setup
In order to install the browser extensions users simply need to head to the Hola website and download the appropriate extension. For Windows and Mac users, there is an installation client which prompts the user to download the right extension onto their computer.
Apps
Hola VPN is available for Android from several sources. Users can install it directly through the Google Play store. Alternatively they can download APK files which are available for both ARM and x86-based architectures. This means that virtually every Android user should be able to install the client, although most users will need to enable unknown sources in security settings in order to directly install the APK.
The iOS app can be downloaded only through iTunes. And finally Android users can also download a special Beta version of the client which has leading edge features that have not been rolled out in the stable release yet.
How Does Hola VPN Compare?
Peer-run proxy network. Amount varies by network state.
17 server locations during trial
Users that want a fast proxying solution
Android users that want a simple VPN
Users that want a stable VPN
P2P or Bittorrent (Yes/No)
Customer Support
Hola is based in Israel. Users can receive support by reaching out to the support email address listed on the website's contact page. There is also a phone number and a fax line for customers to reach. Additionally, Hola has put together an extensive FAQ page filled with information about the service.
Ease of Use
Hola is an easy service to use. After installing the browser add on users simply need to click and point on the country they wish to connect through. Hola VPN will do the hard work of matching the user's request to an available connection node on their peer-run network. If users upgrade to Proxy Plus then their own connection will not be used as a node for others on the network. Beyond that there is only one page with a few simple settings and it is a very easy client to use.
FAQs
Is Hola VPN a VPN or a proxy?
Hola VPN is a network of proxy servers that users can connect through
Will my traffic be sold to third parties?
If you're on the free plan, then essentially yes—both other Hola VPN users and Luminati's business network can use your internet as a node.
Where is Hola VPN based?
It is headquartered in Israel
Bottom Line
Hola VPN has drawn some online criticism for the fact that its free VPN is used by the parent company to resell traffic for other customers. Free VPN users need to know that there's (usually) no such things as a free lunch and Luminati, the service's parent company, is now transparent about its business model. Nevertheless, after simply reading the privacy policy and learning the information the service collects, I would personally not want to use it for any online activity at all.