In a Nutshell
HideMyAss has personality, but it's also got the product to back it up. With hundreds of servers across more than 190 countries there's always a fast server ready for you, and the built-in speed testing tool gives users a real-time feel for how fast their usage actually is. HideMyAss focuses heavily on the power and speed it gives users, while being easy to configure and reasonably priced.
pros
Live chat available 24/7
On site, built-in speed testing tool
cons
The company logs records
Email support needs improvement

HideMyAss Visit Site
Strong Privacy at Rock-Bottom Pricing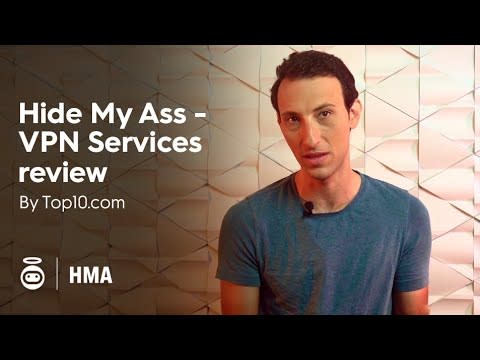 HideMyAss At A Glance
Money-back guarantee: 30 days
Allowed concurrent connections: 5 devices
Supported streaming services: Netflix, BBC iPlayer
No logs policy: Yes
Encryption: AES 256 bit encryption
Special features: Kill switch, Unlimited bandwidth,
Customer support: 9 AM to 11 PM Eastern European Time
Server locations: 290+ locations in 150+ countries
Number of servers: 1,100+ servers
Server Switches: Unlimited
Supported devices & web extensions: Windows, Mac, iOS, Android, and Linux
VPN legal jurisdiction: UK
Price: From $2.99/month
Best For: Users looking for a reliable VPN with decent speeds and a large server network
Privacy
Hide My Ass (HMA) is an audited no logs VPN provider. The cyber risk consulting firm VerSprite took a look at the company's logging practices and decided to give it the official stamp of approval as a no logs VPN.
The company also rolled out a formal no logging policy earlier this year which — in plain language — spells exactly what kind of data the company collects. Specifically, the company says that it doesn't collect:
Users' original IP addresses
Users' DNS queries
Users' activity
How much data users have transferred
Connection timestamps
The company's headquarters is in the United Kingdom (UK). This certainly does not rank as the most privacy-friendly home-base in the world as the UK—like the US—is a signatory to a number of Signals Intelligence (SIGINT) collection agreements, which could mean that the government's spooks are snooping on users' data.
Features
HMA offers 1,100+ servers in over 290 locations across 190+ countries around the world. This is one of the largest VPN networks on the market. Furthermore, these servers allow unlimited bandwidth, dedicated speeds for streaming, and P2P filesharing. The "Donkey VPN" uses military-grade AES 256-bit encryption—also called donkey-grade encryption—since no donkey has ever been hacked in history.
Colossal Server Strength
3,230 IP addresses, uses dynamic IPs
Spread across multiple continents including Americas, Europe, Asia and Africa
Over 50,000 dedicated IPs in North America alone
Android App
Available on Google Play
Easy setup and configuration
Takes less than 9MB of storage
Beautifully designed
The app also features:
A smart kill switch for guaranteeing that no data leaks from the VPN while connected.
Split tunnelling to allow VPN tunnelling for only certain programs.
An automatic IP shuffle feature which randomizes users' end IP address every 10 minutes to prevent tracking and blocking scripts from flagging traffic as coming from a VPN.
The Speed Test
HideMyAss has a well deserved reputation for operating an above-average-speed server network. We tried out some of the servers based in the US, UK, and in Melbourne, Australia. The connection overhead on all of the locations that we tried was well within the bounds of what we consider acceptable performance, typically slowing down connections by no more than 20%.
Pricing and Deals
Torrents
HideMyAss has addressed its torrenting policy in an Official Comment left to a user question.
According to the company representative, "our VPN does support torrent as this is a legitimate technology." However, the company is also aware that many users use peer-to-peer (P2P) systems like torrenting to illegally distribute pirated material, and added "we do not support the use of torrent to share copyrighted material illegally."
While HideMyAss is technically okay with torrenting, it also doesn't have specific torrent servers which are optimized for that type of traffic. Therefore, while users shouldn't expect to be kicked off the network for torrenting, alternative VPN providers do offer more enthusiastic support.
Netflix
HideMyAss has a spotty track record of getting Netflix to work. We were able to configure connections through some of the US-based servers but not through others. While HideMyAss does have the clout of Avast behind it, its network is still not as large as some of the major VPN operators on the market. If users are fixated on finding a provider that is truly always able to connect to the popular multimedia service, an alternative provider might be a better choice.
Client Setup
HideMyAss excels at making things easy for its users. Everything you need is available at the mere click of a button, and it's all clearly marked in bold colors for the poor of sight. Setup and use is simple and customer support is a click away if anything goes wrong.
Apps
Two apps are available for Android and iOS. The apps are very attractively designed and the Android app, in particular, is very lightweight, occupying no more than 9MB of disk space. Both apps provide the full range of functionality that HideMyAss offers, including the ability to connect to a server location in no more than 3 clicks and to open support tickets from within the user interfaces.
How Does HideMyAss Compare?
Over 930 servers in more than 280 locations worldwide
Over 3,000 servers in more than 160 server locations worldwide
Over 5,000 servers in 60 countries worldwide
Users needing a relatively quick VPN from a trustworthy provider
Those looking for the most premium VPN experience on the market
Those looking for an elaborate server network with many specialized server types
Customer Support
A yellow "Help" icon is viewable on the bottom of the page on the site—so assistance is just one click away, if you ever need it. Most of the customer support staff is knowledgeable and tickets are generally answered within 24 hours.
Ease of Use
HideMyAss is a very easy system to set up and use. It takes just a couple of clicks to get connected but users also have access, within the program, to a wide variety of advanced features, including advanced proxy settings and a speed guide tool. HideMyAss strikes a nice balance between being both usable for newbies and customizable for power-users.
FAQs?
How many servers are there?
It's a relatively large network of more than 1,100 servers worldwide.
Is P2P traffic allowed?
The company tolerates it but we reckon there are better choices if you are a Torrent addict.
Is there a client for Ubuntu?
No, but you can use it on Linux distributions by adding the OpenVPN files.
Bottom Line
HideMyAss is one of the biggest names in the VPN market. HideMyAss is also one of the earliest VPNs to enter the industry—launched in 2005—since then they've unsurprisingly managed to amass a large customer base. Notably, HydeMyAss often call themselves: "the Donkey VPN," and they do what they say.
HideMyAss delivers some of the greatest features and most competitive numbers in the industry. With widespread compatibility, flexibility and Herculean speeds and IP capacities, don't miss out on taking this VPN powerhouse for a spin.