In a Nutshell
Encrypt.me is a cross platform VPN with apps for Windows, Android, iOS, MacOS, and Amazon Fire. There is no simultaneous connection limit and the company has put together extensive documentation to help users get started.
pros
Works on Android Fire
2 weeks free trial
Quick installation process
cons
Not a huge server network
No client for the Linux fans

Encrypt me Compare All
Encrypt.me at a Glance
Best for: Users that want a quality VPN app for mobile and desktop
Price (or price range): $9.99 per month or $99 per year
Location: 78 connection locations
Netflix: It works but the company doesn't recommend it
Torrenting: Blocked by default
Logging: Zero logs policy
Number of Devices: 8
Operating Systems: Windows, Linux
Browser Extensions: Chrome and Firefox
Privacy
Encrypt.me has put together a plain language FAQ which explains the company's privacy and logging policy. The company says that it keeps "minimal logs" for, at most, 16 days. The company explains that it keeps a log of outbound source ports for each traffic flow along with the accompanying virtual IP. Although these details do not directly identify any individual user, the information can be used to help resolve any abuse complaints that the company might receive on user activity.
Features
Trusted Networks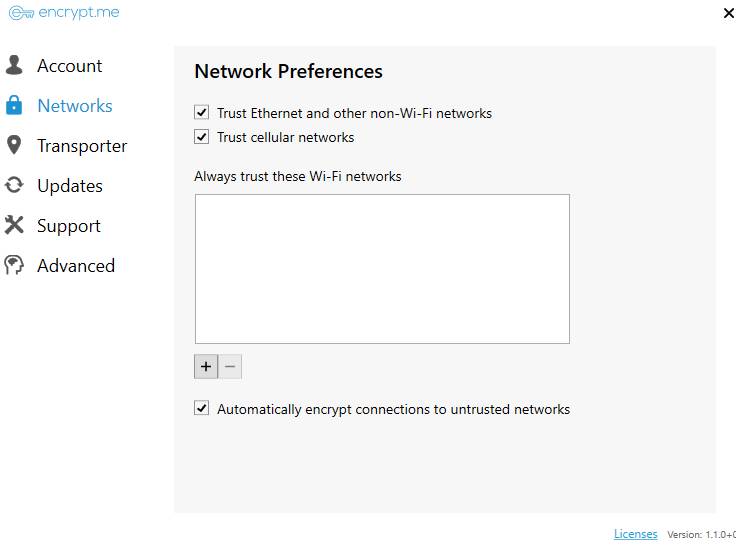 Encrypt.me allows users to add trusted WiFi networks and trusted ethernet networks to the connection client. Users can choose to enforce VPN connectivity for all networks except these. This functionality is great for digital nomads and people that are always on the go and taking their laptop between home and potentially insecure public WiFi networks.
DNS Leak Protection
Even when users' internet traffic is secured, their DNS queries (lookup requests for websites) could be slipping outside of the VPN tunnel. Encrypt.me features a DNS leak protector to make sure that this does not take place.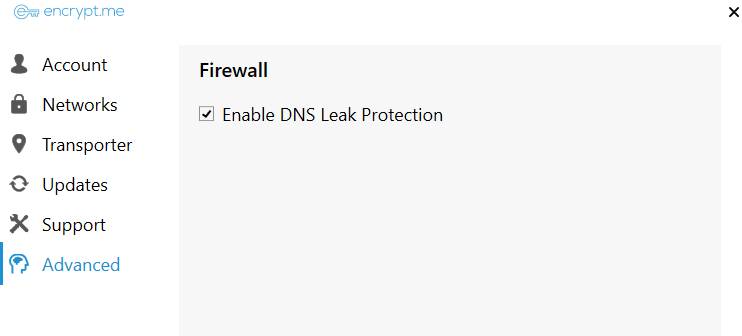 Speed
I tested a few of the servers through the Windows client to see how well the client performed. My baseline connection speed was in the region of 90 Mbps.
I achieved the best speed through Ireland where my 90 Mbps connection was cut down by just more than half to 48 Mbps. The Californian server in San Jose was actually the poorest "transporter" (this is what Encrypt.me calls its nodes) with a speed of 9.97 on the download. In Peru I picked up a connection of about 12 Mbps. And in London I got 23.56.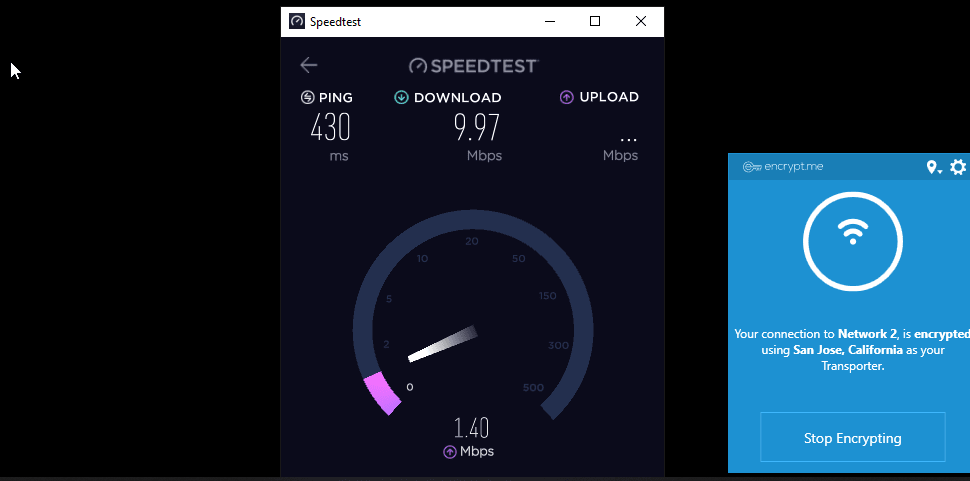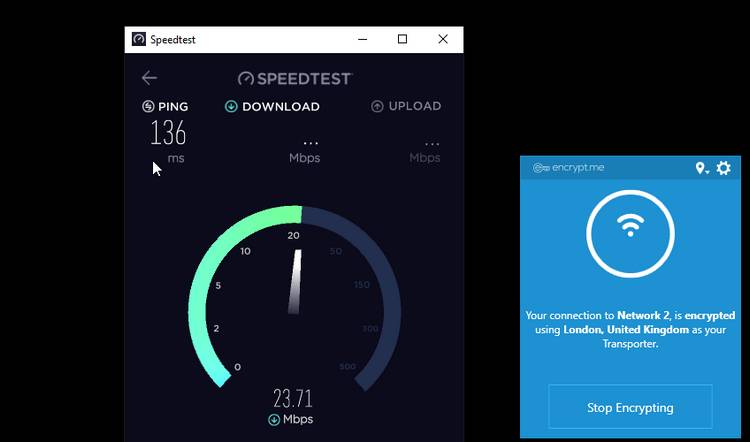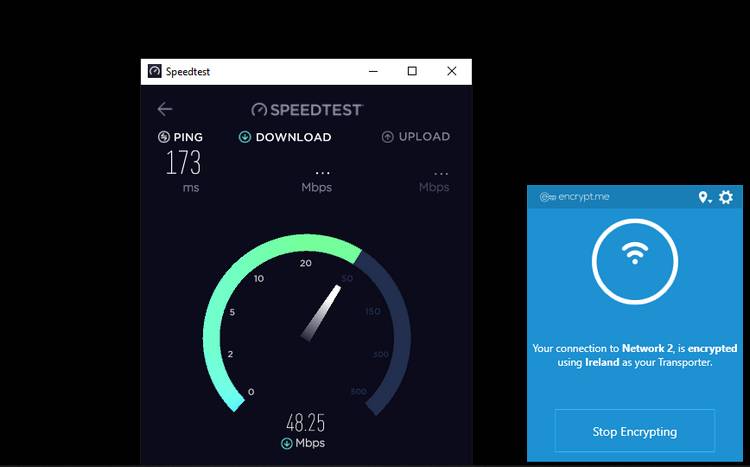 I did run into a couple of hitches during the testing process. I did not succeed in connection to the server in Washington DC and to the one in London, UK. However, after trying a second time I managed to secure a connection.
Pricing and Deals
The unlimited plan is available for $9.99 per month and is a rolling plan with no commitments. For those that want to commit to the VPN over the long haul, then the annual plan ($99.99 per year) is recommended.
Torrents
Encrypt.me is not a fan of torrenting. Its user support agent Jacob Wall doesn't mince his words when it comes to setting out his company's policy in an online knowledge base resource: "by default new users have Bitorrent and similar peer-to-peer file-sharing protocols blocked." Mr. Wall goes on to explain that his company takes a dim view of sharing copyrighted material over peer-to-peer networks. For that reason, it's best for users intent on finding a VPN to hide their torrent activity to find a company with a friendlier disposition toward the world of peer-to-peer filesharing and torrenting.
Netflix
Torrenting isn't the only activity to have drawn the ire of Encrypt.me's team. Many users are interested in using VPNs to spoof their geolocation and receive a different content catalog—and Netflix is among the most popular choices. But, in response to a question entitled "can I use my encrypt.me VPN to access Netflix" Rob Walker states "short answer is no." Walker goes on to suggest Strong VPN for users that wish to use a VPN for getting around geolocation restrictions.
Despite Walker's firm words, I was able to connect to Netflix and receive their US homepage while connected through the VPN's US server in San Jose, California. My free trial wasn't immediately cut off but it doesn't make sense to deliberately ignore the instructions of encrypt.me's team of security experts. Therefore, while users are, it seems, able to connect to at least some of the company's US servers, the company frowns upon the practice.
Client Setup
In order to sign up for the Encrypt.me free trial, users simply need to register on the company's website. After completing that step, users receive a welcome email with a link to the app download page.
For the testing process, I downloaded the Windows client. The installation program automatically detected that I had another VPN on my machine but was able to forcibly uninstall it. Once that had been taken care of, the VPN was installed and ready for use.
Apps
In addition to apps for Windows and MacOS, Encrypt.me features connection tools for Android, iOS, and Amazon Fire. These are available through Google Play and from the iTunes store.
The apps offer the full range of functionality available through the desktop client although connecting to a transporter is a little bit easier.
How Does Encrypt.me Compare?
Up to 25 connection points
Users that want a stable VPN
Android users that need a simple tool
Users that want a free Windows VPN
P2P or Bittorrent (Yes/No)
Customer Support
Users that need to get a helping hand with getting set up on the VPN can reach out to the Encrypt.me team by email or by opening a tracked support ticket.
Encrypt.me has also put a good deal of effort into developing a well-updated and populated online support area containing both setup and troubleshooting information for the company's various connection clients.
Ease of Use
Encrypt.me is a very straightforward client to connect to. After installation users simply need to click on the desired server and wait for the connected notification to appear. I did have some trouble getting connected to the London and Washington servers but these resolved after a second attempt.
FAQs
How many VPN servers are in the Encrypt.me network?
I couldn't find a list of individual servers but I counted 78 connection locations.
Can I download torrents through this VPN?
Encrypt.me does not allow torrenting traffic through its network so it would be better to seek an alternative.
Is there a Linux client?
No
Bottom Line
Encrypt.me delivered reasonable speeds through its server network on the Windows client which I tested. However, its list of features is underwhelming and the company opposes both torrenting traffic and using its servers to spoof geolocations for Netflix. Customers that need these features would be well-advised to find an alternative provider.