In a Nutshell
Dot VPN is a VPN for Chrome, Opea, Firefox, Android, and iPad. Desktop apps are on the way. Getting set up with the VPN is as simple as buying an account and installing the right browser extension.
pros
No need to install a desktop app
Extensions for all major browsers
One-click connection
cons
Controls browser traffic only
Small network of about 700 servers

Dot VPN Compare All
Dot VPN at a Glance
Best for: Users that need a simple VPN tool for their browser
Price: $4.99 per month
Location: 700 servers in 12 countries
Netflix: Unblocks US Netflix
Torrenting: No
Logging: No logging policy
Number of Devices: Up to 5 devices
Operating Systems: Windows, Mac, Linux (browser extensions only); Android, iOS
Browser Extensions: Chrome, Opera Firefox
Privacy
DotVPN says that it operates a no logging policy by which it will not collect user data. According to the extension's listing in the Chrome Web Store "DotVPN does not log connection information. Our company joined the 'no log' movement since the first day of the foundation." The company says that it uses 256 bit encryption and a 4096 bit SSL key in order to secure connections to and through its network. Its operating headquarters may not be privacy enthusiasts' top choice, however. It is based in Hong Kong SAR.
Features
The Chrome extension provided a basic but workable VPN experience. I was able to configure:
Connect on Start
This will engage the VPN whenever Chrome is opened. It's a little bit like the browser extension equivalent of a kill switch although it will not disconnect the internet in the event that the connection to the server is unstable or is lost.
Ad Block and Tracking Protection
Because VPN connections sit between the user's computer and the rest of the internet they can offer users some nice add-on features which are made possible by filtering the internet traffic which comes in to the user's browser. In Dot VPN's case it offers 2: ad block and tracking protection. The company also says that it offers an automatic inbound firewall which blocks inbound connections to the browser. Ad blocking blocks advertisements while tracking protection aims to block the activity of tracking bots which are commonly employed by advertisers to attempt to track users' online activity. The company claims that this cuts down on users' bandwidth consumption by as much as 30%. A block analytics switch was also enabled by default on the Chrome extension. Although this isn't mentioned in the extension's homepage, it would appear as if its purpose is to block tracking scripts used by web analytics applications.
Speed
Speeds achieved through Dot VPN were as follows. I liked the fact that the browser extension reported the download speed as part of the connection status. I validated the readings by comparing with the Ookla testing tool and found them to be approximately correct. Overall the connection overhead was quite bad. I didn't achieve above 30 Mbps through a single endpoint, for instance. Although most of the speeds were good enough to browse multimedia, with other VPNs offering better connection speeds.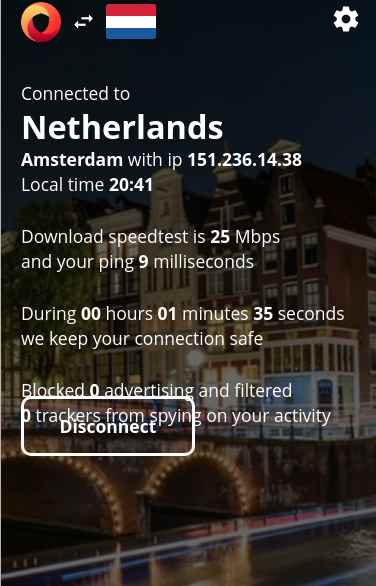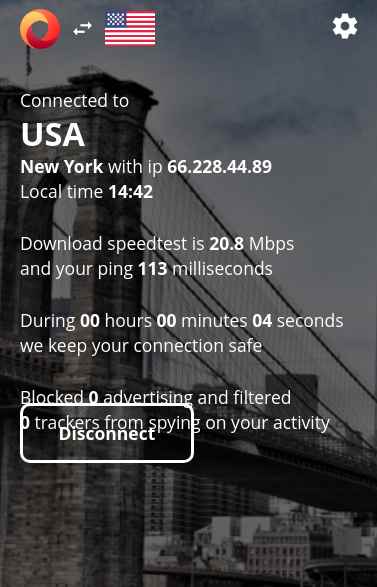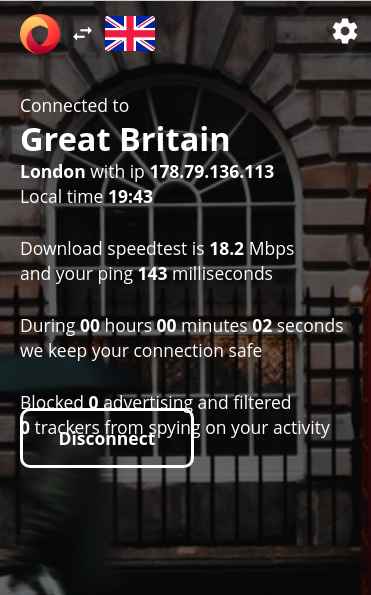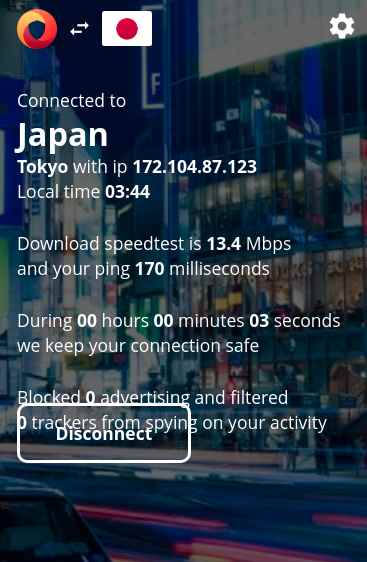 Pricing and Deals
Users don't need to spend time weighing up the merits of committing to the VPN for the long term versus taking out a short term month-to-month subscription. Dot VPN offers a simple flat monthly fee of just $4.99. This makes it among the cheaper providers on the market. So it's a good choice for those looking for a budget-friendly option with good international coverage.
Torrents
Firstly, Dot VPN is currently a browser only tool. That means, of course, that those using desktop torrent clients will not be able to use the VPN connection to hide their true location. Additionally, Dot VPN currently has a support notice up on their website which states that the tool does not currently support torrenting and other types of peer to peer (P2P) connectivity. It states: "At the moment, DotVPN does not support torrents and P2P connections."
Of course the situation may change when the company brings the desktop clients to market which it currently says are in development. But at the moment this is one VPN solution that is not a good choice for torrenters.
Netflix
Good news for Netflix fans. After connecting to Dot VPN's New York server, I was able to unlock Netflix's US content library. Given that Dot VPN is a browser only tool my expectations were calibrated low, but thankfully I was able to unlock the American content library.
Client Setup
In order to get set up using Dot VPN, I simply installed the Chrome app from the App Store and added the extension to my Google Chrome. I then pinned the icon to the notification area. There was only one page of settings to wade through and choosing a new endpoint was as simple as selecting a different connection geography. It's a nicely designed client too. Each city gets an appropriate background.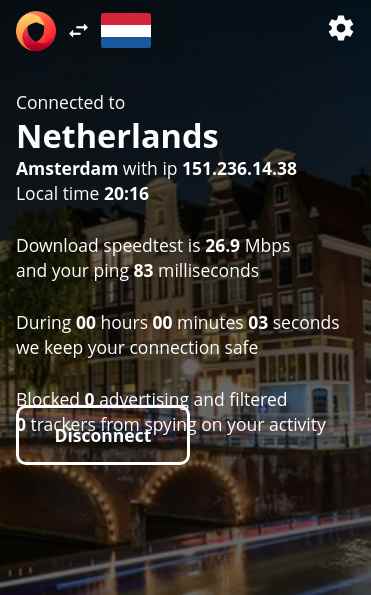 Apps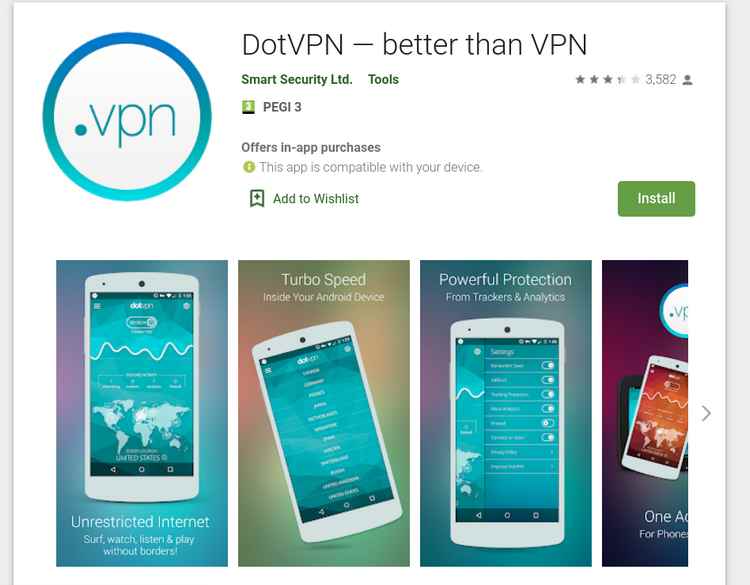 Dot VPN offers applications for both Android and iOS. These can be installed through the Google Play Store and the Apple App Store.
At the time of writing, the Android version enjoyed a 3 and a half star average rating from more than 3,000 users.
How Does Dot VPN Compare?
Those looking for a simple VPN with several browser extensions
Those that want a variety of server types
Those that want a fast network
Customer Support
But what happens if you get stuck? Dot VPN has put together an online support center which provides solutions for common problems and how-tos. The resources provide both troubleshooting information as well as information about the encryption and security standards that the app and browser extensions adhere to.
Ease of Use
Dot VPN is very simple to use. For the Windows client, after installing the browser extension, users simply have to pick the connection point and click on it. The download speed will be displayed as well as the connection time. There's only one page of settings where users can toggle common configurations like starting the VPN on startup and enabling or disabling the ad and analytics tracking blocking features.

Dot VPN Compare All
FAQs
Does Dot VPN offer a desktop version?
No, there are currently only browser extensions.
Can I install this VPN on my router?
No, there is currently no router software available.
Where is Dot VPN based?
The company that makes the VPN is based in Hong Kong.
Bottom Line
Dot VPN definitely doesn't wow in the features department. Nor were its speeds particularly impressive. Despite those limitations it's a very affordably priced VPN with good cross browser compatibility. Those that need a simple tool to secure their internet browser traffic might want to consider it.