In a Nutshell
Bitdefender offers a standalone VPN product for Windows, MacOS, and mobile (Android and iOS). It offers access to a relatively small VPN network of 1,300 servers around the world. I was able to access Netflix's American content library through its US server. Although the Windows client is a little simplistic, this is nevertheless a reasonable VPN option for users with basic needs that prefer an uncluttered user interface (UI).
pros
One-click connection
Works to access Netflix
Simple client
cons
Fairly small server network
A couple of servers with poor performance
No app-level kill switch

Bitdefender Compare All
Bitdefender VPN at a Glance
Best for: Users that want a straightforward VPN solution
Price (or price range): $3.33 per month for annual plan
Servers: 1,300
Netflix: Unblocks Netflix US
Torrenting: P2P and torrenting capable
Logging: No access to user logs
Number of Devices: 10
Operating Systems: Windows, MacOS, Android, iOS
Browser Extensions: No
Privacy
Bitdefender doesn't explicitly describe itself as a zero logs provider, but in an FAQ it says that "with Bitdefender VPN your privacy is 100% safe. Nobody … will have access to your online logs." The company is headquartered in Bucharest, Romania, which of course is a European Union member state. While Romania isn't traditionally known as one of the VPN world's major privacy strongholds their commitment to not collecting detailed logs is enough for many users to feel confident using the service.
Features
Kill Switch
Bitdefender features an internet kill switch which will disconnect the internet network interface in the event that the VPN connection is lost.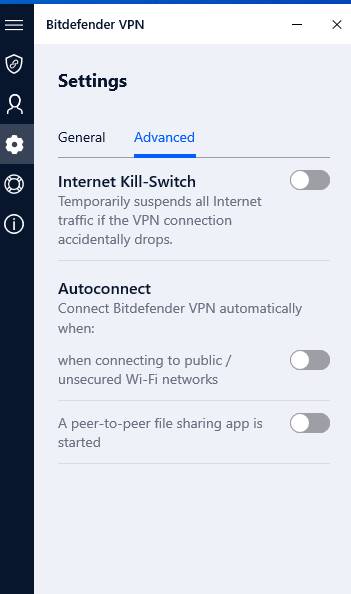 AutoConnect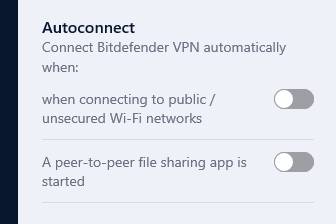 The autoconnect option allows users to automatically connect the VPN whenever they connect to a public (untrusted) WiF network or else whenever a peer-to-peer file sharing app is started, such as a torrent client.
Speed
Speeds on the network seemed to be generally good with the exception of the London, UK server. I started off with a baseline download speed of about 90 Mbps. The US server gave me about 56 Mbps, I got 70 Mbps through the server in Ireland, 63 Mbps in Hong Kong, but only 19 Mbps in London. Connection speeds, therefore, seem to be quite good overall.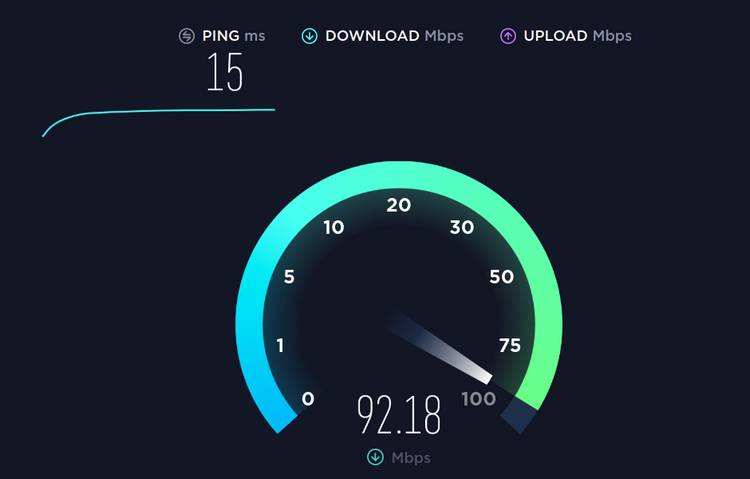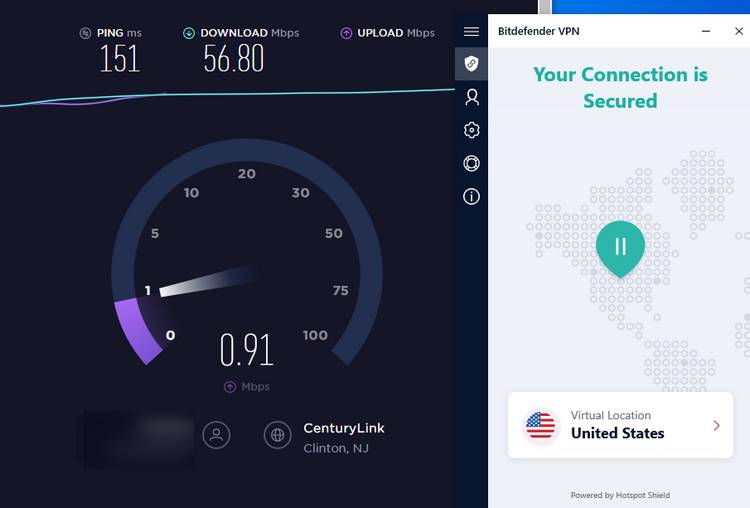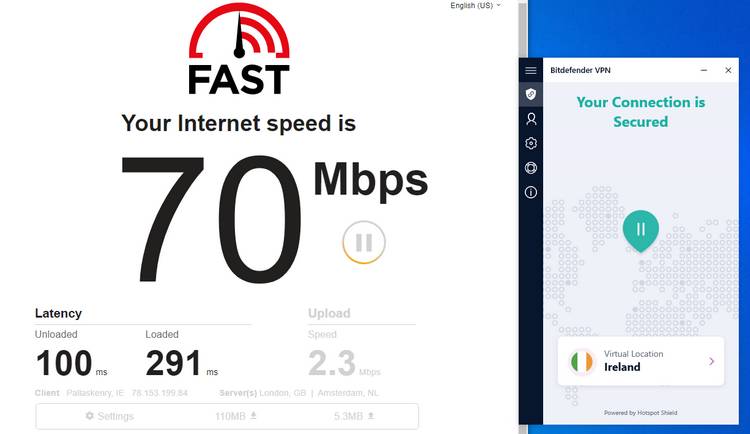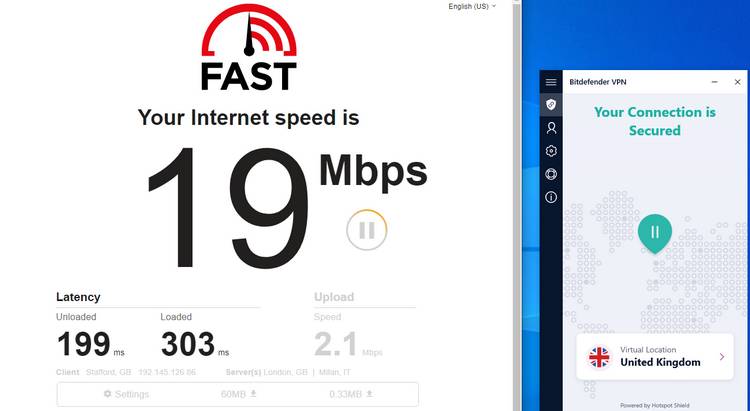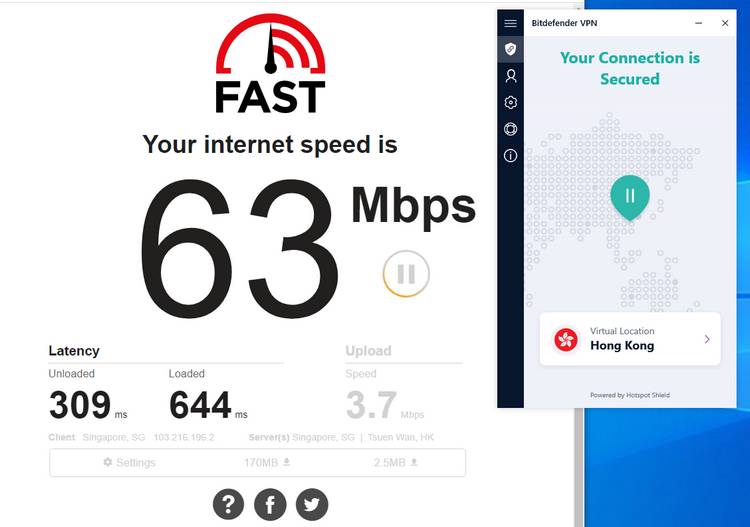 Pricing and Deals
Bitdefender can be purchased on a one year plan for $3.33 per month. The month to month subscription costs $6.99 per month. These were the prices I received when connected through the VPN's US server. Customers in other geographies may receive slightly different offers in their local currency.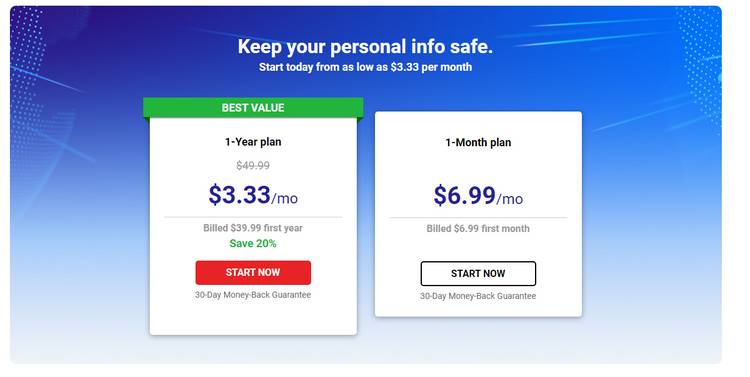 Torrents
I couldn't dredge up much information about what Bitdefender's torrent policy is. Its FAQ page does not mention it (at the time of writing) and—unlike many VPN companies—Bitdefender doesn't advertise its ability to help users protect their true IP addresses while using file sharing networks. Nevertheless, I was able to use a Windows torrent client to download a test torrent while connected to the VPN. So the functionality, at least, exists.
Netflix
I connected to Bitdefender VPN's US server and was able to successfully spoof a US geolocation for watching Netflix. Netflix's American content library loaded as reflected by the display of trending programs and the top chart.
Client Setup
Installing Bitdefender is straightforward. After purchasing a monthly license, I received a download link and activation code by email.
Clicking the download button initiated an automatic redirect which downloaded the installation file. The email provided an activation code which I was able to use both on the client and in the website in order to connect the VPN client to Bitdefender Central.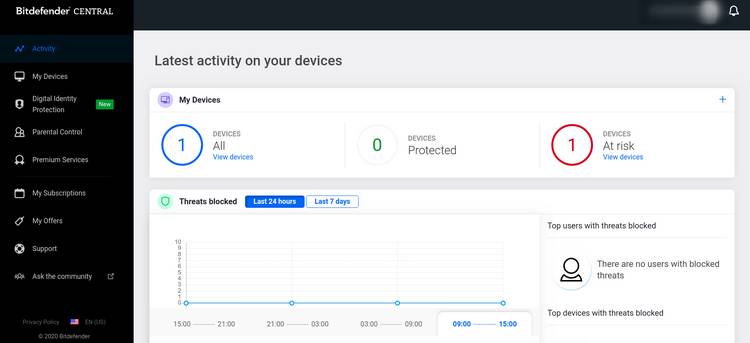 Apps
Bitdefender VPN offers apps for both Android and iOS. Android users should search the Play Store for Bitdefender Mobile Security and Antivirus. Once this is installed the actual VPN can even be added remotely through Bitdefender Central. The app can be installed through the iTunes app store by searching for the same application. In both systems, users do not need to circumnavigate the default app installation methods which provides better security.
How Does Bitdefender VPN Compare?
Users that want a simple VPN
Users that want a fast VPN with a wide network
Users that like to tinker with advanced permissions
P2P or Bittorrent (Yes/No)
Customer Support
The Bitdefender Support Center is users' first port of call for product issues. The team separates out business and home user support for faster responses. Technicians are available 24/7 and are relatively responsive. The company has put together a good selection of self help resources including how-to videos walking customers through all aspects of getting the VPN up and running, and taking basic troubleshooting steps.
The one negative aspect I encountered was that there was no automatic way to disable my membership after I wished to cancel. Even reaching out to customer support my request was not processed automatically—instead Bitdefender's representative tried to pressure me into keeping my subscription. Personally, I think that an automated cancellation process is a must.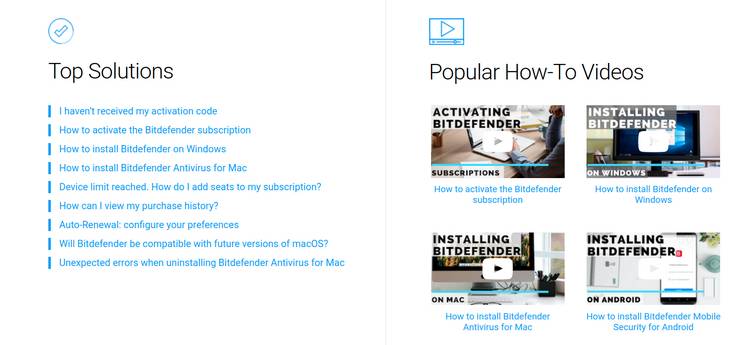 Ease of Use
Installation, as mentioned, was straightforward. Using the VPN is just as easy. From the main (home) screen users are able to automatically connect to the fastest server. This is automatically detected based on the connection location. If users prefer to manually select a connection geography then they simply have to click on the country that they want to connect to a VPN server in. The connection process was almost instantaneous. A couple of bells and whistles (such as displaying the connection speed) would have been nice. But it was easy enough for just about any internet user to come to grips with.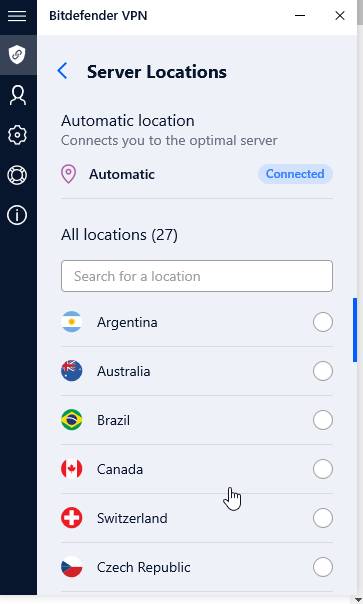 FAQs
Does Bitdefender VPN have a Linux client?
No
Does Bitdefender VPN support OpenVPN for router installation?
No
Is Bitdefender VPN available as a standalone solution?
Yes, you can install just Bitdefender VPN without purchasing an internet security or antivirus suite from Bitdefender.
Bottom Line
BitdefenderVPN certainly didn't wow in the features department with a basic generic kill switch and a simple Windows UI with a very basic set of options. Nevertheless, for those looking for a simple VPN client that 'just works' this tool would do just fine. It has a basic network of 1,300 servers with decent speeds.