In a Nutshell
Avira's VPN, Phantom VPN Pro, is available as a standalone service. It allows users to protect themselves while using P2P networks and is secured with top grade encryption. It's speeds aren't too bad either.
pros
Built in DNS leak protection
Zero logs provider
Unlimited connection devices
cons
Processing delays upon signup
Avira isn't a VPN specialist
Avira Visit Site
Avira VPN at a Glance
Best for: Users that don't want a limit on how many devices they can connect
Price (or price range): $8 per month or $62 per year
Location: 45 connection locations. 150 servers in 37 countries worldwide.
Netflix: Unblocks Netflix US
Torrenting: Yes
Logging: Zero logs
Number of Devices: Unlimited
Operating Systems: Windows, Mac, Android, iOS
Browser Extensions: Chrome
Privacy
On the VPN's home page Avira states that it has a "strict no logs policy." It adds that it abides by Germany's strict privacy standards. Additionally the company states that it doesn't share its users' data with third parties including government big tech and advertising networks. That commitment seems fairly robust although the choice of connection protocol is limited to just one: OpenVPN. All connections are encrypted using 256-bit AES security. The only negative thing to point out about Avira is that being based in Germany the company is not headquartered in a privacy protection stronghold. Although it is unlikely there is always a chance that the company may be forced to comply with a request for data by German law enforcement authorities. Still, the company makes clear that the only data it collects is the connection bandwidth per user. Therefore personally identifiable information is not collected.
Features
DNS Leak Protection
All of Avira's clients include DNS leak protection which prevents DNS requests from escaping the VPN tunnel and revealing users' true IP addresses.
Kill Switch
Phantom VPN clients include a kill switch which will disable the device's network interfaces (connections) in the event that a connection with the VPN server is lost. This is perfect for users that need a VPN that can stay in always-on mode.
Speed
Speeds throughout the network were usable but a little on the slow side. I started out the testing process with a baseline connection speed of 91 Mbps. The best speed achieved was through the New York server with a speed of 27.64 Mbps on the download. The worst performance was in Australia while my connection speed dropped to just 12.17 Mbps. On the positive the speeds remained relatively consistent throughout the network. However, overall, the speeds were certainly far from the best we have seen across VPN providers.
The baseline network connection was 91.03 Mbps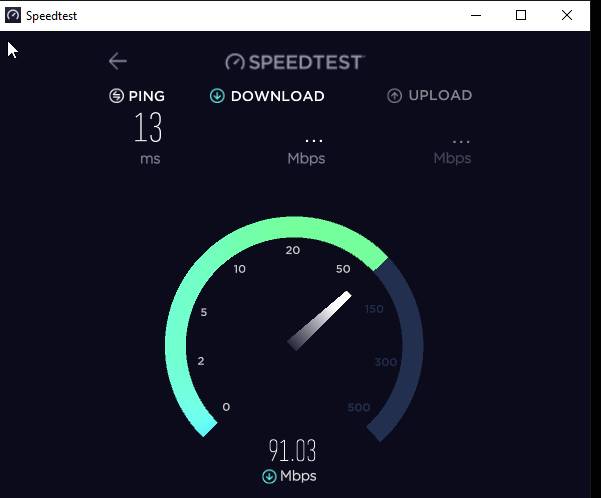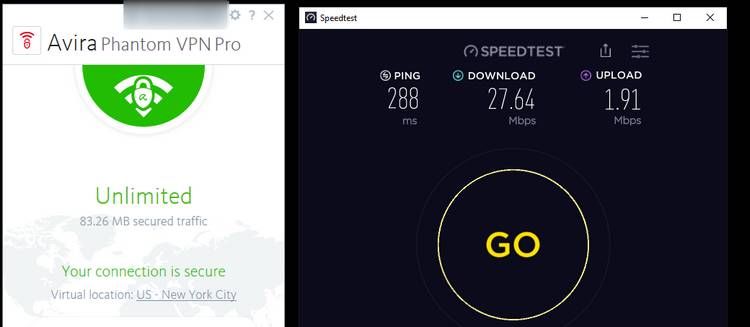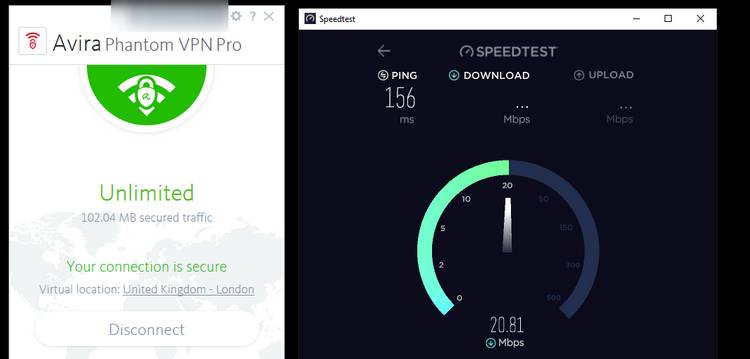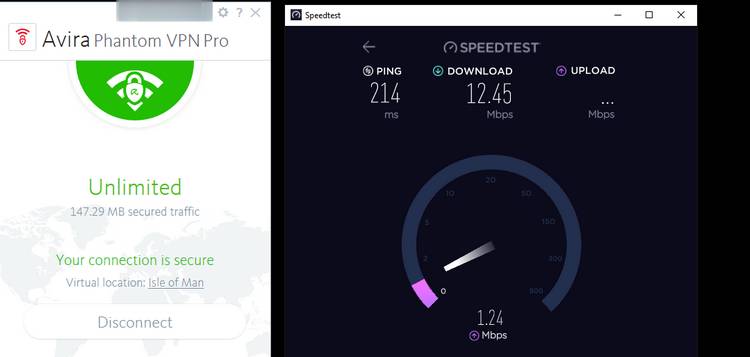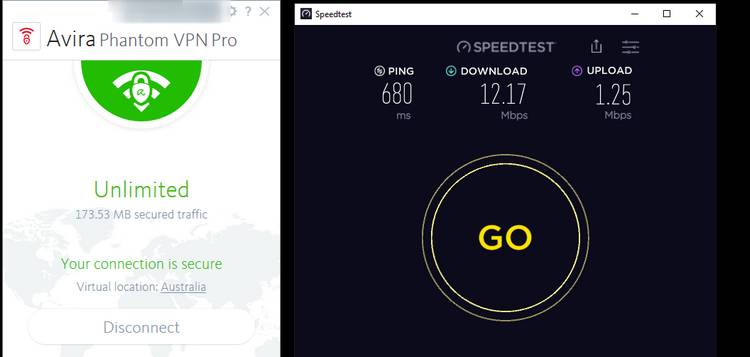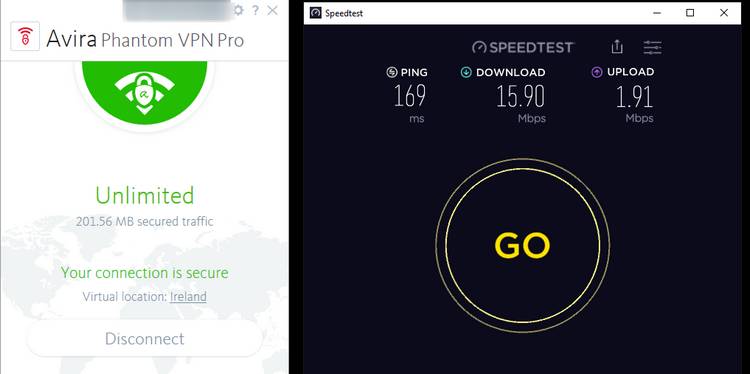 Pricing and Deals
Avira's Phantom VPN service includes a free plan. However bandwidth is limited to 500MB. Users can register with the service in order to double the limit to 1GB. However in order to achieve unlimited bandwidth users need to sign up for a paid plan.
Avira's pricing structure is interesting. If users just need the VPN for their phones then they can subscribe to a special mobile plan for $4.99 per month. Desktop users need to pay $8 per month but they can also use the tool on their phones as the VPN plan includes unlimited data. As usual, it is cheaper for users to sign up for a yearly plan than a month to month subscription.
All plans come backed by a 30-day money-back guarantee.
Torrents
Avira is quite open about the fact that it allows users to use peer to peer (P2P) file transfer services, like Torrent sharing sites, while connected to the VPN. Its home page lists using a VPN as a solution to prevent ISPs knowing that some user IPs are torrenting. All servers that we could see support torrents.
Netflix
I was able to access US Netflix while connected to the New York City server in Avira's network. The network performance was good and I was able to stream the content at great speed. Although it's always possible that the situation will change at the time of writing, Avira is a suitable tool for users that want to spoof a US geolocation for the purpose of accessing Netflix's US content library.
Client Setup
To get the program running on Windows I firstly had to purchase a subscription license from the website. Here I ran into difficulties as I got a "processing delayed" message while waiting for my purchase confirmation to come through. Thankfully, it finally did and I was then able to download the .exe executable file onto my Windows virtual machine. After going through the usual steps I had the client running on my computer. I then had to log in to Avira on my browser in order to validate the installation and get my VPN client upgraded to Pro membership.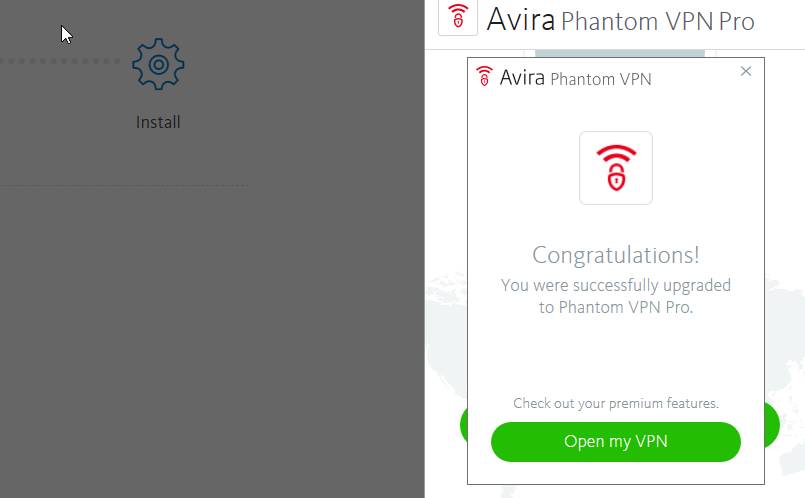 Apps
The Windows client is certainly not crammed with options but there is enough functionality for users to be able to identify a server to connect to very easily. For smartphone users the app is now available for Android and iOS. These can be downloaded through Google Play and the iTunes store.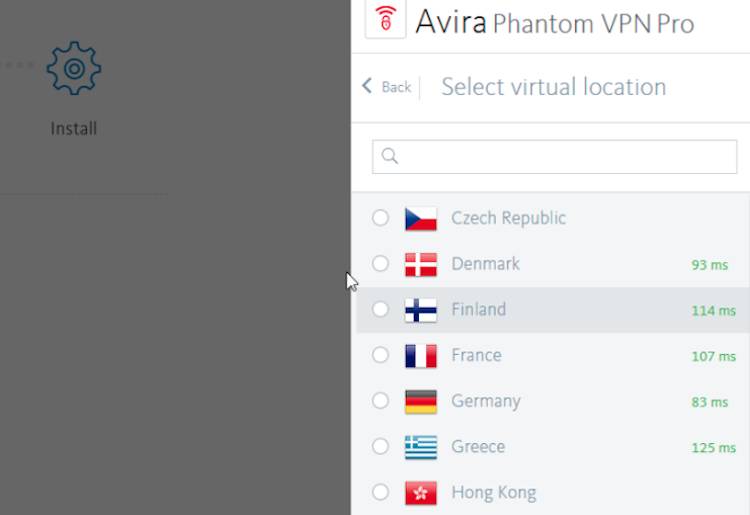 How Does Avira Phantom VPN Compare?
150 servers in 37 locations
3,000 servers in 68 server locations
Users that want a simple VPN solution
Android users that need a simple tool
Those that want fine control of protocol and connectivity
Customer Support
Avira has set up a separate subdomain on its websites just to host support resources. Its content offering there includes explainer articles dealing with subjects like '"What is a VPN?" and in depth setup tutorials. Of course these aren't always enough to help users in a spot of bother. Paid users can avail of both email-based and telephone support to get unstuck using the product. Avira currently offers three international dialing lines and the call center is operational between 09:00 and 23:00 CET during weekdays.
Ease of Use
Getting Avira Phantom VPN set up and running was easy. Using the tool is as simple as selecting the desired endpoint and choosing to connect. The VPN isn't packed with features so there are not many settings to deal with.
Avira Visit Site
FAQs
Can Avira VPN be installed on routers?
There is no router installation method currently supported
Is there a Linux client?
Not currently
What connection protocol does Avira use?
Open VPN.
Bottom Line
Avira may not dazzle in the features department but the speeds it provided across its modest network of VPN servers were consistent although not blazingly fast. The unlimited devices option is nice and for users that want a reasonable selection of servers for a monthly price then this is an option worth considering.