In a Nutshell
AstrillVPN is a fast and secure VPN service with a generous introductory free access period. It's also a true cross platform tool with clients for both Linux (GUI) and routers and some of the server speeds were among the best we have tested. The aesthetics didn't impress, but in terms of speed it's an all-star find.
pros
Clients for routers and Linux
Dedicated server network
One click connection
cons
Coverage in 59 countries only
Slow speeds on some servers
Ugly looking client

Astrill VPN Compare All
Astrill VPN at a Glance
Best for: Users that want a wide variety of payment solutions
Price: $20 per month (rolling). $10 per month (1 year plan)
Location: Servers in 111 cities across 59 countries
Netflix: Unblocks US Netflix
Torrenting: On certain servers<
Logging: No logging policy
Number of Devices: 5 simultaneous connections
Operating Systems: Windows, MacOS, iOS, Android, Linux, Router
Browser Extensions: No
Privacy
Astrill VPN has great connection speeds, but is it a tool that you can trust? In terms of logging the company proudly states that it supports a "strict no logging policy." There's more detail in the company's privacy policy which has a subheader by the same name. It states: "our systems keep track of active sessions—connection time, IP address, device type, and Astrill VPN application version during the duration of your VPN session. Once you disconnect from the VPN this information is removed permanently from our system." The policy goes on to explain that it keeps count of the amount of traffic used by clients in order to plan for network expansion. Finally, the privacy policy states that "we keep last 20 connection records including connection time, connection duration, country, device type." It says that these are used by customer support and that customers can request manual deletion. This is one instance in which it certainly pays to read the fine print. While the company proudly touts its zero logs credentials, in reality it does collect user data—even if it is only stored ephemerally. A LinkedIn listing indicates that the company is based in Pakistan.
The company also offers the Wireguard VPN protocol which is a modern VPN protocol with minimal connection overhead and state of the art cryptography.
Features
I tried out Astrill's Windows and Linux (Ubuntu) clients. Both provided identical functionalities and—unusually — the user interfaces looked essentially identical.
Site-Based Connection Editor
One of the nicest features I encountered was the site-based VPN connection editor. Using this feature, I was able to assemble a whitelist and blacklist of sites to be included in, or excluded from, the VPN tunnel. Alternatively I could use the VPN conventionally and tunnel all internet traffic through it. This URL-based split tunnelling functionality is a feature that adds a lot of value for users that might wish to use the VPN for only certain types of traffic—like when connecting to a webmail page.
Browser Based Connection Selector
Likewise, I was able to select which browser to use the VPN with directly from within the client. This is a much more convenient implementation of this functionality than asking the user to install a variety of browser extensions. By ticking the desired boxes I was able to configure the VPN to connect when I was using Google Chrome but not Mozilla Firefox. The behavior worked as expected.
Ad and Tracker Blockers
The VPN is able to selectively block ads and trackers. For users concerned with maintaining their online privacy this functionality means that they can receive additional protection against bots and other systems designed to track their internet usage.
Onion Over VPN
The Onion Router (TOR) is a specialized internet network used to connect to the Dark Web. Unfortunately without using a VPN, ISPs can still notice that users are accessing TOR because their connection to the entry node remains visible and unencrypted. To circumvent that, Astrill VPN provides Onion over VPN servers which can automatically relay a TOR connection after the user connects.
Speed
My baseline connection speed, before beginning the testing process, was about 90 Mbps. I achieved the following speeds through the Astrill VPN endpoints.
Although I measured these using Ookla, connection speeds could also be tested by using a built in speed testing utility. For users that want to make sure they are testing the connection with the right settings applied, this can be a useful tool to help them manually select the fastest server for their requirements.
The good speeds throughout the network may be due to the fact that Astrill maintains its own bare metal (dedicated) server infrastructure. Although many VPN provider provision VPS networks, Astrill claims that it operates a worldwide network of dedicated servers for customers' exclusive use.
In terms of connection speeds, the only disappointment was in Ireland which yielded a poor connection of just 7 Mbps download. All other servers that I tested managed at least 65 Mbps.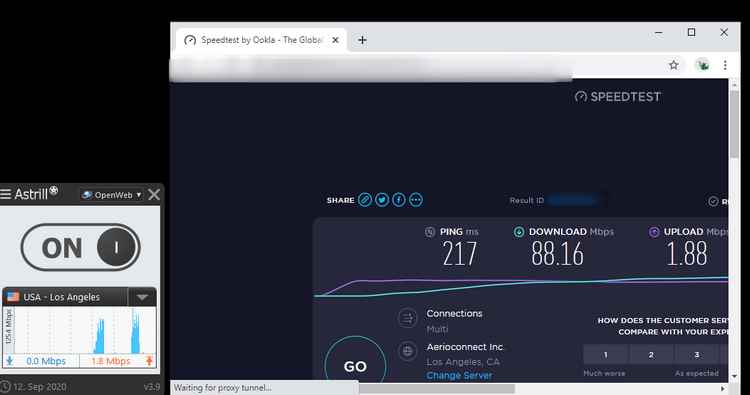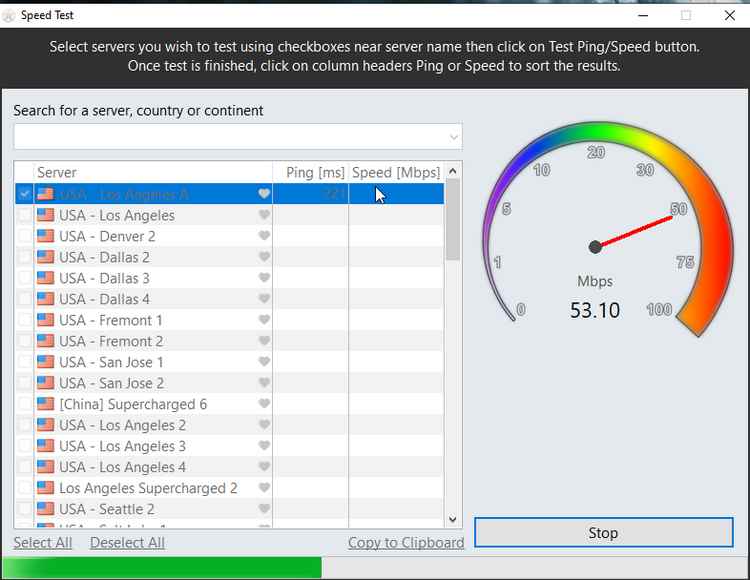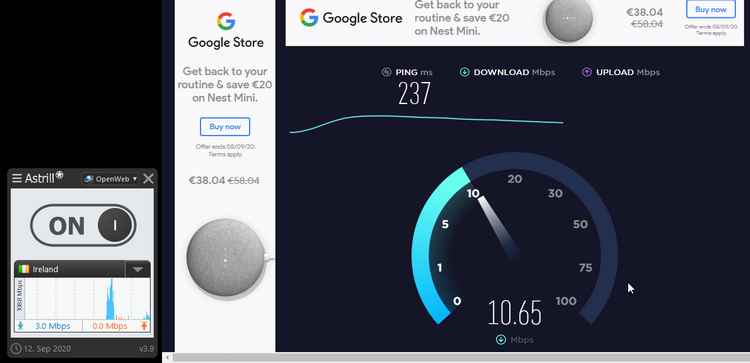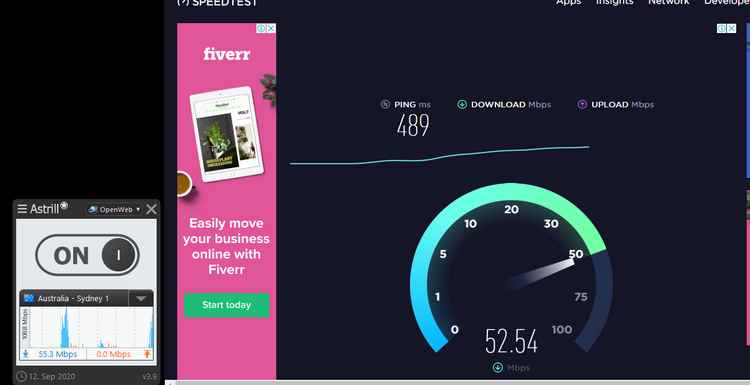 Pricing and Deals
Astrill VPN can be subscribed to month-to-month, for 6 months, or for 1 year.
Clearly, the cheapest way to access the service is to pay annually. In terms of value for money, Astrill clearly isn't the cheapest VPN option on the market. However, for many users its dedicated server network, which translates into fast connection speeds, makes it worth the money.
Torrents
I couldn't find any restrictions on torrenting when browsing the Astrill website. The company maintains a Wiki which contains details on how to connect to various peer-to-peer (P2P) network clients. VPN servers that allow torrents are marked with a star. Although clearly it would be easier for torrent fans if all servers were optimized for torrenting, the fact that the company allows the activity combined with its fast speeds, is reason enough for this to be on the consideration list for torrent fans in need of a VPN.
Netflix
Great news for Netflix lovers! There's no reason to choose between maintaining a connection with your favorite VPN and enjoying the world's widest choice of Netflix content. After connecting to the Los Angeles server I was able to get the US version of Netflix.
Client Setup
Getting the program set up on both Windows and Ubuntu Linux couldn't have been easier. I simply needed to download the executable file and follow the instructions. Because Astrill VPN has a generous free trial period, I didn't even need to purchase a paid subscription in order to get going using the service.
Apps
Astrill VPN is available for both Android and iOS. There's no credit card required to begin a free trial on both platforms and the Android app currently enjoys a 3.8 star average rating on Google at the time of writing.
How Does Astrill VPN Compare?
Servers in 111 cities in 59 countries
Users that need solid connection speeds
Serious privacy enthusiasts
Those that want a variety of server types
Customer Support
Despite the great speeds that Astrill offers its users and the simplicity of the clients there's always a chance that users might get stuck. The company offers a variety of setup manuals and video tutorials as well as FAQs spanning both popular topics and troubleshooting issues. Personalized support is delivered by both live chat and through email.
Ease of Use
Astrill VPN has to be one of the easiest to use VPNs that we have come across. The basic looking client may not be in the running for any VPN design awards but offered nice click and point functionalities and a basic graph outlining the connection speed and bandwidth use. For users that want to manually test out endpoint speeds there's also a test utility. The performance advantage gained from the bare metal dedicated network is quickly apparent.

Astrill VPN Compare All
FAQs
Can Astrill VPN be installed on routers?
Yes, Astrill VPN can be installed on routers running the compatible hardware.
Does Astrill have a Linux client?
Indeed it does! It has a GUI that is identical to the Windows version.
How many devices can be connected
Five devices can be connected simultaneously
Bottom Line
Astrill VPN supports Windows, MacOS, and Linux with a server network that spans 59 countries. While its clients are not aesthetic works of art, the speeds more than make up for that—a reflection of the effort that Astrill puts into maintaining fully self-managed infrastructure.