Hulu Visit Site
Overview
Hulu SVOD at a Glance
Watch thousands of TV shows and movies including award-winning Hulu originals
Create up to six user profiles and watch on two devices simultaneously
Bundle with Disney+ and ESPN+ or add on Max, Showtime, Starz, and Cinemax for even more content
Download content for offline viewing (ad-free plans only)
What is Hulu SVOD?
Hulu Streaming Video on Demand is a streaming service that gives you access to thousands of TV shows and movies from major production studios. It includes hit shows like The Bear, What We Do in the Shadows, and The Handmaid's Tale. Hulu content covers a wide variety of genres, including dramas, news, comedies, documentaries, kids' shows, and more.
You can bundle Hulu with Disney+ and ESPN+ to get access to even more content, including most Disney-produced TV shows and movies. You can also add on Max, Showtime, Starz, and Cinemax to expand the content library further.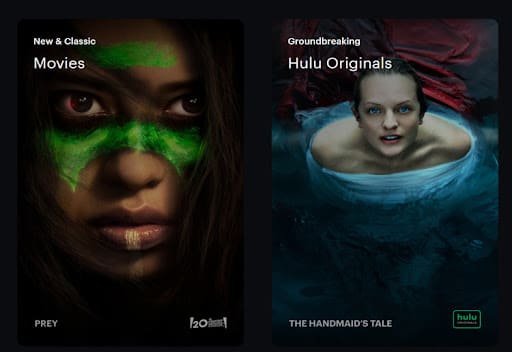 Hulu SVOD features
Hulu lets you create up to six distinct user profiles so that every member of your household can have their own dashboard. That's useful if one person in your house wants recommendations for dramas, for instance, while another person mostly wants to watch comedies.
Parents can create kids' profiles for their children which only allow access to kid-friendly shows and movies. Users must have a PIN code to log out of a kid's profile.
Members of your household can watch shows on two different devices at the same time. You can also download content for offline viewing for up to 30 days. However, you must have an ad-free plan to download content.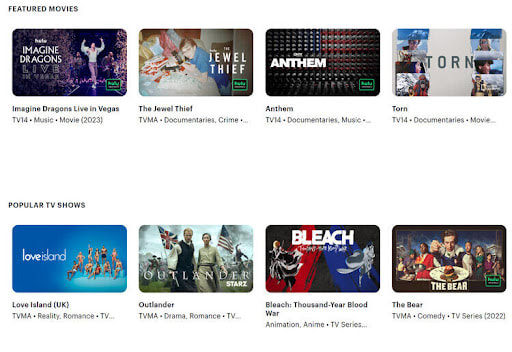 Hulu SVOD Ease of Use
I found Hulu to be fairly easy to use. It will feel familiar if you've used Netflix, Disney+, or other streaming services in the past.
The dashboard displays shows Hulu thinks you will like front and center, with additional categories for popular shows and movies by genre. You can also search for shows by name.
The interface feels pretty sleek, inviting you to click on a show and start watching. Shows you've started or favorited will show up in a section called 'My Stuff' so they're easy to get back to.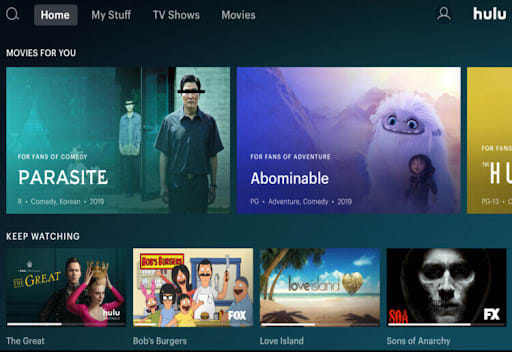 Hulu SVOD Security Standards
Hulu uses Secure Sockets Layer (SSL) encryption to protect your account. Your account is also password-protected and you can turn on two-factor authentication for additional security. However, there's no way to add a password to individual user profiles within your account.
How Hulu SVOD Works
How To Get Started With Hulu SVOD
You can sign up for Hulu online with your name, email, and birthdate. I found the process takes less than a minute.
Next, give your new user profile a name and image. Hulu will ask you about your preferences so it can make personalized recommendations. After that, you'll see the Hulu dashboard and can click on any show to start watching.
Hulu SVOD Customer Service
Hulu offers customer support by phone and live chat 24/7. You must be logged into your account to get phone support, but you don't need an account to get in touch by live chat. I contacted Hulu over chat and received a helpful response in about three minutes.
Hulu also has an online help center where you'll find guides about how to use the service, answers to billing questions, and more. A community forum offers a place to make feature requests and get help from other Hulu users.
Is There a Hulu SVOD App?
Hulu has a free mobile app for iOS and Android devices. You can use the app to watch content on your smartphone or tablet. It's intuitive and closely resembles the web interface.
One nice thing about the Hulu app is that it also enables you to download content for offline viewing. You must have an ad-free plan to download content.
Hulu SVOD Pricing
How Much Does Hulu SVOD Cost?
Hulu costs $7.99 per month with ads or $14.99 per month with no ads. You can bundle Hulu with Disney+ and ESPN+ for $12.99 per month (ads) or $19.99 per month (no ads).
All plans are billed monthly, so you can upgrade, downgrade, or cancel at any time. Hulu also offers a 30-day free trial for each of its plans.
Disney Bundle Trio Premium

I didn't find the ads to be too intrusive, so the ad-supported plan is a great option for anyone on a budget. Both the ad-supported and ad-free plans are priced competitively with other streaming services.
If you want access to more content, the Disney Bundle Trio more than doubles the size of the content library.
Hulu SVOD Warranty
Hulu doesn't offer a warranty or money-back guarantee.
Optional Add-Ons
Max: $15.99/month
Showtime: $10.99/month
Starz: $9.99/month
Cinemax: $9.99/month

Hulu Visit Site
Hulu SVOD Alternatives
How Does Hulu SVOD Compare to Other TV Streaming Services?
Award-winning original content

Customizable content packages

Hulu vs Sling TV
Sling TV is a more comprehensive TV service than Hulu. In addition to more than 85,000 on-demand shows and movies, Sling TV includes more than 200 live TV channels. It's great if you want to replace your cable package, but very pricey if you're just looking for content to stream.
Hulu vs Disney+
Disney+ is the hub for all content produced by Disney, including the Star Wars and Marvel shows and movies. If you can't decide between Hulu and Disney+, you can bundle them together starting at only $12.99 per month.
Hulu vs Paramount+
Paramount+ is one of the cheapest streaming services available, making it ideal if you're on a tight budget. It includes access to live sports, but doesn't have as many popular TV shows as Hulu.
Bottom Line (Is Hulu Worth It?)
Hulu offers unlimited access to a large content library that includes numerous award-winning original shows and movies. The ad-supported plan is very affordable, and bundles with Disney+ and ESPN+ make Hulu very attractive if you want as much streaming content as possible for the lowest price. Overall, I really like Hulu and think it offers enough high-quality content to use as your only streaming service.