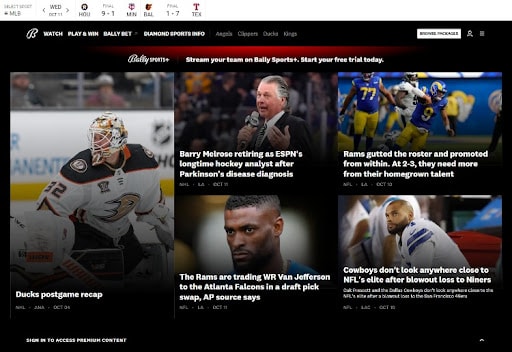 Bally Sports Visit Site
Overview
Bally Sports at a Glance
Best for: Streaming Live Regional Sports
Number of titles: NA
Number of devices for simultaneous streaming: 2
Mobile app: Android, iOS
Live TV channels: No
Original content: Yes
Are there any ads on Bally Sports? Yes
What is Bally Sports?
Bally Sports is a sports streaming platform that offers regional subscription packages through its Bally Sports+ service. This enables you to subscribe for a small monthly fee and watch live streams of your local sports teams in the regions where it's available.
However, Bally Sports+ only offers regional content, and you can only sign up for the region you live in. So it's a good option if you support a local team but not if the team you want to watch is interstate.
Bally Sports features
Overall, I found Bally Sports a little on the basic side. However, there are still some excellent features worth mentioning.
For one, you can stream concurrently on up to two devices, enabling you to watch two separate games at the same time. You can also watch on-demand replays for 72 hours after each game finishes.
I also enjoyed being able to view real-time stats through the Bally Sports website while I was watching. Note, though, that this feature is only available if you're watching via a web browser. Highlights are also available to view during and after each game.
Is Bally Sports Safe and Reliable?
Bally Sports is a dependable sports streaming provider that does things the right way. It has excellent ratings across the web, and the majority of past and current customers are happy with its service.
On the Apple App Store, for example, it's rated at 4.4/5 stars, while it has an even more impressive 4.6/5 stars on Google Play.
How Bally Sports Works
To get started with Bally Sports, head to the website and input your zip code where prompted. If a Bally Sports+ service is available in your region, you'll be presented with the available subscription options.
Select the package you want, follow the prompts to create an account, and complete the checkout process. I found this very straightforward, and it shouldn't take you more than a few minutes to work through.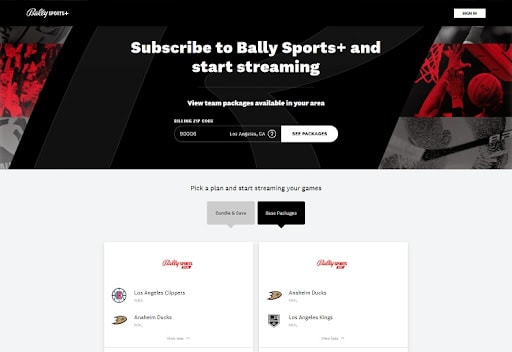 Bally Sports user interface
I tested Bally Sports on both mobile and web, and apart from a few places where the layout was a little clunky, I was quite happy with it.
On the website, you'll have access to a menu at the top of the screen, along with a search option and a settings button. Clicking on any live game or show takes you directly to it, and the website seems to load efficiently even with quite a slow internet connection.
The main downside I experienced was the sometimes excessive advertising. You'll often experience multiple 30-second ads in even short videos, and there's no way to fast-forward or skip ads.
What devices does Bally Sports support?
Bally Sports is available on a wide range of devices, including most Android, iOS, and Windows devices.
For starters, you can watch via your Safari, Chrome, Firefox, or Edge web browser. There are also iOS and Android mobile apps, along with specialized apps for Chromecast, Apple TV, Android TV, Amazon Fire TV, Roku, Xbox One, and Samsung Smart TV devices.
What Can You Watch on Bally Sports?
With a Bally Sports+ subscription, you can watch a selection of live and replayed sports games, original programming, and pre- and post-game shows. However, different content is available in each region, and you'll only be able to watch live streams or replays for your local teams.
You'll need to speak with the Bally Sports team or sign up for a free trial or premium account to see exactly what you can watch in your area.
Bally Sports Customer Service
Bally Sports offers live chat and email support. The live chat is available from 11am to 1am (EST), Monday to Friday, and I received a response within minutes every time I tested it. Email support is a little slower, but you can expect a response within 24 hours.
You'll also find a selection of useful FAQs spread throughout the Bally Sports website. I found these useful, and there's also a Help Center that contains a decent selection of well-written self-help articles and guides.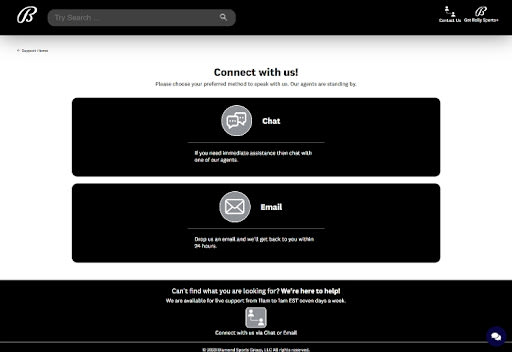 How to Cancel or Pause a Bally Sports Subscription
If you sign up via a web browser, Bally Sports enables you to pause your subscription for up to three months. To do this, head to your Account menu, click the Subscriptions button, and follow the prompts.
To cancel your subscription, you'll need to head to the platform you purchased it on. For web users, you can follow the same process as above and choose to cancel your plan rather than pause it. For others, you can find step-by-step instructions in the Bally Sports help center.
Is There a Bally Sports App?
The Bally Sports mobile app is available for free for both Android and iOS. It enables you to stream sports on the go, and I found it quite easy to download and set up. User reviews on the Google Play and Apple App Stores are great, and you shouldn't have any issues getting started.
Note, though, that you'll need a paid subscription before you begin watching. You'll also only be able to watch the content that your subscription supports.
Bally Sports Pricing
How Much Does Bally Sports Cost?
Bally Sports offers regional subscriptions that are specific to your postcode. These start at $19.99 per month ($189.99/year or $124.99/season) for access to content from two local teams, or you can save with a bundle and get access to all regional content for $29.99.
With my LA postcode, for example, I could access the LA Clippers and the Anaheim Ducks for $19.99 per month, the LA Kings and the Anaheim Ducks for $19.99 per month, or all three for $29.99 per month.
There's also a seven-day free trial that you can use to test the platform with minimal risk.
Bally Sports Alternatives
How Does Bally Sports Compare to Other TV Services?

Bally Sports Visit Site
Bally Sports vs ESPN+
Like Bally Sports, ESPN+ offers live streams of various sporting events. However, it's not restricted to regional content, and it costs half as much as Bally Sports. Overall, I'd suggest Bally Sports if you want to watch as much as possible of your local team, but ESPN+ is a much more attractive option if you want to watch a selection of sports and related shows.
Bally Sports vs FuboTV
FuboTV is significantly more expensive than Bally Sports, but it offers a wide range of on-demand content and live TV channels, including sports channels like ESPN. However, you won't always be able to find your regional games on FuboTV as you would with Bally Sports. Because of this, I'd recommend the latter if you're a regional sports fan. However, FuboTV is the clear leader if you're looking for some live sports streams alongside other content.
Bally Sports vs Hulu+
Hulu+ is an extension of the Hulu streaming service that includes access to 90+ live TV channels, including a range of sports options and regional sports channels. It's much more expensive than Bally Sports, but I'd recommend it in almost every situation unless you're on a very tight budget.
Bottom Line (Is Bally Sports Worth It?)
All things considered, Bally Sports stands out as a solid niche sports streaming service. It offers regional packages that enable you to stream live games and other content from your favorite local teams. However, it doesn't enable you to watch teams that aren't in your region.
Despite this, I enjoyed my experience with the platform. The user interface is solid, the customer service team is responsive and knowledgeable, and it's one of the more affordable sports streaming services on the market.
At the end of the day, I'd highly recommend a Bally Sports+ premium subscription for regional sports lovers. However, you'll want to look elsewhere if you're looking for a service with wider sports coverage and/or on-demand content.