POS Pros Visit Site
POS Pros at a Glance
What is POS Pros?
POS Pros is a payment solution provider that aims to connect business owners with the most appropriate POS system for their needs. It works with 28 partner POS brands, including popular brands like Clover, Square, and TouchBistro.
What I really like about POS Pros is the way it reduces the amount of time business owners need to spend researching their own POS system. Instead, you can enter your details in the consultation form on the POS Pros website and the company will contact you to discuss the best options for you.
What's more, POS Pros also delivers leading prices and has some attractive deals. You can access free equipment worth up to $500 and commissions starting from just 0.39% for swiped cards.
POS Pros features
POS Pros is a little different from most POS service providers, as it doesn't have its own platform. Instead, it resells packages from other providers, which provides a decent amount of choice.
The platform is backed by a selection of noteworthy features, including the following:
Zero contracts or cancellation fees
POS Pros removes all contracts and cancellation fees, so you won't be pressured into signing up for a long-term contract. You'll pay what you expect, and you can cancel your subscription whenever you need to.
Free system demos
Another feature I like is the platform's ability to provide full POS system demos. This enables you to shortlist a number of providers from its partner brands and then test them out. Different interfaces are better suited to different businesses, so this will help you get the best program for your needs.
Industry-specific solutions
You'll also find that the advice given by POS Pros is industry-specific. Different types of businesses have significantly different POS requirements, so this is great to see.
For example, health service businesses like dental practices require features like integrated bookings and customer management, while one of the most important things for hospitality businesses is fast, accurate payment acceptance.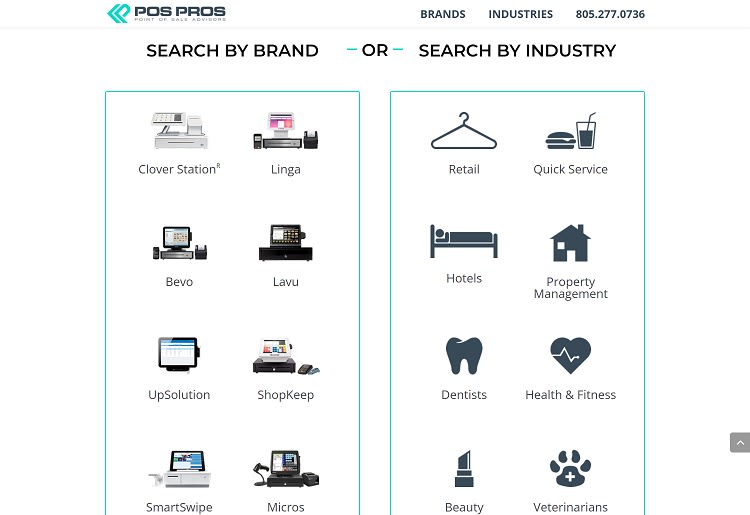 Cash discount program
POS Pros can help you set up a cash discount program so you can save money on credit card processing fees. This essentially enables you to offer a discount for customers who pay with cash or check, as there are no processing fees associated with these transactions.
Cash advance program
There's also a cash advance program that offers a line of credit of up to $500,000 for qualifying businesses. You can apply for this through a user-friendly online application portal, and conditional approval is available in as little as 10 minutes.
Note that this depends on your cash flow and transaction information, so it's unlikely that new businesses will be able to access funding from this source.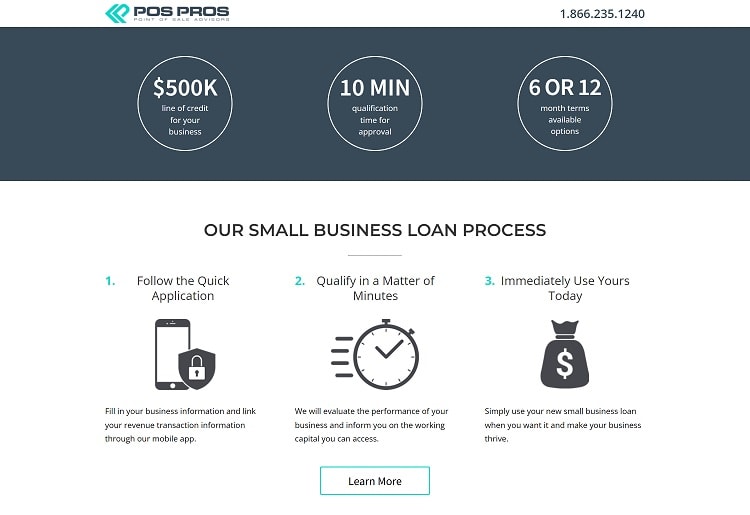 POS Pros hardware
Each partner that POS Pros works with has its own hardware. This means that your subscription will largely dictate the hardware you can access.
Clover, for example, offers all-in-one POS systems, mobile solutions, and a range of extra tools. These include scales, cash drawers, barcode scanners, and kitchen printers.
If you sign up for the cash discount program, you'll also get a free Dejavoo Z11 credit card machine.
Is POS Pros Safe and Reliable?
POS Pros partners with various top-rated POS systems, and you can rest assured that the system you choose will be reliable and perform well. Its partners also offer excellent customer security features to ensure payment and other personal information is stored in an appropriate manner.
How POS Pros Works
POS Pros works by taking customer information and using it to recommend the most appropriate POS solutions. You'll also benefit from either email or phone consults from POS Pros customer service representatives while you're making your choice.
How To Get Started With POS Pros
To get started with POS Pros, you need to fill in the consultation form on the company website by entering your name, email address, and phone number. I like the fact that you don't have to give up too much personal information before your initial consultation.
Once you've submitted the initial quote form, a POS Pros representative will get back to you within one business day. Alternatively, you can call the sales team yourself to have a chat immediately.
The process following your initial consultation will dictate your next steps. If you decide on a POS system, POS Pros will ship you the relevant hardware and provide advice and guidance to help you get your system online.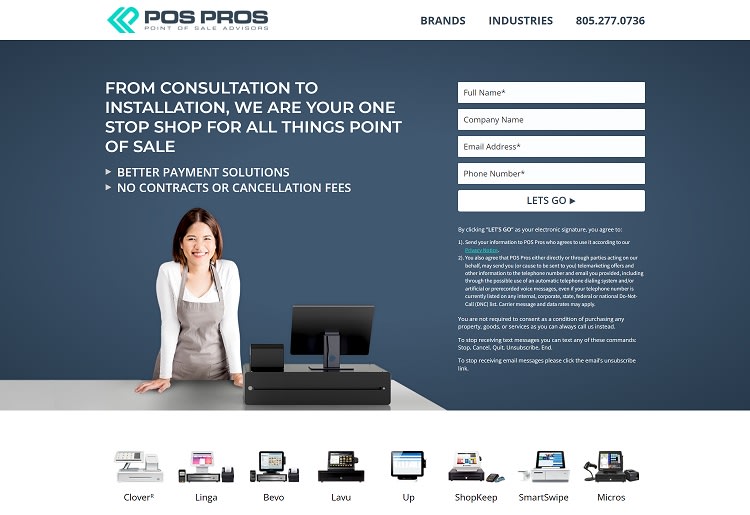 POS Pros Customer Service
POS Pros offers support via online contact form and phone. The support team operates during business hours, which are Monday to Friday, 9am to 7:30pm (ET). I called twice with different questions and was able to speak with an agent immediately both times.
Queries submitted through the online contact form can take a little longer to get a reply to, but you should still get a same-day resolution on business days.
On the downside, there are no other support resources. There's no blog, knowledge base, video tutorials, or help center.
How To Cancel or Pause a POS Pros Subscription
POS Pros offers monthly subscriptions with no lock-in contracts or commitment terms. This means that you can cancel at any time. However, I did find the cancellation process a little confusing, as the company tries to make it difficult.
First, you have to speak with a customer service representative and request a cancellation form. You'll then have to fill this out and submit it to the company.
But this is where things get a little sticky. According to customer reviews on the Better Business Bureau (BBB) website, the team won't prompt you to fill out a cancellation form unless you specifically ask for it. This does pose some concerns, so make sure that you're clear about cancellation terms before signing up.
Is There a POS Pros App?
No, POS Pros doesn't have a mobile app. However, many of its partner POS providers do offer their own mobile apps.
POS Pros Pricing
How Much Does POS Pros Cost?
Since POS Pros is essentially a service to help match you with the most appropriate POS solution, its fees and charges vary significantly.
For starters, you can expect to pay some sort of subscription and/or usage fee through the POS system you use. For most, this comes in the form of a percentage of each transaction processed through your system.
You can also expect to pay additional management or commission fees on top. POS Pros sometimes charges account setup fees, but there are no lock-in contracts and no cancellation fees.
To find out more about what you can expect to pay, I'd recommend giving the sales team a call and discussing the best POS solution for your business.

POS Pros Visit Site
What can you do with POS Pros for free?
POS Pros will assist you with choosing the best POS system for your needs. There are no initial costs, but you will have to begin paying when you start using your new system.
Options add-ons
Every POS partner that works with POS Pros has its own optional add-ons. Clover, for example, enables you to link optional hardware like a cash drawer or barcode scanner. Some partners also have optional loyalty programs, gift card functionality, and more.
Bottom Line (Is POS Pros Worth It?)
POS Pros is a useful option for business owners and companies looking for a new POS system. It works with almost 30 POS partners, linking customers with the most appropriate system for their needs. It also offers competitive prices, contract-free service, and zero cancellation fees.
While some customers have reported difficulty canceling a subscription, the customer service is otherwise responsive, and the team is available to answer your questions via phone or contact form. Overall, I'd recommend reaching out to the POS Pros team for a chat if you're looking for a POS for your company but are having trouble deciding on one.