In a Nutshell
American Residential Services or ARS/Rescue Rooter is a plumbing, home heating, and cooling system repair specialist. In this review, we'll be mainly going over its plumbing services which include emergency repairs plus a wide range of big and small plumbing jobs. ARS Plumbers are available 24/7 and it is incredibly easy to get someone out quickly. Check if you live in one of ARS's service areas by entering your ZIP code on the ARS site.
pros
Online booking system
Help is always available
Exceptional service guarantee
cons
Occasional 'upselling'
Some negative reviews regarding A/C installation
Scheduling is not completely online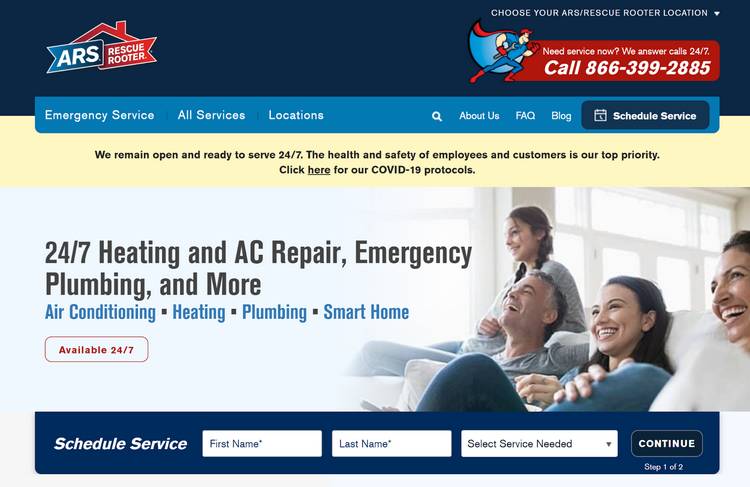 ARS/Rescue Rooter at a Glance
Specializes in: Plumbing and HVAC
Average price range: Prices vary widely by state/service
Warranty: 1-year warranty on all work + additional product warranties
Response time: Immediate emergency response
Best For: Emergencies and quick response
Plumbing Services Offered
Through the ARS/Rescue Rooster service, you can access all manner of plumbing maintenance. It doesn't matter whether you have a standard maintenance request, such as the installation of a new hot water heater, or an emergency issue to deal with, ARS has you covered.
Here is a complete run-down of the different plumbing services you can request through ARS:
Plumbing system repair and installation

Preventive maintenance

Garbage disposal

Water heater servicing

Water system leak detection, inspection, and evaluation

Drain inspection and repair

Sewer and water line repair

Services for sump pumps

Gas line repairs
Pricing
Because ARS/Rescue Rooter is a nationwide company, its prices vary widely from state to state, and by the nature of the work required. Another reason ARS prices aren't consistent is that many of its employees are salespeople and commissions will be set by the demand and competition in your area.
Therefore, if you have a major job in need of doing, we recommend getting a quote from other companies as well as ARS and negotiate from there. Looking up the national or state average for individual plumbing jobs is also a good way to make sure you're getting a good deal.
Reviews on Yelp and the BBB have said prices with this company range from extremely cheap to very expensive. Essentially, do your homework. ARS/Rescue Rooter has a policy that its technicians will always quote you a price before starting work. So, if it feels high compared to the national average for that repair, feel free to double-check with another company.
Testimonials
"Professionalism, Punctuality. So satisfied with the work that I used them a second time. Good communication and easy to work with." -Pittsburgh, June 2020
"We had a sewer emergency and after one call they were there in an hour to fix the problem. A friendly and knowledgeable plumber that had the problem fixed in less time than it took to get there. Cleaned up the place before they left. I'd use them again for sure." -Utah, July 2020
"Anthony, Alex, and Nathan did work for us, clearing roots and repairing a broken drain water pipe. They worked very hard and kept us informed about the issue every step of the way. They answered all of our questions and gave sound advice and recommendations about the best way to proceed. My husband and I were very impressed with all three men and will use them again if need be." -Tennessee, July 2020
Customer Service and Response Times
As we mentioned already, ARS/Rescue Rooter offers a truly 24/7 service. Its technicians are even available Christmas morning for emergencies. If you call the emergency ARS number, you can expect someone to come immediately. In an emergency, an ARS plumber will be dispatched almost as soon as your request is received.
ARS is careful to always quote before starting work and has policies in place to keep your house clean and free from any secondary damage that could be caused by sloppy technicians. For bigger or non-emergency jobs, you'll often be given a quote before any work or technician comes to your house.
You can contact ARS over the phone or via Live Chat at any time of day or night. You can also use the ARS Schedule Service and someone will call to confirm your appointment. If you tick the box that says 'I have an emergency' you'll be put to the front of the line. However, calling in is the only way to ensure a same-day response.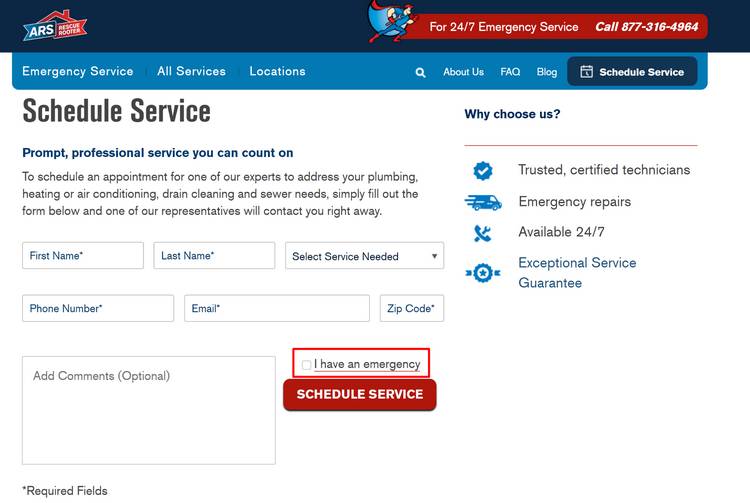 Warranty
ARS/Rescue Rooter offers a 1-year warranty on all work and will remove (if needed) and refund your product or service if you are dissatisfied for any reason. Plumbing is a difficult job, and there will always be an occasional mistake, but ARS has a good track record of making things right.
Sewer repairs and drain cabling have their own separate applicable warranties as well. Because ARS/Rescue Rooter is a vendor for many brands of parts and appliances, always check if there are additional manufacturer warranties that you may qualify for.

ARS Rescue Rooter Visit Site
Other Services Offered
ARS/Rescue Rooter is not just a plumbing company, it specializes in heating and cooling too. On offer, you'll find most types of HVAC, heating, and cooling installs and repairs. These include swamp coolers, air conditioning units, furnaces, radiant, geothermal, and even other more unique temperature control systems.
Outside of its specialties, ARS also offers attic insulation installs, as well as cleaning and maintenance for home filtration systems. Recently, smart home sales and installations, including Nest home installs, have been added to the Rescue Rooster service catalog.
Summary
In sum, ARS/Rescue Rooter is a good all-around company with policies that should result in a great service experience.
Each local ARS branch is going to have slightly different pricing and work standards, so we recommend searching with your ZIP code to find your local branch's reviews and offers. But no matter what, you can be sure that, if you go with ARS/Rescue Rooter for your plumbing repair or install, the technician will be knowledgeable and will have passed a background check. As if that wasn't enough, ARS's one year warranty on all services stands out as an exceptionally good guarantee for customers.