In a Nutshell
Founded in 1949, Adeedo is an LA-based plumbing and HVAC service with a team of highly-qualified repair and installation technicians. Adeedo, which took over Paster Plumbing a few years back, stands out for its 100% satisfaction guarantee and flexibility. You can call on the company to deal with all manner of emergency sewage, heating, and plumbing line issues.
pros
100% satisfaction guarantee
Discounts through coupons
Deals with virtually any plumbing problem
cons
Service limited to LA metro area
Advanced repair pricing can be confusing

Adeedo Visit Site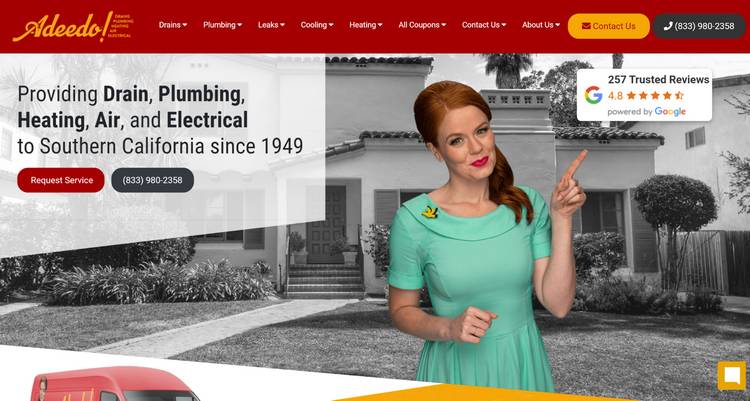 Adeedo at a Glance
Specializes in: Plumbing, Drains, HVAC
Average price range: $53 drain cleaning, $69 water line diagnostic
Warranty: 100% happiness guarantee
Response time: Same-day service
Best For: Addressing a complex plumbing situation fast.
Plumbing Services Offered
Drain blocked? Leaky freshwater system? Adeedo can repair either. Whatever issue you're facing with your drainage, freshwater system, or pumps, you can call on Adeedo to handle it. The company has a full array of services on offer such as sewer line repairs and installation. You can also rely on Adeedo's team to install plumbing systems for kitchens and bathrooms.
Here's a comprehensive look at the various plumbing services available from Adeedo:
Drain cleaning, camera inspections, and rooting

Hydro-jetting

Trenchless sewer line services

Sewer line installation and repair

Burst pipe services

Water heater installation and repair (tankless or standard)

Sump pump repair and installation

Gas line repair and installation

General plumbing system repair

Kitchen and bath repair and installation

Water softener maintenance

Seismic valve installation

Leak detection

Slab leak evaluation
Pricing
Adeedo sets fixed prices for inspections and diagnostic services but significant repair jobs are charged for by quote only. For example, although the company sets a standard line cleaning service price of $53, cleaning costs will sometimes be driven up because clogs are severe or so deeply embedded that additional procedures and equipment are needed.
However, comparing Adeedo's prices to nationwide averages, you can see that the company provides good value for money. For example, snaking or rooting a drain normally costs upward of $100 or even $200, but Adeedo's base rate is a steal at $53.
Here's a look at some of the standardized charges currently listed by Adeedo:
Water filtration assessment
Softener repair diagnostic
Kitchen and bathroom plumbing quote
Sewer or main line camera inspection
Water line replacement quote
Water line installation or replacement
Testimonials
"Got the job done professionally and personably! We've been calling the company for years and will continue to call whenever disaster strikes!!!" - Missy
"Art Ramos from Adeedo came to check on our Air Conditioner. Art was very professional and very knowledgeable, he explained what repairs were needed and explained all procedures to keep our Air Conditioner working properly and efficiently. I highly recommend Adeedo." - Robert
"Friendly and helpful. Five stars to dispatch and service tech. Cleared my line quickly and cleaned up the mess! Will recommend to friends and family." - Michael
Customer Service and Response Times
Adeedo manages to stand out from the crowd with an around the clock live chat service and a 24/7 hotline (call 833 980-2320). This makes the company an ideal place to turn to if you have a plumbing emergency. Although the service doesn't list a guaranteed response time, it promises same-day service.
The nature of your plumbing job or emergency will determine whether the Adeedo technician who attends your call out request will quote and then return to perform the work later or if everything will get done in a single visit. In some instances, such as for a water line repair, you'll need to pay for a separate diagnostic to establish what the issue is before work can begin.
Warranty
Customers know they're protected when using Adeedo thanks to a range of guarantees made by the company. These vary based on the nature of your plumbing job. For example, if you request a drain clearance and the specialist who attends isn't able to solve your problem, they will carry out a free camera inspection to find out what the issue is.
Also, if you purchase a tune-up service package for a standard water heater, tankless water heater, or heating unit, you will receive a "no breakdown" guarantee. This means that if your unit breaks down within 6 months of your service date, Adeedo will send out a technician to figure out what the issue is free of charge and will even throw in priority scheduling.

Adeedo Visit Site
Other Services Offered
Plumbing is by no means the only service available from Adeedo. The company also has a fully trained crew of technicians specialized in HVAC systems. If your air conditioning system is blowing warm air or making unusual sounds, Adeedo will be able to repair it or install a new system. Similarly, Adeedo has a comprehensive suite of heating system services available. The company can install or repair both furnaces and heat pumps.
Also, Adeedo can help you to improve your HVAC efficiency with a smart thermostat. Specialists on the Adeedo team can advise on what type of thermostat is most likely to fit your personal lifestyle and routine. To receive a free smart thermostat installation proposal, give Adeedo a call.
As if that wasn't enough, if you're having air quality issues, you can rely on Adeedo to fix them. Currently, the company is advertising a totally free indoor air quality assessment and can install whole-home humidifiers, dehumidifiers, and air cleaning systems.
Summary
Customers who have used Adeedo's services are positive about their experiences, and it's easy to see why. The company can perform virtually any plumbing maintenance, repair, or installation task, and its expertise even extends to complex HVAC and air cleaning systems.