In a Nutshell
With service centres throughout the southeast and serving over 600,000 customers, Massey Services is one of the most popular pest control services in the USA. As you'll find out during this Massey Services review, there's a good reason for that. This company has a strong track record and combines 35 years of experience with an industry-leading 5-step pest prevention program to stop pests from entering your building in the first place.
pros
Focus on prevention, not just treatment
Free inspections
Highly-trained technicians
cons
Doesn't have service centers in many states
No services for some common pests like bed bugs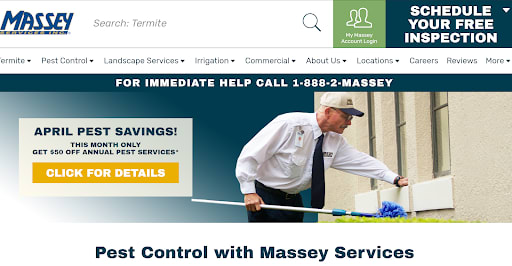 Cook's Pest Control at a Glance
Common household insects, mosquitoes and rodents
Louisiana, Georgia, Carolina, Oklahoma, Florida, Texas, North Carolina and South Carolina
More than 2,200 staff members
Pests Covered
Unfortunately, Massey Services isn't the most flexible pest control company when it comes to dealing with different types of pests. This won't be the right place to turn if you need to deal with problematic large mammals, bed bugs, or nuisance birds, for example. However, Massey Services does offer a specialty mosquito eradication service and covers most common rodent and insect pests, including termites. Its technicians are also highly-trained so they are able to quickly identify the exact subspecies of pest in your home and tailor your treatment plan appropriately.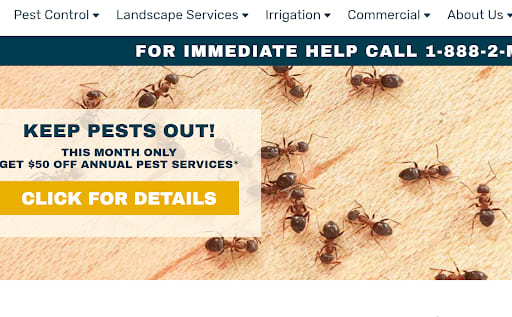 Massey Services deals with all the following pests:
Ants (All species from crazy ants to fire ants)
Cockroaches (American, German, Asian or Australian roaches)
Spiders (Black and brown widows)
Fleas (Cat fleas and brown dog ticks)
Mice
Rats (Roof and Norway rats)
Silverfish
Earwigs
Millipedes
Termites
Pricing
Like the majority of pest control and prevention providers, Massey Services prefers to quote each customer individually rather than provide a list of set prices. That's because the type of pest will determine the treatment you require. Some of the other major factors which affect cost of service include property size, location, and how far the infestation has progressed.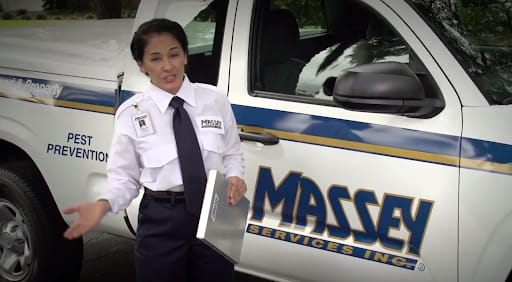 That said, cost reports from past Massey Services customers suggest that this pest control provider is, on average, priced competitively, charging approximately $500 for a one-time interior-exterior service, $150 for recurring annual appointments, and $140 for mosquito abatement. Remember, the Massey Services specialty is pest prevention which is available in the form of recurring visits and lawn services. In the long run, going for one of these options will reduce your total spend on pest control as it's easier to stop a situation getting out of hand to begin with instead of eradicating an out-of-control infestation.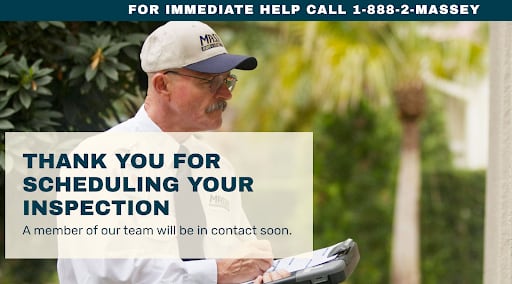 To find out how much Massey Services would charge for your unique pest situation, you'll need to schedule an inspection. Fortunately these are free and there's no pressure to pay if the quote you receive doesn't work for you. The great thing here is that these are "inspections" rather than "consultations" meaning you can arrange one even if you aren't sure that you have a pest problem.
Scheduling your inspection is easy, simply submit your name, phone, email, and ZIP code through the Massey Service website and a representative will get in touch shortly. If you are in need of urgent assistance, you should call the Massey Service hotline instead.
Guarantee
During our Massey Services pest control review, one of the features that impressed us the most was the comprehensive Massey Services money-back guarantee. Any customer who isn't satisfied with their treatment after 30 days will receive an extra corrective visit for free. Even better, if that doesn't solve the problem, the Massey Services team will keep coming back for free to address the issue. Finally, if a solution isn't reached, Massey will refund the last service payment made.
The Massey Services guarantee is definitely as good as that offered by its close competitors. However, it is worth noting that if your corrective visits don't resolve the problem, it may take several months to arrange and finalize your refund. Also, the reimbursement will only cover your last service payment which won't necessarily be the same as your total treatment cost.
Customer Service
After you've had your first inspection, most of your contact with Massey Services will be routed through your local office. Customer service experience may vary slightly from branch to branch but, in general, past customers report that Massey customer service personnel are friendly, punctual and professional.
You can also get in touch with the Massey Services central customer care office over the phone or by filling out a web form on the Massey Services website. You are guaranteed a response to any submitted queries within 24 hours but if you have an urgent situation, you should phone instead for an immediate resolution.
Green Pest Control
Because Massey Services puts a big emphasis on pest prevention and not simply pest control, this is probably one of the greenest pest treatment services around.
Massey splits its pest system into 5 stages, starting by inspecting the interior and outside of your home and ending by sealing off potential pest entry points and creating a targeted prevention program for your property's exterior. By putting emphasis on prevention and not eradication, Massey Services minimizes the need for damaging chemicals, resulting in an environmentally friendly outcome.
Besides pest control, Massey offers a series of exterior-only property services like lawn irrigation and management. These packages are also environmentally focused and use weed control, fertilization, and soil testing to create healthy landscapes.
Testimonials
"I've been with Massey for more than 17 years. If I have issues between treatments, one phone call is all it takes to get someone at my house to fix it. Because of my history and experiences with Massey, I added their termite services for my home." — R. Locher
"My technician came out and provided stellar services. I highly recommend the guys from Massey Services. He was on time and thorough with the information shared and services provided. Thanks a million for helping me eliminate my pest problems."— R. Harrigan
"I was amazed with the level of professionalism given by our technician. He knew exactly what needed to be done to get rid of our pest situation. We had to do some adjusting but in only a few visits, the pests were gone. Thank you, Massey Services!"— G. Moore
Bottom Line
To sum up our Massey Services review, this is definitely one of the better pest control services around if you want to keep your home free from unwelcome critters long term. That's because Massey Services technicians will seal off entry points and pay close attention to the exterior of your home to prevent pests from getting in, rather than just controlling them once they already have. There are a couple of downsides worth mentioning though. First off, Massey Services is only available in the southeast and its coverage is better in Florida than other serviced states. Also, no treatments are offered for bed bugs or larger mammal pests. However, in the areas where Massey Services operates, common insects like termites, ants, and spiders are more common anyway, so this isn't a huge issue.