In a Nutshell
If you're on the hunt for a pest control business in your area, Local Pest Control Pro is well worth a look. This is a directory site that you can use to search for local contractors and compare rates to make sure you aren't being overcharged. Thanks to Local Pest Control Pro's simple search system, you'll save time and money as there's no need to waste hours looking up pest control providers individually and requesting estimates.
pros
Get informed so you can negotiate rates
Find multiple services in your area
Easy and convenient search system
cons
No direct pest control services
Standards vary between contractors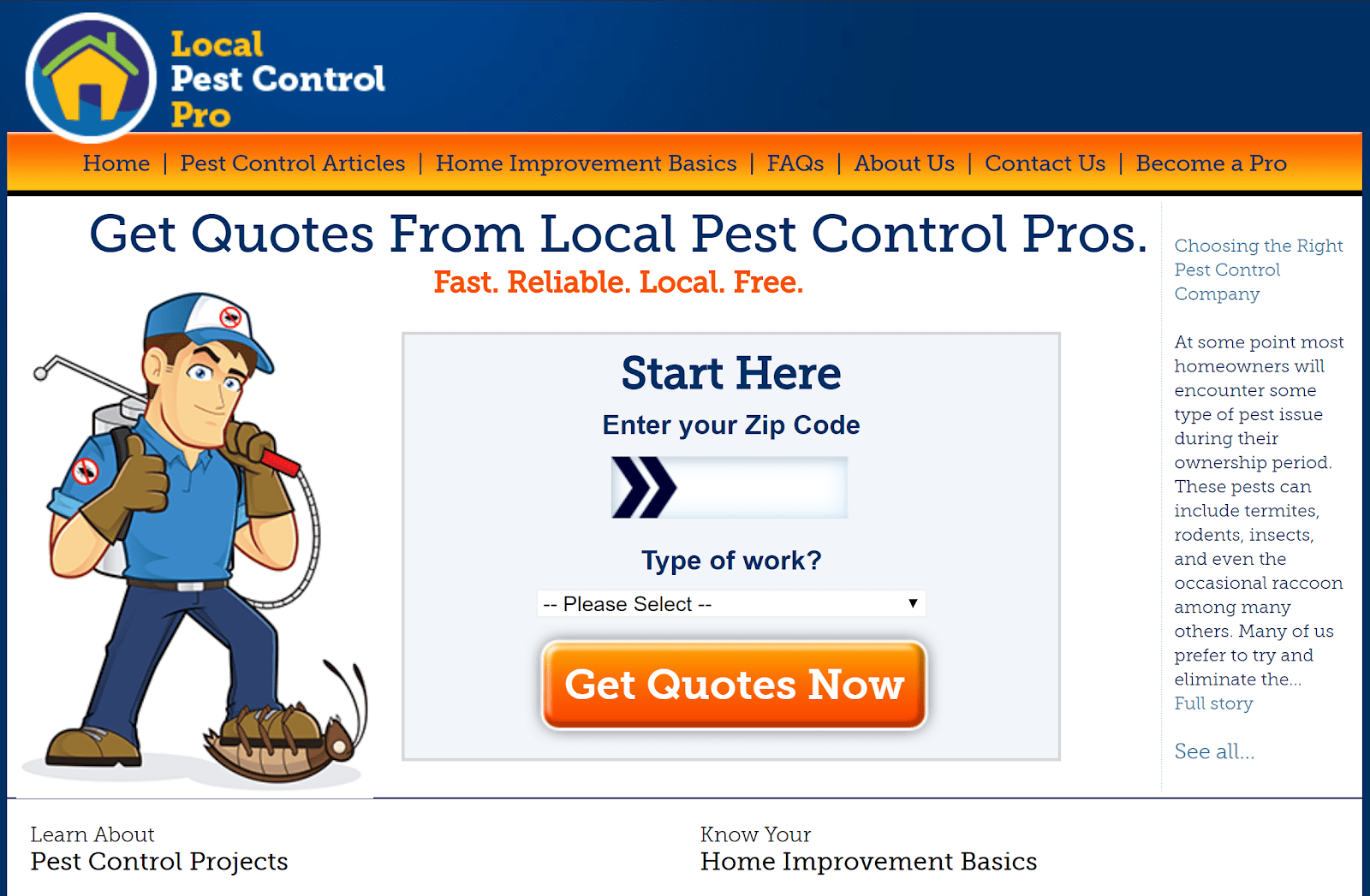 Cook's Pest Control at a Glance
All kinds of pests from termites to raccoons
Receive quotes almost immediately
Varies between selected provider
Hundreds of in-network contractors
Pests Covered
One of the biggest advantages of searching for a pest control service via Local Pest Control Pros is that you can find services to tackle any kind of pest infestation. Whether you need help with problem animals like raccoons or small insects like bees or spiders, Local Pest Control Pros can put you in touch with an appropriate pest control service in your area. This site is also a great way to find specialist services capable of dealing with pests that require specific measures such as termites and bed bugs. Here is a complete list of infestation types for which you can use the Local Pest Control Pro to find eradication services:
Bed Bugs
Birds
Bats
Bugs and insects
Rodents
Small Animals
Termites
Local Pest Control Pro organizes pests into the above categories, so if you're looking to remove a raccoon infestation, for example, you will need to search for small animal contractors. In case your pest doesn't fall into one of the groups listed above, Local Pest Control Pro also offers an "Other" category.
Pricing
Because the Local Pest Control Pro site is a network of businesses rather than a single pest control service, prices vary dramatically from contractor to contractor. In fact, this is actually the point of the Local Pest Control Pro website as the site lets you request a range of quotes from businesses in your area. Once you know what these services are charging, you will be able to negotiate a good price with whomever you decide to work with.
Submitting a quote request through Local Pest Control Pro only takes a minute. Simply select the type of pest problem you're experiencing and add your ZIP code to see how many appropriate contractors in the Local Pest Control Pro network can serve you. Next, add a few key bits of contact information like your email, phone number, and address. Local Pest Control Pro contractors will be forwarded information about the nature of your problem and will get in touch directly if they can help.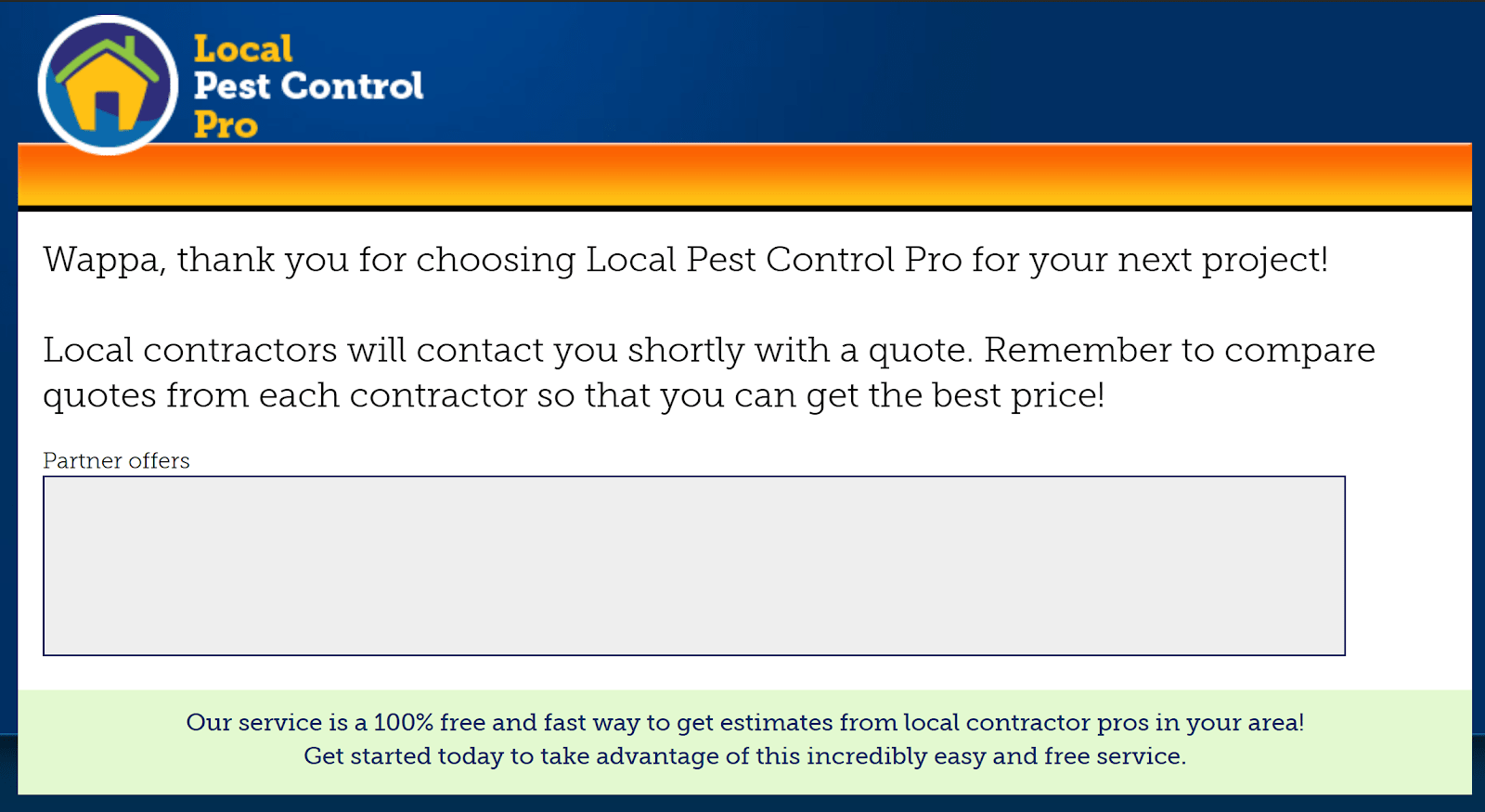 Several key factors will influence the rate that Local Pest Control Pro contractors charge. One of these is your location. If, for example, you live far from a pest control service center, you will probably have to pay more to compensate for the distance. Also important are the type and stage of your infestation. Dealing with a mild ant problem is a relatively simple procedure while an advanced termite infestation in your home's woodwork will require specialist equipment and multiple visits.
If you have a repeat pest problem or live in an area with a large pest population, one way you may be able to save cash is to take out an annual contract with a Local Pest Control Pro service. Regular pest control preventative visits stop infestations from getting out of hand and don't require costly eradication chemicals. A one-time pest control visit to remove an insect-type infestation from the exterior and interior of a medium-sized property costs, on average, $300. By contrast, a quarterly pest prevention visit may cost as little as $80.
Guarantee
Like pricing, pest resurgence guarantees are entirely dependent on the particular Local Pest Control Pro service you decide to use. As is common in the industry, a large proportion of contractors on this site offer free additional visits if an infestation returns after a set number of days, usually 30, 60 or 90. Unfortunately, Local Pest Control Pro doesn't offer any commitment regarding the quality or outcome of work done by services you find through the site. As such, you should be sure to ask any affiliated contractor about what guarantees they offer before handing over your cash.
Local Pest Control Pro does, however, guarantee you will be put in touch with a contractor in your area able to meet your pest control needs. In fact, if you aren't contacted by such a service within an hour of submitting your quote, you can call the Local Pest Control Pro team directly to be connected to one.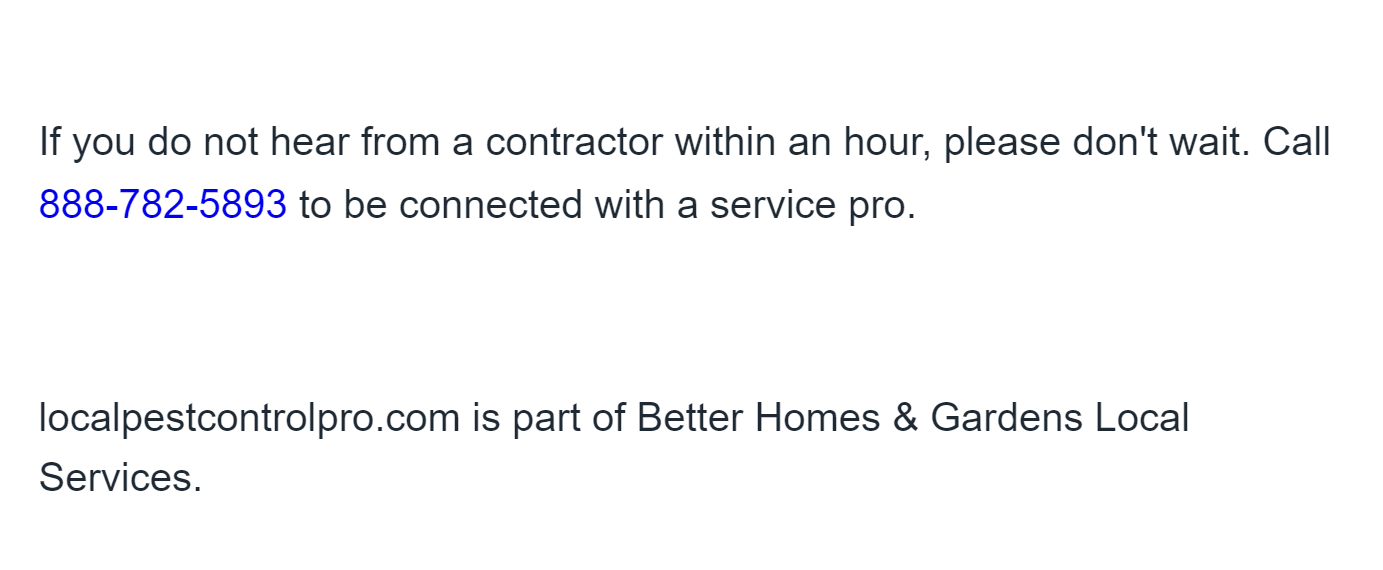 Customer Service
Like everything else, customer service varies wildly from contractor to contractor with Local Pest Control Pro. After your initial job request submission, contractors will email or phone you directly, so all customer service will be provided through them. Some Local Pest Control Pro services provide responsive and helpful customer support but it is absolutely worth looking for past customer reviews to check this is the case for any contractor you consider working with.
Overall, in fact, a lack of quality control is a major downside to the Local Pest Control Pro service. Registering as a pest control provider on the site doesn't require any particular qualification or background check so you should be sure to do your own research on any business you find through the site. To help you do this, Local Pest Control Pro has actually provided a handy guide on how to choose the right pest control service. In short, you should ask for a reference, licenses, and guarantee information.
Although this site doesn't provide any customer support as such, you can call the Local Pest Control Pro team to be connected to a suitable contractor. It's also possible to email the team with feedback about your experience.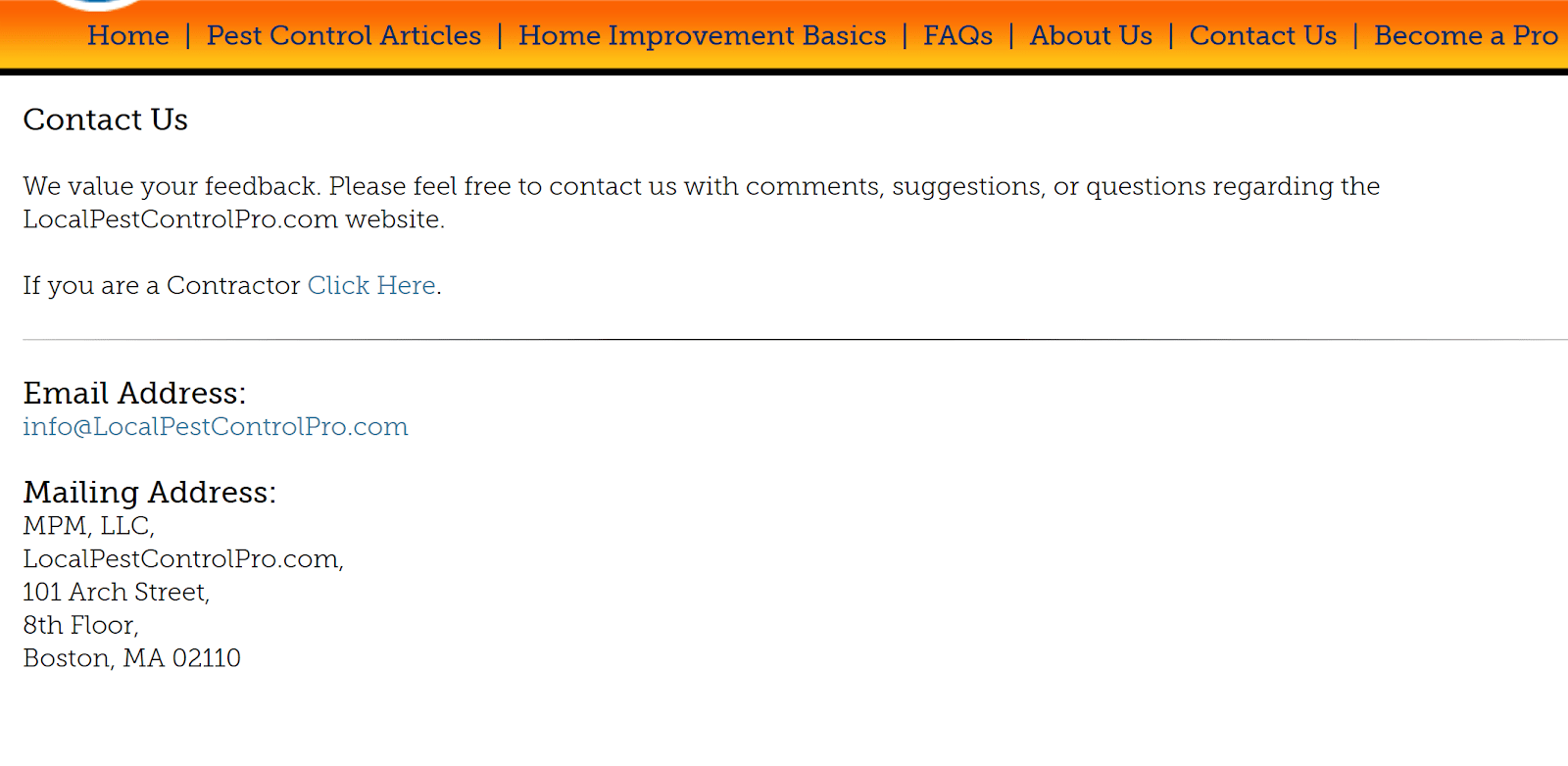 Green Pest Control
You can use the Local Pest Control Pro website to search for pest control companies that deal with small animals and rodents such as raccoons, squirrels, rats, and mice. Finding a green pest control service that uses humane techniques to catch or exterminate these pests will, therefore, be a top priority for many customers.
Unfortunately, Local Pest Control Pro doesn't enforce any green pest control standards on its partner contractors. All the same, many Local Pest Control Pro partners do use humane and environmentally friendly techniques but, once again, you will have to confirm this with them directly.
Testimonials
"Local Pest Control Pro really helped the ant problem in our house. I started out as a one time user but I've since switched to bi-monthly treatments, and they made it easy to do that!"-Tony
Bottom Line
Overall, the Local Pest Control Pro website is a handy tool for anyone searching for a pest control service in the USA. With hundreds of contractors in its network and a job request form that takes just a couple of minutes to complete, there's really no reason not to use Local Pest Control Pro if you want more information about how much pest control experts are charging in your area. You should, however, remember to perform your own checks on any business that Local Pest Control Pro recommends before signing a contract.