In a Nutshell
Cingo Pest Control is a comprehensive and affordable pest management solution. The company offers subscription pest control plans that include treatment and extermination for all of your pests, including termites and wildlife. On top of that, Cingo emphasizes customer service. The company sends the same pest pro to your home every time, so they know your home's pest history and what areas of your house need extra protection against intruders.
pros
Plans protect against all pests, including termites
See the same pest pro for every visit
Lifetime guarantee for termite protection
cons
Only available in Georgia and South Carolina
Less affordable for one-time pest problems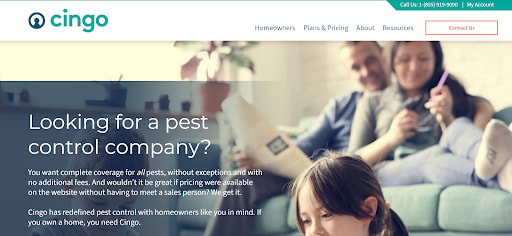 Cingo Pest Control at a Glance
All pests, including spiders, ants, roaches, termites, rodents, and mosquitoes
Pests Covered
Cingo only provides services to residential homes at this time and not commercial properties. But, for homeowners, the coverage is extremely comprehensive.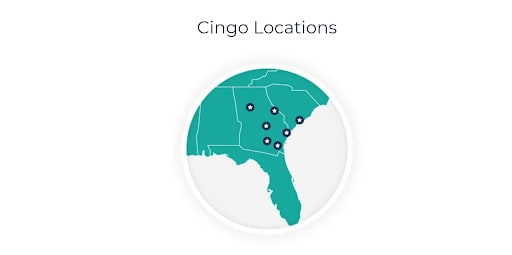 One of Cingo's major selling points is that every pest is covered. And when the company says "every pest," it means it. A Cingo protection plan includes coverage against pests that you or your pets bring into the house, like bed bugs and fleas, as well as intruders from the outside like spiders, termites, and ants. The company also deals with wildlife pests, such as squirrels and rodents. Some of the common pests that Cingo control plans include are:
Termites
Spiders
Ants
Roaches
Bed bugs
Fleas
Rodents
Squirrels and chipmunks
Mosquitoes
Fire ants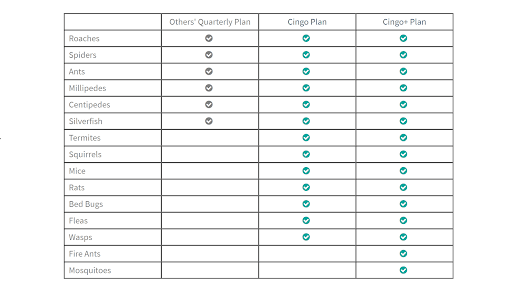 Pricing
Cingo prices its services differently than most other pest control companies. Rather than offering services by quote only, you sign up for a monthly subscription.
There are 3 plan tiers. The first, Termite Only, only includes Cingo's termite treatment and costs $395 upfront and then $25 per month thereafter. While you don't get protection from other pests, Cingo's Sentricon treatment is 99.8% effective and comes with a lifetime guarantee. If termites return to damage your home while the treatment is still active, there's no deductible and no maximum on the claim you can make with Cingo.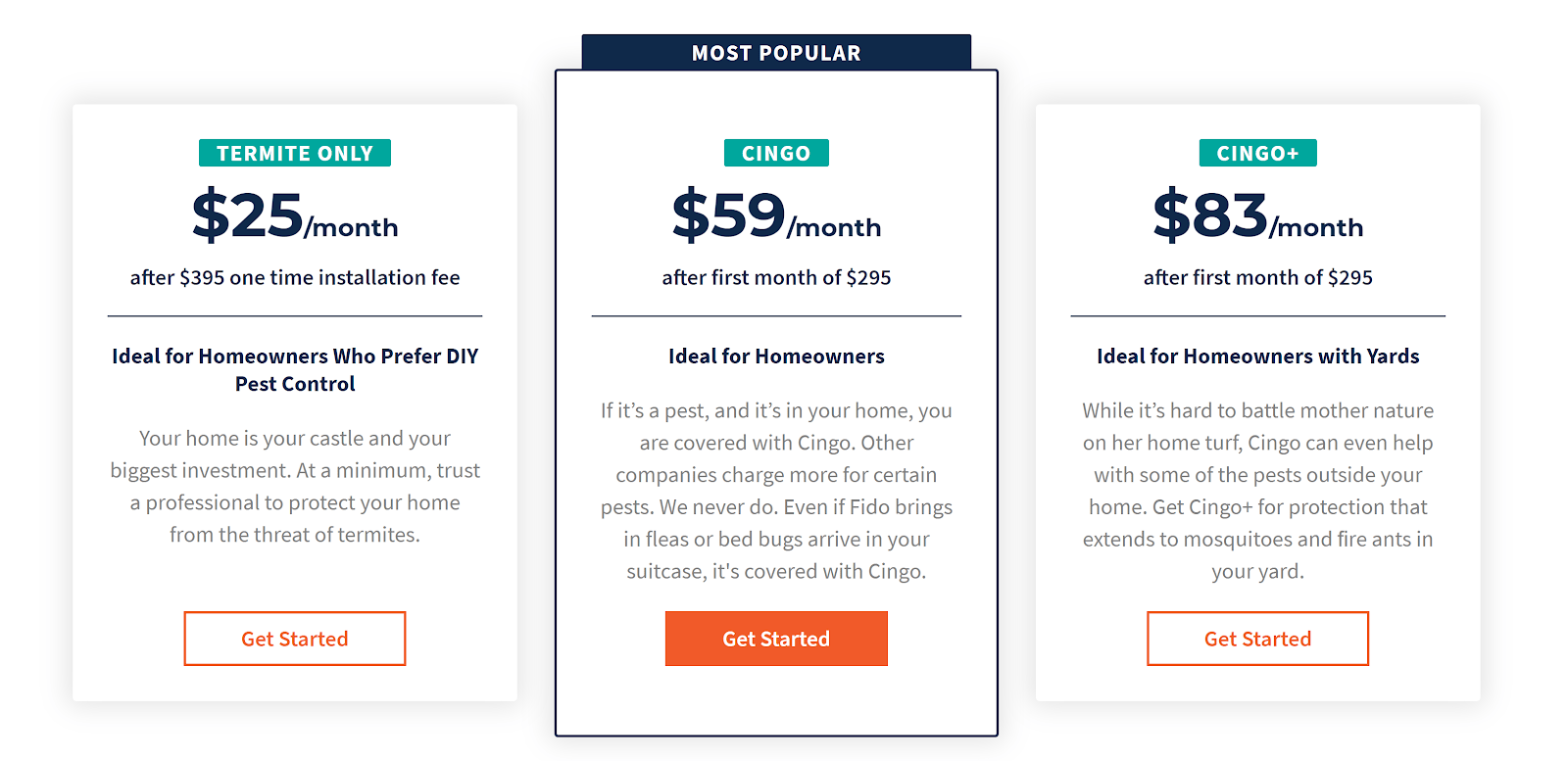 The Cingo plan is Cingo's primary subscription tier for protection from all household pests. The only pests that aren't included are mosquitoes and fire ants in your yard, as long as they aren't invading your home. This plan costs $295 upfront plus $59 per month and includes a minimum of 6 preventative visits by a pest control technician each year. It's not a cheap plan, but it's significantly less expensive than scheduling one-off treatments if your home is invaded by pests on a yearly basis.
The Cingo+ plan costs $295 upfront plus $83 per month. This plan includes everything that the Cingo plan does, but also expands coverage to your yard. This is helpful if your yard is home to fire ants and mosquitoes. You also receive a minimum of nine technician visits per year with this plan.
It's worth noting that Cingo's plans are priced for homes up to 400 linear feet in size (typically those with 4 or fewer bathrooms). If your home is larger than this, Cingo's pricing varies based on home size and can be significantly more expensive. For example, the Cingo plan costs $770 upfront and $74 per month for homes between 400 and 500 linear feet in size.
Cingo also offers one-time services for the occasional pest problem if you don't want to purchase a subscription. One-time services are offered by quote only and will vary based on the size of your home and the pest you want to treat for.
Guarantee
Cingo stands behind all of its pest control work. For termite treatments, which are included with all of Cingo's plans, the company offers a lifetime guarantee on its efficacy. If you see a resurgence of termites and they damage your home, Cingo will pay for the repairs.
Importantly, with the Cingo and Cingo+ plans, there's also a built-in guarantee that Cingo will continue working until your pest problem is gone. The numbers of preventative visits included with these plans are minimums—not the number of technician visits you're limited to. So, if your pests return a week after the initial treatment, Cingo will send your technician back out within a few days to take more aggressive action.
Customer Service
Customer service is a major reason to opt for Cingo for pest control. The company provides customers with what it calls the "Familiar Face Guarantee," which means that you get the same technician for every visit for as long as you use Cingo.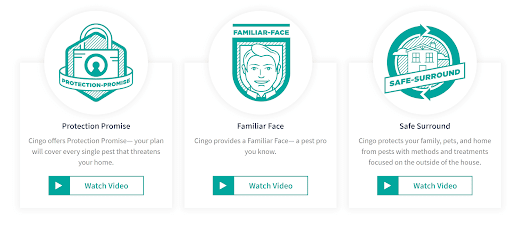 It's hard to overstate how much of a difference that makes in the company's service. Since your pest pro sticks with you for years at a time, they know what areas of your home are most prone to invasion by specific pests and can treat accordingly. They also know your home's history of pests and can take preventative action to put an end to seasonal invasions.
Cingo notifies you of a visit a minimum of 7 days ahead of time and includes a photo of your pest pro. Since the company focuses on prevention unless there's an active invasion, the technician doesn't need to come inside your home for most visits.
When you first sign up for Cingo's service, the company sends someone out to your home within about a week (response times for emergency services are typically within 3 days). The first visit is several hours long, as your new technician will do a full walk-through of your home's interior and exterior and get started on preventative treatments immediately.
If you need to get in touch with someone at Cingo, the company's customer support team is available from 8am to 5pm Monday-Friday.
Green Pest Control
Cingo doesn't offer any specialized eco-friendly pest control options, but the company understands the need to make pest control more green. All Cingo technicians use integrated pest management, which enables them to more effectively target treatments and limit the use of pesticides. In addition, integrated pest management focuses on non-chemical treatments, such as sealing up cracks in your home where pests are entering.
Testimonials
"We trust Cingo. The company fits us, and we like that we know the person who comes to our house. He is careful around our home and our kids."—Rachel S.
"They tell you who is coming out, and they send the same guy so he kind of gets to know the house."—Jennifer R.
"It's such a wonderful feeling to walk outside my house in mid-summer and think, 'What's different? Oh yeah, no mosquitoes!'"—Mary R.
Bottom Line
If you're located in Georgia or South Carolina, Cingo Pest Control offers an affordable service that puts customers first. The company's Familiar Face Guarantee is not only unique, but also plays a major role in Cingo's ability to deliver top-notch preventative services that are tailored to each home. Cingo Pest Control plans aren't exceptionally cheap, but they're also hard to beat considering that they include a lifetime guarantee for termite control and treatment for every type of common pest. Overall, we would highly recommend Cingo for homeowners who have routinely faced pest problems in the past.