In a Nutshell
Do you have a pest infestation you want to be dealt with professionally and ethically? If you do and you live in the Deep South, Cook's Pest Control might be the right service for you. This pest removal business has been in operation for 90 years and ensures its field technicians receive the best possible training so they can resolve your pest or wildlife situation efficiently.
pros
Free quote and inspections
Deals with most pests including 50 types of insect infestation
Highly-trained technicians with expert knowledge
cons
Lacks nationwide coverage
Limited satisfaction guarantee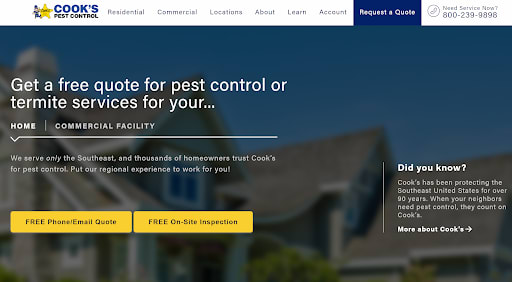 Cook's Pest Control at a Glance
50 types of insect, rodents, and nuisance birds. No coverage for feral cats, dogs or hogs.
Alabama, Arkansas, Florida, Georgia, Mississippi, and Tennessee
Inspection appointment within 24 hours
Satisfaction guarantee covers free month of service
Pests Covered
Through Cook's Pest Control, you can access residential, commercial, and specialized pest control services. If you're dealing with a common rodent, ant, or cockroach problem, Cook's Pest Control will address the issue with one of its standard commercial or residential packages.

However, some pests like bed bugs and fire ants require a tailored approach. You can also call in the Cook's Pest Control to address specific situations like new-home termite protection and crawl-space insect eradication services to prevent damage to flooring and subflooring.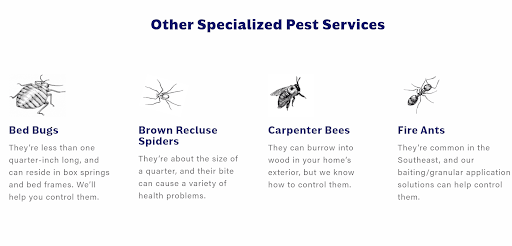 Cook's Pest Control addresses each of the following types of pest under its standard pest control residential and commercial packages:
Ants
Bees
Cockroaches
Crickets
Earwigs
Millipedes
Pillbugs
Silverfish
Spiders
Stinging insects
Stink bugs
Termites
Ticks
Also, Cook's Pest Control address these pests through specialized treatment plans:
Bed bugs
Brown recluse spiders
Carpenter bees
Fire ants
Fleas
Pricing
Every pest infestation is different and, like most pest removal services, Cook's Pest Control pricing is by quote only. Cook's Pest Control will take a few key factors into account when deciding how much to charge for your pest removal operation. Two major considerations are the type of pest you need to be removed and the scale of your infestation.

Extracting a few ticks from pets or livestock will, obviously, be significantly cheaper than fumigating a large commercial property to deal with bed bugs, for example.
To find out the precise rate for your specific infestation is, you should request a free on-site inspection. These are normally scheduled within 24 hours of your request. Alternatively, you can get a quote over the phone by simply describing your situation to a Cook's Pest Control representative.

However, this isn't a good option if you aren't completely sure what the pest that you're dealing with is, or if you can't accurately assess the extent of the infection yourself.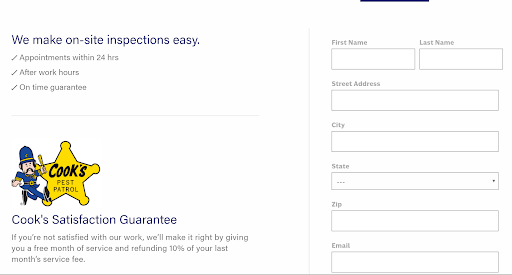 In general, Cook's Pest Control prices are fairly affordable. Customers report that, on average, this service charges $150 for small-scale flea treatment and about $200 per room to address bed bug infestations. Those rates are pretty much in-line with what other pest control services charge in the areas where Cook's operates.
If you run a large commercial facility or are experiencing a recurring pest hazard, you can reduce your costs by contracting Cook's Pest Control for regular visits. This ought to work out cheaper in the long run as most visits will involve preventative treatments rather than major interventions.
Guarantee
Often pest control businesses offer guarantees that pests won't return within a certain number of days following treatment. Cook's Pest Control doesn't go down that route, but its services are still protected as, if you aren't happy with the results of their treatment, the company will give you your next quarterly service for free and refund 10% of your original fee.
All you need to do to activate this guarantee is to report your issue to the manager of your local Cook's Pest Control branch. The company will respond within 24 hours to address the situation and if no solution is reached within a week, you can claim your free quarterly service for free.
Customer Service
As a family-run business with strong community ties, Cook's Pest Control prides itself on its customer service. If you have any questions or concerns about your treatment, you can get in touch over the phone, by email, or through a callback request form on the Cook's Pest Control site.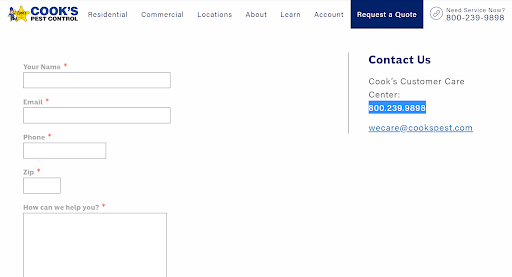 Although it is possible to contact the central Cook's Customer Care center, most queries will be handled through your local branch. As such, your customer service experience may vary slightly depending on your location because some local offices are managed better than others, but overall past users of Cook's Pest Control service appear satisfied with the level of attention and support they received.
Green Pest Control
Because Cook's Pest Control doesn't deal with many large animal pests, humane animal treatment isn't as significant a focus point for this business. All the same, Cook's Pest Control employs trained entomologists and puts serious emphasis on making sure its technicians are prepared to manage all manner of pests through field, classroom, and conference training. This means that Cook's Pest Control only uses a safe volume of chemicals when addressing a pest issue and only applies them to affected area.
In the case of termite infestations, Cook's opts for a Sentricon System with Always Active tech. This treatment method actually won the Presidential Green Chemistry award through its innovative use of bait stations. As a result, you don't need to apply any chemical treatment to the foundations of your building, making for a more environmentally friendly outcome.
Testimonials
"The employees are professional and friendly. The products work well and we have great results. They come on time regularly. They are knowledgeable about their business and products. I feel my home is safe because of Cook's and their employee's service!"—Alia
"I've used Cooks for several years and am most pleased with their service. Their technicians are professional, knowledgeable, and have always been available if I have any questions or concerns. I definitely recommend them to homeowners looking for a quality company that is customer-oriented and delivers what they promise."—Anne
"Cook's Pest Control prices were hard to beat and inspection was very thorough. In fact, the quote was given only after the inspection was completed. The inspection was free and there was no pressure to buy right away."—Nasha
Bottom Line
Over its 90 years in business, Cook's Pest Control has built up a reputation for solid customer support and thorough pest infestation solutions. Its inspectors are careful to only quote for treatment once they have evaluated the extent of your problem and Cook's technicians are properly trained to ensure that chemicals, baits, and traps are deployed correctly.

There are only 2 significant downsides to Cook's Pest Control: Cook's Pest Control branches are available in only 6 states and the company doesn't handle pest control problems involving larger animals like hogs or raccoons.

Still, if you have a termite or insect infestation and are located in a southern state, Cook's Pest Control is an affordable and environmentally friendly option.