In a Nutshell
Clark Pest Control has been fighting creepy critters for 70 years now. In that time, it has also managed to create eco-friendly pest control products, a stellar reputation for customer satisfaction, and a huge following of happy customers throughout California and northern Nevada. Clark Pest Control offers year-round pest control and a 100% satisfaction guarantee for both commercial and residential pest control from ants to whiteflies.
pros
Year-round pest-away service
100% satisfaction guaranteed
Effective green pest control
cons
Only available in 2 states
No 24/7 live chat
Clark Pest Control at a Glance
Termites, ants, spiders, rodents, birds, bed bugs
2 (California and Northern Nevada)
Year-round treatments (monthly)
Network of trained, certified technicians
Pests Covered
Clark Pest Control may only be available in 2 states, but if you live in California or northern Nevada, you're in luck. This pest control service offers everything from residential to commercial pest control. It even offers other services, including lawn care, turf, and ornamental services.
In terms of residential pest control, Clark Pest Control covers most common pests. Here's a partial list of the pests covered by this company:
Ants
Beetles
Cockroaches
Earwigs
Pillbugs
Silverfish
Firebrats
Spiders
Termites
Ticks
True bugs
Crickets
Fleas
Flies
Wasps
Moths
Springtails
Bees
Birds
House mice
Norway rats
Roof rats
Aphids
Whiteflies
The commercial pest control services also cover a wide range of industries and the specific pest problems they encounter, including food and beverage processing, food services, healthcare, hospitality, industrial buildings, warehouses, school, and shipping ports, to name a few.
Pricing
As with all pest control services, Clark Pest Control doesn't publish any prices for its services. This is because each customer is treated individually, and pricing varies depending on several factors, including severity of the infestation, type of pests, how long the infestation has been manifested, where the infestation is, which pest control methods and products are required to handle the situation and more.
You can get a free home inspection from Clark Pest Control. During the inspection, a technician will come to your house and assess the infestation problem. Then they'll give you a quote to manage your bug infestation. If you agree to the terms, you'll have your problem treated immediately. And what's even better is that Clark Pest Control offers same-day home inspections. So, the minute you find out you have a problem, Clark Pest Control is available to help.
The treatment includes a year-round pest-away program. Clark Pest Control technicians will take care of the problem. Then, they'll return to your home every month to check that nothing is reinfesting your property. They'll even clear away accessible spider webs!
Guarantee
Clark Pest Control has the best guarantee we've seen yet in the industry. Some top name brands will offer you a year guarantee, meaning that if the pests come back within a year, they'll return to your home and take care of the problem. But Clark Pest Control does you one better.
Clark Pest Control doesn't let the problem ever return. Instead, professional technicians come to your home periodically to do an inspection of the property. If they notice any nests forming, the technician will automatically treat the source before it becomes a problem. So, Clark Pest Control really stays ahead of the infestation before it manifests itself.
Customer Service
Clark Pest Control puts a strong emphasis on customer satisfaction, as is indicated by its satisfaction guarantee. What's more, you can speak to a representative any time during the extended business hours. And Clark Pest Control even accepts online scheduling 24/7.
Clark Pest Control also has an extensive information center that includes a pest control blog for both residents and commercial businesses. The blogs are loaded with useful tips on how to stay pest-free, even without treatment. There's also a bug glossary to help you identify pests and helps you resolve any issues you can on your own.
HOURS OF OPERATION
Monday - Friday: 6am - 8pm
Saturday: 7am - 6pm
Sunday: 8am - 5pm
Green Pest Control
Clark Pest Control is very environmentally-conscious, which is why it uses only green-friendly pest control methods and products. Technicians are GreenPro-certified and trained in integrated pest management (IPM) and green pest control practices.
Clark Pest Control is constantly learning about new cutting edge evolutions in the pest management industry. What's more, Clark Pest Control has invented its own SMART (sustainable methods and responsible treatments). It's a fun acronym for green solutions that keep your home and your property pest-free while still considering the environment. Clark Pest Control systematically targets hot spots for pest activity to minimize problems before they even start. That, in combination with less-toxic, inspection-based services, using solar energy and recycled paper and making greener choices every day are a few of the ways that Clark Pest Control is keeping Earth cleaner and better.
Testimonials
"We've been using Clark for close to 7 years and I'm very happy with their service. When we moved into this rental the home had a pest issue- Clark treated it and has kept it at bay ever since. Additionally, they've come out multiple times in between my scheduled appointments to take care of other random issues that have popped up. I've always found them on time and polite. I'm not sure why all of the negative reviews- I find Clark to be a really great service." - Amanda M 8/26/2019 San Jose, California
"I have to admit, I left Clark to go elsewhere (just to get better pricing) and it was a disaster. I rehired Clark and the infestation is under control again. They do a great job maintaining. So much so that you'll think you don't need them anymore. They've got their work cut out for them with these relentless pests." - Gia D 5/10-2019 San Jose, California
"I noticed large wing terminates last night so I called Clark. At first the person that answered the phone was not listening to what I was asking. When I finally told her what I needed she transferred me to JUAN! Amazing customer service, nice calm voice, did not interrupt when I spoke and was helpful with what the process would be. I booked the date and time, but later reviewed my calendar and called back to reschedule. He couldn't have been nicer again. He actually remembered my name can addressed me by Mrs. Collins! Extremely professional and what a nice way and person to deal with such an awful BUG!! He also said he could have the other department call me for ants, spiders and creepy things! Thank you Juan!!!!"- Tina C 11/6/2018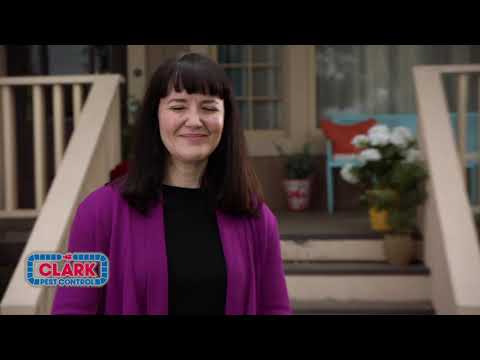 Bottom Line
Clark Pest Control is one of the most reliable pest control services in the industry today. It offers eco-friendly pest control services, using only green products that are Earth-happy. What's more, the Clark Pest Control technicians are not only trained professionals, but they are specifically trained in using Earth-friendly pest control methods.
Clark Pest Control covers the spectrum when it comes to pests, so there's probably not a pest out there that these technicians don't know how to get rid of. And with a year-round clean home guarantee, Clark Pest Control ensures that you are never overrun by creepy crawlers, flying nuisances, or wildlife critters again.