In a Nutshell
Keeper is a password manager that makes products for individuals, businesses, and MSPs. Its vault can be accessed online and the company also makes desktop clients for Mac, Windows, and Linux—in addition to a suite of browser extensions. Importantly, the Personal edition supports both password storage and TOPT generation for 2FA. For those in search of a cross-platform password manager, Keeper is one to keep.
pros
Supports 2FA, including manual secret key entry
Full Linux GUI
Cross platform with Windows, Mac, and Linux apps
cons
One of the smaller players on the consumer market
Free edition is only a 30-day trial

Keeper Visit Site
Highlights
Features: Full 2FA support password manager

Ease of Use: Personal edition is very easy to use

Reliability: Secure and encrypted storage at rest

Value: 30% off yearly plans

Money-Back Guarantee: No money-back guarantee
Best For
Linux users

Computer users that want one app to handle password management and 2FA code generation

Users that want a cross platform tool
Why Choose Keeper?
Keeper is one of very few password managers and 2FA code generators on the market which has both a Linux client and support for Windows and Android. This alone makes it an appealing product for Linux users who have long faced a relative shortage of commercial password managers that could also be used on more popular operating systems.
Additionally the password manager supports autofill and custom field creation and logging so that every aspect of credentials can be stored in the system. On the 2FA side, Keeper supports all common 2FA methodologies including TOTP, SMS-based 2FA, biometric 2FA (fingerprints) and U2F keys such as YubiKey. For privacy-focused computer users that want a password management tool they can use across platforms this is one of the best options on the market.
What Keeper Offers
Keeper offers solutions for Business, Enterprise, MSPs, personal users, and families.
We focused on its personal plan, which includes:
An autofill utility. The desktop apps work in conjunction with Keeper's browser extensions (Chrome, Firefox, Safari, Internet Explorer, Edge, Opera) in order to automatically populate saved credentials into web forms

A strong password generator

Full 2FA support including biometric methods such as facial recognition
The Family plan features:
Streamlined sharing of credentials between users

5 Password vaults

All the password sharing and generation features on the basic consumer plan
Features
The password vault contains the following features:
Manual 2FA Code Input
Many users these days are using two-factor authentication (2FA) to add a second credential to protect their online logins. Keeping a separate password manager and a 2FA one-time password (OTP) generator is a lot of work. Keeper streamlines the process of managing the usernames, passwords, and codes you need to stay secure online. Second factor codes can be added by both scanning QR codes and by manually entering secret keys.
Additionally, the Ubuntu client has a nice 'upload' feature: I was able to update a saved QR code thereby overcoming many users' problem of not having a live camera attached to their laptop or desktop computer.
Attach Files and Photos
Users are also able to attach files and photos to each stored credential. This is an ideal feature for users that want to log extra information with every credential stored in the system.
BreachWatch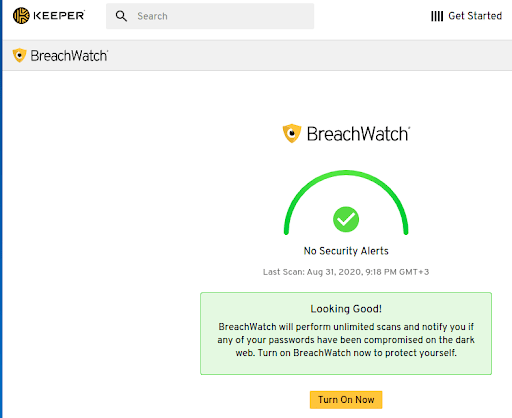 It's no secret that data breaches are unfortunately becoming relatively commonplace as hackers find increasingly imaginative ways to hack their ways into users' computers. While there are external websites and services that can probe whether a list of credentials includes sites that have been compromised, Keeper puts all the technology required into one easy package. Users can simply initiate a scan of every credential saved in the vault. If any are found to be associated with websites that were caught up in a breach, then BreachWatch provides users with a notification allowing them to take action. Those on premium plans receive protection and monitoring that spans both the open web and the Dark Web—where much nefarious activity is known to occur.
Auto Complete
Using Keeper's browser extension in conjunction with a desktop app allows users to automatically fill in login credentials wherever possible.
After logging onto Mailchimp, the Keeper Chrome extension populated a small icon in the username field. After clicking on it, it detected a match with the username that I had previously stored. Clicking on one more icon was enough for the system to populate the login credential and for me to gain access to the service—without having to type one keystroke.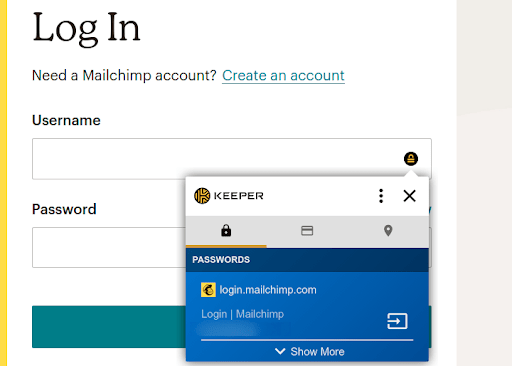 Security Audit
Weak credentials make users susceptible to brute force attacks. Thankfully, Keeper features a security audit area which assesses the strength of every saved password in the vault. If users are found to be using any insecure credentials then they have the option of either using a more secure one or having the tool automatically generate a strong username or password.
Ease of Use
Keeper's desktop clients are well laid out and user friendly. The Linux client comes packaged as a deb or rpm file which means easy installation for Ubuntu, Debian, and Fedora-based distribution users.
Detection Rates and Reliability
I couldn't find independent information about how reliable Keeper's BreachWatch system is. However, the company is known to use strong forms of encryption on all its systems. It has offices in both California and in Cork, Ireland.
Pricing
Keeper Personal
$2.91
per month
($34.99 billed annually)
$6.01
per month
($72.22 billed annually)
$4.87
per month
($58.47 billed annually)
Unlimited password storage and password management functionalities
Keeper Unlimited functionalities plus file storage, KeeperChat private messenger, and secure file storage
Keeper Unlimited features plus dark web monitoring and secure file storage
Keeper's basic (Password Manager) personal plan contains the full array of password management and credential storage functionalities that the tool offers. Upgrading to the intermediate tier, Plus Bundle, allows users to be able to associate files with each stored credential and avail of Dark Web breach monitoring. For those on the top tier, Max Bundle, users can also avail of KeeperChat Private Messenger. Private Messenger is a cross platform chat client that uses end-to-end encryption to secure messages both in transit and at rest.
Value for Money
Keeper provides extremely solid functionality including high standards of encryption and clear and Dark Web monitoring. Given that it saves users the hassle of having to maintain both password managers and 2FA credential generators, we believe that it is definitely worth the reasonably priced premium subscriptions which the company charges.
Help and Support
Keeper provides a comprehensive online support center filled with FAQs and guides as to how to best use the service.

There is also a systems status page where users are able to ensure that all systems are currently up. Between live chat and the ticket functionality, users should be able to quickly resolve all issues.

Keeper Visit Site
Bottom Line
Keeper is a versatile password manager and TOPT generation tool that allows users to both store credentials and monitor the dark and clear web for evidence that they have been compromised in a data breach. It's a versatile tool with true cross-platform capabilities.
About Keeper
Keeper is made by Keeper Security. According to its Wikipedia page, the company has 145 employees worldwide, spread between California and Cork in Ireland.