In a Nutshell
iolo is known for its popular System Mechanic Ultimate Defense software, which includes a suite of tools to facilitate a streamlined digital experience. These include the ByePass Password Manager. This useful tool can also be purchased on its own and enables you to secure sensitive information like passwords and credit card details. Due to popular features like a dark web leaked password checker, it's an option worth considering.
pros
Super affordable
Great range of tools with full iolo package
Compatible with desktop and mobile operating systems
cons
No desktop app
Difficult to change master password

iolo Visit Site
Highlights
Features: Single master password, automatic password generation, leaked password monitoring, password autofill
Ease of use: Attractive interface, super easy to use
Reliability: Above average
Value: Excellent
Money back guarantee: 30 days
Best For
Simple password management

Cross-platform compatibility

Automatic password generation

A full system optimization suite
Why Choose iolo?
iolo is a top-rated company, and its System Mechanic Ultimate Defense program has been purchased by millions of people across the world. It comes with a full device toolkit that includes performance optimization tools, antivirus software, file recovery tools, and, of course, the popular ByePass Password Management program.
What's more, it's a super affordable option, whether you're looking at the complete package or ByePass alone. It's easy to use, is compatible with a range of browsers and most Android devices, and there's excellent customer service if you run into any issues.
What iolo Offers
iolo offers a suite of software products that are designed to help you secure your devices and optimize their performance. Most of these can be purchased individually, or you can get the complete package with a System Mechanic Ultimate Defense license. These include:
iolo VPN (VPN)

Malware Killer (Antivirus)

DriveScrubber (Permanent file deletion)

Search and Recover (Lost file recovery)

System Mechanic (System optimization)

ByePass (Password manager)
Features
iolo VPN
The System Mechanic Ultimate Defense suite includes a user-friendly VPN that you can use to secure your browsing. VPNs (or virtual private networks) are designed to mask your digital identity, enabling you to browse privately when used correctly. They can also be used to access geographically-restricted web content from other countries.
Malware Killer
iolo offers an impressive antivirus program that offers real-time malware protection. You can set up regular automatic scans and run manual scans as required. There's also a selection of tools to help you remove malware infections from your device.
DriveScrubber
Did you know that deleted files can often be recovered from your hard drive, even if you've deleted them from your trash?
iolo's DriveScrubber eliminates the risk of this happening by permanently deleting data. This ensures that malicious third parties will never be able to recover your personal and/or sensitive information.
Search and Recover
The Search and Recover tool enables you to restore accidentally deleted files—as long as you haven't deleted them permanently with the DriveScrubber. This is an excellent tool to use if you've accidentally deleted important information.
System Mechanic
iolo's System Mechanic is designed to optimize your computer's performance. It performs various actions to clean and restore optimal function to your computer. It's a top-rated system utility program, and we'd definitely recommend running it on your device.
ByePass Password Manager
A key highlight of the System Mechanic Ultimate Defense suite is the ByePass password manager. It's an attractive tool that's designed to help you manage and secure login details and other sensitive information.
Encrypted password storage
The most useful feature for the average user is ByePass's password storage feature. You can store all of your different login credentials and protect them behind a single master password. You can even use the browser extension to autofill saved login information.
What's more, iolo uses industry-standard encryption, so you can rest assured that your passwords can never be accessed by malicious third parties.
Leaked password checker
Another great feature is the leaked password checker, which enables you to scan the dark web for any of your passwords. If compromised login details are found, ByePass will notify you and prompt you to change your password immediately.
Cross-platform compatibility
Another thing we like about iolo ByePass is that it can be used on various devices. Browser extensions are available for Google Chrome, Microsoft Edge, Firefox, and Safari, and there are apps for Windows, iOS, and Android operating systems.
These are all super easy to use, can be synced between devices, and are free to download/install with your subscription. The mobile app has an excellent rating, including 4.2/5 stars in the Google Play store.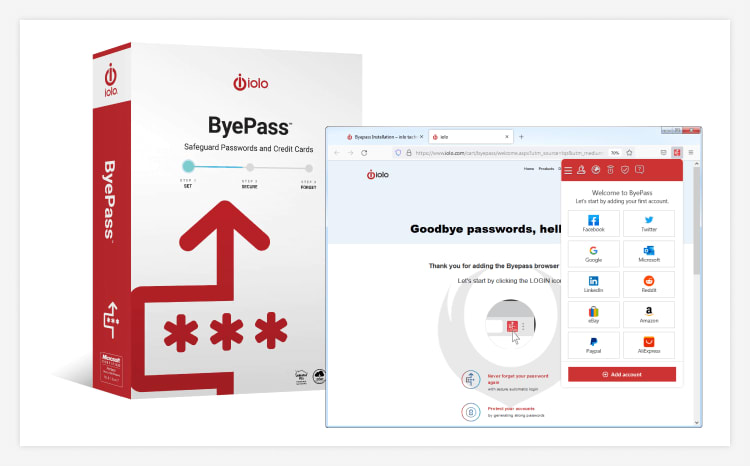 Remote logout
ByePass's remote logout tool is another unique feature that you may find useful. With the click of a button, you can log out of any site on any linked device, no matter where you are.
Ease of Use
One thing that stands out about iolo ByePass is how easy it is to use. The browser extension is responsive and cleverly designed, and you shouldn't have any trouble adding your passwords and taking advantage of the extra features.
The rest of the System Mechanic Ultimate Defense package is similarly intuitive. The desktop app includes various tools to help you tune up your computer, and it's cleverly designed so that it can be used by even the most inexperienced computer users.
Detection Rates and Reliability
iolo ByePass is an extremely reliable platform that's known for its security. When used correctly, there's little to no risk of your sensitive information being stolen. Nobody except for you can ever view or access your saved data.
The rest of the iolo toolkit is equally reliable. The antivirus software, for example, is a leading option that's regularly updated to ensure it can detect the most modern malware.
Pricing
The ByePass password manager is available with a stand-alone subscription or as part of the System Mechanic Ultimate Defense package. Alone, it costs $7.98 for a lifetime license, but this only includes feature updates for the first year. After this, you'll have to pay $19.95 per year for continued access to updates. Note that you can continue using the program once your initial license has expired, but it may not work well without access to updates.
The System Mechanic Ultimate Defense suite is pricier, at $31.98 per year for the first year (renewing at $79.95 per year), but it includes the full iolo toolkit. It also comes with a month of free 24/7 technical support, which normally costs $29.95 per month or $240 per year.
There's also a 30-day money-back guarantee that you can take advantage of if you're not happy with the product.
System Mechanic Ultimate Defense
Full iolo toolkit, including ByePass Password Manager
Value for Money
iolo offers excellent value for money, and the $7.98 fee for the ByePass program makes it one of the most affordable premium password managers we've seen. In fact, most competitors' programs cost a similar amount to the complete System Mechanic Ultimate Defense package, which includes a suite of other tools alongside iolo's password manager.
Help and Support
iolo offers free 24/7 customer service via phone, and a premium service package is available for an additional monthly fee. This starts from $29.95 per month, and enables you to access on-demand technical support for up to three computers and three mobile devices.
With a premium support package, you also get general technical support for your device—which can range from simple virus removal and PC optimization to driver installation and more.
On top of this, there's a decent knowledge base with a range of useful articles and other self-help resources. There's also an informational blog, a PC tune-up glossary, and various other resources that are available for free.

iolo Visit Site
Bottom Line
All things considered, iolo stands out as a leading software developer with some of the best system optimization tools on the market. Its ByePass Password Manager is one of the best we've seen, and it's super affordable. Alternatively, you could go for the complete System Mechanic Ultimate Defense package for all-around protection.
The bottom line: Check out iolo if you're looking for a competitively-priced password manager or other system optimization tools.
About iolo
iolo is a top-rated cyber-security company that offers a selection of software designed to secure your IT systems while optimizing their performance. It operates across the globe, and boasts tens of millions of satisfied customers.
What's more, iolo has more than 20 years of industry experience. It claims to have serviced over 80 million PCs, offers its products in 11 different languages, and sells the System Mechanic line of products through tens of thousands of retail storefronts.