In a Nutshell
Vital Choice bills itself as the premier supplier for ethically sourced, sustainable, wild-caught fish and shellfish. Delivered to your door, Vital Choice seafood comes with a quality guarantee that it is delicious, nutritious, and good for the environment. Vital Choice also has plenty of useful resources, including how-to videos and healthy recipes.
pros
Responsibly sourced seafood & organic products
Tremendous variety of fresh & frozen fish and shellfish
Quality guarantee
cons
Can't customize subscription boxes
No 24/7 live chat support

Vital Choice Visit Site
Vital Choice at a Glance
Services available: Seafood delivery
Rewards program: Yes
Delivery options: 1-7 business days, overnight expedited
Subscription options: Monthly curated or customized boxes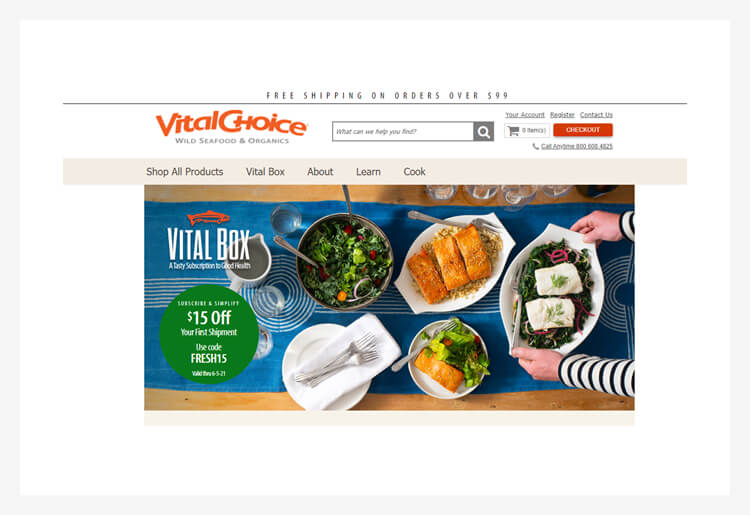 What's Unique About Vital Choice?
Vital Choice stands on three pillars: healthy nutrition, wild and/or ethical sourcing, and sustainability. Vital Choice deals exclusively with humane and sustainable suppliers. New suppliers are thoroughly researched and go through a series of contaminant tests before they can join the club. Proteins are also free of antibiotics, GMOs, nitrates, artificial ingredients, and chemicals.
In terms of pantry extras, everything is gluten-free, with little or no salt added, and most foods are great for paleo, keto, and Atkins diets. Vital Choice also offers soups and broths and organic berries, oils, vinegars, marinades, chocolate, seasonings, and more.
Beyond that, Vital Choice is a certified B-Corporation and implemented various enviro-friendly practices within its offices and supply chains. Vital Choice also donates to world-saving organizations (like the methane-to-energy project that's helping reduce the damage done by jet planes). It even pays its employees to take volunteer days to help out local community service groups.
Rewards Program

Vital Choice also has a rewards program that lets you earn points every time you make a purchase. Here's how that works:
500 points = $5 coupon
1000 points = $10 coupon
2000 points = $20 coupon
5000 points = $50 coupon
10,000 points = $100 coupon
Go up in the program tiers to earn more points per dollar spent. So when you're a silver member, you'll earn 2 points for every dollar spent. But graduate to gold membership, and that same dollar gives you 4 loyalty points. Platinum members get 6 points to the dollar. Earn points for referring a friend, taking action on social media accounts, and just for signing up.
Helpful Resources

More than that, Vital Choice is out to educate people on better eating, cooking, and buying practices. Environmental agenda aside, Vital Choice has an entire section on the website with chef-prepared videos, recipes, and how-to videos, including things like how to broil salmon properly, how to clean spot prawns, and the best grilling recipes. Yum!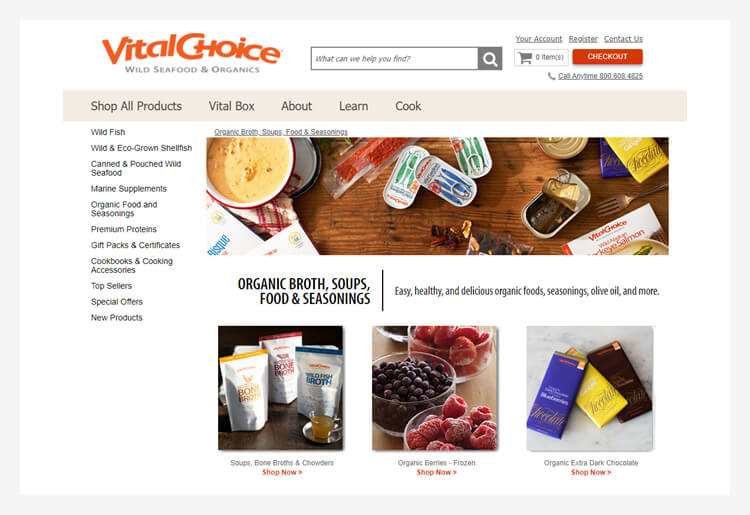 How It Works
There are two ways to order from Vital Choice: a la carte or subscription boxes. If you order a subscription box, you'll:
Choose the size and style box you want
Choose the number of boxes you want per month
Enter payment info
Wait for your shipment to arrive
You can sign up for an account to make the ordering process easier.
A la carte is also simple:
Browse the site using filters or on your own
Add the items you like to your cart
Confirm your order and check out
Vital Choice proteins come portioned and ready to use and include salmon, white fish, tuna, sockeye burgers, crab, lobster, calamari, wild shrimp, prawns, and more.
There's one catch. You can't order a la carte and subscription boxes at the same time. So don't add items into your cart and then attempt to include a subscription box. It'll empty your carefully crafted cart.
Delivery Options
Vital Choice has standard shipping options that deliver your food in 1-7 business days, depending on where in the country you live and what types of items you've ordered. Live shellfish and frozen items ship faster than non-perishables. Opt for expedited shipping if you want your seafood delivered overnight for an additional fee.
2nd day (example: Tuesday orders arrive Thursday)
Shipping charges depend on how much your box costs and where you're shipping to. Orders under $50 cost $6.95 with standard shipping (i.e., outside Alaska and Hawaii). From $50 to $98.99, standard shipping is $12.95, and orders over $99 ship for free.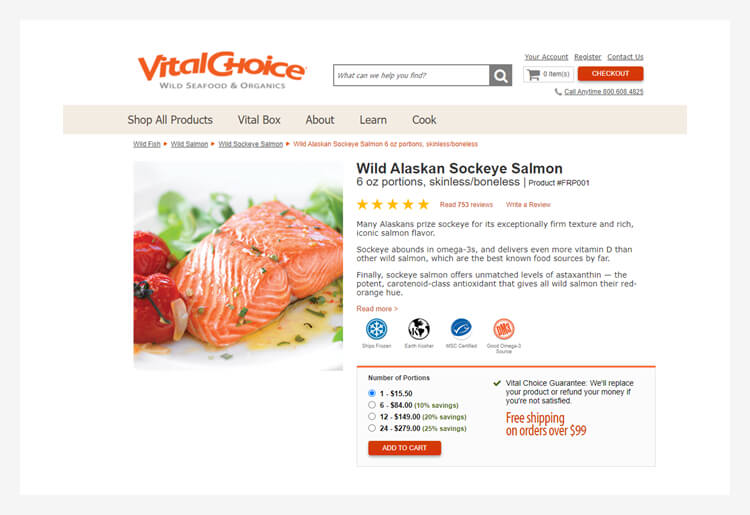 Pricing
Vital Choice has a simple pricing structure. Sign up for a monthly subscription and get a new box each month with fresh fish, pasture-raised beef, and organic products. What I like about Vital Choice is that it sends out a reminder before charging you and a confirmation request before shipping. This helps you easily cancel or skip a month. Most online grocery services automatically renew your plan each month. I think it's honest of Vital Choice to check with you beforehand.
What's included each month
2-3 products with 10-14 servings
4-5 products with 14-16 servings
6-7 products with 18-22 servings
Order curated boxes filled with a variety of different types of seafood, or choose individual cuts in various portions (Wild Alaskan sockeye salmon in 1, 6, 12, or 24 servings, for example). Box prices are listed above, but individual products vary in pricing. In general, the more you buy of a particular item, the less it costs per portion. So if you like something, better to order it in bulk and enjoy the savings.
New members get $15 off their first orders, and Vital Choice has a quality guarantee. Request a replacement or a refund if you're not satisfied with your order (within 30 days).
Help & Support
Vital Choice has an 800 number that's open 24/7 for ordering. There's also a phone line for questions and customer service, or you can reach out using the email contact form or live chat.
What's more, Vital Choice has an excellent learning center. Look up questions on the FAQ section, download recipes to try out, and watch cooking videos to learn how to do it like the pros with handy tips and tricks from real chefs. Vital Choice also has useful information about health, including nutrition information, benefits of seafood, and precautionary notices for people who should be careful with their seafood intake (pregnant moms, for example).
Phone Support:
866-482-5887
Monday through Friday
7:00 am to 4:00 pm Pacific Time
800-608-4825 (24/7 orders line)

Vital Choice Visit Site
Email Support:
Online contact form
Bottom Line
Vital Choice is a delivery service out to make the world a better place. Offering a healthier alternative to canned or store-bought hormone-filled proteins, Vital Choice has a selection of premium quality, sustainably sourced, and ethically raised fish and shellfish that's both good and good for you and the world. Prices are reasonable, and the rewards program puts Vital Choice over the top.