In a Nutshell
HelloFresh has a reputation as one of the best and brightest meal kits on the market. It offers delicious ingredients sourced from trusted suppliers, a variety of simple, 6-step recipes, and a flexible subscription model. With pricing at only $9.99 per serving, this meal delivery plan is worth checking out.
pros
Recipes take around 30 minutes and have just 6 steps
Utilizes a variety of flavors, cuisines and cooking techniques
Claims to be 46% cheaper than grocery shopping
cons
Not for singles
No dessert options

HelloFresh View Plan

Ideal For
Busy couples who want to spend less time meal planning and grocery shopping (claims to save you 46% compared to shopping at your local grocery store)
People looking for a nutritious and balanced alternative to frozen meals
Anyone who wants to get inspired and enjoy cooking delicious and simple meals
Customers Are Raving
"Sometimes when I come home I'm struggling and I'm like, I don't know what to make for dinner. It was always the same thing. That's why HelloFresh works for us."
Tre and Rich
"I'm not that skilled in the world of cooking. Not only do they [HelloFresh] give you the ingredients, tell you how to make it, but they portion everything out. It's taking out all the stress of it. It's like a life hack."
Ryan and Ramsey
"The first thing my Dylan says when he comes in from school is, 'are you making HelloFresh tonight?' It was simple, 30 minutes, I'm like yes, I'm in it for that. It's changed my life."
Dana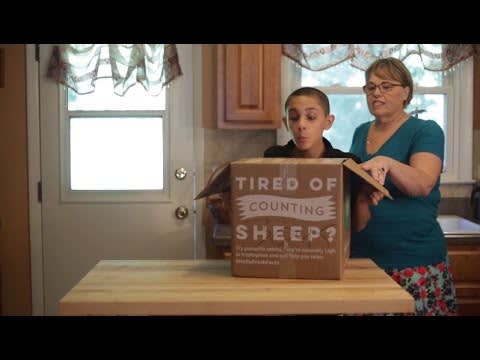 Favorite HelloFresh Meals
1. Crushed peppercorn steak with creamed kale and potato wedges
Prep time: 35 minutes
Cooking difficulty: level 1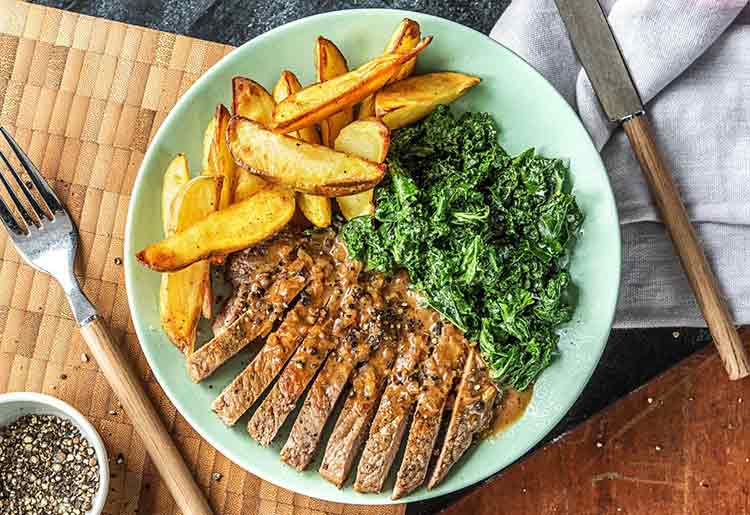 2. Lobster ravioli and shrimp with tomatoes and tarragon cream sauce
Prep time: 30 minutes
Cooking difficulty: level 1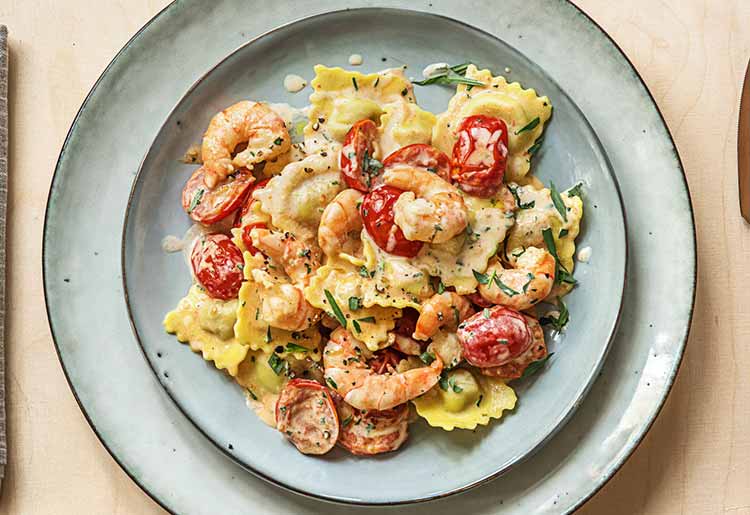 3. Veggie chorizo tacos with kiwi salsa and lime crema
Prep time: 30 minutes
Difficulty: level 1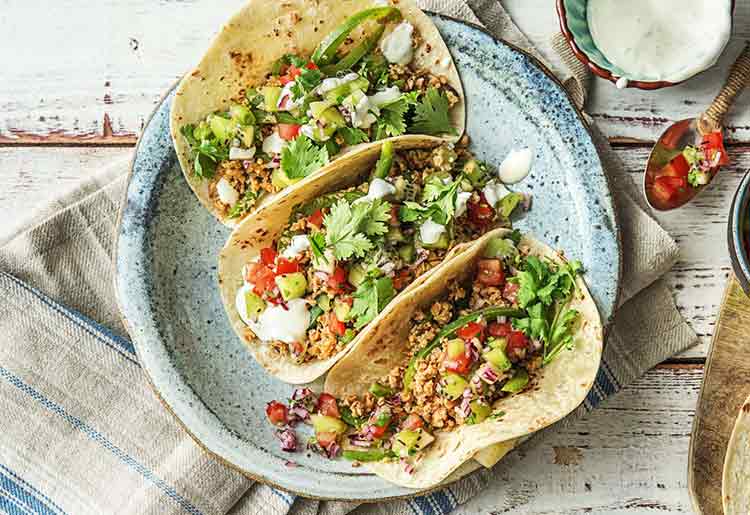 What's Unique About HelloFresh?
There's something to be said about German efficiency. HelloFresh, which first started in Berlin, provides some of the easiest and most convenient home cooking ideas with easy-to-follow recipes and pre-measured and pre-portioned ingredients that really take all of the guesswork out of cooking. Indeed all of HelloFresh's meals are done and dusted in 6 easy steps or less, allowing you to sit down and enjoy your dinner in no more than 30 minutes.
The convenience of HelloFresh doesn't end with the meals. The company's website is also extremely user-friendly making skipping, cancelling or reactivating a subscription as easy as pie. There are 3 different meal plans available: the Classic Box, Family Box and Veggie Box. While there are 17 menu items to choose from in total that number decreases significantly when choosing the veggie option. This means the only down side of HelloFresh is that for vegans and vegetarians there is less choice when compared with other meal kit delivery services. HelloFresh's gluten-free options are worth noting, as this highlights the company's efforts to cater for all diets.
HelloFresh offers:
Delicious and responsibly sourced ingredients delivered to your door
Classic, Vegetarian, or Family Plans
The option to customize with Fit, Quick or Variety preferences
One Hall of Fame meal a week (the all-star recipe that customers love most)
One Premium meal a week (elegant recipes with handpicked selection of premium ingredients)
One Breakfast option a week (for those breakfast-for-dinner nights or weekend mornings)
A fully stocked online Kitchenware shop with the best chef-approved kitchen essentials
Premium wines hand-selected to pair with HelloFresh meals as part of the Wine Club

HelloFresh follows the following recycling guidelines:
Insulating liners – The honeycomb paperboard is curbside friendly. The summer liners will need to be taken to a recycling center. Winter liners can go in the trash.
Ice packs – Water-soluble contents can be emptied into the trash (not down the sink). The plastic pack can be recycled.
HelloFresh box – Can be folded and discarded with your regular recyclables
Separator and meal kits – All 100% curbside friendly.
Kitchenware
HelloFresh's Kitchenware collection includes some must-haves such as a recipe card binder so that home cooks can keep their recipes handy to recreate as they extend their own repertoire. The online shop includes knives, oven to tableware, cleanup tools and storage extras, plus eco-friendly elements such as an odor-eliminating compost bin.
A really unique element is the HelloFresh kits. These are specially curated collections of utensils or products which suit a particular need, such as a Tiny Tummies Kit for budding sous chefs to get started in the kitchen.
Other kits which caught our eye include:
The Aftermath Kit: Great for cleanup and storage, this includes a dish scrubber, storage containers, soap dispenser and kitchen towels.
The Quick-Fix Kit: Home cooks can cut down on prep time with a digital kitchen timer, garlic press, citrus squeezer, potato masher and food chopper.
The Starter Kit: We love this beginners kit, which includes a zester-grater, spatula, olive wood spoon, multifunction peeler and some elevated steel tongs.
All products are sold from trusted partners such as Joseph Joseph and Microplane, as well as some HelloFresh originals.
How HelloFresh Works
To get started, simply sign in using Facebook or enter your email address and choose a password. Select either the Classic Plan, Veggie Plan or Family Plan. The Classic Plan allows the most choice with 15 delicious recipes each week compared to 3 hand picked recipes for both the Veggie and Family Plans. The Veggie Plan is simply meat and fish free, while the Family Plan will suit picky eaters and children.
Choose between 2 and 4 people for the Classic Plan, and whether your household would like 3, 4 or 5 meals per week. Shipping is always free. You'll be immediately prompted to enter a delivery address and will be shown available delivery dates and times. Unlike many other meal kit services, you can choose the delivery date that works best for you. Lastly, choose to pay by either credit/debit card or through PayPal. The plan will auto-renew each week. As a flexible service, orders can be paused or cancelled at any time with 5 days notice.

HelloFresh Meal Options
HelloFresh has a qualified team of chefs and dietitians on staff to craft delicious, balanced recipes simple enough to cook at home. With a wide variety of meal options, customers can make certain preferences and omissions clear. Many ask whether HelloFresh is organic or suitable for people with allergies. While it doesn't specifically cater to these niches, it does offer a wide variety of options that makes it suitable for almost all speciality diets.
At the moment, the Classic Plan allows for the following customization options:
Beef-free
Pork-free
Shellfish/Fish-free
Within the Classic Plan, customers can also choose from the following lifestyle preferences:
Fit: The most wholesome, nutritionally dense and balanced meals on the menu (around 650 calories per serving).
Quick: The simplest and quickest recipes that take 30 minutes or less.
Variety: Recipes featuring new ingredients or techniques for those craving something different (but still totally doable).
The Classic Plan also includes the weekly Hall of Fame meal (the all-star recipe customers love most), the Premium option (elegant recipe with a handpicked selection of premium ingredients), and Breakfast recipe.
There is also a Veggie Plan, with recipes that include plant-based proteins, hearty grains and seasonal produce. Opt for the Family Plan to receive meals that suit tiny tummies and adults alike.
All meals can be viewed weeks in advance and Classic Plan customers can choose between 15 weekly recipes. With a wide variety of meat, fish, poultry, pasta, produce and grains, there's something for everyone.
All the pre-measured ingredients are sent with easy-to-follow, 6-step recipes complete with nutritional information and cooking tips.The only ingredients you won't find in the box are salt, pepper, sugar, oil and butter. The recipes are marked by difficulty level to help customers choose what they would like for the coming week.
HelloFresh Prices
*Last updated: July 2020
Hello Fresh offers 4 distinct plans: the classic plan, the classic veggie plan, a family plan, and a calorie smart plan. Shipping costs $8.99 per box for all plans. Here's a breakdown of their prices:
Classic Plan:
The classic plan includes meals for either 2 or 4 people 2, 3, or 4 times a week. Dishes include an assortment of meat entrees with salads and side dishes.
Veggie Plan:
The veggie plan feeds either 2 or 4 people 2 or 3 times per week and includes all-vegetarian dishes such as southwest stuffed poblanos and roasted veggie caprese bowls.
Family Plan:
The family plan serves either 2 or 4 people and offers 2 or 3 meals per week. The menu for the family plan includes tacos, pork chops, risottos, and more.
Calorie Smart Plan
The calorie smart plan feeds 2 or 4 people per week and includes the choice of either 2 or 3 meals per week. Items include southwest stuffed poblanos, mustard chicken, and roasted veggie bowls.
Help & Suport
The account management section of the site can help with troubleshooting, especially when users are first starting out with HelloFresh. There is also a comprehensive FAQ section that covers everything a customer might want to know about the service. If you still can't find the help you need, call Customer Care or reach out via social media.
HelloFresh - It's What's for Dinner
When it comes to the food, HelloFresh, as the name suggests, is all about freshness and best meal delivery service: its ingredients are both responsibly sourced and high-quality and all of the meals limit processed foods such as premade sauces, which are a staple among so many other meal kit companies. When it comes to HelloFresh's competitors, convenience, easy-to-follow yet interesting recipes, high-quality ingredients and freshness place this meal kit delivery service a step up from the rest.

HelloFresh View Plan
How Hello Fresh Compares to Other Meal Delivery Services
HelloFresh vs Home Chef
Both of these respected meal delivery companies offer meals that start around $8 per serving. If price is one of your main concerns, HelloFresh tends to be a bit more affordable than Home Chef's. Home Chef does, however, excel when it comes to variety: compare 15 meals per week, including 3 lunch options, to Hello Fresh's weekly menu, which tops off at around 8 meals per week. Aside from those factors, the two competitors fall pretty even in comparison. Both accommodate specialty items such as vegetarian and dairy-free meals.
HelloFresh vs Blue Apron
Blue Apron stacks up against Hello Fresh in a number of ways. Hello Fresh's meals are cheaper, but both offer around the same amount of specialty diets. Both companies feature around 8 recipes per week, though if you're looking for more sophisticated meals, Blue Apron may be the better bet.
HelloFresh vs Sun Basket
Sun Basket and HelloFresh have both made a splash in the industry in recent years by combining top-shelf produce and proteins with artfully-crafted recipes. The per serving price difference isn't that significant, but with shipping included, HelloFresh becomes a good bit more affordable than Sun Basket.
*The information on this site is based on research, but should not be treated as medical advice. Before beginning any new diet plan, we recommend consulting with a physician or other professional healthcare provider. Results may vary based on various health factors, individual weight loss plans and adherence to the meal plan.