In a Nutshell
With Home Chef, you can enjoy healthy and delicious meals, without the hassle of planning or grocery shopping. Choose from 14 meal options every week, with choices that meet a variety of dietary needs including vegetarian, low-carb and low-calorie. Fresh ingredients are delivered to your door, along with simple step-by-step recipes. And Home Chef gets extra points for its commitment to sustainability.
pros
Meal suggestions based on your preferences
Made for all levels of cooking skills
Customize your meals—swap or double protein portions​​
cons
Limited options for vegans
Does not deliver everywhere in the US

Home Chef View Plan

Ideal For
People who are too busy to shop and prep ingredients
Anyone who is looking for a healthier alternative to frozen meals
Those who want to learn to cook and enjoy new recipes
Customers Are Raving
"Trying something new the next couple of days and tonight's was HOLY YUM we are obsessing!!"
@brittmiracle
"Goat Cheese-Crusted Chicken with a 4 year old on the side, coming right up!"
@svanhaze.mua
"Signed up for Home Chef because: 1. Life is stressful 2. I kept just buying snacks every time I went grocery shopping because of said stress."
@thepandasplate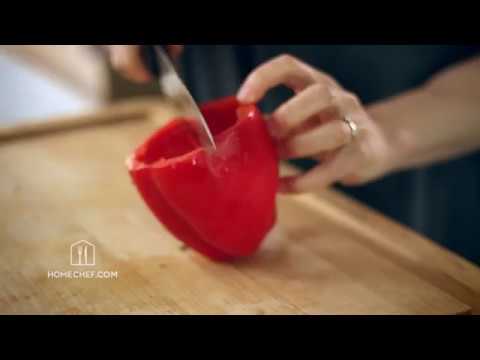 Favorite Home Chef Meals
1. Chicken with Green Peppercorn Sauce and Panko-Crusted Broccoli
$9.95 per serving | Prep & cook time: 25-35 minutes | Difficulty level: easy

2. Cajun Shrimp Tacos with Creamy Corn Slaw
Price: $9.95 per serving | Prep & cook time: 20-30 minutes | Difficulty level: easy

3. Tomato Risotto with Mozzarella, Kale and Pine Nuts
$9.95 per serving | Prep & cook time: 35-45 minutes | Difficulty level: intermediate

What's Unique About Home Chef?
In the crowded field of meal kit delivery companies, originality is key to standing out. Home Chef has added a personalized touch to its service by asking customers to complete a survey to establish their "taste profile" to help to determine the meals that best suit their flavor preferences and dietary needs.
One thing we liked about the service is that it allows customers to choose their meals up to 5 weeks in advance, meaning you can take care of your entire month's eating in one go.
Each week there is a selection of 18 different dishes to choose from, including quick, 15-minute meals as well as oven-ready dinners, slow-cook recipes, and salads. A binder arrives with the first delivery, in which recipe cards can be filed and organized and unlike other meal services, Home Chef also sells skillets, pans, knives, mixing bowls, and other utensils, as well as pantry items.
Home Chef's meal plan has clear and simple-to-follow recipes. Every recipe opens into a step-by-step guide to creating the perfect dish. It's foolproof. From how to slice the vegetables, to what seasonings to add and when, this best meal delivery service is ideal for any cooking level.
The recipe card will also show the nutritional information which is unique to every recipe. For anyone interested in healthy living, this is a perfect guide. It includes:
Calories
Carbohydrates
Fat
Protein
Sodium
Customize Your Proteins
Personalize your meals with Home Chef. You can customize your order in 3 ways:
Swap your protein on select meals.
Double your protein on select meals.
Upgrade your protein to enjoy a premium cut.
Environmentally Friendly
Packaging and shipping materials can be very dangerous for the planet, and if meals are being delivered every single week, this can really have an effect. Home Chef is dedicated to safe and eco-friendly disposal of its packaging. Everything from liners to gel packs - can be safely recycled.
Mobile App
Home Chef has mobile apps for both iOS and Android devices. You can access the weekly recipes, keep track of orders and deliveries, and even review meals and send feedback from your handheld device.
For every friend who downloads the app and tries out the service, you'll receive $30 in vouchers.
Kitchenware
The Kitchenware section of the Home Chef website allows any budding chef to buy things to stock up their own kitchen. You'll find everything from pots and pans, to zesters, peelers, and seasonings.

Home Chef Get $90 off
How to Start Cooking with Home Chef in 4 Easy Steps
1. Sign up
Getting your own Home Chef plan is about as easy as it gets. You just enter in your email and location, and the site will start walking you through the process of building a unique taste profile.
2. Customize your plan
Now, it's not a dating site, but Home Chef does want to know what you're into and if you have any deal-breakers. You'll be taken to a page where you'll fill out your taste preferences.
Decide how many people you'll be cooking for—2, 4, or 6—and how many times a week you'd like to cook a Home Chef meal—2, 3, 4, 5 or 6. Note whether you prefer meat, seafood, or vegetables, and if you are looking for low-calorie or low-carb meals. Finally, you can select which food you want to avoid, including pork, soy, shellfish, and nuts, among others.
3. Choose your delivery date
On the next page you'll be asked to give your shipping details and schedule your first delivery. You'll then fill out your preferred method of payment, which can be credit, debit or PayPal.
The standard process will charge you every Friday, but you can skip a delivery or cancel at any time. Make sure to cancel by the Friday before your next delivery at midday CST, or you may still be charged. You can plan your menus and meals up to 5 weeks ahead using the calendar and menu features.
4. Select your meals
After completing payment details, it's finally time to pick your first batch of Home Chef meals. This is where the fun begins. Choose from 18 tasty options every week. Your Home Chef meals for the week will come in a fully-recyclable box, with each of the week's recipes printed on colorful, easy-to-follow recipe cards that you can keep in a binder supplied by Home Chef.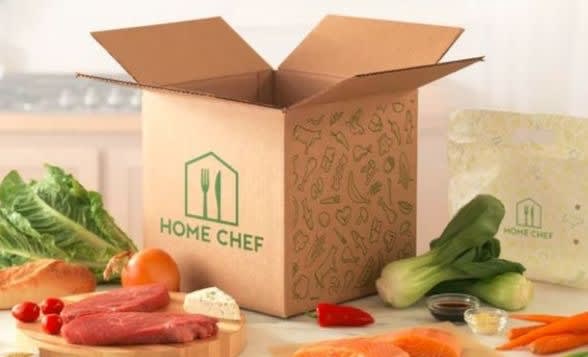 Meal Options & Specialty Diets
Home Chef offers a large variety of meal options for people with varying dietary restrictions and preferences, including:
Vegetarian
Nut-Free
Poultry
Soy-Free
Wheat-free
Seafood
Pork
Gluten-free
Low-calorie
Low-carb
Breakfast
Beef
Dairy-Free

With Home Chef you can select plans for 2, 4, or 6 people per week, and also stipulate whether you'd like to cook 2, 3, 4, 5, or 6 meals per week. If you're cooking for kids, the company suggests that a kid's portion be counted as a half portion.
Home Chef offers 18 meals to choose from every week, including a few 15-minute lunches. You will also have the option to add a smoothie or seasonal fruit basket for $4.95 per serving. The meal options you have per week will be affected by the preferences that you specified when you signed up. Even if you didn't set any preferences, the site will still state if the recipe has specific qualities to look out for, including nuts, soy, dairy, and if it's heart-healthy or low carb.
Most weeks, you can also choose an optional premium meal, such as the "blue cheese-crusted filet mignon," at $19.95 per serving. These meals usually require a little more effort to cook, and cost significantly more than the standard meals.
How Much Does Home Chef Cost?
2 servings:
4 servings:
6 servings:
Shipping costs $10 per order if your order is under $45. Once you go over $45, all shipping is free, so it may pay off to order an extra meal or a dessert if it pushes you over the finish line.
Home Chef delivers to 98% of the United States, so chances are you will be within the delivery area. Nonetheless, during signup, when you enter in your zip code the company will let you know if delivery is available to your area.
Home Chef is also set up well for the holiday season or as a go-to birthday gift, with electronic gift cards that you can easily order through the site for an amount of your choosing.

Home Chef Get 90$ off
What's in the Box?
A big part of the fun with Home Chef is cracking open that box waiting on your front porch. It's not quite Christmas morning, but don't be surprised if you get a kick out of it.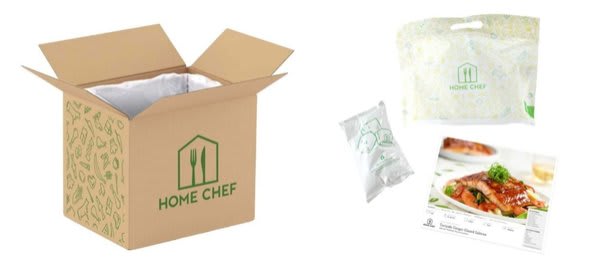 Inside the box you'll find a special insulating lining as well as cooling packs to keep your food at a safe temperature until you're ready to cook things up.
The box comes with your recipes for that week printed on colorful, easy-to-follow recipe cards that you can collect in your own Home Chef binder.
The ingredients for each of the week's meals will come in separate, clearly-labeled packages, so keeping things organized should be a cinch. The proteins for that week will come in a separate package which has extra cooling packs. Part of the draw here is that each recipe includes exactly the amount you need of each ingredient so you don't need to worry about guesstimating what you need or throwing away unused produce.
Help & Customer Support
The FAQ section is categorized to help customers find exactly what they are looking for quickly. If you're still looking for more information, Home Chef has a live chat function on its website, as well as a phone line during business hours. You can reach out via social media too, with Facebook, Twitter, Instagram and Pinterest accounts all manned by helpful staff.
Home Chef - It's What's for Dinner
Home Chef is a simple-to-use meal delivery service with an emphasis on tasty, nutritious food. Its meals are homey without being flashy or overly adventurous—there's no mention of locally sourced ingredients or global cuisine. This may render the service somewhat uninspiring for the more foodie orientated consumer, but Home Chef does deliver on its promise to save time, reduce food waste, and bring people together around the dinner table.

Home Chef View Plan
How Home Chef Compares to Other Meal Delivery Services
Home Chef vs Sun Basket
If you're looking for a more affordable option. Home Chef just barely ekes out the win, with meals starting at $7.99 and topping off at $9.95. Sun Basket's meals start at roughly the same price but can go as high as $12.99 per serving. However, Sun Basket offers more variety, with up to 18 meals to choose from per week compared to 15 from Home Chef.
Home Chef vs. HelloFresh
Both of these respected meal delivery companies offer meals that start around $8 per serving. If price is one of your main concerns, HelloFresh tends to be a bit more affordable than Home Chef's. Home Chef does, however, excel when it comes to variety: compare 15 meals per week, including 3 lunch options, to Hello Fresh's weekly menu, which tops off at around 8 meals per week. Aside from those factors, the two competitors fall pretty even in comparison. Both accommodate specialty items such as vegetarian and dairy-free meals.
Home Chef vs Blue Apron
Home Chef's prices fall just below Blue Apron's, making it the more affordable option, if just barely. The service also has more variety on its menu--compare Home Chef's 15 recipes per week to Blue Apron's 8--including lunch-specific entrees. Home Chef also offers more options for vegetarian, food-sensitive, and dieting customers. However, Blue Apron's low-carb and diabetic meals mean that those with medical diets or health concerns may find it more accomodating.