In a Nutshell
If you love high-quality meat and seafood, Rastelli's is your solution. You'll get top-of-the-line, quality beef, chicken, pork, lamb, and seafood items that are raised with integrity and an emphasis on health and excellence. Orders over $200 ship free, and Rastelli's has enough variety to keep even the pickiest eaters unbuckling their belts.
pros
Loads of protein options (even plant-based)
Premium-quality proteins, responsibly sourced
A la carte or subscription options
cons
Doesn't ship to Alaska, Hawaii, or Canada
Small cancellation window (6 hours)
Can't choose your delivery dates

Rastelli's Visit Site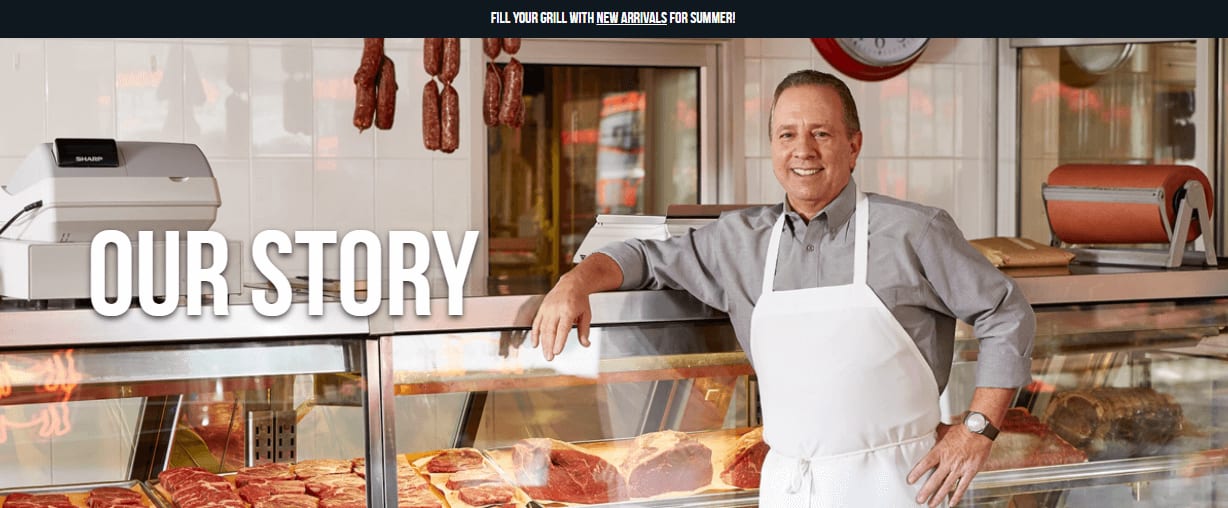 Rastelli's at a Glance
Services available: Premium quality beef, chicken, pork, and seafood
Price per Delivery: Free from $200, $10 for orders $100-$199, $25 for orders under $100
Delivery options: Standard UPS
Subscription options: Once every 1, 2, 3, 4, 6 week subscriptions, a la carte
What's Unique About Rastelli's?
Rastelli's isn't your typical online grocery delivery service. In fact, if you're looking for a refill on Cocoa Puffs, toilet paper, and canned tuna, you can look elsewhere. Rastelli's is all about the beef. And the chicken. And the salmon. In short, Rastelli's is an online butcher shop that services the entire continental US with premium quality proteins. Here are a few things I like about this service:
Rastelli's emphasizes quality and accountability. The company seeks out and forges personal relationships with farmers and fishing crews that hold themselves to the same level of quality and integrity Rastelli's stands for. That includes antibiotic, steroid, and hormone-free proteins, wild-caught and sustainably-raised seafood, and humanely-raised beef and chicken.
Rastelli's has a tremendous selection of proteins, covering the widest range of options. You can find top dollar Black Angus filet mignon, USDA prime NY strip steaks, and tomahawk steaks alongside Wagyu hot dogs and pre-cooked meatballs. Rastelli's has a great variety of beef, chicken, lamb, and pork to choose from, including sausages, rib racks, tenderloins, and chops. You'll also enjoy an array of sustainably sourced seafood, including salmon fillets, sea scallops, wild-caught yellowfin tuna, lobster tails, and crab cakes.
And in case you're short on time (or patience), Rastelli's even has the side dishes to back up that meat-based meal. So aside from delectable pork, beef, chicken, and seafood cuts, Rastelli's also has appetizing side dishes like scalloped potatoes, creamed spinach, and sausage and cranberry stuffing.
Rastelli's also approaches freshness differently. Instead of sending you "fresh" proteins that were caught and stored for several days before being sent out, Rastelli's blast freezes its proteins immediately. This blast and seal process keeps in the freshness and flavor.
How It Works
You can order items a la carte or get curated boxes based on what you're looking for. Rastelli's has an easy online shopping experience with good filters allowing you to sort your results according to the type of protein you want. Rastelli's also has a great selection, so you're not limited in the type of protein or variety.
Choose the items you want and the quantities and add them to your cart. When you're finished, you'll create an account or make a one-time purchase, add payment details, and wait for your order to arrive. Rastelli's also has subscription options, and you can choose your delivery frequency from 1, 2, 3, 4, or 6 week schedules. I like that you can even select specific items from your order for recurring shipments.
Rastelli's ships out orders within five days via UPS. You'll get updates regarding your shipment, along with a tracking number and estimated arrival date and time. Rastelli's comes frozen and packaged with little bags of dry ice. You can keep these meats in your freezer for up to a year without losing out on the quality. Like any other meat, Rastelli's products should be thawed overnight in the fridge.
Delivery Options
Rastelli's ships out immediately upon order confirmation. In fact, you only have a 6-hour window to make changes to your order. So think fast. One downside to the service is that you can't choose your delivery dates or windows.
Pricing
Rastelli's items vary from a $10 pack of hotdogs to a $200 set of prime filet mignons.
Rastelli's offers free shipping but only on orders over $200. Orders from $100-$199 get charged a $10 shipping fee, and orders under $100 get a $25 fee. Then again, when you're ordering meat that you can freeze, who's ordering less than $200?
If you choose a subscription option, you'll save 5% on all orders going forward. Rastelli's offers payment installments via Shop Pay. This service allows you to break up your bill into four interest-free payments, paid out every two weeks.
Best of all, Rastelli's has a quality guarantee. If you're not happy with the quality of the products or services, request a refund within 21 days, and Rastelli's will return part or all of your order.
Help & Support
Rastelli's has email and phone support available during regular business hours. It also has a great section on its website called Ask the Butcher. This has all sorts of interesting articles related to grilling, cooking, and meat in general. You can find pro tips about cooking the perfect steak, understanding cooking temperatures, learning about the different types of beef cuts, and even get some delicious recipes to try at home.
Email Support:
help@rastellis.com
Phone Support:
856-214-4325

Rastelli's Visit Site
Business hours:
Monday - Friday 9am ET - 5pm ET
Bottom Line
Rastelli's is a family-run butcher shop that's been around for almost half a century. Dedicated to quality, trust, and customer satisfaction, Rastelli's delivers the best cuts of beef, pork, chicken, and more freshly frozen and directly to your door. You'll enjoy free shipping on large orders and a 5% discount for subscribing. Rastelli's also has helpful resources, a 100% quality guarantee, and easy online ordering.