In a Nutshell
Gopuff is an online grocery delivery service with quite the offer. From drinks to snacks to alcoholic beverages, Gopuff has your grocery selections covered. Gopuff also has health and beauty supplies, pet care products, and home and office supplies, all of which will be delivered to your doorstep in roughly half an hour. Delivery is free or less than $2, and Gopuff even has deals to help you save.
pros
Free delivery or $1.95
Deliveries in 15-40 minutes
Open 24/7 in most areas
cons
Not available in all areas of the US
No advance ordering option
$10.95 order minimum

Gopuff Visit Site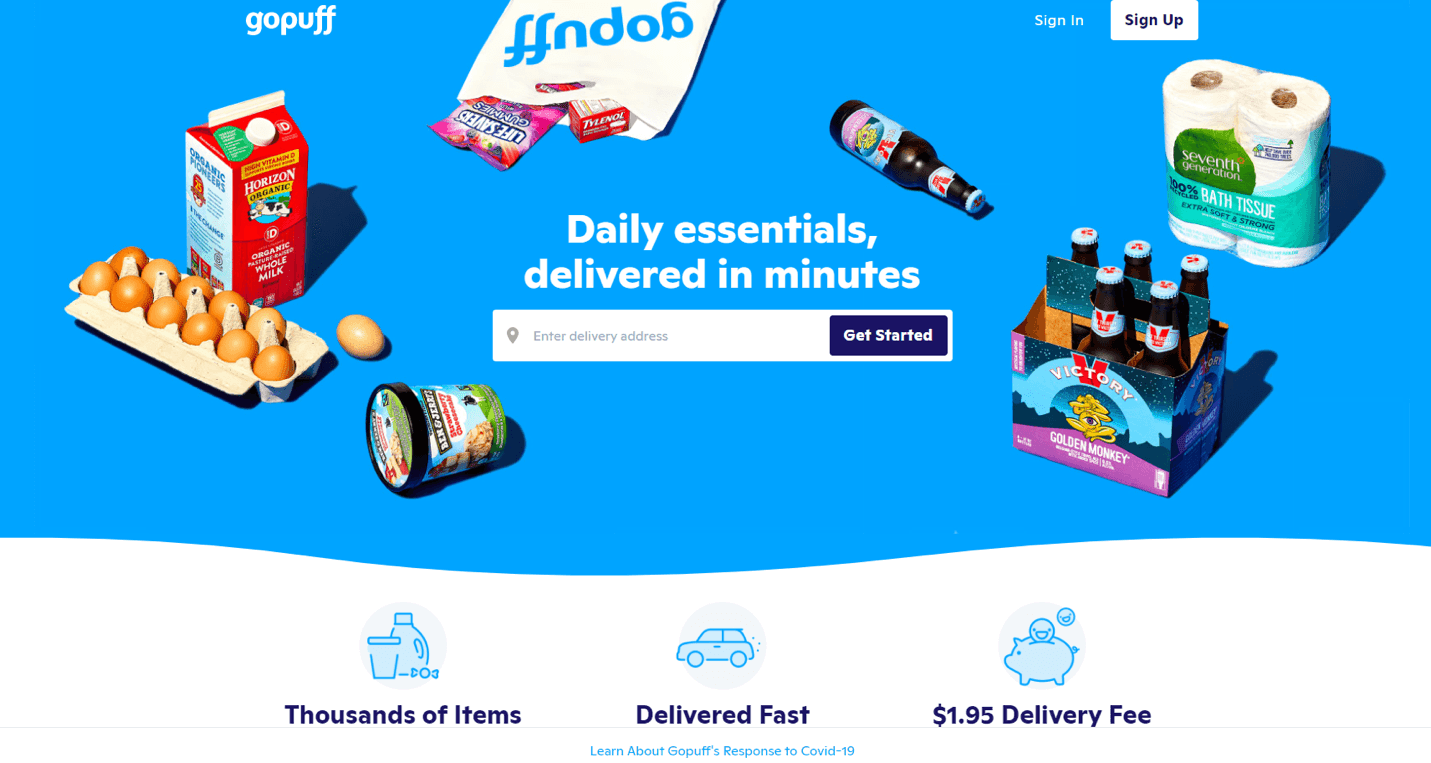 Gopuff at a Glance
Services available: Groceries, health and beauty supplies, office supplies, pet care delivery
Price per Delivery: $1.95 or free, depending on items
Delivery options: Available in as little as 30 minutes
Subscription options: Monthly membership subscriptions
What's Unique About Gopuff?
Gopuff one of many online grocery delivery services that has a neat selection. So what sets this one apart? As a matter of fact, several things. Take a look:
Lightning-fast delivery speeds
Gopuff operates over 250 micro-fulfillment centers that service more than 650 cities in the US. That means it can get your groceries to you in a record-breaking 30-minutes. While that time is not guaranteed, Gopuff stresses that this is their average delivery time, meaning some deliveries arrive even quicker. There's currently no other online grocery delivery service that can even come close to competing with that kind of time (2 hours is usually the super-fast delivery option available from competitors).
You can order from Gopuff just about any time of day or night. In fact, most stores are available 24/7. So you can place your orders whenever the urge for a tub of Ben & Jerry's strikes. But even in the areas where the stores aren't open 24/7, Gopuff fulfillment centers are open late into the night.
Top-notch customer service
Gopuff goes above and beyond to help out its customers. Support reps are available 24/7, so it's easy to get in touch with someone when you need help. Gopuff also has customer-friendly policies regarding returns and refunds. And the service is easy to use, policies are clear, and fees are fair. It's an all-round just a great experience.
How It Works
Gopuff is the spur-of-the-moment shopper's dream service. You crave, click, and collect your groceries in a matter of minutes, making it as convenient as it is quick to get everything you want and need. Here's how it works:
Start the process by creating an account with Gopuff. Input your address to check that Gopuff delivers to your area. You'll add your name, email, and phone number. Then Gopuff will send a confirmation code to your phone. Confirm your account, and get started.
Browse through thousands of items ranging from favorite snack items to drinks, cleaning products, health foods, and even frozen goods, fresh meats, bakery items, and produce. You can also get ready-made meal kits, office supplies like tape and electronic equipment, and pharmacy extras like Advil, vitamins, and first-aid items. Gopuff has a tremendous selection, and you can easily navigate using the smart categorization tabs. Select the items you want, and add them to your cart.
Confirm and wait for delivery
Once you're done shopping, you can confirm your order and enter payment details. Gopuff will send you a confirmation email and/or text message about your order. You can track your delivery online or using the mobile app (iOS and Android-available). Gopuff sends out updates if your order will be delayed, and you can see exactly where things are holding at any given time.
Delivery Options
Gopuff has hands down the fastest delivery option out there. You can expect your order to arrive in 15-40 minutes. That's incredible! And since fulfillment stations are open 24/7 in most areas, you can put in an order for delivery any time you want.
The downside of using Gopuff is that it's not available everywhere. Gopuff currently operates in more than 650 cities around the country, with most major population centers covered. The operation is still expanding so check back from time to time to see if your area has been added.
You also cannot pre-order items. So if you want to place an order to be delivered next week, Gopuff can't help you. Bummer.
Pricing
Gopuff is incredibly reasonably priced. You can get all of your groceries delivered for $1.95. That's flat-rate for all groceries, and it's one of the lowest delivery fee in the industry as far as I've seen. You can also get free shipping on eligible items. There's a $2 surcharge for alcoholic beverage orders, but Gopuff is very straightforward about this fee. Finally, you can sign up for a Gopuff membership for $5.95 a month. This entitles you to unlimited free deliveries.
Gopuff frequently runs promotions and coupons for more savings. Best of all, there's a Puff Points program where you automatically earn rewards points every time you shop. As you advance in the program, you'll unlock rewards like 15% off every order for a month, free items on your next order, or discounts.
Help & Support
Like the rest of the service, Gopuff customer support is terrific. You can reach a rep 24/7 via phone or send them an email using the contact form online. Gopuff also has a helpful FAQ section with most of the usual questions answered. You can also reach out using one of the social media account links at the bottom of any page of the website for accounts on Twitter, Facebook, Instagram, and YouTube.

Gopuff Visit Site
Phone Support:
855-400-PUFF(7833)
Bottom Line
With free delivery on most items, 24/7 availability, and groceries at your door in 30 minutes, there's not much to discuss when it comes to this online grocery delivery service. Gopuff delivers speed, quality, and variety at a price you just can't beat. And as the network of fulfillment centers grows, this exciting delivery service will be an option for even more people soon.