In a Nutshell
Teladoc is a more convenient and affordable way for Americans to get the medical treatment they need. Available online or via a mobile app, Teladoc connects patients with licensed doctors and therapists to help them with physical and mental ailments. What's more, Teladoc sessions are a fraction of the price of traditional doctor's appointments, and many are covered by your insurance policy.
pros
24/7 everyday care
Confidential, professional mental health counseling
cons
Cost of visit varies on type of visit and plan
Not available internationally

Teladoc Visit Site
Teladoc at a Glance
How Can I Get Treatment?: Phone, video, app
Urgent Care Fee (or price range): Same as regular appointment $75-$90
Accepted Insurance: 50+ insurance providers
Medications Prescribed: All medications and refills except controlled substances
Hour of Operation: 24/7
Follow up Consultations: Yes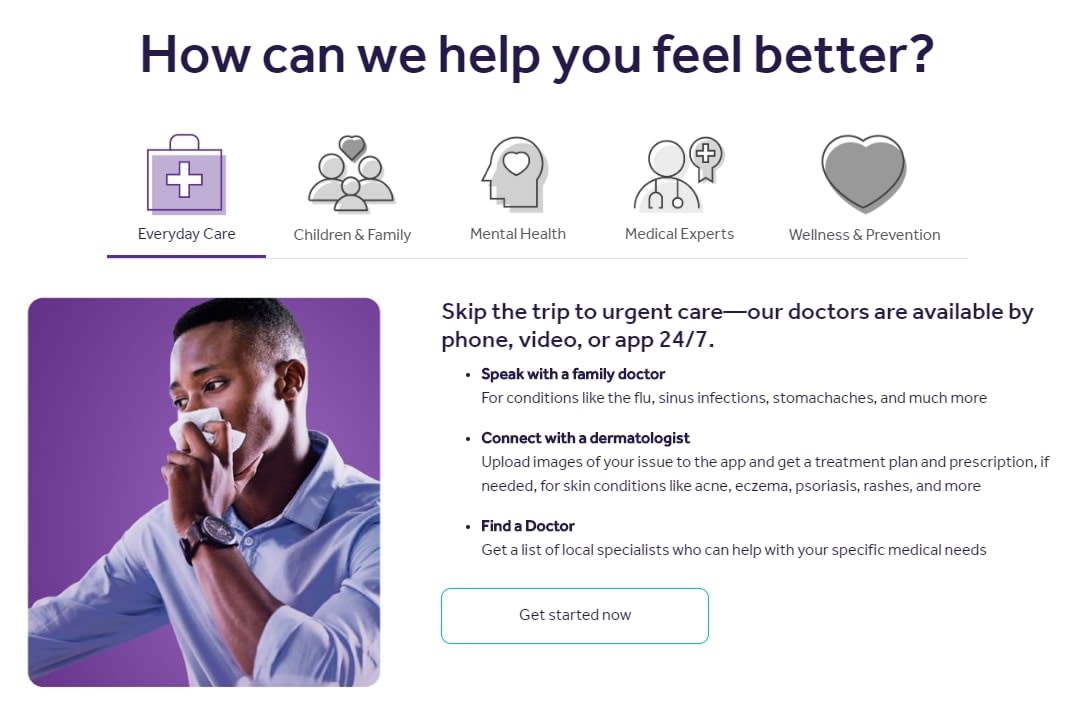 How Does Teladoc Work?
Teladoc lets you sign up completely online or via the mobile app, so registration is very simple.
You'll begin by filling in some basic information about you, including name, date of birth, gender, and language preference.
Next, you'll choose your health insurance provider and input your policy number. This allows Teladoc to access your policy benefits, so you can get an accurate idea of what is covered by your plan. If your plan isn't listed, you can select the "not available" box.
Teladoc will confirm your benefits and update you with the necessary information.
Finally, you'll create an account with Teladoc and be set up with an online account.
Once you have an account, you can schedule an appointment at any time of day or night via the mobile app or online account dashboard. We recommend downloading the app because Teladoc has done a really good job making appointment bookings much simpler via this channel. The app is also an easy way to check your medical status and history.
To book an appointment, go to your dashboard or send Teladoc a message. Explain the symptoms or reason for your visit, and Teladoc will set you up with a qualified healthcare professional to give you the proper treatment and advice. Appointments can be made by phone, video chat, or app.
What Does Teladoc Treat?
Teladoc is a non-emergency telehealth service. It is available for regular treatment, advice, and care of standard medical conditions and issues. Teladoc is also available for mental health issues, specific dermatological problems, medical advice, and sexual health, as well as wellness and prevention, including nutrition guidance, back care, and more.
Here is a partial list of the services available through Teladoc:
Flu
Infections
Anxiety
Stress
Skin conditions
Cancer consultation
Stomach issues
Sinus infections
Eczema
Psoriasis
Rashes
Pink eye
Nutrition advice
Back care
Coronavirus
Sexual health
Teladoc psychiatrists can prescribe medications as long as they are not controlled substances, non-therapeutic drugs, or high-risk of abuse drugs because these are not allowed to be prescribed online. Some of the medications that cannot be obtained online include:
Adderall
Ativan
Concerta
Klonopin
Librium
Tranxene
Ritalin
Vyvanse
Valium
Xanax
Medications for bipolar disorder
Lithium
Lamictal
Depakote
Tegretol
Schizophrenia medications
Abilify
Latuda
Risperdal
Seroquel
Zyprexa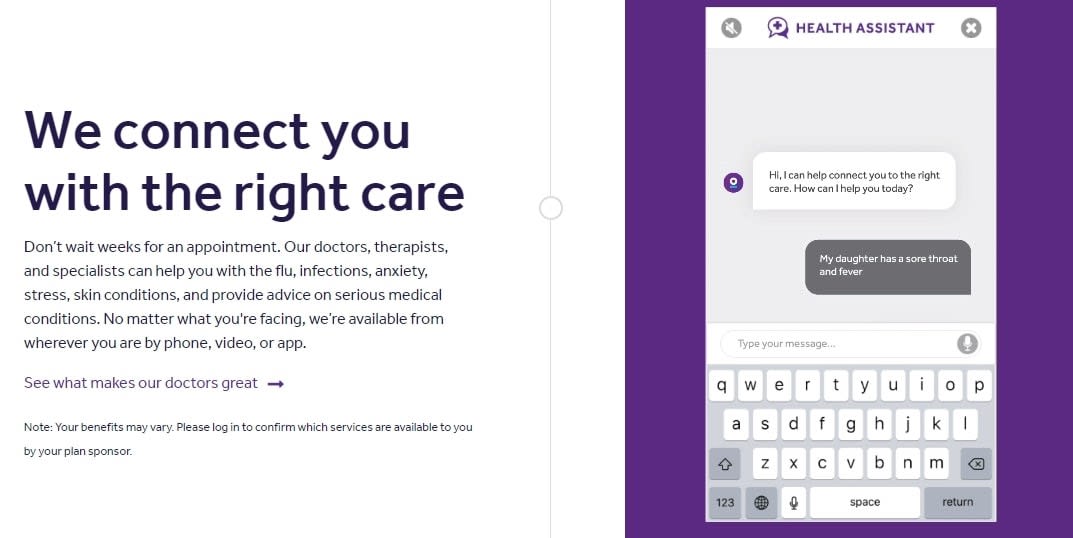 How Much Does Teladoc Cost?
Teladoc has different plans for different types of healthcare requirements, including Everyday Care, Mental Health, and Dermatology. Not only are there varying prices for each of these types of visits, but the length of time for each appointment will vary from one category to the next. This makes sense since you'll probably need a bit more time when working through a mental health issue such as depression or bulimia than you would for a quick consultation about flu-like symptoms.
With the Dermatology appointments, there comes an extra benefit. You can ask just as many follow-up questions as you'd like for 7 days following your appointment. If you require more consultations, you can request the same doctor to continue the treatment. Teladoc works with many health insurance providers, so appointments may be partially or fully covered under your plans. It's worthwhile to check with your employer or HR rep to see what your policy covers.
For those without coverage from the health insurance provider, these are the standard fees Teladoc charges per visit:
Everyday care for adults, children, and families for non-emergency conditions including flu, allergies, bronchitis, etc.
Secure and confidential counseling from a licensed therapist/psychiatrist for anxiety, depression, and other mental issues
Diagnosis and treatment of skin conditions including eczema, psoriasis, acne
7 days a week from 7am-9pm
24/7 online and app access with customized treatment plan
To access these prices per session, you'll need to purchase monthly or annual plans. The monthly plan costs $5 per month, while an annual plan is significantly cheaper at $30 a year.
For sexual health treatments, Teladoc partners with STDCheck.com, a reputable sexually transmitted disease testing service. Teladoc will provide you with the lab request, and STDCheck.com will take your sample, test for STDs, and send you the results. This pricing varies depending on which STDs you request testing for.
Does Teladoc Take Insurance?
Teladoc works with over 50 of the top name health insurance providers in the country, including:
Aetna
Allwell
Ambetter
Anthem BCBS
Ameriben
Arizona Complete Health
Imagine Health
Cigna
Clover Health
Nova Health Care
Pacific Source
Trillium Community Health Plan
United Healthcare
Western Sky Community Care
With many health insurance providers, your policy will cover the cost of some or all of your Teladoc appointments and services.
What Do People Say About Teladoc?
"Opened the app and uploaded a couple photos of my skin. About a couple hours after requesting the visit, I received a notification that my condition had been reviewed. The message from the dermatologist was easy to understand and felt personalized." Kiana F
"I am very grateful to Teladoc. I have lymphatic metastatic cancer. Your service gave me a sense of freedom that I had lost. I have admiration and respect for the Teladoc specialist because of his unique listening abilities and especially the questions he formulated to my treating oncologists." Linda B
"Prompt, professional, attentive to my needs. I received a second opinion in an impossibly short time, giving me the confidence to continue with surgery. There is no way this could have been done face-to-face. Thank you to everyone involved." Kevin H


Teladoc Visit Site
Teladoc FAQs
Q: Does Teladoc prescribe medicine?
A: Yes, except for controlled substances.
Q: Can Teladoc give me a doctor's note?
A: Yes.
Q: Do I need a subscription for Teladoc?
A: Yes. There are annual and monthly plans.
Q: What hours does Teladoc have appointments available?
A: Everyday care and dermatology have 24/7 availability. Mental health has hours daily from 7am-9pm.
Bottom Line
Teladoc is a new service that is making medical care more affordable and accessible to Americans across the country. From everyday care to sexual health and mental illnesses, Teladoc has the professional doctors and psychiatrists on staff to give you the treatment you need. And with 24/7 care for most appointments, Teladoc is there when you need it.