In a Nutshell
My Virtual Doctor is a telemedicine service like no other. It includes unlimited virtual appointments with your doctor, available 24/7 directly online. My Virtual Doctor also offers additional services, including discount cards for medications, medical bill advocacy, and 40% savings on medical equipment. Upgraded plans include care coordination, appointment scheduling, finding hospitals and specialists, and medication management.
pros
Discounts on medications & med equipment
Health advocates, medication management
24/7 telemedicine with MDLive
cons
Additional charge per med for medication management
Small FAQ section for questions

MyVirtualDoctor Visit Site
My Virtual Doctor at a Glance
How Can I Get Treatment?: Phone, video, tablet, computer
Urgent Care Fee: Included, $25-$50/month
Accepted Insurance: Works with or without, Medicare, national insurances via MDLive
Medications Prescribed: Most, excluding narcotics and controlled substances
Hour of Operation: 24/7
Follow up Consultations: Included
How Does My Virtual Doctor Work?
My Virtual Doctor is not like most telehealth services you've seen before. While it offers remote diagnosis and treatment for many medical ailments, My Virtual Doctor actually provides a much larger range of services to its members than most. Here's how a membership with My Virtual Doctor works and what's included:
Lest it be forgotten in light of the other medical services My Virtual Doctor provides, let's discuss the telemedicine services first. My Virtual Doctor partners with MDLive, a well-known telehealth service that provides remote medical care for regular medical conditions like the common cold, rashes, infections, asthma, mental health issues, and more. Patients can connect to a doctor 24/7 via their smartphone, computer, or tablet for video chat appointments. The best part is that My Virtual Doctor members have unlimited telehealthcare visits each month included in their prescription.
If you have a chronic condition that requires that you take recurring medication, then a drug discount card is going to save you a lot of money. My Virtual Doctor's prescription drug cards let members save anywhere from 10% to 85% on common medications at participating pharmacies. There are more than 6,500 pharmacies in the network across the country. What's even more impressive is that the My Virtual Doctor drug discount card works for everyone in your family (even your pets).
Prescription assistance program
This is an important service if you take an expensive medication regularly, have a prescription that's not covered by your policy, or hold a high deductible or copay policy. The My Virtual Doctor prescription assistance program works in tandem with pharmaceutical manufacturers and patient assistance programs to get discounts on 1,000+ FDA-approved medications. This service will apply for the discounts, handle all the paperwork, request refills, and even file your Patient Assistance Program re-application at the end of the year.
Health advocates are a wide range of services that basically takes control of all of your medical needs, advocating on your behalf. Whether it's negotiating overdue medical bills or finding the right specialist for your medical condition, My Virtual Doctor health advocates will run the gamut.
Finally, My Virtual Doctor's discount card lets people save 40% on a wide range of medical equipment for various needs; things like diabetic supplies (needles, syringes, meters, etc.), splints and braces for ankles, knees, wrists, back, etc., catheters, safety supplies like grab bars, and bath benches, compression stockings, nebulizers, footwear, walkers, wheelchairs, and more. This is a big help for people who require expensive or continuous medical care supplies. What's more, My Virtual Doctor lets you purchase these items using your discount card directly on the website for more convenience.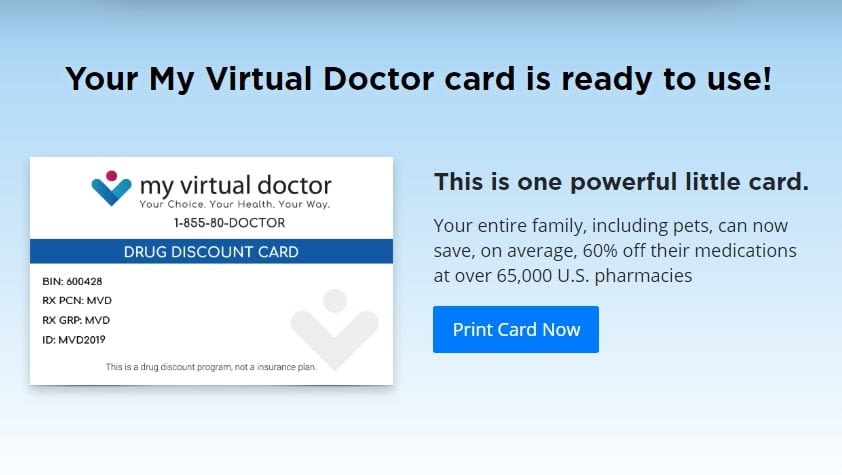 What Does My Virtual Doctor Treat?
Via MDLive, My Virtual Doctor covers a huge range of common medical conditions spanning the spectrum from the common cold and eczema to depression and PTSD. Here are just a few of the conditions that can be treated by an MDLive telehealth specialist via My Virtual Doctor:
Abdominal Pain/Cramps
Allergies
Arthritis
Asthma
Back Pain
Blood Pressure
Bronchitis
Cellulitis and Skin Infection
Colds, Coughs, Congestion
Conjunctivitis
Constipation
Croup
Diarrhea
Eye Infection
Fever
Flu
Headache/Migraine
High Blood Pressure
High Cholesterol
Pink Eye
Pre-Diabetes / Diabetes
Rashes and Skin Conditions
Sinus Infections
Sprains and Bruises
Strep
Tonsillitis
Urinary Tract Infections
Vomiting
Vaginitis/yeast infection
My Virtual Doctor is not a viable solution for medical emergencies. Any symptoms that are life-threatening or require serious medical treatment should be dealt with by an emergency room physician. Urgent care which is not covered by My Virtual Doctor includes:
Bleeding
Physical trauma
Chest pain
Stroke symptoms
Fainting
Unstable vitals
Extreme mental illnesses
How Much Does My Virtual Doctor Cost?
My Virtual Doctor has 2 affordable pricing plans; a Wellness Plan and a Wellness Plus Plan. Both plans come with unlimited telehealth appointments each month, a discount medication card, and several advocacy services. Here's a look at the 2 plans compared:
Prescription assistance eligibility check
Unlimited telemedicine visits
40% off on all durable medical equipment
Insurance benefit assistance and clarification
Finding doctors, hospitals, specialists
Arranging blood work, imaging, second opinions
Even with the basic plan, you're getting a lot for $25 a month. What's more, My Virtual Doctor's full plan costs less than most telehealth services, which can range from $59-$75 a visit.
Does My Virtual Doctor Take Insurance?
My Virtual Doctor works with or without insurance. Since the service does not provide any actual medical services, My Virtual Doctor is generally not covered by insurance. Any medical services are administered by MDLive.com, which does work with medical plans and insurance providers.
What Do People Say About My Virtual Doctor?
"As a single mother who has a full-time job, getting to the doctor when one of my children is sick is never easy. That was until our family doctor offered telehealth through My Virtual DoctorTM. Now getting to see the doctor is easy and stress free." Nina Smith
"When I am not feeling well my biggest fear is going to the doctors office and being surrounded by other patients in the waiting room with other germs that can possibly make me even worse. Since my physician made the transition to online appointments through My Virtual DoctorTM platform I will never be put in that position again." Jimmy Mathews
"Having a chronic condition makes my life difficult and unfortunately causes me to be at the medical center more than I could have ever possibly imagined. I felt like I lost a large part of my life and precious time to be with the ones I love. However, today is a different story now that my doctors ACO made telemedicine an option for me to take advantage of. Thanks to My Virtual DoctorTM I have taken back my life." Andy Golsalves


MyVirtualDoctor Visit Site
My Virtual Doctor FAQs
Q: Does My Virtual Doctor prescribe medicine?
A: Yes
Q: Can My Virtual Doctor give me a doctor's note?
A: No
Q: Do I need a subscription for My Virtual Doctor?
A: Yes
Q: What hours does My Virtual Doctor have appointments available?
A: 24/7
Bottom Line
My Virtual Doctor offers a lot of bang for your buck. You get a huge range of benefits and services for a small monthly fee. Services from My Virtual Doctor include discount cards for 1,000+ medications, health advocates to help you manage your medical conditions, bills, and specialists, and unlimited telehealth services. You'll also get help enrolling in patient assistance programs for further discounts and savings.