In a Nutshell
Med & Beyond is an everyday care Teleheath service for the uninsured. By leveraging artificial intelligence and augmenting it with Dr decision support systems it provides phenomenal high quality care in the lowest telemedicine price on the market. With this online medicine platform, you can video chat with a doctor anytime and get prescriptions as needed. Med & Beyond is relatively affordable, with a monthly subscription.
pros
For those that are uninsured.
Inexpensive fee for doctor's visits
Get prescriptions and referrals
cons
Only available in NY, NJ, and MI
As in ER not guaranteed the same doctor every time
Visit Site
Med & Beyond at a Glance
How Does Med & Beyond Work?
Med & Beyond makes it easy to set up a virtual doctor's visit using the platform's mobile app for iOS and Android (there is no desktop platform). Just go to the app and click 'Appointments' to set up a new appointment. You'll then need to answer a medical chatbot questionnaire 2-3 min. Once the questionnaire is finished, you can choose an appointment time right away or at a time that is convenient for you.
Med & Beyond doctors are available 24/7/365. All appointments are by video chat unlimited by time , typically only take a few minutes. Med & Beyond offers follow-up appointments, but you are not guaranteed to get the same doctor (although your records are reviewed by the new doctor before your appointment). If you need to reschedule your appointment for any reason, you can do so easily through the app at no extra charge. If DR. sends you to Emergency Room half of the visit cost refunded.
What Does Med & Beyond Treat?
Med & Beyond offers acute and primary care for a wide range of illnesses and conditions. Doctors on Med & Beyond can issue prescriptions for most medications.
Some common conditions that Med & Beyond treats include:
Flu-like symptoms
Cough & cold
Itchy or sore throat
Earaches and infections
Stomach problems
Muscle sprains & strains
Sexual health
Yeast infections & urinary tract infections
Skin conditions & rashes
Note that Med & Beyond does not provide urgent or emergency care. If you need immediate medical attention, go to your local hospital or urgent care facility.
How Much Does Med & Beyond Cost?
Med & Beyond charges an annual subscription fee of $75. Your first doctor's visit is free, but each visit after that costs an additional $34.95. The price is the same regardless of the reason for your visit, including if you just need a prescription refill. Still, that's less than half of what a typical in-person doctor's visit costs.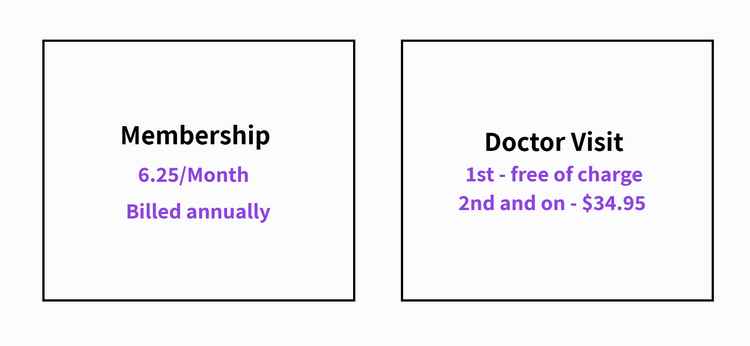 Does Med & Beyond Take Insurance?
Med & Beyond does not accept insurance or work with any insurance companies. You may be eligible for reimbursement, but you will need to work with your health insurance provider on your own. Notably, you can sign up for Med & Beyond even if you don't have health insurance.
What Do People Say About Med & Beyond?
Med & Beyond doesn't offer any testimonials from past or current users. The company's mobile app has a single 5-star rating in the Apple App Store, but no other reviews or comments.
Med & Beyond FAQs
Does Med & Beyond prescribe medicine?
Yes, Med & Beyond doctors can issue prescriptions for a wide variety of medications. You can also get prescription refills through Med & Beyond, although this requires a paid doctor's visit.
Can Med & Beyond give me a doctor's note?
Yes, Med & Beyond physicians can issue you a doctor's note at their discretion.
Do I need a subscription for Med & Beyond?
You must have an annual subscription ($75 per year) to get a virtual doctor's appointment with Med & Beyond. Your first appointment is free, but every additional appointment costs $34.95.
What hours does Med & Beyond have appointments available?
Med & Beyond has appointments available 24/7/365.
Visit Site
Bottom Line
Med & Beyond makes it easy to see a primary care physician from the comfort of your own home. The platform provides an inexpensive service that allows you to schedule a video chat with a licensed physician at any time—24 hours a day, 365 days a year.
You can schedule an appointment for a wide range of common illnesses, including infections, rashes, and skin conditions. Plus, Med & Beyond physicians can issue prescriptions and referrals for lab tests as needed.
Overall, Med & Beyond is an economical and easy-to-use service if you need to see a doctor on occasion. It's especially good if you don't have health insurance or your insurance doesn't cover primary care visits.