In a Nutshell
JustAnswer is not your typical online medical care service. It offers a platform to ask questions of thousands of board-certified medical professionals, experts in their fields. Pay for a membership to ask unlimited questions and get unlimited interactions with a doctor. "Premium Services" include video and phone chats that are charged at a higher rate.
pros
Experts available to answer questions on a variety of topics
One-week $5 trial
cons
Membership pricing isn't clear
Can't prescribe medications
All answers are provided for general information only
JustAnswer at a Glance
How Can I Get Treatment?: Answers provided by email, text, phone
Membership Fee: $46-50/month
Accepted Insurance: No
Medications Prescribed: N/A
Hours of Operation: 24/7
Follow up Consultations: Yes

How Does JustAnswer Work?
JustAnswer is a considerably different process than your traditional health care provider. Rather than providing treatment, JustAnswer Medical offers answers to medical questions.
You'll ask a question, and an expert will answer you. The company states that most questions are answered within 5 minutes, with responses taking up to 24 hours in certain situations. You have unlimited follow-up questions with the doctor until you are satisfied with the results. You can send in photos for the doctor to analyze if there is a skin condition, for example.
Experts need to go through 8 steps in order to qualify for participation in the network. The screening process includes:
An application and profile screening: Experts need to have recognized credentials in their fields.
Credential verification: JustAnswer uses a dedicated service to verify the identity and credentials of the expert applicant.
Customer ratings: Patients that have used the professional before will rate the doctor according to their level of professionalism and expertise.
Peer-to-peer reviews: Other experts with experience can weigh in on the answers given if they feel they need improvement.
Quality algorithm: This system weeds out experts who are not maintaining the quality standard of the site.
Secret shoppers: These are users who go into the site and ask questions intentionally to get feedback about how the experts are responding and managing themselves on the network. This will include an expert's customer service skills and speed and expertise of responses.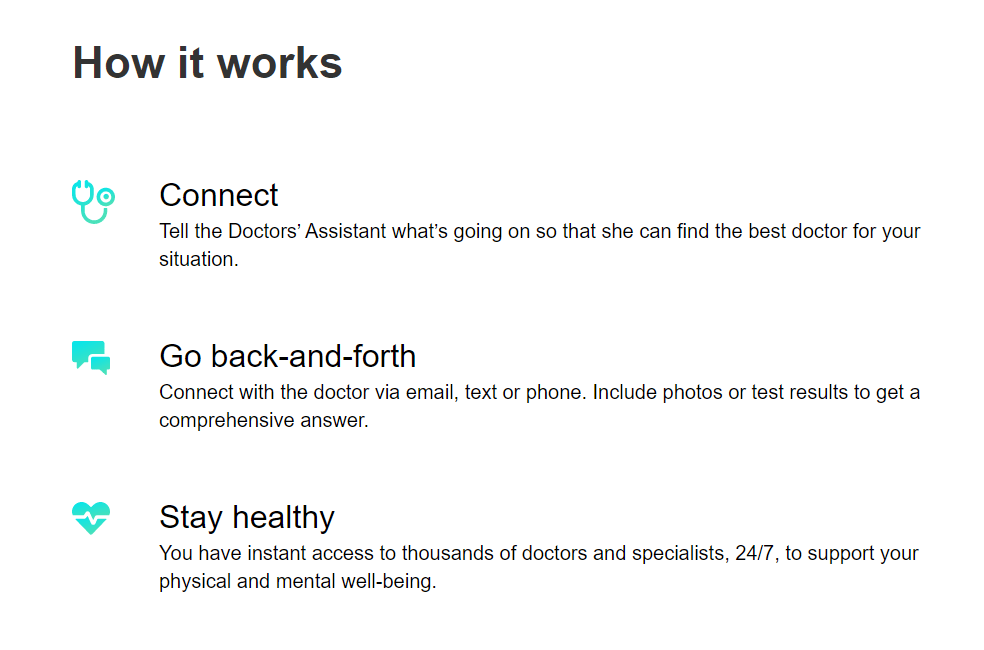 What Does JustAnswer Treat?
JustAnswer's experts do not treat medical conditions but provide answers to questions on medical topics.. Here's a partial list of medical topics covered by JustAnswer experts:
Autism
Cardiology
Dental
Dermatology
Drug testing
HIV and AIDS
Pediatrics
Urology
How Much Does JustAnswer Cost?
JustAnswer requires a monthly membership that costs between $46-$50 in order to communicate with an expert. There are additional services that will incur payments as well, including having a private phone meeting with a doctor, secure remote assistance, or document preparation. Memberships include unlimited questions and follow-ups, 24/7 access to doctors, and access to the iOS and Android mobile apps, as well as a library of expert answers.
JustAnswer offers a 7-day trial for just $5 during which you can test out the system, ask questions, and get answers to your medical queries.
Does JustAnswer Take Insurance?
No, JustAnswer does not accept insurance.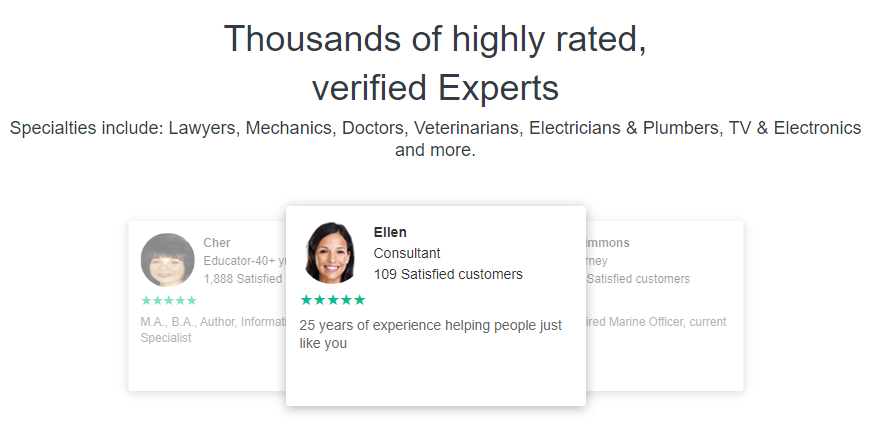 What Do People Say About JustAnswer?
"I was extremely happy when I spoke with Dr. Connie she was very informative. I felt much better after I spoke with her. And if I have anymore questions I will ask for her the next time I call...I think this is a great service and I hope you continue and had much success in this new way of speaking to Doctors..thank you" JustAnswer Customer
"I'm very impressed with the advice I received. Dr. Mustafa is very knowledgeable and kind. After speaking with him I contacted my Dad's physician and he is following the advice given. Thank you so much again. I recommend you highly." Deanne R
FAQs
Does JustAnswer prescribe medicine?
No. JustAnswer doctors are not legally allowed to prescribe medications online.
Can JustAnswer give me a doctor's note?
No. JustAnswer doctors are not available for treatment of medical conditions.
Do I need a subscription for JustAnswer?
Yes, JustAnswer requires a membership.
What hours does JustAnswer have appointments available?
24/7
Bottom Line
JustAnswer is a helpful resource if you are looking to get answers about a medical condition or issue. With a subscription, you'll get unlimited back and forth question and answer sessions with a board-certified doctor during which you can discuss your symptoms, get a second opinion, or clarify any questions you have about your medical condition.