In a Nutshell
Amwell is a telehealth service that connects people with board-certified doctors over the phone, tablet, or computer. It is a safe, convenient way for patients to get the medical treatments, advice, or assistance they need. With board-certified doctors on call 24/7, people can video chat with a professional for medical advice, treatment, and prescriptions for nearly any non-emergency medical condition.
pros
Prescriptions and visits available 24/7
High-quality video streaming
Low charge per visit
cons
Not available internationally
Short appointments

Amwell Visit Site
Amwell at a Glance
How Can I Get Treatment? Phone, computer or tablet video
Urgent Care Fee: Same rate, $79
Accepted Insurance: 55+ health plans
Medications Prescribed: Yes, except controlled substances
Hours of Operation: 24/7
Follow up Consultations: Not with the same doctor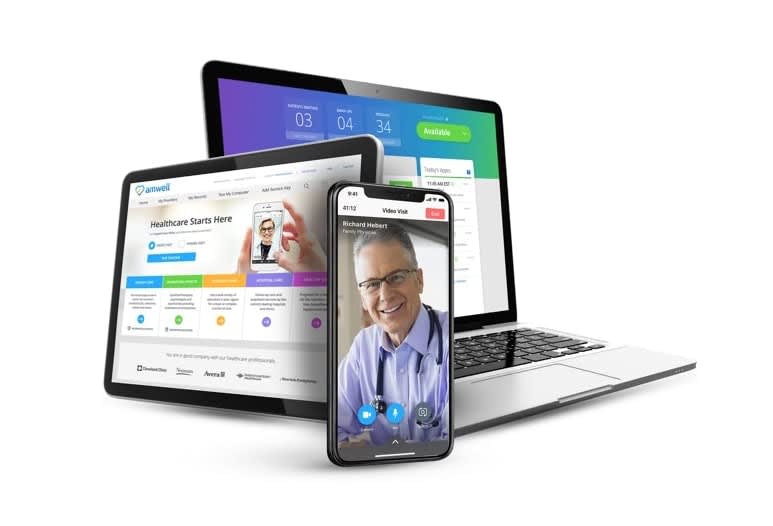 How Does Amwell Work?
Amwell makes getting medical assistance easier than ever. You can connect with a doctor instantly and 24 hours a day. Here's how to set up and conduct an appointment with an Amwell doctor:
Start by creating an account with Amwell. Once you create your account, all of your information is stored. So, you don't have to continuously input the same information every time you have a medical question or request. This is a convenient feature for future visits.

Next, you'll be able to choose the doctor you want to assist you. Doctors are sorted by name, ratings, and experience.
You'll be connected to your doctor via a secure video stream. This allows you to see and speak directly to the doctor, face-to-face, with high-quality video streaming quality. The doctor can also see you in case there are any visible symptoms you want to show them.
It's wonderful that Amwell lets you pick your doctors. Amwell has a huge network of professional doctors, and you can select one of the available doctors to assist you in your medical situation. It's also amazing that you can access a doctor whenever you need them, 24/7. Designed as an on-demand service, Amwell has doctors on call at all hours of the day and night. If there are no available doctors at the moment, you'll be placed in a waiting room and sent a text message as soon as one becomes free.
What Does Amwell Treat?
Amwell treats a number of conditions from a distance. The list is far too comprehensive to include everything, but here is a sample of covered conditions you can turn to an Amwell doctor for assistance with
Acne

Allergies

Anxiety

Birth control options

STDs

Coronavirus assessments

Flu
UTI
Amwell also offers prescriptions online. However, there are several prescriptions that cannot be issued online, including controlled substances like Adderall, Alprazolam, Ambien, Diazepam, Fentanyl, Fioricet, Hydrocet, Klonopin, Lorazepam, Lunesta, Methadone, Morphine, Nubain, Opium, Oxycodone, Percocet, Restoril, Soma, Sonata, Testosterone, Valium, Vicodin, and Xanax.
During your online appointment, your doctor will determine if a prescription is necessary. If so, the script will be sent to the pharmacy of your choice. You can go to the pharmacy directly to pick up your medication.
Amwell is not suitable for all conditions, including:
Seizures

Chest pain

Neurological symptoms suggesting a stroke

Difficulty breathing

Dizziness or loss of consciousness

Sudden bleeding

Schizophrenia or hallucinations

Any other serious medical concerns
How Much Does Amwell Cost?
Amwell charges a flat rate of $79 per visit for general medical concerns. Considering the average office appointment costs $139, and an ER visit costs $645, that's a good deal. Amwell is even more affordable if your insurance company covers telehealth appointments (many do). Visit charges don't include prescriptions or lab work. Psychiatrist visits cost $199 for an initial visit and $95 for 15-minute follow-up visits. Specialists such as dermatologists and cardiologists set their own rates, which are listed in each physician's profile.
What's particularly nice about the Amwell fee structure is that you are charged the same amount no matter when you reach out to a doctor, day or night, weekday or weekend, or holidays
Does Amwell Take Insurance?
Amwell works with more than 55 different health insurance companies, including the biggest names in the industry. This is a big perk because it means you can have your telehealth visits covered by your health insurance policy, making medical treatment and prescriptions even more affordable. Some insurers will even have full coverage for these appointments.
What Do People Say About Amwell?
"I was really hesitant to use Amwell because I have never had a virtual doctor visit. I was desperate today as I have been having all symptoms of a sinus infection for the past 3 weeks and this week I just couldn't take it anymore. I met with the doctor Stephanie, and boy was she amazing!!!! She listened to all of my symptoms and was one of the nicest doctors I have ever had. 10/10 recommend using Amwell and try to get Stephanie if you can!" - Liv
"I have always been seen within minutes, and I felt the Dr.'s were thorough. Each time they diagnosed me correctly and I was so grateful not to have to make a Dr. appt and go in when I felt so ill." - Cindy
"Awesome Service
This was my first experience with telemedicine and I am thoroughly impressed! I was able to set up my account, verify insurance, and have a virtual visit within ten minutes. I'm a nurse of 20 years so I can verify that the doctor was thorough and his assessment and questions were appropriate. My medication was called in promptly and ready for pick up within the hour." - Jennifer Johnson-Ament

Amwell Visit Site
Amwell FAQs
Q: Does Amwell prescribe medicine?
A: Yes, Amwell prescribes acceptable medications based on the telehealth visit you have with your doctor.
Q: Can Amwell give me a doctor's note?
A: Amwell can send a secure doctor's note and sick slip to your email account.
Q: Do I need a subscription for Amwell?
A: Amwell requires you to enroll to the service with your email address. This is for your convenience so that your medical and personal information is stored, and you won't have to input the data again each time you have a visit with a doctor.
Q: What hours does Amwell have appointments available?
A: Amwell is an on-demand telehealth service. You can reach a doctor any time of day or night.
Bottom Line
Amwell is a convenient way for people to get the medical treatment and advice they may not get otherwise. With appointments at any time of night or day, Amwell ensures that there is always someone available to help. And for just $79 a visit for general medical concerns, even many people without insurance can afford to have their medical conditions treated professionally.