Telemedicine has 2 distinct advantages over traditional in-person visits. It allows for much easier access to healthcare professionals, and consults can be done from the comfort of your own home. Of course, like any important meeting, you'll want to make sure that you are prepared for your telemedicine session so that you can make the most of it.
Here are 10 tips for having a successful consultation with an online doctor:
1. Find out If You Have Insurance Coverage
2. Make Sure All Technical Details Are in Place
3. Find the Right Location
4. Give Your Full Attention
5. Make Sure Your Lighting Is Sufficient
6. Write Down Your Questions
7. Know What to Expect
8. Use Your Time Wisely
9. Stay Calm
10. Remember Your Goal
Here's everything you need to know about successfully implementing these tips and getting your money's worth from an online doctor's visit:
1. Find out If You Have Insurance Coverage
First, things first. Is your online consult covered by your insurance? This is a small but hugely significant detail that can make the difference as to whether you schedule an online consult at all. Since telemedicine has grown in popularity over the past decade, there is a good chance that your insurance does cover it. However, before you go ahead and schedule the meeting, make sure to verify how much is covered and if there are any requirements or specifications that need to be met before the meeting. (For example, some insurance carriers require you to visit the doctor at least one time in-person before scheduling an online consult.)
2. Make Sure All Technical Details Are in Place
When preparing for an online doctor consult, make sure you have all the necessary technical requirements, like video, audio, any necessary software downloads, log-in info, and of course, a stable internet connection. While most of today's computers, laptops, and mobile devices come with video and audio ready to be used and don't require any installation, some older models do require external cameras and/or speakers, so make sure you have everything you need.
Also, it's worthwhile doing a video/audio check before logging onto the patient-doctor portal. One patient once complained he couldn't hear the doctor, even though the doctor could hear him just fine. After a few frustrating minutes, the patient realized that the sound on his computer was muted.
3. Find the Right Location
If you are at home, prepare a quiet space for yourself where you will be able to hear your doctor and he or she will be able to hear you. If you are not at home, the same is true, even though it might be more difficult. For example, if you are at your workplace and you work in a shared space, find somewhere private where you can sit for 15 minutes, without noise and without interruptions. Work this out before the consultation, not as it starts.
4. Give Your Full Attention
Scheduling an online doctor's appointment when you aren't able to sit in a private location is a recipe for disaster. This means you shouldn't be at the mall, park, supermarket, etc. In public places, you will likely encounter all kinds of distractions and you won't be able to give the doctor your full attention. This will create a situation in which neither of you get what you want.
5. Make Sure Your Lighting Is Sufficient
While the doctor won't be examining you physically, it would still be nice if he or she could see you. Wherever your quiet space is, make sure the lighting is sufficient. This is especially true if you need to show a rash or any other physical symptom.
6. Write Down Your Questions
Whether you consult with a doctor online or in-person, writing down your questions beforehand is a good way to ensure you don't forget anything. Online, it's perhaps even more important. If you forget to ask something when you're at the doctor's office, you can pop back in or see if the secretary can help you. Online, once you sever the connection, the meeting is over. If you forgot something, you'll have to call the office, wait for a callback, or schedule another meeting.
7. Know What to Expect
Telemedicine comes with numerous benefits, such as increased access to healthcare and convenience, but there are also several drawbacks. First, if you have an issue that requires a physical examination, telemedicine obviously will not suffice. Your doctor won't be able to tell if you have an ear infection if he can't look inside your ear. Additionally, not all prescriptions can be prescribed digitally. Medical marijuana, stimulants, antipsychotic drugs, sedatives, narcotics, and others require an in-person visit to a healthcare professional. All of these things are important to know before your meeting so that you don't get unpleasantly surprised or disappointed.
8. Use Your Time Wisely
Most telemedicine sessions are about 15 minutes, so make sure to use your time wisely. If you have a lot of questions, ask the most important ones first.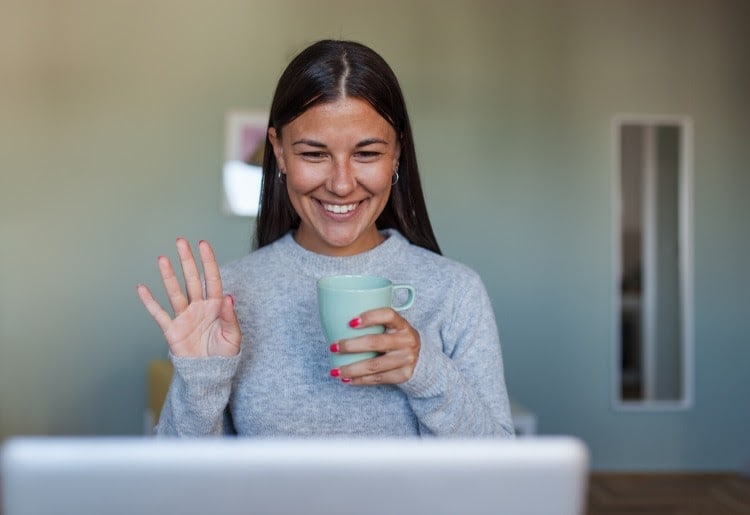 9. Stay Calm
Having an online consult with your doctor is a great way to get accessible, convenient healthcare. However, as with anything that combines technology and human interaction, frustration can arise if things don't go exactly as planned. For example, when you speak to someone via video, it may be hard to understand the cues of when it's your turn to talk or their turn. Relax. You and the doctor are in the same situation, so if it takes a few minutes to figure out when to speak and when to listen, it's fine. As long as you get to say what you need to say, don't stress if your conversation is not as smooth as you'd like it to be.
10. Remember Your Goal
The goal of your online consult is to get an evaluation and/or treatment. If your internet connection is spotty or if you feel like your doctor can't communicate properly online, you may want to consider switching them—internet provider or doctor, whichever one is the issue. This way, you can achieve your goal. However, if you do get the evaluation or treatment you need despite certain technical glitches or choppy conversation, consider the consult a success.
Get Quicker and Easier Medical Help
If online doctors sound appealing but you're not sure you have all the requirements to make it successful, you won't lose anything by trying. It's not like there is any travel involved, so you would only need to take off 15 minutes from work as opposed to half a day. In the worst-case scenario, you waste a quarter of an hour. In the best-case scenario, you discover a way to effectively communicate with your doctor and receive treatment, a way that will save you many precious hours, not to mention frustration, in the future.